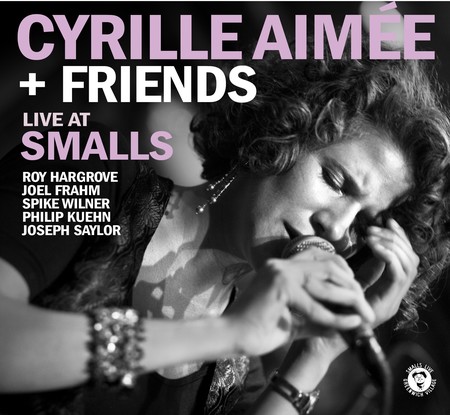 We first introduced you to vocalist Cyrille Aimée last month on her guest appearance on Doug Munro's "A Very Gypsy Christmas". While gypsy jazz was Cyrille's entry into the jazz scene (and still represents a part of her repertoire), she has widened her artistic vision with straight-ahead jazz settings, a continuing collaboration with Brazilian guitarist Diego Figueiredo, and unique solo performances where, with the help of a small keyboard, she creates layers of grooving ostinatos and harmonized versions of her voice. Just in the last month (November-December 2010), she has performed with the Chicago Jazz Orchestra at Andy's, with her own Surreal band (it's a pun on her name) in two internet-streamed performances at Birdland, and appeared solo on the French TV show "Les Talents Acoustic". She may have placed third in the Thelonious Monk Institute's Vocal Competition, but she's quickly becoming one of the best young vocalists on the jazz scene.
Her album, "Live at Smalls" was recorded in September 2010 around the time of the Monk competition. While I compared her sound to Stacey Kent and Norah Jones in my review of the Munro album, on the Smalls date, there is a pronounced Ella Fitzgerald influence. She is an accomplished scat singer, with an abundance of ideas, superb pitch and driving swing. And by comparing her solos on the first two cuts, "September in the Rain" and "Que Reste-Il" ("I Wish You Love"), one can hear her adapting her scat to fit the mood of the piece and the style of the rhythm section. Her accompanying musicians are superb throughout with Roy Hargrove playing well-designed trumpet solos, Joel Frahm bursting with inspiration on tenor, Spike Wilner sparkling on piano, Philip Kuehn providing soulful solos on bass, and Joseph Saylor firing up the proceedings on drums.
Standards dominate the program, with a trio (Cyrille/Frahm/Kuehn) rendition of Duke Ellington's "I'm Beginning to See the Light" providing wonderful solos by all three musicians, capped by Cyrille's ingenious recasting of the melody in the final chorus. A romping "Love for Sale" brings new energy to the New Orleans street march style, and Monk's "I Mean You" offers a platform for Cyrille's most adventurous scatting. Wilner's composition "East Village Inamorata" is one of the few ballads on the disc, and it certainly merits a place in the jazz repertoire. The other original, Wayne Tucker's "When I Was A Child" has a remarkable sequence where Cyrille enlists the audience to sing a moderately-complex background riff. The album's closer is Ben E. King's soul anthem "Stand by Me", here transformed into a solo vehicle for Cyrille and her keyboard.
At 26 years old, Cyrille Aimée has an impressive start to her career. With her abundant talent and ever-widening musical horizons, she could easily become a major jazz star of this and the next generation. Get a copy of "Live at Smalls" and witness the emergence of a superb vocalist. It's 67 minutes of music you'll revisit again and again.