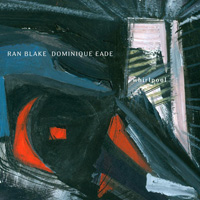 RAN BLAKE & DOMINIQUE EADE: "WHIRPOOL" (Jazz Project 2)
In 1961, pianist Ran Blake recorded a progressive album of duets with vocalist Jeanne Lee. The album was titled "The Newest Thing Around", and when it was reissued on CD in the 1980s, Michael Ullman stated the title might be outmoded. That is hardly the case, even 25 years after the reissue. Blake's forward-thinking recordings with Lee are still stunning, and that same progressive approach is part of his latest release, a duet album with vocalist Dominique Eade, "Whirpool". On both albums, Blake's rumbling bass notes and free-association treble melodies break down all previous concepts of accompaniment. Like Lee, Eade has a flexible voice, extraordinary ears and deep harmonic knowledge which allows her to follow—and sometimes lead—Blake as they travel far outside the key centers and original harmonies. Blake's background to "Old Devil Moon" brings out the sinister side of the lyrics, and "After the Ball" becomes a strange off-kilter waltz. There are two fascinating versions of "Dearly Beloved" (one starting in triple time and the other staying in four) and a moody performance of "The Wind" where Eade darkens the timbre of her voice to match the lyric. Like the Blake/Lee collaboration of half a century ago, the Blake/Eade album demands open-minded listening and a spirit of adventure.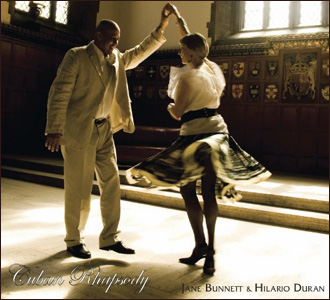 JANE BUNNETT & HILARIO DURAN: "CUBAN RHAPSODY" (Alma 67112)
The cover photo of "Cuban Rhapsody" shows Jane Bunnett and Hilario Duran in the middle of an exuberant dance. Naturally, dance is an appropriate metaphor for the intimacy and interaction of a musical duet, but it is particularly suited to this recording. Kerry Doole states in the liner booklet that the Cuban classical music recorded by Bunnett and Duran is the equivalent to The Great American Songbook. Like its American counterpart, this music is inspired by and designed for dancing. Yet other parts of this music call for classical technique and tone, and as in European classical music, there are melodies that sound like they come from folk music. Pianist Duran grew up in Cuba listening to this music, and flutist/soprano saxophonist Bunnett came to Cuban music in the 1980s. Both have become major exponents of Cuban music, and while this branch of the Cuban music scene represents new territory for their jazz work, they embrace these pieces (including classics of the genre like "Lágrimas Negras", "Son de la Loma" and "Danza Lucumi") with love and passion. They don't improvise on every piece, but when they do, they make their musical thoughts a natural extension of the written scores. It is clear from this wonderful recording that Bunnett and Duran hold the music of Matamoros, Lecuona, Grenet and Saumell with the same esteem that they have for Gershwin, Porter and Ellington.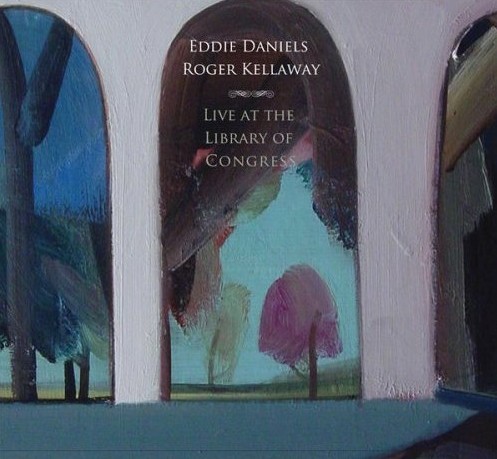 EDDIE DANIELS & ROGER KELLAWAY: "LIVE AT THE LIBRARY OF CONGRESS" (IPO 1021)
A great jazz duo can provide a multitude of expressions including surprise, humor, tenderness and exuberance, and the mood can change at the slightest musical cue. "Live at the Library of Congress" is the second duo album by clarinetist Eddie Daniels and pianist Roger Kellaway, and it is a delight from beginning to end. Daniels and Kellaway listen and respond to each with such acuity that they finish each other's improvised phrases, and compliment each other's moods. Both exhibit flawless technique, with Daniels nimbly improvising all over his instrument, and Kellaway displaying an encyclopedic knowledge of piano styles. The tracklist includes three originals by the pianist: "Capriccio Twilight" which reveals itself as a blues about two and a half minutes into the performance, but allows each player the freedom to play outside the form; the folk-like "A Place that You Want to Call Home", which elicits glorious long lines from the clarinetist; and "50 State Rambler" which evokes the sound of a speeding freight train. To call the rest of the album standards would shortchange the originality of the selections. Alongside the usual jazz repertoire of "Just Friends", "Strike up the Band" and "Rhythm-A-Ning" are beautiful renditions of "Somewhere", "Pretty Women" and "America The Beautiful". This CD is loaded with wondrous surprises and should be a part of any jazz lover's library.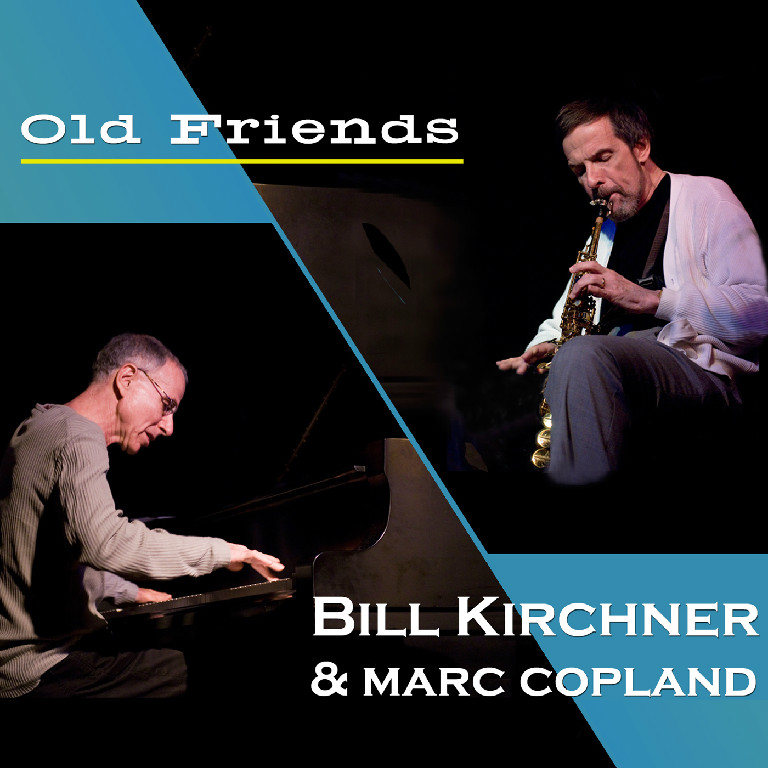 BILL KIRCHNER & MARC COPLAND: "OLD FRIENDS" (Jazzheads digital download)
Recorded in performance at New York's New School, Bill Kirchner's and Marc Copland's "Old Friends" is an expansive and thoughtful duet album. On this near-capacity CD, Kirchner and Copland explore the nooks and crannies of seven songs from the standard pop and jazz repertoire, and they let their renditions evolve naturally, taking their time to bring out the best in each song (For example the opening track, "Estate", runs for nearly 14 minutes, and the melody does not appear for the first two minutes). Kirchner's razor-like tone on soprano sax is a great foil for Copland's rhapsodic piano. They have worked together since the mid-70s, and they know and trust each other enough to work without preset arrangements, letting their common musical instincts guide their performances. Their version of Wayne Shorter's "Footprints" offers abundant examples of how they discover their arrangements in performance. From the introduction, Copland seems to push for an aggressive reading, and his solo dissects elements of the traditional bass intro and the melody. This leads Kirchner into a fascinating exploration of an angular motive in his solo. At one point, the two bounce an idea back and forth, and then a few bars later, Copland combines them in his accompaniment!  This album requires and rewards close and repeated listening.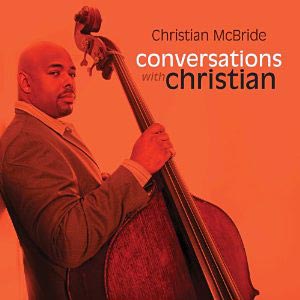 CHRISTIAN McBRIDE: "CONVERSATIONS WITH CHRISTIAN" (Mack Avenue 1050)
The thought of a duets album has been gestating with bassist Christian McBride for over a decade. Yet it was a series of videotaped interviews made for the National Jazz Museum in Harlem that lead to a Sirius-XM radio show (also called "Conversations with Christian") that lead to this album. McBride is a great communicator, both personally and musically, and his great versatility has brought him together with musicians from jazz, pop, Latin and folk music. Thus, it should be no surprise that McBride's album has not one, but 13 different duet partners, including Sting, Eddie Palmieri, Russell Malone, Angelique Kidjo and Ron Blake. The styles change as frequently as McBride's partners, and sometimes the styles mix, as on "Fat Bach and Greens" where McBride and violinist Regina Carter fuse Bach's Double Violin Concerto with the blues. On "Baubles, Bangles and Beads", trumpeter Roy Hargrove engages McBride in a playful give-and-take, and Dee Dee Bridgewater offers gutsy funk (with both vocal and bass support from McBride) on her version of the Isley Brothers' "It's Your Thing". Through it all, McBride's bass is the great constant with his superb musicianship, good humor and exquisite tone. Certainly the most poignant tracks are the duets with Billy Taylor and Hank Jones, both of whom passed away before the release of the album. Both pianists play magnificently, which makes their loss all the more tragic. Taylor's passing has also left a void as he was one of jazz's best spokesmen. Perhaps McBride will be able to use his amiable personality and wide musical horizons to continue that part of Taylor's legacy.