The Lakewood Cultural Center is one of several small theaters built in the Denver Metro area over the past few years. Usually owned and operated by suburban city governments, these venues generally host community theater productions, chamber music, travelogues, and visiting artist programs. They are also very good venues for jazz, offering the intimacy of a nightclub and the comfort of a concert. The Lakewood theater's 320 seats were filled for the March 27 performance of vocalist Cyrille Aimée and her quartet, and while there was a general lack of interaction between the performers and the audience, the latter showed significant appreciation at the conclusion of the performance.
Cyrille's tour is in support of her latest Mack Avenue album, "It's a Good Day", and most of the supporting group from that album appeared with her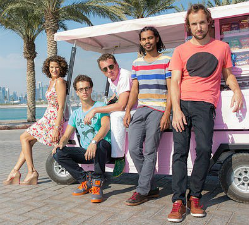 in Lakewood. The group featured two guitarists, Michael Valeanu on electric, and Koran Agan on acoustic. They were situated on opposite sides of the band, and Cyrille showcased each guitarist separately before letting them loose on a wild chase sequence. Agan (who was the group's sole ringer) is a dedicated Django Reinhardt disciple, even to his chosen instrument, a Selmer Maccaferri. He captured the melodic essence and technical expertise of Reinhardt's style with enough of his own identity to avoid being called a clone. Valeanu also showed roots in Django, but his style seemed to collect bits and pieces of several modern guitarists, all combined into a unique and personal style. Bassist Sam Anning did a splendid duet with Cyrille on a tune called "Laverne Walk". The chemistry between the two was electric, and it would have been nice to hear more of this coupling throughout the concert. Drummer Rajiv Jayaweera had only one solo in the entire concert—and it was on the encore "Caravan"! However, he was a marvel to see and hear as he created brilliant rhythmic backdrops for the rest of the group.
Cyrille was in splendid form. Her light, flexible voice was clear and precise, and her diction in English, French and Spanish was superb. Her first scat solo didn't appear until the fourth number, on her original composition "Nuit Blanche". She started almost imperceptibly, singing exclusively through her nasal cavity. Gradually, she moved into scat syllables, and the solo built steadily from there. Near the solo's peak, she was nearly drowned out by Valenu's guitar, but Cyrille could still be heard with a little extra concentration (This was the only problem with the sound all night; most of the time, the balance was quite good). Cyrille's eerie rendition of the Doors' "People are Strange" was one of the evening's highlights, as was her touching lyric treatment of Babek Reinhardt's "Our Love". The concert also included an enticing cover of Michael Jackson's "Off the Wall" (with an extended quote of "Milestones" by Valeanu), Rodgers and Hart's "Where or When", a blisteringly fast version of "Love Me or Leave Me" and Cyrille's atmospheric travelogue of East India, "One Way Ticket".
Unfortunately, the Lakewood audience only heard a portion of Cyrille Aimée's abundant talents. She is one of a handful of vocalists who create complex solo pieces through digital loop recording (Cyrille's loop version of "Nuit Blanche" won her some of her earliest accolades) and I was sorry that she didn't bring the looper with her. Virtually everything played on the concert was based on pre-set arrangements, and while adhering to a score is a particularly good discipline for jazz musicians, it would have been a welcome change of pace for Cyrille and the band to just open up and play a standard without any previously set restrictions (as for the ending, Cyrille could easily follow the advice of her own lyrics: "we'll figure it out when we get there"). Anyone who has seen Cyrille perform in a jam session—or has heard her fine album, "Live at Smalls"—knows that she excels in a loose atmosphere. Since Cyrille is still building her name and reputation, it's important that she showcases her many talents whenever she appears on stage. It is the combination of these talents that makes her such an intriguing vocalist.