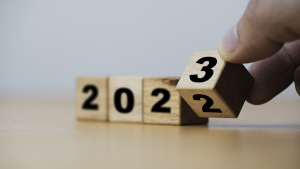 …And another year has passed. This one seemed to move quicker than the others but not being in quarantine might have made the difference. In 2022, Jazz History Online covered more concerts than in any other year in its history; however, this was also the year with the fewest full issues. Only 3 books and 3 videos were reviewed this year, and because all of them were worthy of recommendation, all 3 items in both categories made the best-of list. There are a total of 15 CDs selected for recognition here (about half the size of the usual lists) but there are 8 concerts selected from approximately two dozen live performances. As usual, we also pay tribute to the jazz musicians and supporters who left us in 2022.
My personal projects include the liner notes to Reverso's new CD, "Harmonic Alchemy", editing on Mark Cantor's new book "The Soundies", research assistance on the upcoming Mosaic JATP set (look for an updated version of my "Opera House" article in the coming days), and writing a new book on the "Pyramid" TV game shows.
Without further ado, here is the 2022 Summation. Links will take you to the selected review.
BEST BOOK:
Keith Hatschek, "The Real Ambassadors" (University Press of Mississippi)
Aidan Levy, "Saxophone Colossus" (Hachette)
Deanna Witkowski, "Music for the Soul" (Liturgical Press)
BEST NEW CDs (Instrumental and Vocal):
Franco Ambrosetti, "Nora" (Enja)
Lynne Arriale, "The Lights Are Always On" (Challenge)
Camille Bertault/David Helbock, "Playground" (ACT)
Anat Cohen, "Quartetinho" (Anzic)
Eli Degibri, "Henri and Rachel" (Degibri)
Al Foster, "Reflections" (Smoke Sessions)
Aubrey Johnson/Randy Ingram, "Play Favorites" (Sunnyside)
Manhattan Transfer, "Fifty" (Craft)
Dafnis Prieto/Luciana Souza, "Cantar" (Dafnison)
Enrico Rava/Fred Hersch, "The Song is You" (ECM)
Jeremy Siskind/Nancy Harms/Lucas Pino, "Songs of Rebirth" (Outside In)
Carol Sloane, "Live at Birdland" (Café 44)
Melissa Stylianou, "Dream Dancing" (Anzic)
Mark Winkler, "Late Bloomin' Jazzman" (Café Pacific)
Jason Yeager, "Unstuck in Time: The Vonnegut Suite" (Sunnyside)
BEST REISSUES:
"The Complete Freddie Hubbard Blue Note & Impulse '60s Sessions" (Mosaic)
Charles Mingus, "The Lost Concert from Ronnie Scott's" (Resonance)
Oscar Peterson, "A Time for Love" (Mack Avenue)
BEST VIDEOS:
Louis Armstrong: "Black and Blues" (Apple)
Ron Carter: "Finding the Right Notes" (PBS)
"Round Midnight" (Criterion)
BEST CONCERTS:
Laura Anglade/David Rourke (Philadelphia; September 14)
Kenny Barron/Bill Charlap/Aaron Diehl (New York City; July 21)
Clifford Brown Jazz Festival (Wilmington; June 12-18)
Dena DeRose/Virginia Mayhew (New York City; February 25)
Ryan Keberle & Catharsis (Baltimore; September 16)
Maria Schneider Orchestra (New York City; March 10)
Luciana Souza/Vince Mendoza (New York City; October 15)
The Swingles (Newark, DE; December 10)
RIP:
Beegee Adair, Ernie Andrews, Gabe Baltazar, Carlos Barbosa-Lima, Warren Bernhardt, jaimie branch, Gene Cipriano, Gal Costa, Ronnie Cuber, Joey DeFrancesco, Bob DeMeo, Joe Diorio, Mick Goodrick, Khan Jamal, Conrad Janis, Sy Johnson, Rolf Kühn, Mark Levine, Ramsey Lewis, Nils Lindberg, Michele Manzotti, Sid Mark, Tina May, Ron Miles, Sue Mingus, Charnett Moffett, Grachan Moncur III, Barbara Morrison, James Mtume, Anthony Ortega, Ellyn Rucker, Paris Rutherford, Pharoah Sanders, Harry Sheppard, Andrew Speight, Meghan Stabile, Howard Stone, Monette Sudler, Creed Taylor, Butch Thompson, Janet Thurlow, Louise Tobin, Abdul Wadud, Jessica Williams, Leroy Williams.
Finally…
Thanks to all of our loyal readers, sponsors, and those who have donated money, time and services to this site. We hope to continue for many years to come, and we trust that we will continue to receive your support and readership.
Best,
Thomas Cunniffe.