Every follower of the arts has a list of their favorite live performances, and usually, there's a story that goes along with it. Do you remember that concert when Joe Williams sang "Just the Way You Are"? As he sang "Don't go changing to try to please me", his hand microphone suddenly made loud popping noises. He looked back at the sound man with a very innocent look and sang, "you never let me down before"! * Such memories are usually distorted and exaggerated over the years…unless there is a tape of the concert. This issue's Retro Review examines four vintage concerts with outstanding circumstances which are now being issued on CD for the first time. Let the memories be validated…
Do you remember the concert when Ella Fitzgerald sang most of "The Irving Berlin Songbook" with a full orchestra live at the Hollywood Bowl?
Ella Fitzgerald's August 16, 1958 concert slipped from many minds, for there are many questions and details still unanswered about this performance, now available on "Ella at the Hollywood Bowl" (Verve 35320). While Fitzgerald performed at the Bowl many times, she rarely appeared with an orchestra, but apparently, Norman Granz decided that a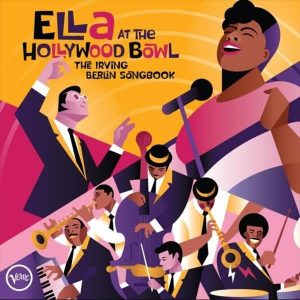 live concert pairing the "Irving Berlin Songbook" and the "Cole Porter Songbook" (and a year later, "The George & Ira Gershwin Songbook") would bolster album sales. Both concerts were recorded—and the Porter and Gershwin live sets will probably be available on CD in the near future. Fitzgerald is in her usual prime form, and she spins elegant melodic variations on "How Deep is the Ocean" and "Suppertime". She has great fun with "Heat Wave"—of which the California weather probably confirmed—and she swings magnificently on "Cheek to Cheek". Her brief version of "Russian Lullaby" is heart-breaking, and she carries off the gender anachronisms of "Top Hat, White Tie and Tails" through pure amiability. And for those who still believe that Fitzgerald was incapable of high drama, don't miss her stunning interpretation of "Get Thee Behind Me, Satan". The orchestra personnel is unknown, but with the esteemed Paul Weston at the podium, it's likely that many of the studio musicians from the original album returned to play the concert. One of the lingering questions about this concert is why Granz recorded it at all. Certainly, he realized that he would not get a hi-fi recording in an outdoor setting, so the only possible use for the tapes would be as reference recordings. Despite a remix job, the sound on the CD is mediocre at best. There's a hollowness to Fitzgerald's voice, and the orchestra mix is undefined and boxy. Somehow, there was enough microphone coverage so that the instrumentalists can still be heard, albeit without the presence of the studio recordings. There are a few overlapped edits, where Ella's spoken "thank you" appears as she is still holding the last note of the song. Finally, I will concur with Will Friedwald, who laments that "Blue Skies" was not performed at the concert. That tune, left off of the original double-LP, had a tremendous 2 ½ chorus scat solo, which Fitzgerald probably created in its entirety in the studio. As far as I know, she never performed that arrangement live, but it would have been fascinating to hear a new solo on this Berlin standard. However, audio tapes can only capture the music actually performed, not the ones we wish were played. The music we have from that August night in 1958 is quite special in its own right.
Do you remember the concert when Paul Desmond didn't show up and Dave Brubeck performed a whole concert with just his trio?
No one seems sure where Paul Desmond was on November 12, 1967, but he was not at the Vienna Konzerthaus, where he was supposed to be. There was general speculation that the saxophonist was still partying in Hamburg, the location of the previous night's concert by the Dave Brubeck Quartet. Thankfully, he did turn up for their concert in Paris on the 13th. But in Vienna, the trio—for the first and only time—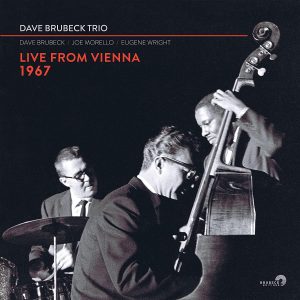 had to play the concert without their star alto saxophonist. As documented on "Live from Vienna, 1967" (Brubeck Editions 20220203), the trio got along without Desmond very well. They began with their usual opener, "St. Louis Blues", perhaps hoping that Desmond would saunter onstage at the last minute. The trio dug into the Handy classic with great brio. Brubeck digs into the keyboard a little more than usual, and Joe Morello's bass drum bombs seem extra potent. Bassist Eugene Wright seems the least perturbed with Desmond. His first solo quotes "Look for the Silver Lining" (a Desmond favorite), "Chloe", and "I'm Gonna Wash That Man Right Out of My Hair". Actually, Wright gains the most from Desmond's absence, as he gets more solo space than usual. I wouldn't accuse the bassist of saving his best material for such an occasion, but he sounds very happy about the opportunity to play (There wouldn't be many more: the Dave Brubeck Quartet disbanded at the end of the year). Brubeck's sole composition on this disc, "One Moment Worth Years", was his tribute to Fats Waller, and this buoyant version is an absolute joy, peaking with an ecstatic double-time section in the piano solo. Wright's solo goes right to the center of the groove; his bass notes line up precisely with his tapping foot! Morello pares down his ideas in his solo, providing a delightful contrast. The hyperactive version of "Swanee River" sits on the brink of rushing the tempo, but never does. "La Paloma Azul" calms the band and audience, with Brubeck adding some funky touches in his solo. "Someday My Prince Will Come" starts as a waltz, but soon mixes double and triple meter, with Brubeck and Wright in 3, and Morello in 2. As Brubeck adds powerful syncopations against the beat, it becomes harder and harder to find a common downbeat! The performance closes with a swinging version of Billy Strayhorn's "Take the A Train". Although Strayhorn had passed a few months earlier, this rendition is full of life and vitality. It is also a fitting tribute to Brubeck, Wright, and Morello, who all ensured that the show would go on, even without one of its stars.
Do you remember the concert when Charles Mingus had the teenaged Jon Faddis in his sextet, along with a drummer who doubled on musical saw?
It seems incredible that Charles Mingus and Dannie Richmond would even consider working apart. Yet, for his 1972 European tour, Mingus had to do without Richmond and many of his other principal sidemen. He still had saxophonists Charles McPherson and Bobby Jones—but not for long after—and he assembled a very good sextet featuring the era's wunderkind trumpeter Jon Faddis, pianist/vocalist John Foster and drummer/musical saw specialist Roy Brooks. Mingus recorded for Columbia at the time, and the company recorded the group in concert at Ronnie Scott's in London. For reasons detailed below, the album was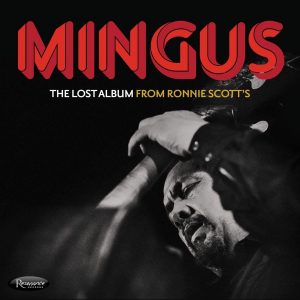 never produced. The tapes have been exquisitely remixed by George Klabin and Fran Gala for a 3-disc set, "The Lost Album from Ronnie Scott's" (Resonance 2063). Aside from Mingus, the saxophonists are the most comfortable with the repertoire, with McPherson shining on alto for "Noddin' Ya Head Blues" and Jones blowing powerful soprano on "Orange Was the Color of Her Dress, then Silk Blues". Faddis' solo on "Orange" starts as a series of reactions to the band's shifting tempos, but then he takes the lead and provokes several of the tempo changes himself. Foster is virtually forgotten today, but this set may well establish his legacy. An outstanding blues pianist with an impressively wide harmonic range, Foster sings several powerful blues choruses at the outset of "Noddin' Ya Head" and impersonates Louis Armstrong in a version of "When the Saints Go Marchin' In". Brooks is a very capable substitute for Richmond, as he drives the ensemble into different and surprising directions. His musical saw improvisation uses a mallet in place of a bow and may be one of the most unusual blues solos ever recorded. As for Mingus, he was emerging from a long period of depression, but the music seemed to lift his spirits. On these long tracks, he displays unceasing energy, anchoring the band with his thundering tone, soloing with great technical facility, and frequently raising his voice in a wail above his sidemen. With two full nights of superb performances on tape, Columbia should have had a great double album on the market within months. It didn't work out that way. In one of the most mind-boggling decisions ever made in the music business, Columbia's president Clive Davis canceled the contracts of Mingus, Keith Jarrett, Bill Evans, and Keith Jarrett. Davis was fired soon after, and to show that short-sightedness was not limited to upper management, Columbia did not rescind Davis' reckless action. While the imminent release of this material back in 1972 would have benefitted all of the musicians involved, Resonance's 3-LP version of this set gives us a glimpse of one possible Columbia release of this music: Three of the pieces run around 30 minutes each, much too long for an LP side then, and pushing the boundaries now. Resonance splits two of the pieces over side breaks, but somehow jammed the entire "Mind-Readers Convention in Milano" and the run-off theme "Ko-Ko" (nearly 31 minutes total) onto one side. Judging by a couple of original LP pressings from 1972 in my collection, I can state that if Columbia attempted that feat, the discs would have mis-tracked on every phonograph available at the time (The other likely option would be a cut-and-splice job, which might have been much worse.) Zev Feldman and the rest of the team at Resonance Records are much more sensitive than that, and once again, they have treated classic jazz with the care it deserves.
Do you remember the concert when Oscar Peterson played 20-minute tributes to Duke Ellington and J.S. Bach?
The Oscar Peterson Quartet arrived in Helsinki on November 17, 1987, at the end of a grueling tour. The thought of a trip home on the next day—rather than another concert stop—both relaxed the group and inspired the fine performances on the double-CD, "A Time for Love"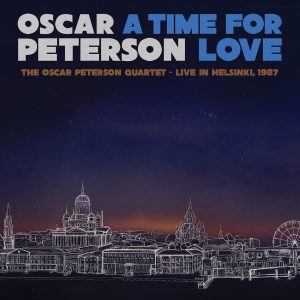 (Mack Avenue 1151). The album presents additional evidence of the strong chemistry between Peterson and guitarist Joe Pass. Each was a technical marvel, but they also knew how to temper their styles to benefit each other and the rest of the group. The opener, "Cool Walk", has hundreds of notes flying between the two soloists, but it is the solid groove by bassist Dave Young and drummer Martin Drew that stands out. On the up-tempo "Sushi", Pass and Peterson swing with great intensity while maintaining an active dialogue. When they exchange four-bar phrases, they anticipate each other's thoughts with stunning accuracy. In the opening solo chorus of "Love Ballade," Peterson softens his touch, letting the grand piano sing with glorious rich tones. Pass, Young, and Drew enter almost imperceptibly, and their understated contributions sustain the tender mood. The Bach tribute comes next. Wisely, Peterson does not attempt a full-fledged imitation of the German master, but tastefully mixes his style with Bach's contrapuntal technique to create a unique tribute filled with interplay and swing. The last piece in this disc-long survey of Peterson originals is the swiftly-grooving "Cakewalk". Pass eats up the changes like a Thanksgiving dinner, and then Peterson finishes his own plate and goes back for seconds. The second disc focuses on jazz originals and standards while offering different combinations of instruments. The last point is not immediately apparent, so after Peterson starts Johnny Mandel's "A Time for Love" with a flowery solo exposition, it is Pass who takes the second chorus alone, retaining the free time while decorating the theme in his own fashion. Peterson re-enters with Young adding a simple bass line to fill out the ensemble sound. "How High the Moon" is a duet for piano and guitar with the ideas freely flowing between the two principals. "Soft Winds" brings the quartet back together in a revised setting of a favored Peterson arrangement. The group swings like a well-oiled machine and the complex improvisations sound effortless. Bill Evans' "Waltz for Debby" is a delightful Peterson solo that moves from 3/4 to 4/4 in the improvised chorus, allowing Peterson to display his stride style with walking tenths. Pass continues the theme of innocence with a gentle solo on "When You Wish Upon a Star". Again, the 20-minute composer tribute takes the penultimate spot. In addition to Duke Ellington, the medley includes two pieces by Billy Strayhorn, "Take the A Train" and "Lush Life". A medium-up "A Train" starts things off with a soulful Pass solo and joyous Peterson inventions. With a quick piano segue, the quartet glides into a relaxed take on "Don't Get Around Much Anymore". "Come Sunday" follows as an unaccompanied piano solo. Next, Pass and Peterson trade solo blues choruses for several minutes before the full quartet reveals the theme of "C Jam Blues". Peterson's virtuosic turn through "Lush Life" precedes a dazzling arrangement of "Caravan" with Peterson's fingers flying all over the keyboard. The pianist returns to one of his own pieces "Blues Etude" as a play-off, giving the audience another breathtaking performance before the band left the stage. While there are plenty of live Peterson recordings, this one is a real jewel. Like the other recorded concerts in this survey, this one will live on in our memories.
*= Yes, that Joe Williams story is true. It happened at a concert at the University of Northern Colorado Vocal Jazz Festival, which took place in Greeley, Colorado on February 22, 1980. I recorded the concert with my late friend Eric Sherrow. I still have the tape…along with many vivid memories.