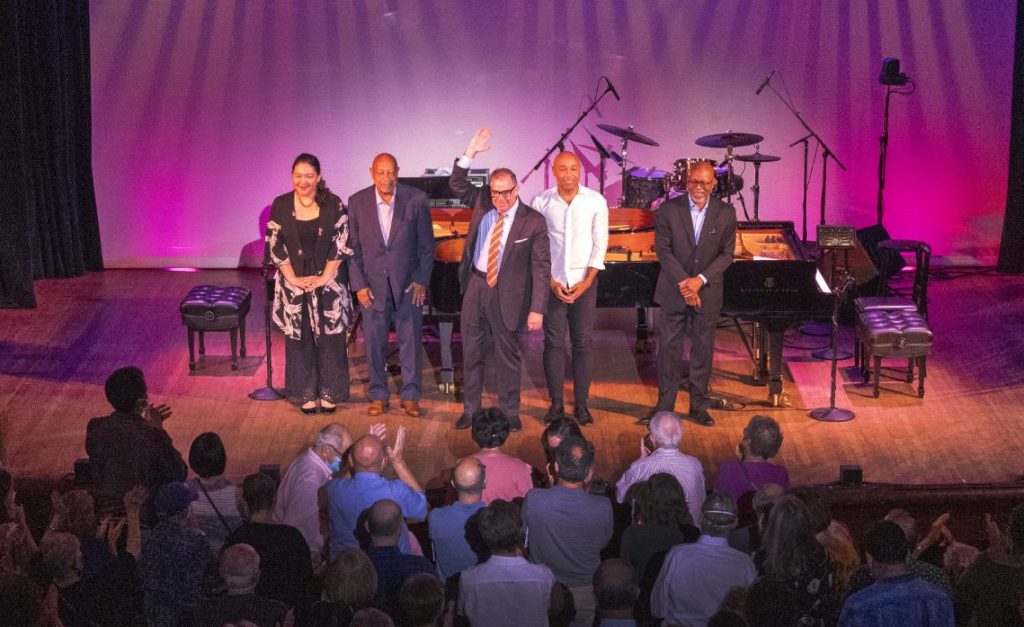 ARTIST: Kenny Barron/Bill Charlap/Aaron Diehl
VENUE: 92nd Street Y (Kaufmann Concert Hall); New York
DATE: July 21, 2022
PERSONNEL: Kenny Barron, Bill Charlap, Aaron Diehl (p); Noriko Ueda (b); Lewis Nash (d).
A few generations ago, a piano summit like the one presented at 92nd Street Y's "Jazz in July" would have been staged as "a piano battle" or a "cutting contest". The violence in those phrases is one of the reasons that staged jam sessions are less popular now than in years past. Simply put, there is no good reason why artists in the caliber of Kenny Barron, Bill Charlap, and Aaron Diehl should want to blow one another off the stage. These musicians have great respect for each other, and they know that the audience will be amply satisfied with tasty interpretations and thoughtful improvisations, rather than empty displays of gamesmanship. At the 92nd Street Y's Kaufmann Concert Hall, the pianists were introduced one at a time, and each had opportunities to play solo numbers and duets with the other pianists, with the added option of a first-class rhythm section (Noriko Ueda, bass; Lewis Nash, drums). The concept of playing together rather than against one another made this a pleasant and stressless concert.
Kenny Barron opened with a beautifully-structured solo on "Spring Can Really Hang You Up the Most". After playing the verse and chorus in free tempo, he improvised two distinctive choruses. The first chorus retained the rubato feel, and there was ample space left at the end of each phrase. At the outset of the second chorus, he established a slow walking tempo by adding a simple stride bass line. The right-hand lines flowed and the spaces were greatly compressed. Aaron Diehl joined Barron for a sparkling duet on "Have You Met Miss Jones?", where the ideas flew like shuttlecocks across the twin Steinways. The rhythm section joined Bill Charlap and Diehl in Dave Brubeck's "The Duke". Diehl improvised a tasty chorus over Nash's brushes before Charlap played the theme with Brubeck's original voicings. Charlap started his solo at the very top of the keyboard with delightful rippling phrases, and Diehl picked up on them to open his second solo. The piece came to an exciting conclusion with a spirited set of exchanges. Ueda's deeply-swinging bass was featured on Charlap's version of "Bohemia After Dark". Charlap created several reharmonizations of the melody before Ueda displayed her great melodicism and dexterity. Charlap bridged stride, swing, and bop in his solo before yielding to Nash's drums. Barron returned to duet with Charlap on "All the Things You Are", while live images of their hands were projected on the stage wall. For those not seated in the center section of the house, this was an invaluable tool in following the intersecting lines of the two pianists.
Diehl's unique arrangement of Bud Powell's "Tempus Fugit" reversed the solo order, with an abstract melodic statement leading to exchanges with Nash (and a subsequent drum solo), followed by Ueda's motivically-centered solo. Diehl's clear lines and precise execution evoked the composer, and he finished the performance with a full version of the theme. In a complete turnaround, Diehl played an unaccompanied version of Sir Roland Hanna's "Prelude # 2 in E Major". Diehl's sensitive performance reflected the work's delicate nature. Charlap told the backstory of Vincent Youmans' "Tea for Two" and the piece became fodder for a charming duet for Charlap and Nash. The projected video revealed that Nash had two similar-sized drums next to each other, and in his solo, he played one brush on each drum! Charlap's runs up and down the keyboard were quite dazzling, but Nash's light, dancing ideas stole the show. Charlap resumed his role as song historian, analyzing the lyrics to Irving Berlin's "How Deep is the Ocean" before turning to Barron for a stunning trio rendition. For the grand finale, Charlap and Diehl paired up on the right side keyboard, leaving Barron alone on the left. All of the musicians soloed on Barron's blues "And Then Again". There was a standing ovation, but no encore was necessary. The calming music had been the perfect antidote to a hot summer night.