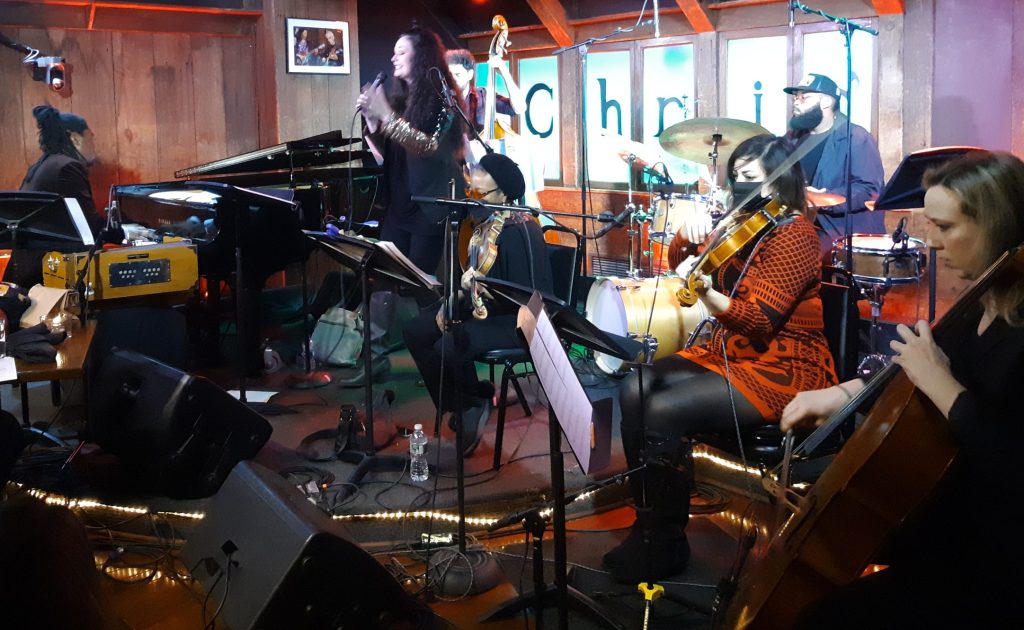 ARTIST: George Burton's Yule Log
VENUE: Chris' Jazz Café; Philadelphia, PA
DATE: December 16, 2022
PERSONNEL: Nancy Harms (v); Diane Monroe (vln); Veronica Jurkiewicz (viola); Maura Dwyer (cello); George Burton (p); Pablo Minares (b); Nazir Ebo (d).
George Burton told the packed audience at Chris' Jazz Café that he designed his holiday offering, Yule Log, as an ensemble that avoided the "greatest hits of Christmas". As a result, the halls remained undecked, bells did not jingle, chestnuts were kept away from the open fire, and no one dreamt of a white Christmas. Instead, there was a Catalonian carol about the excitement surrounding the infant Jesus, a touching American song about the various images of Christ, and a theoretically non-Christmas song about adults putting their faith in children. The son of a Philadelphia church choir director, Burton first heard "Fum, Fum, Fum", "Some Children See Him" (and possibly "Little Altar Boy") in choral settings. He has adapted and expanded these songs into emotionally powerful settings for an extended jazz ensemble combining a vocalist, string trio, and rhythm section.
Burton's true partner in this group is violinist Diane Monroe, then and now a living legend in Philadelphia music. Burton and Monroe are the band's principal soloists, and both extract powerful improvisations from the unusual repertoire. The gifted vocalist Nancy Harms performed the songs with impressive diction ("Fum" contains lots of tongue-twisting phrases, here performed at a swift tempo) and unerring intonation. Pablo Meneres and Nazio Ebo offered outstanding support and shone in limited solo opportunities. And in the most thankless roles, violist Veronica Jurkiewicz and cellist Maura Dwyer played their ensemble parts with great dedication.
The arrangements are very intense. Burton takes advantage of the rudimentary harmonies to transform the songs into Coltrane-esque modal settings. Monroe and Butler's solos were densely packed with fast-moving notes and earth-shaking quartal voicings. As the solos developed, they also became significantly louder. Naturally, part of this effect comes from the energy emitted by the musicians, but the room also plays a role: Chris' Jazz Café is not a large room and it seems better suited for a 5-piece group at most. With the natural sound boosted by significant amplification, what may have sounded like a medium-level dynamic on stage comes to the audience as a loud blast that only gets louder. There's not much that can be done about this, of course. This venue is one of the most popular in Philadelphia, and Burton (among many other musicians) has a long-time affinity with the club. Further, the audience at Chris' was very appreciative. Nonetheless, I hope to hear this group again in the coming years in a true concert setting, where the dynamics are a little easier to control.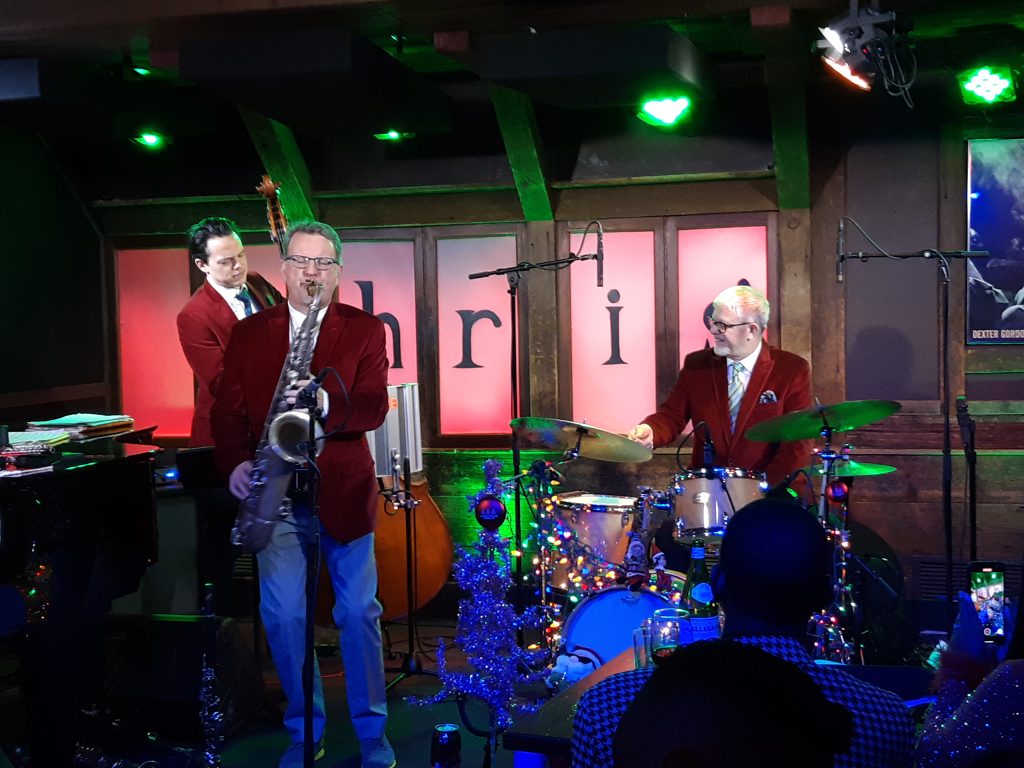 ARTIST: Matt Wilson's Christmas Tree-O
VENUE: Chris' Jazz Café; Philadelphia, PA
DATE: December 10, 2022
PERSONNEL: Jeff Lederer (reeds); Paul Sikivie (b); Matt Wilson (d, perc)
There is no group in jazz that can blow the cobwebs off Christmas music better than Matt Wilson's Christmas Tree-O. Now in its 12th year, the trio continues to surprise and delight audiences with its audacious recasting of holiday favorites. I've heard them perform their opener "Winter Wonderland" many times, and I still can't decide if it's an homage to doo-wop or music for an imagined strip show. It may well be both, with Jeff Lederer's histrionic altissimo tenor over Wilson's primal beat pattern, or it could be something else, as when Wilson creates a melodic drum solo on the original tune. "Chipmunk Christmas" was another wild ride, with Lederer's sinewy soprano sax followed by Sikivie's rhythmically elastic bass. Wilson, who always has a bag of extra percussion instruments on the gig, pulled out a clangy hand cymbal, and he playfully interacted with Lederer as the latter quacked out single notes on the straight horn. From here, the band segued into "O Come, O Come Emmanuel" where Lederer's moaning tenor played over a collective improvisation of arco bass and various cymbals. Lederer switched to clarinet for a Puerto Rican song celebrating the local dessert, pasteles. Wilson pulled a tunable hand drum from his bag, and made it an integral part of the arrangement. Near the end of the arrangement, Lederer grabbed a shaker to interact with the hand drum, while Sikivie plucked high notes from below the bass bridge.
It was during the band's frantic rendition of "Up on the Housetop" when I realized the true essence of this group. Lederer was swinging hard over the powerful drums of Wilson with Sikivie providing a rich-toned and free-styled bass line below. It sounded like Charlie Haden had come back to life and joined the trio for this gig. This was full-fledged avant-garde jazz, with the undeniable influence of Albert Ayler, Ornette Coleman, and Haden. Somehow, this music—which alienated jazz listeners when it was first played a half-century ago—was now readily accepted by an ethically and age-diverse audience. How many of these people knew what to expect when they walked into the club, and how many realized what they had experienced when they left after the set an hour later? Wilson's good humor transformed a concept that sounds subversive on paper—mix Christmas music with free jazz???—into an outrageously fun experience.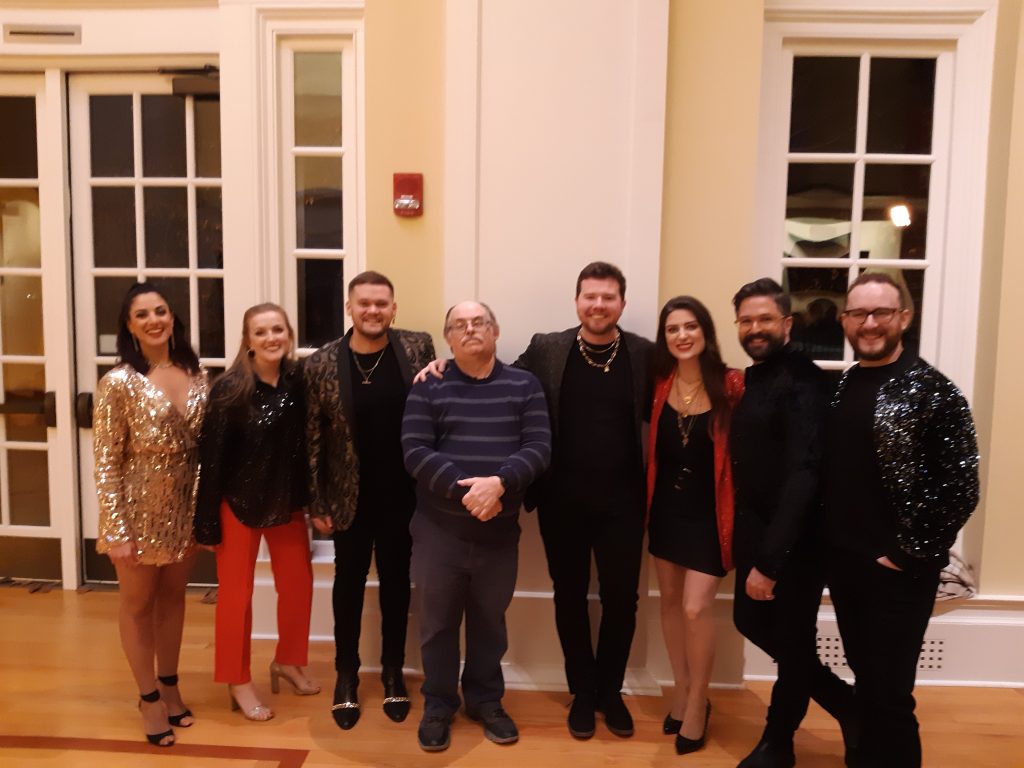 ARTIST: The Swingles
VENUE: Thompson Theatre, University of Delaware, Newark, DE
DATE: December 10, 2022
PERSONNEL: Federica Basile, Joanna Goldsmith-Eteson, Imogen Parry, Oliver Griffiths, Jon Smith, Jamie Wright, Tom Hartley (v).
Over the past decade, I have traveled many miles to hear The Swingles in concert, but this year a happy coincidence landed the group a mere 10 miles from my home. Jon Smith, the group's second tenor, attended the University of Delaware in Newark, and The Swingles incorporated a homecoming weekend within their US tour. The group spent a few days on campus working with the various vocal ensembles and completed their stay with an outstanding concert filled with holiday music and other music from the Swingle library.
The pandemic seemed only to bolster the inherent musicality of The Swingles. Their ensemble singing—including group phrasing, breathing, diction, and passion—was immaculate, which was all the more impressive due to the presence of a new member, bassist/vocal percussionist Tom Hartley. The Newark concert was only Hartley's seventh performance with The Swingles, and, in keeping with his fellow singers, he sang the entire 21-song concert from memory. His solo feature, "Wrapped in White" was composed by Hartley's predecessor Edward Randell, and (understandably) Hartley's interpretation followed the same pattern as Randell's. But just as with every other member of this group, Hartley will grow as a musician within this ensemble, and he will find his own way to make his Swingles tenure unique.
The concert program included several tracks from the album "Yule Songs, Volume 2" but even amongst these songs, there were surprises, including Midge Parry's ethereal lead on the concert opener, "O Come, O Come Emmanuel", a beautifully reharmonized arrangement of "White Christmas", and the seeming absence of the carillon field recording within "Tidings" (Kevin Fox's haunting recasting of "God Rest Ye Merry, Gentlemen"). Tchaikovsky's "Arabian Dance", as set by Joanna Goldsmith-Eteson, was used to demonstrate the group's use of live digital looping, and a version of "Goodbye England" incorporated a quote from "Coventry Carol". The best surprise was kept for the end: after performing "Auld Lang Syne" and taking their final bows, The Swingles left the stage and then came right back out, accompanied by about two dozen vocalists from the University of Delaware choirs. Together, they performed Goldsmith-Eteson's incredible composition "Narnia". The score includes several sections which are digitally looped when The Swingles perform the piece alone; here the student choir sang those parts live. The sheer mass of singers and their powerful sound made this version an overwhelming experience.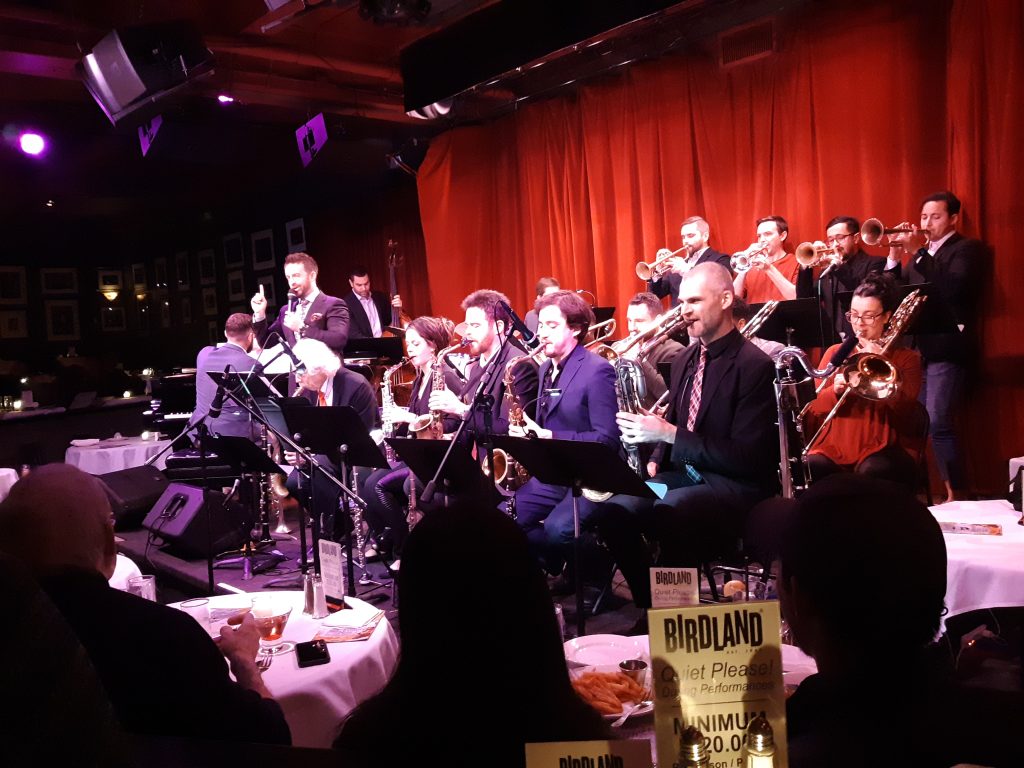 ARTIST: Benny Benack III with the Steven Feifke Big Band
VENUE: Birdland, New York, NY
DATE: November 20, 2022
PERSONNEL: Benny Benack III (tp, v); Max Darke, John Lake, David Neves, Gileno Santana (tp); Robert Edwards, Jeffery Miller, Javier Nero, Gina Benalcázar-López (tb); Andrew Gould, Alexa Tarantino, Blue Lou Marini, Alex Weitz, Andrew Gutauskas (r); Sasha Berliner (vbs); Steven Feifke (p, arr, cond); Raviv Markovitz (b); Jimmy McBride (d); Christian Wiggs (v).
If November 20 seems a little early to start playing Christmas music, the audience at Birdland seemed to agree. Yet, there was Benny Benack III with Steven Feifke's big band filling the bandstand, so there was little choice but to embrace the holiday spirit, albeit prematurely. Perhaps some complimentary eggnog would have helped.
As Benack explained to the capacity house, this November date was the only one that fit into his busy holiday touring schedule, noting that he would spend a significant portion of December in Japan. As it turned out, Benack and Feifke were able to assemble most of the principal musicians who had played on 2021's CD release, "Season's Swingin' Greetings". All of the music played at Birdland was the same as on the disc, so the band was familiar with the charts and with each other, resulting in a fine, tight ensemble. The main differences between hearing the CD and the live set were a sound balance that didn't always favor the vocalists (a true loss, considering the witty lyrics of the original songs) and a neo-Rat Pack approach to the stage business. It's obvious that many of the men in the group—notably Benack, Feifke, Markovitz, and guest vocalist Christian Wiggs—had been friends for years, and the spoken introductions were peppered with anecdotes about how they wrote this song when they were roommates, how Benack's Hebrew has improved over the years, and how Wiggs subbed for Benack on several gigs without anyone noticing the difference. Benack and Wiggs both got their Sinatra swagger on, but it was not done to the detriment of the music. The singers and the band swung mightily, the soloists—including the fine saxophonists Alexa Tarantino and Blue Lou Marini, and vibraharpist Sasha Berliner—were inspired, and the joyous performance carried the day. Many of the musicians onstage also played on Feifke's new big band album. With the news that the album had been nominated for a Grammy, it would have been appropriate for the band to play one or two of the arrangements live, adding 10 to 15 minutes of music to a rather short program—the Christmas CD only contains 43 minutes of music. Perhaps, it might have inspired any Grammy voters who happened to be in the audience (not, I am not one of those). Still, it was a pleasant way to kick off the holiday season, and those who purchase the CD will have a similar experience to those who attended Birdland that November night.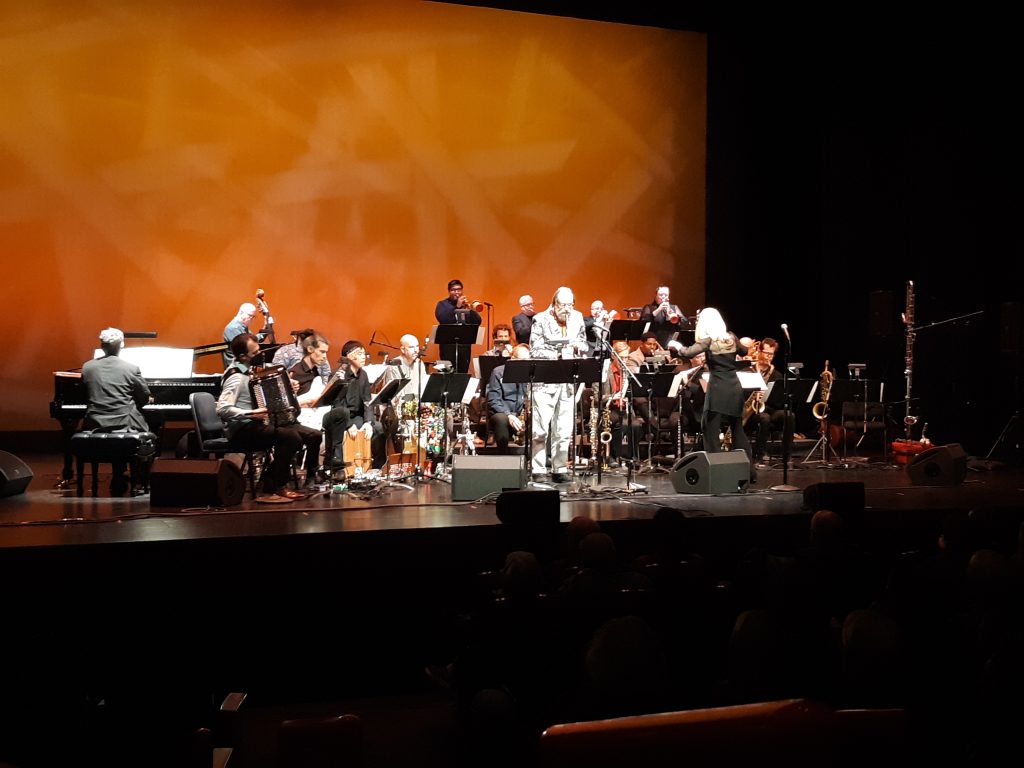 ARTIST: Maria Schneider Orchestra
VENUE: NJPAC; Newark, NJ
DATE: November 19, 2022
PERSONNEL: Maria Schneider (comp, cond); Tony Kadleck, Greg Gisbert, Michael Rodriguez (tp); Nadje Noordhuis (tp,v); Keith O'Quinn, Ryan Keberle, Javier Nero, George Flynn (tb); Alejandro Aviles, Dave Pietro, Rich Perry, Donnie McCaslin, Scott Robinson (r); Julien Labro (acc); Gary Versace (p); Jeff Miles (g); Jay Anderson (b); Johnathan Blake (d); Keita Ogawa, Rogerio Boccato (perc).
For nearly all of its three decades of existence, the Maria Schneider Orchestra has held a Thanksgiving week residency in the New York area. For several years, the venue was the Jazz Standard in Lower Manhattan. Regrettably, that club closed its doors permanently during the pandemic, and now the Schneider Orchestra's new November residence is a double-set appearance at Newark's NJPAC. At last year's performances, Schneider played different music for the 3 pm and 7:30 pm sets, but this time around, the band played the same selections at both concerts. The music was fascinating both times through, with the soloists providing plenty of diversity between the two sets.
Schneider decided to reprise some of the classic scores from her library, and fittingly, the opening composition, "Wrygly", was the same one that introduced the band to us on its debut album. With its strongly accented opening lines energetically performed by the horns and rhythm, it set the stage for a powerful concert. Within the two performances of that piece was the first significant change, with Scott Perry playing the first solo on tenor sax during the matinee, and Dave Pietro taking the same spot in the evening. Anyone familiar with Schneider's scores knows that she conceives solo sections for specific musicians, knowing the ways that the soloist can enhance the ensemble figures in the score. Without a doubt, Perry and Pietro have different approaches to soloing on this material, yet each man was able to drive the composition's energy to the needed dramatic heights. That they could do this on cue is a testament to the musical depth they have gained as long-time members of Schneider's orchestra. On the two extended pieces which completed the first set of each concert, Schneider shared her love of South American music. Scott Robinson soloed brilliantly on a metal clarinet in the Peruvian-inspired "Aries de Lando", while the expansive flamenco suite "Buleriá, Soleá y Rumba" featured the dramatic tenor sax of Donnie McCaslin, the sweetly flowing bass lines of Jay Anderson, and the exquisite voice of trumpeter Nadje Noordhuis (singing a virtuosic wordless line originally written for Luciana Souza!)
For the first two pieces in the second half, Schneider played two pieces new to the band's repertoire. Both pieces reflected Schneider's love of birds. "The Great Potoo" is native to Central and South America with a unique call (which Schneider dutifully recreated by voice in her introduction, and instrumentally in the composition). The score has two contrasting parts: a quixotic opening with Ryan Keberle's trombone mimicking the bird's curious walk, followed by a fiercely emotional section, where McCaslin creates a flurry of wild sounds on the tenor. "American Crow" was inspired by the birds that Schneider's father raised at her childhood home in Minnesota. Crows are not the most amiable of animals, and as Schneider said, they had a way of telling people to go to Hell. This trait was the catalyst for Schneider père to move the birds to his workplace whenever priests or nuns visited the home for dinner. (Hearing Schneider tell these bird stories was as entertaining as listening to the music!) Schneider compared the battling crows to our current political climate, noting how we seem unable to agree on any issues. The composition peaked with an extended section where trumpeter Michael Rodriguez was pitted against the rest of the band. The two entities fought a hard—but ultimately fruitless—battle with neither side able to adequately make their arguments. For the final work, Schneider took us to Brazil with a piece dedicated to the great samba master Paulo Moura, "Lembrança", featuring outstanding solos by Keberle and Anderson. As always, it was a joy and a treat to hear Schneider's phenomenal orchestra; it remains one of my primary benefits of moving to the East Coast.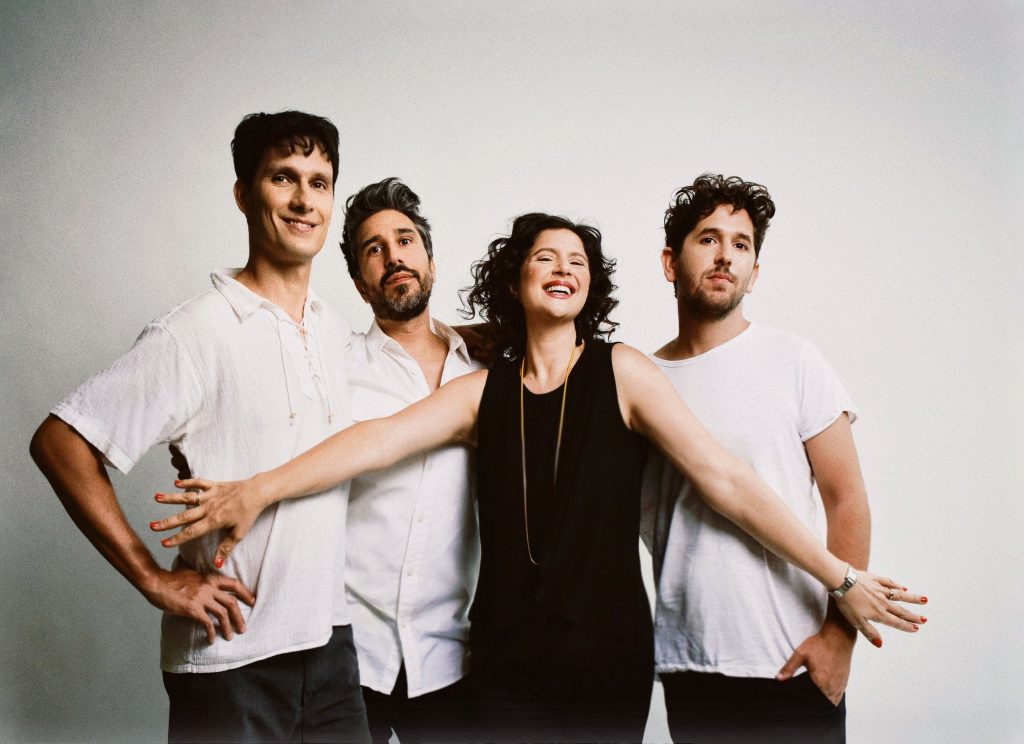 ARTIST: Anat Cohen Quartetinho
VENUE: AMP by Strathmore; North Bethesda, MD
DATE: November 18, 2022
PERSONNEL: Anat Cohen (cl, bcl, cavaquinho); Vitor Gonçalves (p, kyb, button accordion); Tal Mashiach (b, 7-string g); James Shipp (vbs, d, perc, syn).
As Anat Cohen tells it, the Brazilian suffix inho means little, making her four-member group a Quartetinho. But inho also carries the implication of intimacy, and that seems to embody the group's spirit. Either by listening to their marvelous eponymous CD (Anzic) or by seeing them in person, it is quite obvious that these four musicians enjoy each other's company and are profoundly inspired by their mutual musicianship. If the Quartetinho is a miniature version of anything, it is Cohen's Tentet. In her stage announcements at the AMP by Strathmore, she acknowledged as much, but also noted that the Quartetinho travels with nearly as many instruments as the Tentet.
As is clear from the personnel above, everyone in this group plays multiple instruments. Cohen is, of course, one of the finest clarinetists in jazz today, and she is equally impressive on the bass clarinet, which in her hands is as nimble as when Eric Dolphy played the instrument in the late 50s and early 60s. Gonçalves is a superb pianist and is an absolute marvel on full button accordion playing intricate melodic counterpoint on both manuals. Mashiach's sound and time were exemplary on the bass; when he switched to 7-string guitar, he proved to be not only a fine player but an outstanding young composer. Shipp was the true marvel, with his collection of instruments occupying the right portion of the stage. He started by playing vibes, percussion, and an old analog synthesizer, but eventually, he made his way to the drum kit, which he played in a very unusual manner. Less of a timekeeper than a sound-seeker, Shipp judiciously struck tom-toms or snares only when it would provide appropriate comments to the other musicians. His hi-hat did not always click on beats 2 and 4, nor did he play any sort of rhythmic patterns on the ride cymbal. At times, he held only one stick, leaving the other hand to manipulate a shaker or rattle, and at one point in the second set, he played an atmospheric solo using only his hands on the drum heads.
While the Brazilian name might lead the newcomer to believe that Cohen's group plays only sambas and bossa novas, both the CD and the concert repertoire displayed a wide range of styles and genres. At the live performance, Cohen dovetailed several of the pieces together as an opening medley. The mysterious and rubato "Baroquen Spirit" (composed by Shipp) led to the rolling rhythms of "Palhaco" (Egberto Gismonti) where Cohen and Shipp played duple- and triple-time figures off each other. Cohen's funky New Orleans blues march "Louisiana" provided the set's first up-tempo piece, and then a propulsive bass line from Masiach led into Tom Jobim's "O Boto" (featuring a melody reminiscent of Kurt Weill's "Lonely Town"). The opening sequence ended with Gismonti's "Frevo" as Cohen and Gonçalves flawlessly navigated a tricky unison line, and Cohen played an astounding solo covering the entire range of the clarinet. Both sets included sensitive readings of Dvořák's "Goin' Home" with an expansive introduction from Gonçalves' accordion and a rich arco bass rendition of the famous melody. The second set closer was a stunning choro with Cohen strumming on a miniature guitar called a cavaquinho, followed by a dramatic group crescendo added to the coda on the spot. The quartetinho has completed touring for this year, but I suspect they will return with more wonderful music. In the meantime, pick up the CD, which offers many of the same musical thrills as the group's live concerts.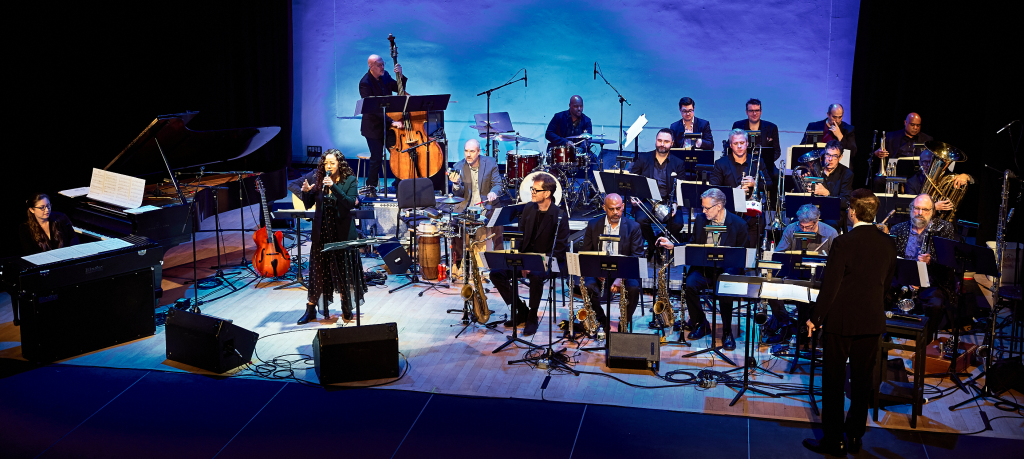 ARTIST: Luciana Souza with Vince Mendoza & his Orchestra
VENUE: Miller Theatre (Columbia University); New York
DATE: October 15, 2022
PERSONNEL: Luciana Souza (v, perc); Tatum Greenblatt, Tony Kadleck, Brian Pareschi, Terell Stafford (tp); Marshall Gilkes, Robert Edwards, Michael Davis (tb); Jeff Nelson (tb,tuba); Dave Pietro, Steve Wilson, Donnie McCaslin, Adam Kolker, Scott Robinson (r); Carmen Staaf (p); Chico Pinheiro (g); Scott Colley (b); Ulysses Owens, Jr. (d); Rogerio Boccato (perc); Vince Mendoza (arr, cond).
About a decade ago, Luciana Souza curtailed her busy performance schedule to concentrate on her marriage and family. She never stopped singing, but she chose to record and teach closer to her LA home instead of traveling around the globe. Along with the obvious effects of the COVID-19 pandemic, the above facts explain why Souza is, in late 2022, just now touring for "Storytellers", an album recorded in 2017, and released in 2020. Souza confessed that her concert at Columbia University's Miller Theatre was only her fourth live appearance in the post-COVID era. Vince Mendoza assembled an all-star big band featuring several great New York soloists and many key members of the Maria Schneider Orchestra. The superb ensemble played Mendoza's multi-hued scores to perfection.
The program included music by Brazil's greatest composers, including Tom Jobim, Gilberto Gil, Edu Lobo, and Ivan Lins, all sung in Portuguese or without any words at all. It might seem strange that a program called "Storytellers" would not include full texts and translations, but Souza gave brief explanations of the lyrics as necessary, and let the audience imagine the details of the stories. In the case of Guinga's "Meu Pai" ("My Father"), there were plenty of details to focus on beyond the words, including an intriguing odd-meter vamp, and the remarkable interplay between guitarist Chico Pinheiro and Souza's improvisations.
Souza was in spectacular voice all night, whether nailing angular staccato lines with absolute precision, or wrapping her rich voice around the words and music of heart-rending ballads. Her scat singing raises the bar for all but the greatest jazz vocalists, and she dazzled the crowd in a last-minute addition to the program, "Tim Tim Por Tim Tim", performed by the group's three Brazilian natives: Souza, Pinheiro, and percussionist Rogerio Boccato.
One of the many highlights of the concert was the Jobim rarity, "Matita Perê", an extended work from 1972 which traversed all 12 keys as it explored "the hero's journey" as applied to the common man. Mendoza's score illustrated the ways in which Jobim expanded his musical language. Souza sang the lyrics with great passion and her vocal was matched with a powerful soprano sax solo by Steve Wilson. Elsewhere in the program, pianist Carmen Staff offered expressive solos on acoustic and electronic keyboards, Robert Edwards and Marshall Gilkes shared trombone solo duties, Dave Pietro played with great passion on both clarinet and alto sax, while Terell Stafford electrified the audience with every trumpet solo. Tenor saxophonist Donnie McCaslin took top honors with an expansive improvisation on Souza's original "Baião a Tempo". From her reaction to McCaslin's solo, it was clear that Souza was quite impressed with his interpretation of her music.
Luciana Souza has another new CD out, "Cantar", with Dafnis Prieto. She told me that a tour for that album could happen next summer. Meanwhile, Souza and Mendoza are performing another concert edition of "Storytellers" on October 21 at the Ford Theatre in LA, now featuring a band full of LA-based musicians, including Peter Erskine. Los Angeles jazz fans, take heed!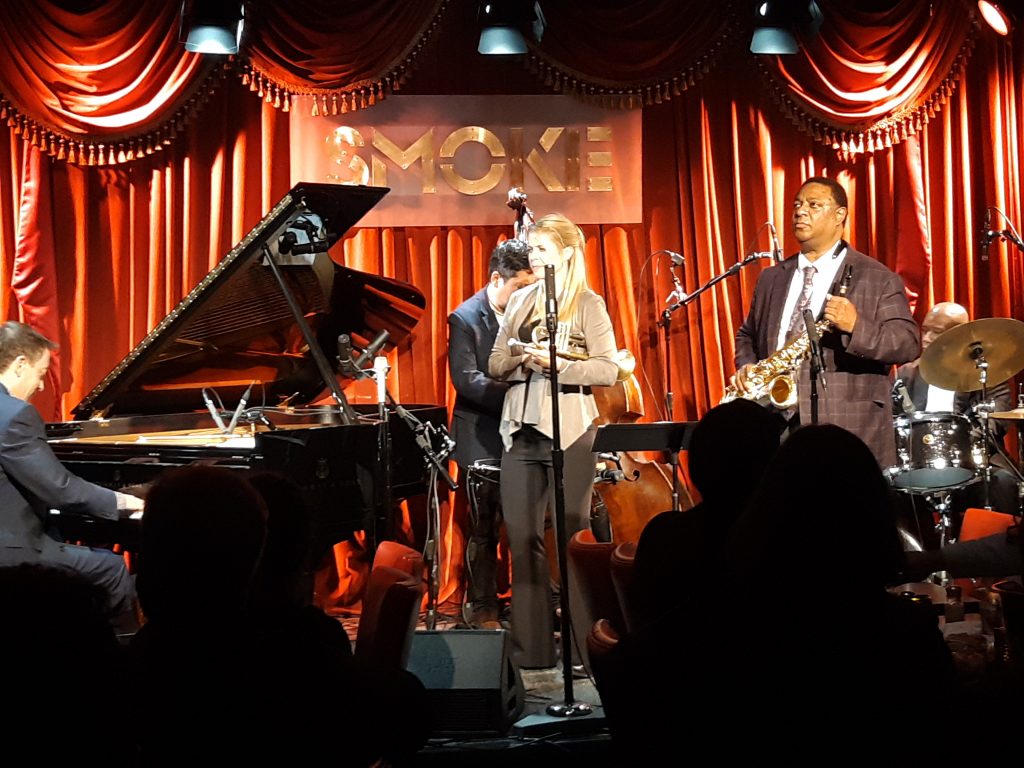 ARTIST: Bria Skonberg/Vincent Herring Quintet
VENUE: Smoke Jazz Club; New York City
DATE: October 15, 2022
PERSONNEL: Bria Skonberg (tp,v); Vincent Herring (as); Geoffrey Keezer (p); Yasushi Nakamura (b); Kenny Washington (d).
After the Luciana Souza concert wrapped up, it was just a quick 15- minute walk down Broadway to Smoke Jazz Club where Bria Skonberg and Vincent Herring performed a tribute to bebop pioneers Dizzy Gillespie and Charlie Parker. While those wanting a close approximation of the sounds of the masters might have preferred Jon Faddis and Charles McPherson in the front line, Skonberg and Herring showed how classic bebop fit into their own approaches. Herring's rich alto tone owed a lot to Parker but also reflected some of Parker's followers like Sonny Stitt, Jackie McLean, and Cannonball Adderley. Skonberg's trumpet leaned closer to Kenny Dorham than Dizzy, but both horn players had absorbed and distilled these influences into their own styles. Pianist Geoffrey Keezer quoted Bird, Bud, and Monk tunes throughout the set, while Yasushi Nakamura anchored the group with deep bass tones, and Kenny Washington sparked the group with fine drum solos.
Being the last of three sets that Saturday night, the 10:30 show was fairly short, running just under an hour. Still, the packed house heard a set of five tunes, all associated with Bird and Diz, except for Skonberg's beautifully-rendered vocal treatment of "I'm Through With Love". The band played with great fire on "Manteca", "Dizzy Atmosphere" and "Blue 'n' Boogie", and with lush tenderness on Herring's ballad feature, "The Gypsy". Contrary to Herring's announcement, Parker only recorded that song once, on the night when he was strung out and eventually committed to Camarillo State Hospital. Barely able to blow his horn, Parker was a shadow of himself that night. Herring's rich-toned version was probably closer to what Parker wanted to play. It was this piece that made the Smoke performance feel like a tribute concert; what might have raised the rest of the set to that level would be a little more attention to the original arrangements. There are fine interludes throughout historic recordings of these pieces. For example, a famous aircheck of "Blue 'n' Boogie" from a 1951 Birdland broadcast with Diz, Bird, Bud, Tommy Potter, and Roy Haynes includes a stunning collection of shout choruses, all of which could have been transcribed and performed by the Smoke group. That small detail could have raised the caliber of the performance and provided an exciting conclusion to the set. As it was, it seemed closer to a blowing session rather than a tribute concert.
By the way, Smoke has recently re-opened with an expanded layout. The stage and dining room are now separate from the bar, and the overall sound seems much better in the new acoustic.
For details about mid-September concerts by the Louis Armstrong Eternity Band, Aubrey Johnson, Laura Anglade, Melody Gardot, and Ryan Keberle's Catharsis, please follow this link to the article, "Concert Marathon (NYC; Philadelphia, Baltimore: September 7-16, 2022".

L-R: Noriko Ueda (b); Kenny Barron, Bill Charlap, Aaron Diehl (p); Lewis Nash (d). Photograph: © 2022 RICHARD TERMINE (detail of full photo).
ARTIST: Kenny Barron/Bill Charlap/Aaron Diehl
VENUE: 92nd Street Y (Kaufmann Concert Hall); New York
DATE: July 21, 2022
PERSONNEL: Kenny Barron, Bill Charlap, Aaron Diehl (p); Noriko Ueda (b); Lewis Nash (d).
A few generations ago, a piano summit like the one presented at 92nd Street Y's "Jazz in July" would have been staged as "a piano battle" or a "cutting contest". The violence in those phrases is one of the reasons that staged jam sessions are less popular now than in years past. Simply put, there is no good reason why artists in the caliber of Kenny Barron, Bill Charlap, and Aaron Diehl should want to blow one another off the stage. These musicians have great respect for each other, and they know that the audience will be amply satisfied with tasty interpretations and thoughtful improvisations, rather than empty displays of gamesmanship. At the 92nd Street Y's Kaufmann Concert Hall, the pianists were introduced one at a time, and each had opportunities to play solo numbers and duets with the other pianists, with the added option of a first-class rhythm section (Noriko Ueda, bass; Lewis Nash, drums). The concept of playing together rather than against one another made this a pleasant and stressless concert.
Kenny Barron opened with a beautifully-structured solo on "Spring Can Really Hang You Up the Most". After playing the verse and chorus in free tempo, he improvised two distinctive choruses. The first chorus retained the rubato feel, and there was ample space left at the end of each phrase. At the outset of the second chorus, he established a slow walking tempo by adding a simple stride bass line. The right-hand lines flowed and the spaces were greatly compressed. Aaron Diehl joined Barron for a sparkling duet on "Have You Met Miss Jones?", where the ideas flew like shuttlecocks across the twin Steinways. The rhythm section joined Bill Charlap and Diehl in Dave Brubeck's "The Duke". Diehl improvised a tasty chorus over Nash's brushes before Charlap played the theme with Brubeck's original voicings. Charlap started his solo at the very top of the keyboard with delightful rippling phrases, and Diehl picked up on them to open his second solo. The piece came to an exciting conclusion with a spirited set of exchanges. Ueda's deeply-swinging bass was featured on Charlap's version of "Bohemia After Dark". Charlap created several reharmonizations of the melody before Ueda displayed her great melodicism and dexterity. Charlap bridged stride, swing, and bop in his solo before yielding to Nash's drums. Barron returned to duet with Charlap on "All the Things You Are", while live images of their hands were projected on the stage wall. For those not seated in the center section of the house, this was an invaluable tool in following the intersecting lines of the two pianists.
Diehl's unique arrangement of Bud Powell's "Tempus Fugit" reversed the solo order, with an abstract melodic statement leading to exchanges with Nash (and a subsequent drum solo), followed by Ueda's motivically-centered solo. Diehl's clear lines and precise execution evoked the composer, and he finished the performance with a full version of the theme. In a complete turnaround, Diehl played an unaccompanied version of Sir Roland Hanna's "Prelude # 2 in E Major". Diehl's sensitive performance reflected the work's delicate nature. Charlap told the backstory of Vincent Youmans' "Tea for Two" and the piece became fodder for a charming duet for Charlap and Nash. The projected video revealed that Nash had two similar-sized drums next to each other, and in his solo, he played one brush on each drum! Charlap's runs up and down the keyboard were quite dazzling, but Nash's light, dancing ideas stole the show. Charlap resumed his role as song historian, analyzing the lyrics to Irving Berlin's "How Deep is the Ocean" before turning to Barron for a stunning trio rendition. For the grand finale, Charlap and Diehl paired up on the right side keyboard, leaving Barron alone on the left. All of the musicians soloed on Barron's blues "And Then Again". There was a standing ovation, but no encore was necessary. The calming music had been the perfect antidote to a hot summer night.