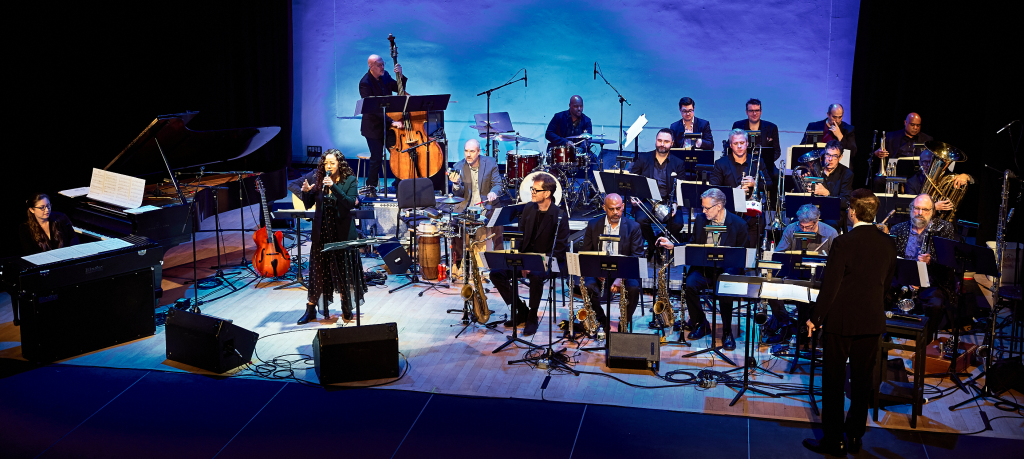 ARTIST: Luciana Souza with Vince Mendoza & his Orchestra
VENUE: Miller Theatre (Columbia University); New York
DATE: October 15, 2022
PERSONNEL: Luciana Souza (v, perc); Tatum Greenblatt, Tony Kadleck, Brian Pareschi, Terell Stafford (tp); Marshall Gilkes, Robert Edwards, Michael Davis (tb); Jeff Nelson (tb,tuba); Dave Pietro, Steve Wilson, Donnie McCaslin, Adam Kolker, Scott Robinson (r); Carmen Staaf (p); Chico Pinheiro (g); Scott Colley (b); Ulysses Owens, Jr. (d); Rogerio Boccato (perc); Vince Mendoza (arr, cond).
About a decade ago, Luciana Souza curtailed her busy performance schedule to concentrate on her marriage and family. She never stopped singing, but she chose to record and teach closer to her LA home instead of traveling around the globe. Along with the obvious effects of the COVID-19 pandemic, the above facts explain why Souza is, in late 2022, just now touring for "Storytellers", an album recorded in 2017, and released in 2020. Souza confessed that her concert at Columbia University's Miller Theatre was only her fourth live appearance in the post-COVID era. Vince Mendoza assembled an all-star big band featuring several great New York soloists and many key members of the Maria Schneider Orchestra. The superb ensemble played Mendoza's multi-hued scores to perfection.
The program included music by Brazil's greatest composers, including Tom Jobim, Gilberto Gil, Edu Lobo, and Ivan Lins, all sung in Portuguese or without any words at all. It might seem strange that a program called "Storytellers" would not include full texts and translations, but Souza gave brief explanations of the lyrics as necessary, and let the audience imagine the details of the stories. In the case of Guinga's "Meu Pai" ("My Father"), there were plenty of details to focus on beyond the words, including an intriguing odd-meter vamp, and the remarkable interplay between guitarist Chico Pinheiro and Souza's improvisations.
Souza was in spectacular voice all night, whether nailing angular staccato lines with absolute precision, or wrapping her rich voice around the words and music of heart-rending ballads. Her scat singing raises the bar for all but the greatest jazz vocalists, and she dazzled the crowd in a last-minute addition to the program, "Tim Tim Por Tim Tim", performed by the group's three Brazilian natives: Souza, Pinheiro, and percussionist Rogerio Boccato.
One of the many highlights of the concert was the Jobim rarity, "Matita Perê", an extended work from 1972 which traversed all 12 keys as it explored "the hero's journey" as applied to the common man. Mendoza's score illustrated the ways in which Jobim expanded his musical language. Souza sang the lyrics with great passion and her vocal was matched with a powerful soprano sax solo by Steve Wilson. Elsewhere in the program, pianist Carmen Staff offered expressive solos on acoustic and electronic keyboards, Robert Edwards and Marshall Gilkes shared trombone solo duties, Dave Pietro played with great passion on both clarinet and alto sax, while Terell Stafford electrified the audience with every trumpet solo. Tenor saxophonist Donnie McCaslin took top honors with an expansive improvisation on Souza's original "Baião a Tempo". From her reaction to McCaslin's solo, it was clear that Souza was quite impressed with his interpretation of her music.
Luciana Souza has another new CD out, "Cantar", with Dafnis Prieto. She told me that a tour for that album could happen next summer. Meanwhile, Souza and Mendoza are performing another concert edition of "Storytellers" on October 21 at the Ford Theatre in LA, now featuring a band full of LA-based musicians, including Peter Erskine. Los Angeles jazz fans, take heed!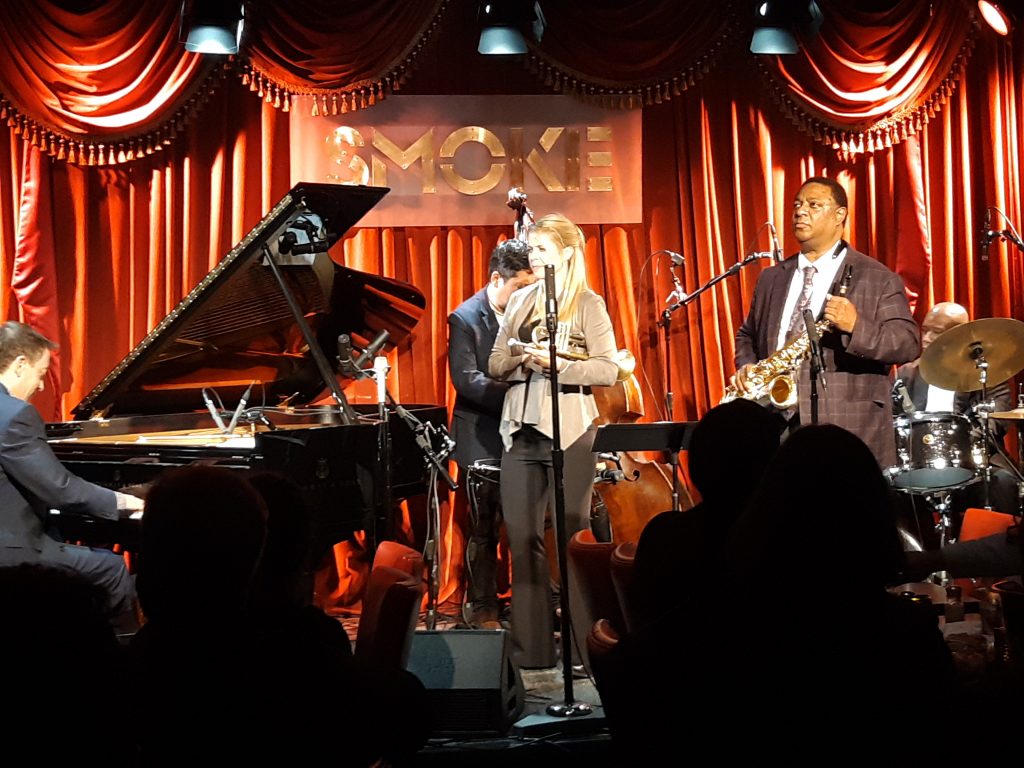 ARTIST: Bria Skonberg/Vincent Herring Quintet
VENUE: Smoke Jazz Club; New York City
DATE: October 15, 2022
PERSONNEL: Bria Skonberg (tp,v); Vincent Herring (as); Geoffrey Keezer (p); Yasushi Nakamura (b); Kenny Washington (d).
After the Luciana Souza concert wrapped up, it was just a quick 15- minute walk down Broadway to Smoke Jazz Club where Bria Skonberg and Vincent Herring performed a tribute to bebop pioneers Dizzy Gillespie and Charlie Parker. While those wanting a close approximation of the sounds of the masters might have preferred Jon Faddis and Charles McPherson in the front line, Skonberg and Herring showed how classic bebop fit into their own approaches. Herring's rich alto tone owed a lot to Parker but also reflected some of Parker's followers like Sonny Stitt, Jackie McLean, and Cannonball Adderley. Skonberg's trumpet leaned closer to Kenny Dorham than Dizzy, but both horn players had absorbed and distilled these influences into their own styles. Pianist Geoffrey Keezer quoted Bird, Bud, and Monk tunes throughout the set, while Yasushi Nakamura anchored the group with deep bass tones, and Kenny Washington sparked the group with fine drum solos.
Being the last of three sets that Saturday night, the 10:30 show was fairly short, running just under an hour. Still, the packed house heard a set of five tunes, all associated with Bird and Diz, except for Skonberg's beautifully-rendered vocal treatment of "I'm Through With Love". The band played with great fire on "Manteca", "Dizzy Atmosphere" and "Blue 'n' Boogie", and with lush tenderness on Herring's ballad feature, "The Gypsy". Contrary to Herring's announcement, Parker only recorded that song once, on the night when he was strung out and eventually committed to Camarillo State Hospital. Barely able to blow his horn, Parker was a shadow of himself that night. Herring's rich-toned version was probably closer to what Parker wanted to play. It was this piece that made the Smoke performance feel like a tribute concert; what might have raised the rest of the set to that level would be a little more attention to the original arrangements. There are fine interludes throughout historic recordings of these pieces. For example, a famous aircheck of "Blue 'n' Boogie" from a 1951 Birdland broadcast with Diz, Bird, Bud, Tommy Potter, and Roy Haynes includes a stunning collection of shout choruses, all of which could have been transcribed and performed by the Smoke group. That small detail could have raised the caliber of the performance and provided an exciting conclusion to the set. As it was, it seemed closer to a blowing session rather than a tribute concert.
By the way, Smoke has recently re-opened with an expanded layout. The stage and dining room are now separate from the bar, and the overall sound seems much better in the new acoustic.
For details about mid-September concerts by the Louis Armstrong Eternity Band, Aubrey Johnson, Laura Anglade, Melody Gardot, and Ryan Keberle's Catharsis, please follow this link to the article, "Concert Marathon (NYC; Philadelphia, Baltimore: September 7-16, 2022".

L-R: Noriko Ueda (b); Kenny Barron, Bill Charlap, Aaron Diehl (p); Lewis Nash (d). Photograph: © 2022 RICHARD TERMINE (detail of full photo).ARTIST: Kenny Barron/Bill Charlap/Aaron Diehl
VENUE: 92nd Street Y (Kaufmann Concert Hall); New York
DATE: July 21, 2022
PERSONNEL: Kenny Barron, Bill Charlap, Aaron Diehl (p); Noriko Ueda (b); Lewis Nash (d).
A few generations ago, a piano summit like the one presented at 92nd Street Y's "Jazz in July" would have been staged as "a piano battle" or a "cutting contest". The violence in those phrases is one of the reasons that staged jam sessions are less popular now than in years past. Simply put, there is no good reason why artists in the caliber of Kenny Barron, Bill Charlap, and Aaron Diehl should want to blow one another off the stage. These musicians have great respect for each other, and they know that the audience will be amply satisfied with tasty interpretations and thoughtful improvisations, rather than empty displays of gamesmanship. At the 92nd Street Y's Kaufmann Concert Hall, the pianists were introduced one at a time, and each had opportunities to play solo numbers and duets with the other pianists, with the added option of a first-class rhythm section (Noriko Ueda, bass; Lewis Nash, drums). The concept of playing together rather than against one another made this a pleasant and stressless concert.
Kenny Barron opened with a beautifully-structured solo on "Spring Can Really Hang You Up the Most". After playing the verse and chorus in free tempo, he improvised two distinctive choruses. The first chorus retained the rubato feel, and there was ample space left at the end of each phrase. At the outset of the second chorus, he established a slow walking tempo by adding a simple stride bass line. The right-hand lines flowed and the spaces were greatly compressed. Aaron Diehl joined Barron for a sparkling duet on "Have You Met Miss Jones?", where the ideas flew like shuttlecocks across the twin Steinways. The rhythm section joined Bill Charlap and Diehl in Dave Brubeck's "The Duke". Diehl improvised a tasty chorus over Nash's brushes before Charlap played the theme with Brubeck's original voicings. Charlap started his solo at the very top of the keyboard with delightful rippling phrases, and Diehl picked up on them to open his second solo. The piece came to an exciting conclusion with a spirited set of exchanges. Ueda's deeply-swinging bass was featured on Charlap's version of "Bohemia After Dark". Charlap created several reharmonizations of the melody before Ueda displayed her great melodicism and dexterity. Charlap bridged stride, swing, and bop in his solo before yielding to Nash's drums. Barron returned to duet with Charlap on "All the Things You Are", while live images of their hands were projected on the stage wall. For those not seated in the center section of the house, this was an invaluable tool in following the intersecting lines of the two pianists.
Diehl's unique arrangement of Bud Powell's "Tempus Fugit" reversed the solo order, with an abstract melodic statement leading to exchanges with Nash (and a subsequent drum solo), followed by Ueda's motivically-centered solo. Diehl's clear lines and precise execution evoked the composer, and he finished the performance with a full version of the theme. In a complete turnaround, Diehl played an unaccompanied version of Sir Roland Hanna's "Prelude # 2 in E Major". Diehl's sensitive performance reflected the work's delicate nature. Charlap told the backstory of Vincent Youmans' "Tea for Two" and the piece became fodder for a charming duet for Charlap and Nash. The projected video revealed that Nash had two similar-sized drums next to each other, and in his solo, he played one brush on each drum! Charlap's runs up and down the keyboard were quite dazzling, but Nash's light, dancing ideas stole the show. Charlap resumed his role as song historian, analyzing the lyrics to Irving Berlin's "How Deep is the Ocean" before turning to Barron for a stunning trio rendition. For the grand finale, Charlap and Diehl paired up on the right side keyboard, leaving Barron alone on the left. All of the musicians soloed on Barron's blues "And Then Again". There was a standing ovation, but no encore was necessary. The calming music had been the perfect antidote to a hot summer night.