While the calendar and weather stubbornly insist that we are still in summer, the autumn concert is off to a brisk start. With funding from a generous JHO donor, I booked rail tickets to New York City, Philadelphia, and Baltimore for concerts occurring between September 7 and September 16, 2022. As it turned out, several more concerts popped up for that period after I had committed to the other performances. Regrettably, I was unable to book more travel to catch those concerts (and was definitely unable to be in two places at one time!) but the performances I attended were all superb, and I'm glad I was there to cover them.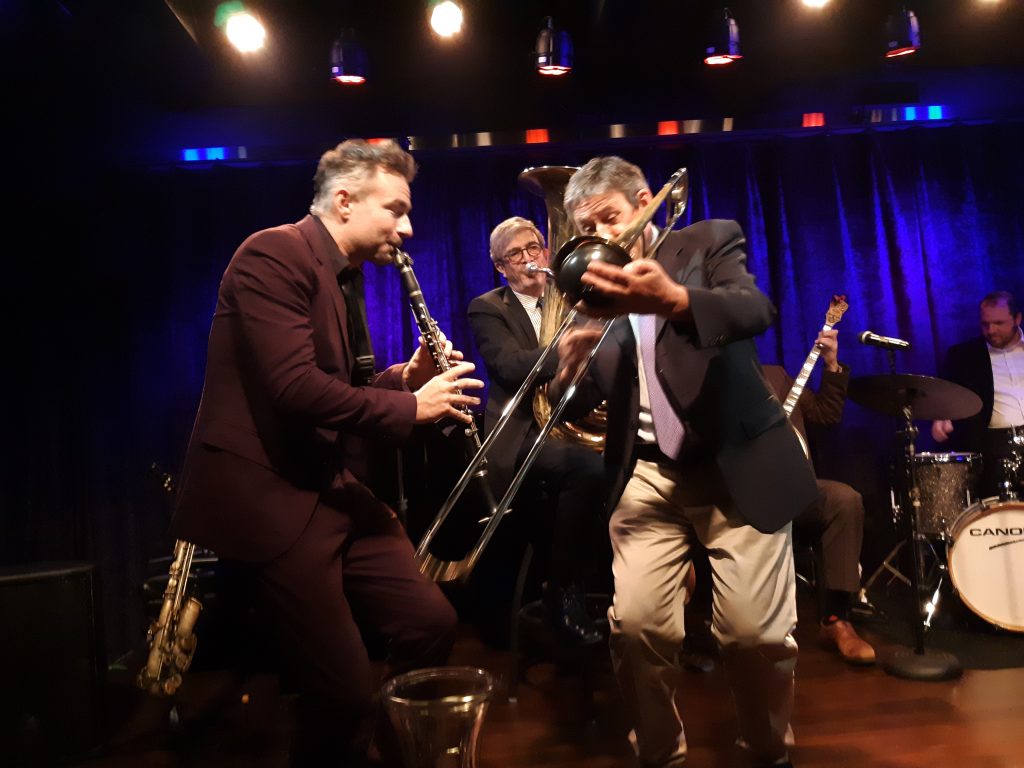 I last heard the Louis Armstrong Eternity Band last November, and while the repertoire changed only slightly between now and then, the group's energetic September 7 performance was fueled by a very enthusiastic audience, including visitors from Brazil, Japan, and Germany. Traditional jazz has always had a strong following in these countries, and that is a perfect match for the Eternity Band, whose members are strongly committed to the New Orleans style. While I'm sure that every member of the band is able to improvise in other jazz genres, their collective enthusiasm when playing in this group shows that they truly express themselves best in the classic style. On a rip-roaring version of "Cake Walkin' Babies", trumpeter Joe Boga incorporated Louis Armstrong's classic solo from a 1925 OKeh disc, not in a memorized note-for-note reading, but in his own interpretation. Trombonist Jim Fryer and clarinetist Adrian Cunningham duetted on the vocal and then launched into a spirited chase chorus. Arnt Arntzen provided solid harmonic support on banjo and guitar before showcasing his vocal chops on Duke Ellington's rare "Azalea". Arntzen's self-accompaniment on banjo was an interesting choice, considering Ellington's sophisticated harmonies. Drummer Alex Raderman had a few solos that excited the crowd, while the leader and tubist David Ostwald abstained from solos during the entire set. Other highlights included Cunningham's romantic version of "Stardust" on C-Melody saxophone, and a thrilling finale with three Armstrong classics, "Heart Full of Rhythm", "Mack the Knife," and "Swing That Music". The Louis Armstrong Eternity Band plays every Wednesday night in the Birdland Theater at 5:30 pm. It's a dependable treat in New York jazz.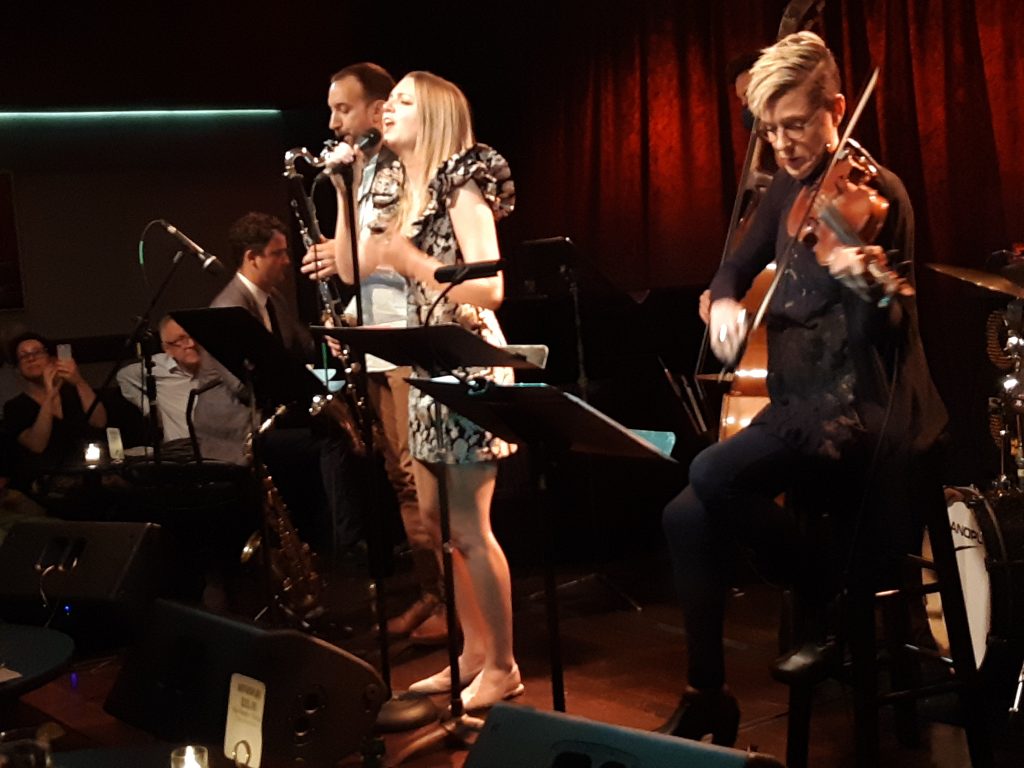 A treat of another kind came later that night with vocalist Aubrey Johnson leading a quintet featuring Sara Caswell (violin), Alex LoRe (bass clarinet, alto sax), Chris McCarthy (piano), Matt Aronoff (bass), and Jay Sawyer (drums). The Birdland Theater was again filled to capacity, including several respected musicians. Johnson has appeared as a backing vocalist in New York for many years, and her album, "Unraveled" is her first recording under her own name. Her voice displays remarkable flexibility in tonal range, agility, dynamics, and moods. She challenges herself with difficult arrangements (as in "The Peacocks", where her vocal reprise is accompanied by a saxophone line that sounds like it's in a different key). Her version of "Unraveled"–a song partially about mental illness–took the audience on a roller-coaster ride of emotions, and a later rendition of "Love Again" featured an episode of chordless free improvisation. Johnson does not scat in the traditional sense. She eliminates most of the consonants and floats sparse original melodies over open vowels. In addition to her original compositions, Johnson included "Close to Home," a lovely song written by her late uncle, Lyle Mays, as well as "El Guije", composed by Alfredo Rodriguez and Esperanza Spalding. Violinist Sara Caswell was an exceptional accompanist all evening, providing sweet and soulful obbligatos behind Johnson, and strikingly original solos. Alex LoRe was also a fine front-line partner, as the dark tones of the bass clarinet provided a contrast to Johnson's expressive soprano voice. The rhythm section was solid throughout, performing Johnson's arrangments with great accuracy and spirit. Johnson is not resting on her laurels; she has just completed a duet album with pianist Randy Ingram, due out in November on Sunnyside, and she plans to start recording her next album in the spring. Keep an ear out for Aubrey Johnson; she may become one of jazz's most impressive vocalists.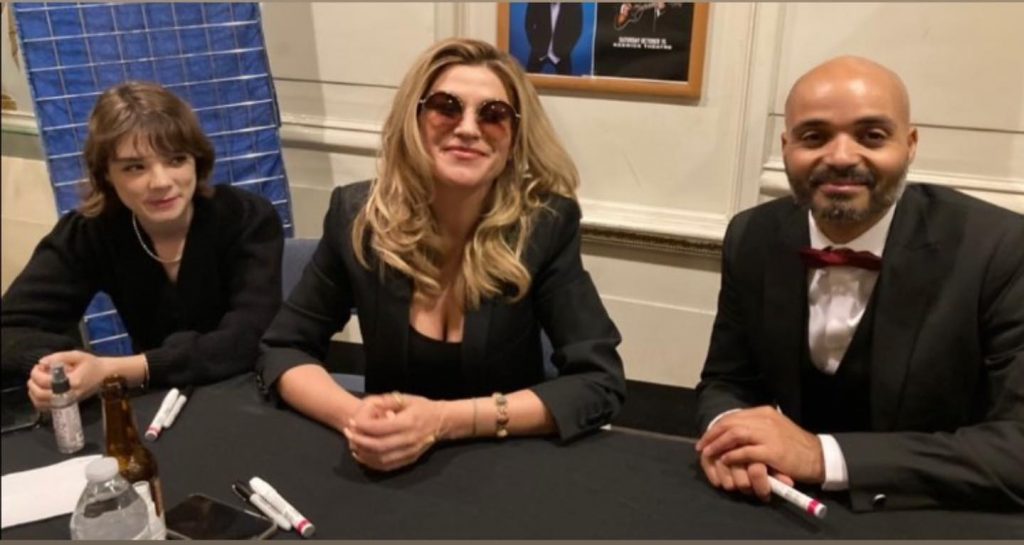 A week later, I traveled to Glenside, Pennsylvania (a northwest suburb of Philadelphia) for a concert by vocalists Laura Anglade and Melody Gardot at the Kenswick Theatre. Anglade is a young singer now living in Toronto. She has only sung professionally for about four years, but I was impressed with her rich alto voice and her intuitive grasp of classic repertoire. At the Kenswick, Anglade performed the concert's opening set with the sole accompaniment of guitarist David Rourke. Her half-hour, six-song performance made the converted movie theatre feel like a coffee house. Anglade sang softly but confidently, exhibiting outstanding diction, and well-developed skills in melodic paraphrasing and scat. The strong influence of Ella Fitzgerald came through in her improvisations and the combination of Anglade's scat and Rourke's supportive but unobtrusive guitar reminded me of the classic albums Ella made with Joe Pass. Anglade has two fine albums of her own on the Justin Time label, "I've Got Just About Everything" from 2018, and a new all-French recital "Venez Donc Chez Moi", which will be reviewed in the next issue of JHO.
The intimacy of Anglade's set was a great contrast to Gardot's performance, which seemed more suited to a stadium. After a procession by the rhythm section using African instruments, the music segued into a bright samba as Gardot strutted onstage. The volume went up as Gardot's high-energy band played, and Gardot's diction was often lost in the sound mix. Gardot was injured in a bike accident several years ago, and it left her unable to walk, along with increased sensitivity to light and sound. At the Kenswick, he moved about the stage with seemingly little effort, although she still sported her trademark dark glasses. The story of her accident dominated her press coverage when she first appeared on the jazz scene, but now that she seems to be on the mend, it is much easier to discuss her voice and style. At its best, Gardot's voice portrays a disarming sense of intimacy. When she performed her original ballad, "Our Love is Easy" at the Kenwick, everyone's ears were focused on her fragile, throbbing voice and the tender message of the words. Later in the show, she displayed her great love of Brazilian music with a lovely ballad in Portuguese (While she made some stage announcements, Gardot never gave the titles of any of the songs). I had to leave before the end of the concert, but before leaving, I heard Gardot's pianist Philippe Powell and drummer Jorge Bezerra on a fine Chick Corea-inspired instrumental. The powerful backup band also included Irwin Hall on reeds, and Chris Thomas on bass. Gardot and Powell have a new duo album out titled "Entre eux Deux".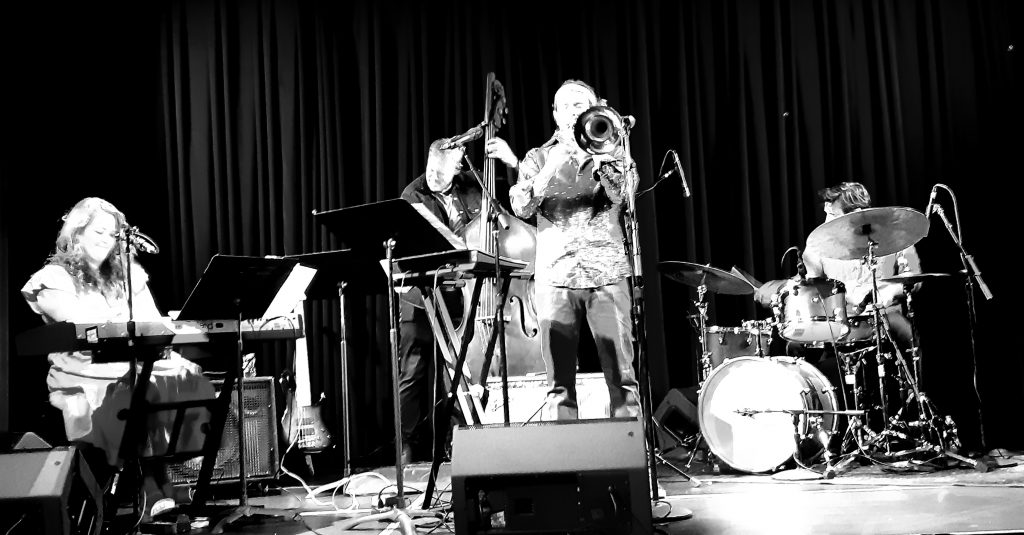 My concert marathon concluded on Friday, September 16, with the return of Ryan Keberle's Catharsis. I first covered this group at a concert in Denver, and each time I've seen them (or reviewed one of their albums) there is a new group of musicians in place and a fresh supply of creative energy. Currently working as a quartet, Catharsis continues to draw from the repertoire of its past editions as it follows the concept of politically-driven progressive jazz. Keberle is a commanding presence on trombone, demonstrating great power in his improvised lines along with impressive technical agility. In addition, he is the primary composer for the group, drawing on a broad range of genres to create his original works. One piece, "I Thought I Knew" was inspired by the Argentinian beat, the chacarera. Keberle told me that he added some indie rock elements to the piece, which now is jokingly referred to as "chaca-rock". The band's opening piece, "Quintessence" paid tribute to Brazilian composer Ivan Lins, and a song called "I Am a Stranger" rode along over a 5/4 groove and finally melded with "Everything's Alright" from "Jesus Christ Superstar"! The major portion of the concert focused on three movements from the suite "The Hope I Hold" with music by Keberle, and words from the great poet, Langston Hughes. The suite had an expressive drum solo by Eric Doob early in the first movement, and a superb improvisation by bassist Ike Sturm later in the work. Zuraitis sang expressively throughout the set–nowhere more than on Bob Dylan's anthem "The Times They Are A-Changin'"–and her light scat solos offered a taste of the collective improvisation that marks many of Keberle's groups. My sole criticism is about the sound. With a preponderance of electronic instruments, vocals are easily lost in the mix. While Zuraitis could sing a little louder while scatting against Keberle's trombone, her voice should be more prominent when she sings lyrics. Without a sound person there to constantly adjust levels, the band needs to balance their instruments with the solo voice. After all, this band frequently expresses political messages, and those words should be heard.