LAURA ANGLADE & SAM KIRMAYER: "VENEZ DONC CHEZ MOI" (Justin Time 265)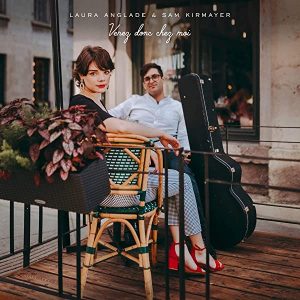 Currently based in Toronto, Laura Anglade is one of the most promising young vocalists on today's jazz scene. This past September, I heard her in Philadelphia as the opening act for Melody Gardot, where Anglade and guitarist David Rourke played an enchanting 30-minute set mixing American and French pop songs. "Venez Donc Chez Moi" is Anglade's sophomore release, on which she performs portions of her French repertoire accompanied by guitarist Sam Kirmayer, and, on two tracks, accordionist Ben Rosenblum. Non-Francophiles need not be daunted by the repertoire as many of the songs were popularized in the US. For example, the title track was covered by Clifford Brown on a quartet date recorded in Paris, "La Chanson de Maxene" was recorded by Bill Evans as "You Must Believe in Spring", and "Que Reste-t-il de nos Amours" is better known here as "I Wish You Love". Anglade's beautifully articulated vocals and light swing carry the performances even on lesser-known songs. Her impressive diction on the tongue-twisting lyrics of "Jamais je ne t'ai dit que je t'aimerai tojours" is impressive, regardless of the listener's knowledge of the language. The interplay with Rosenblum on Charles Aznavour's "J'aime Paris au Mois de Mai" is fresh and delightful, while Kirmayer's sensitive accompaniment (especially on "Maxene") gives Anglade the opportunity to stretch the time on key words. On the medium swing setting of "Que Reste", Anglade scats a fine half-chorus solo acknowledging one of her primary influences, Ella Fitzgerald, and her phrasing on the mostly-rubato "Précy Jardin" is remarkable for its flexibility and musicality. And to be sure, it is Anglade's musicality that sets her apart from other vocalists of her generation. She shades dynamics like singers twice her age, and she recognizes her responsibility as a storyteller, melding the music around the lyrics as she creates her own interpretations of well-known songs. Keep an ear out for this young lady—she is a talent waiting for greater recognition.
CAMILLE BERTAULT & DAVID HELBOCK: "PLAYGROUND" (ACT 9951)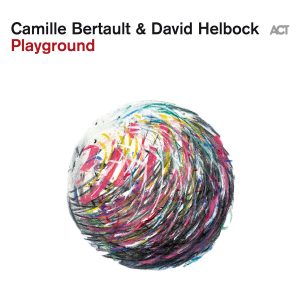 When we first play games as children, we learn how to have fun interacting with others while minding a set of rules. If everyone agrees, the rules can be stretched without spoiling the spirit of the game. In their perfectly-titled duet CD, "Playground", vocalist Camille Bertault and pianist David Helbock bring the qualities of gameplay into the recording studio. The concept of stretching rules is obvious from the introduction of the first track, "Frevo": Helbock employs electronic effects and digital loops to the acoustic keyboard, while Bertault's voice is engulfed in echo. It's just a momentary effect—the sound goes back to straight sound for Egberto Gismonti's tricky melody—but it prepares the listener for a new experience. The loops and effects come and go through the rest of the track, with the intent of enhancing the basic experience. When Bertault sings Billie Holiday's quiet lament "Good Morning Heartache" in French, Helbock shows that he is a sensitive accompanist. Even with a few effects engaged, the primary focus remains to have an intimate musical discussion with Bertault. "Lonely Supamen" opens with some wild sounds from Bertault and continues with a sassy reading of her original lyrics and an all-too-short scat solo. After a skittish piano solo, the abbreviated recapitulation finds Helbock driving the performance to a close with powerful single-line counterpoint. A Scriabin etude provides temporary respite from the fun and games, but the rhythmic "Aide-Moi" raises the energy level. Bertault and Helbock improvise together for a few bars, emphasizing their close camaraderie. Björk's "New World" inspires Helbock to expand the piano's sound palette again, adding percussion to his arsenal to create an other-worldly background for Bertault's overdubbed vocals and open-vowel scatting. "Das Fabelwesen" translates to "The Mythical Creature", and while Helbock's introduction evokes the monster, the mood changes upon Bertault's entrance as she sings a sweet lullaby. As the child gradually falls asleep, the performance diminishes in volume and intensity. "Dans Ma Boite" includes more effects and effective use of vocal overdubs, culminating in an astounding improvisation containing a stunning collection of vocal and pianistic sounds. An understated reading of Thelonious Monk's "Ask Me Now" leads to Helbock's spritely "Never Lived" (with an effusive solo by the composer). Bertault's "Bizarre" lives up to its title, even without a translation of the French lyric. Although the mix puts the vocal and the piano in the same physical place, there seems to be some kind of separation between the message of the vocal and the electronically-enhanced piano. The album closes with a delightful Latin romp "Para Hermeto", with Bertault overdubbing spoken lines in several languages in place of an improvised solo. This album is easier to find on streaming platforms than in physical form, but seek it out as it is a fascinating recital and a lot of fun.
ROBERTA DONNAY: "BLOSSOM-ING!" (Village Jazz Café 2502)
If Blossom Dearie were alive today, I think she would be tickled by all of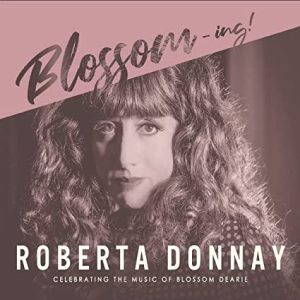 the albums dedicated to her music. Severely underrated in her time, her delightful style of interpreting original and standard songs was a coy retort to singers with big voices and bigger arrangements. Bay Area vocalist Roberta Donnay has a similar vocal tone to Dearie, but she is not satisfied to simply mimic Dearie on her album "Blossom-ing!" Instead, she integrates Dearie's music into the larger history of vocal jazz. The opening track is called "Roberta's Blues", but the composer credit is to Billie Holiday, "adapted by Blossom Dearie", and it includes verses from Holiday, Dearie, Ivie Anderson, and a host of other classic singers. Donnay finds a different direction for "Peel Me a Grape" than Anita O'Day and Diana Krall, while her setting of Cole Porter's "Just One of Those Things" includes several finely realized tempo changes. Dearie's late masterpiece, "Inside a Silent Tear" is played as a bossa nova, with Donnay singing the delicate lyrics at a near-whisper. No Dearie tribute would be complete without French chansons, and Donnay breezes through "Plus Je T'Embrasse" with the rhythm section of Mike Greensill (piano), José Neto (guitar), Ruth Davies (bass), and Mark Lee (drums) emulating the tight rhythm of a Parisian combo. Donnay's reading of Gershwin's "Someone to Watch over Me" sounds a little more emotive than Dearie, but things get back on track with a light-footed take on the inexplicably obscure song "Moonlight Savings Time". "À Paris", performed as a duet by Donnay and Greensill, is a nostalgic tribute to Dearie's favorite city, and this high point is followed by an odd arrangement of "The Party's Over" which tries to mix soul jazz with Dearie's delicate two-beat style. A vocal/piano/bass trio setting of "If I Had a Bell" is more successful, with a tight groove and a bright vocal. "Spring in Manhattan" opens with Donnay singing over solo piano, but the arrangement grows by small increments after the first chorus, adding the full rhythm section along with David Sturdevant's lovely harmonica obbligato. Johnny Mandel's glorious love song "Unless it's You" (another touching piano/vocal duet) leads into the album's final section, covering four songs that were practically owned by Blossom Dearie: "You Fascinate Me So", "I Wish You Love", "It Amazes Me" and "Put on a Happy Face". Here, Donnay effectively fuses her own style with Dearie's, finding a delicate center point where both elements are still clearly recognized. A lovely tribute to a classic singer.
"AUBREY JOHNSON & RANDY INGRAM PLAY FAVORITES" (Sunnyside 1683)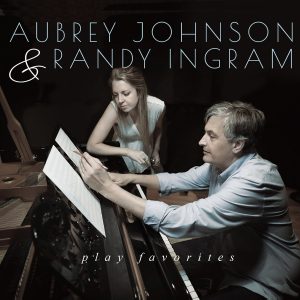 In years past, the present album title would undoubtedly include the word "sings", in deference to vocalist Aubrey Johnson. However, as even a casual hearing of this album should reveal, Johnson is a musician and an equal partner to pianist Randy Ingram. Throughout the properly-titled "Play Favorites", these duet partners take equal control and responsibility for the final results…and they succeed admirably. Billie Eilish's "My Future" is a striking opener, as it tells of new possibilities, and the quick tempo of the next track "If Ever I Would Leave You" is only surprising until we hear how well the chord progression fits with jazz improvisation. An original wordless prelude leads into the beloved standard "If I Should Lose You", where voice and piano unite in a passionate statement on the uncertainty of love. Johnson's scat solo is a natural extension of the lyric, and her final chorus includes emotionally-charged variations on the melody. For the next four tracks, Johnson and Ingram alternate pop songs from the late 1960s with Brazilian songs composed by Tom Jobim. Joni Mitchell's "Conversation" and Jobim's "Olha Maria" are both about impossible loves, while Jimmy Webb's "Didn't We" and Jobim's "Chovendo Na Roseira" (in this version) offers a glimpse of hope amidst the loss. This brief song cycle forms a central focus for the album and is the best argument I can find for listening to this album as a whole. The performances of these songs are simply breathtaking, and the segue from "Olha" to "Didn't We" effectively ties the songs together. "Close to Home" is an appropriate follow-up to the song cycle. Composed by Johnson's late uncle, Lyle Mays, it is performed here in a Portuguese translation by Luiz Avellar. As she did at a recent concert at Birdland, Johnson sings this song with overwhelming passion. A mash-up of "I'll Remember April" with Lennie Tristano's contrafact "April" finds Johnson and Ingram handling the tricky lines of the Tristano with aplomb. Mel Tormé's clever lyric to "Born to Be Blue" is given a nearly-definitive performance here, and the following track, "Bons Amigo", benefits from a beautifully-constructed scat solo. This terrific recital concludes with a superb reading of the Richard Whiting standard, "My Ideal". Let there be many more recordings by this fine duo!
MANHATTAN TRANSFER: "FIFTY" (Craft 592)
For those of us who grew up listening to them, it is hard to accept that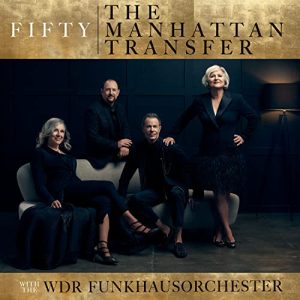 Manhattan Transfer is disbanding after its 50th anniversary tour. "Fifty", a collaboration with the WDR Funkhaus Orchester, is their final new album, and it includes new settings of several Transfer favorites. In addition to the new orchestral arrangements, there is a considerable amount of vocal overdubs to further enrich the textures. The warm voice of Janis Siegel leads through the opener, "Agua", and her soulful delivery contrasts with the sharp, precise ensemble figures sung by Cheryl Bentyne, Alan Paul, and Trist Curless. Bentyne's first showcase is on a vocalese based on Artie Shaw's solo on "The Man I Love". The four-part backgrounds—mirroring saxophone section scoring—is a strong reminder of the Transfer's early repertoire. "Paradise Within" is a lush exploration of tight vocal harmony with ongoing commentary from clarinetist Andy Miles. "On a Little Street in Singapore" has made a radical transformation from its 1970s incarnation. The chord progression has been revised, the original staccato backgrounds have been replaced with long, flowing lines, and the orchestral passages are exotic. The only parts that survived are Alan Paul's lead tenor and a portion of the final ensemble chorus. Curless is featured as lead singer and vocal percussionist on a hip remake of "The Man Who Sailed Around His Soul". (As the youngest member of the group, he is likely to continue singing full-time after the Transfer breaks ranks. Keep an ear out for him!) The remake of "Twilight Zone"/"Twilight Tone" finally corrects a mistake made when the track first appeared on "Extensions": the "Zone" soundtrack quotes were credited to Bernard Herrmann, but they were not his work; the new version uses actual music from Herrmann's original end credit music as the introduction. Paul still does a creditable Rod Serling imitation, Siegel enhances her original lines, and Jay Graydon masterfully recreates his guitar solo from the Transfer's original recording. The noirish "Blues for Harry Bosch" is a welcome addition to the program, with an atmospheric arrangement by Andrew Kesler, muted trumpet obbligatos by Ryan Carniaux over Bentyne's come-hither lead vocal. "Chanson d'Amour" was a huge hit in Europe for the Transfer, and on a 2021 concert with the WDR Funkhaus Orchester, this song was the most popular with German audiences. The new version adds a shout chorus but maintains the original vocal scoring from the original recordings. A rap vocal has been added to "What Goes Around Comes Around", and considering the lyrics about changing vocal styles, it's a fitting revision. The grand finale is a glorious remake of Brian Wilson's "God Only Knows". The Manhattan Transfer has left a great legacy, and this final album shows them at their best. Catch their farewell tour while it's here; we will miss them when they are gone.
PAUL MARINARO: "NOT QUITE YET" (122 Myrtle 103)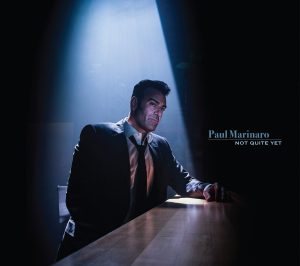 Long established as a Sinatra-styled vocalist, Chicago's Paul Marinaro has endured many personal setbacks since his last recording in 2015. He has emerged as the most compelling male jazz singer to come from the Windy City since Kurt Elling. His new album, "Not Quite Yet", is a concert-length recording that outlines his new approach. Accompanied by a small horn section, string quartet, rhythm section, and two backup vocalists, Marinaro explores a wide range of songs, spanning Jerome Kern to David Bowie. While the concept of the album was not forced, Marinaro has found songs that mirror his own past struggles. "Born to Be Blue" opens the program with Marinaro easily maneuvering a mixed-meter setting. Jobim's classic "Someone to Light Up My Life" gives Marinaro room to express deep emotion, and he swings and struts through a medium-tempo "Make Me Rainbows". The first of the David Bowie songs, "5:15 The Angels Have Gone", opens with an extended introduction with solo violin and backup singers before Marinaro delivers the dark lyrics. Mike Allemana, who wrote all of the arrangements for the album, contributes a moody guitar solo between Marinaro's two choruses. To contrast the dramatic chart for the Bowie song, Marinaro, and Allemana perform Kern's "Remind Me" as a duet. Here, both men show their subtle understanding of phrasing and dynamics. "No One Ever Tells You" was one of Frank Sinatra's great torch songs, but Marinaro dials back the swagger, letting the lyrics tell the story, and yielding to alto saxophonist Greg Ward for an intense solo. Bronislaw Kaper's "Invitation" is usually performed as an instrumental; Marinaro's vocal reveals that it is not a love song. It's not a budding romance. It's about being toyed with by someone who won't stay for long (quote from liner notes). Hope DeCell's cello opens the setting of Ivan Lins' "The Island", which quickly settles into a romantic slow bossa, with Marinaro's voice floating over a background of string quartet and jazz rhythm section. The famous "Poinciana beat" backs a relaxed setting of "Taking a Chance on Love", with Marinaro singing alternate lyrics on the later verses, and improvising with words over a repeated vamp. The fast, optimistic "On a Wonderful Day Like Today" (when was the last time you heard that song?) is paired with a tender setting of "That's All" that lets Marinaro present the song with honesty and earnestness. Ary Barroso's "É Luxo Só" benefits from an original Marinaro lyric and a sunny arrangement for the woodwinds, strings, and rhythm. Another guitar/vocal duet, this time on Stephen Sondheim's delicate "I Remember" precedes the haunting closing track, Bowie's "No Plan", featuring the full ensemble, and finishing with the album's title phrase. This is an auspicious new beginning for Marinaro. May it propel him to even greater levels of artistry.
DAFNIS PRIETO/LUCIANA SOUZA: "CANTAR" (Dafnison Music 9)
I suppose that I should apologize to the instrumentalists Dafnis Prieto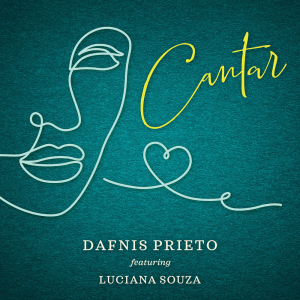 and Jeremy Siskind (below) for placing albums issued under their names in the vocal section. However, when featuring the extraordinary talents of a fine jazz singer on the majority of tracks, the resulting collection sounds like a vocal album. In the case of the present album "Cantar", the spirit of its vocalist, Luciana Souza, enriches the entire recital. Prieto composed the music for all ten of the album's songs, and wrote lyrics for four of them, with Souza contributing additional lyrics and translations for three additional tracks. Souza communicates the messages of the songs effortlessly whether singing wordlessly or in English, Spanish or Portuguese. The opening track "Gualjira en Sol" celebrates the Cuban dance, and contains a catchy—and fiendishly difficult—melody that Souza sings perfectly every time. The instrumental quartet of Peter Apfelbaum (reeds); Martin Bejerano (piano); Matt Brewer (bass); and Prieto (drums, percussion) plays the opening track with overwhelming energy and then changes direction for the ballad "When I Miss You", providing an atmospheric backdrop for Souza's dramatic interpretation of the English lyric. Apfelbaum doubles on melodica and flute, offering exquisite counterpoint behind Souza and Bejerano. "Houve Um Tempo" is a song about a long-past affair, sung after the pain of separation has been forgotten. The brightly-paced samba moves in and out of an exuberant parade groove before coming to a sudden conclusion. The heartbreak comes in "Sueño de Amor", a tale of a love triangle told in poetic language until Souza segues into a wordless improvisation. Urged on by Prieto's expressive cymbal rolls, the band surges and flows behind Souza to enhance the drama. Prieto scats the opening of "To the Concert", then further sets the groove on drum set before Souza and Apfelbaum tackle the angular melody and engage in improvised free interplay (Souza's free scat reminds me of another avant-garde vocalist, Jay Clayton). Prieto adds his voice before throwing the spotlight on the saxophonist for a wild solo flight. "Brisa" ("Breeze") is a highlight of the album, in a refreshing jazz waltz that uncannily evokes the subject of its lyric. Apfelbaum's melodica and Bejerano's piano lead the way to Prieto's energetic drum solo. "Amanhecer Contigo" is a tender love scene set at daybreak, with Prieto's simple vocal and Apfelbaum's understated tenor solo separating Souza's pristine vocals. "Unknown Man" is an instrumental cameo with Prieto soloing on high-pitched toms over a pad of synthesizers (played by Apfelbaum). "The Muse" tells of the mythical beings that inspire artists…and who are usually unlikely to wait for the inconsequential actions of humans. And as the lyric states "I have to trust her". The album closes much as it began, with an instrumental version of "Gualjira en Sol"—and as noted earlier, Souza is notable for her absence: when tenor and piano play the melody, the listener can fill in the sound of her voice. I've heard that a concert tour of this group may take place in the coming months. It will be fascinating to hear how this music develops.
JEREMY SISKIND/NANCY HARMS/LUCAS PINO: "SONGS OF REBIRTH" (Outside In 2214)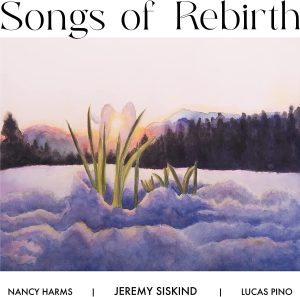 One of the unexpected side-effects of the COVID quarantine was the way that sudden enforced isolation uprooted our personal lives. Many of the things we thought were permanent dissolved before our eyes. After experiencing his own personal crisis, pianist Jeremy Siskind composed the song cycle "Songs of Rebirth", set to his original poetry, and designed for performance by his "Homecoming" trio featuring vocalist Nancy Harms and woodwind specialist Lucas Pino. The suite, as presented in a new 2-CD set from Inside Out Music, includes a few thorough-composed pieces, but is primarily a work for improvising musicians. Over its 96-minute duration, the suite covers a wide variety of styles, including bebop, jazz vocalese, chromatic romanticism, free jazz, swing, and musical comedy. In addition to the stylistic potpourri, the work challenges performers with virtuosic passages and unusual backgrounds. Harms is in outstanding form throughout as she scales the high and low extremes of Siskind's melodies, and brings out the humanity of his poems. She is not called upon to improvise, but she displays great flexibility in both interpreting the text and in wordless passages with the two instruments. Pino plays clarinet, bass clarinet, and tenor saxophone—sometimes in rapid succession—and acts as a foil for both Harms and Siskind. Both Pino and Siskind expound on the material with great conviction, sometimes on unusual chord sequences. Although the suite is best appreciated as a whole, there are many songs that stand out from the score. "I'd Given Up" is a stunning miniature that recasts the same short poem four times per chorus; "Leithe-Reincarnation" couples a touching memory with the profound—and wordless—concept of rebirth; the soulful meditation of "Kneel", followed by the Kurt Vonnegut-inspired "So I Went to New York City"; a highly atmospheric scene of "Long Beach, in Fog"; the stark imagery of "April, the Liar" and "Demeter"; and the Dave Frishberg-esque "Another Birthday". One special highlight is "I'd Break Quarantine for You", which is split into five verses (with different settings for each) and spread out across the two discs. Its story, both comic and tragic, is easy to pick up on each appearance, and it brings a contemporary touch to the suite. Highly recommended.