Upon the tragic death of Clifford Brown on June 27, 1956, the best candidates for the next trumpet wizard were three 18-year-old men. Ironically, the eldest of these trumpeters was the first to die. Booker Little followed Brown and Kenny Dorham in the trumpet chair for the Max Roach combo, and before he succumbed to uremia in October 1961, he had played alongside Eric Dolphy on several important recordings and developed into a distinctive composer and arranger. Lee Morgan was the youngest of the three—he actually turned 18 a fortnight after Brown's passing. He had studied with Brown in Philadelphia and quickly grabbed the jazz community's attention with a series of albums on Blue Note and Savoy, along with long-time gigs with Dizzy Gillespie and Art Blakey. Substance abuse problems hounded Morgan throughout his career, but he was on the upswing in late 1972 when he was gunned down at a New York City nightclub by his common-law wife. Freddie Hubbard was the man in the middle, and in retrospect, the most forward-thinking of the three. Hubbard's early recordings as a leader displayed his brilliant technique combined with his sharp focus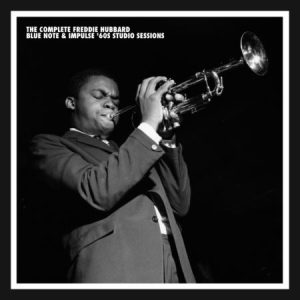 on musical goals. Mosaic's new 7-CD set, "The Complete Freddie Hubbard Blue Note and Impulse Studio Sessions" collects these important recordings in newly remastered settings.
Bob Blumenthal, who wrote the set's outstanding liner notes (and who supplied the historical factoid that opened this review), points out that Hubbard's albums as a leader are only part of the story, and thus he also documents the trumpeter's sideman appearances on classic albums including Oliver Nelson's "The Blues and the Abstract Truth", Ornette Coleman's "Free Jazz", Eric Dolphy's "Out to Lunch", Herbie Hancock's "Maiden Voyage", John Coltrane's "Ascension", and his many albums with Art Blakey and the Jazz Messengers. Ideally, those albums (and the others listed bylumenthal) should be heard alongside the masterpieces on the Mosaic set, but the 10 albums found in the box offer a stunning overview of Hubbard's emerging talent.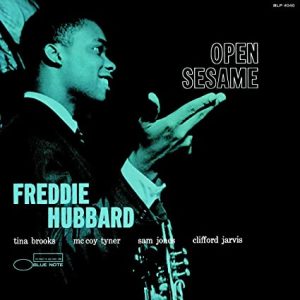 The set gets off to a flying start with Hubbard's 1960 Blue Note debut album, "Open Sesame". Hubbard's solo on the title track is full of fire and power. His technique is impressive in all registers of the horn, and he displays a wealth of fertile ideas. The tragically underrated Tina Brooks is Hubbard's front-line partner, and his impassioned tenor lines make the listener wonder why Blue Note couldn't support his amazing talent. McCoy Tyner anchors the rhythm section of bassist Sam Jones and drummer Clifford Jarvis. On "But Beautiful", Hubbard plays the melody with warmth from his middle register before yielding the spotlight to Brooks and Tyner. Hubbard's out-chorus is a thing of beauty, connecting one tender idea after another before leading back to the original melody. The grooving "Gypsy Blue" was—like the title tune—composed by Brooks, and his opening solo is confident and swinging with Jones and Jarvis supplying a propulsive background. Hubbard is bright and sassy over the blues changes, working in intriguing rhythmic figures across the ground beat. Tyner follows with a well-constructed solo marked by strong treble lines, and Jones shows exceptional tone and fluidity in his spot. An up-tempo ride on "All or Nothing at All" kicks off the flip side with Hubbard in brilliant form over bass and drums alone. Brooks digs in for his choruses, and it's a shock when Tyner interrupts him for his own solo. The sparks fly as Hubbard and Jarvis trade fours, and the recapitulation seems to come much too soon. "One Mint Julep" had been around since the early fifties, but Hubbard's version (with its sly recasting of the melody) was the hippest recording to date until Ray Charles and Quincy Jones made their recording a few months later. Hubbard's sole composition on the date, "Hub's Nub" closed the album. With its shifting rhythmic patterns, unusual form (44 bars in AABA), and daunting changes, it stands apart from the other songs, but the group's powerful ensemble and solo work bridge the stylistic gap. On all of these albums, Mosaic has retained the original tune sequence and added the alternates at the end. In this case, the two Brooks compositions were each recorded once before the master take was achieved. Both alternates are lesser efforts than the masters, but they are both worthwhile and educational listening experiences.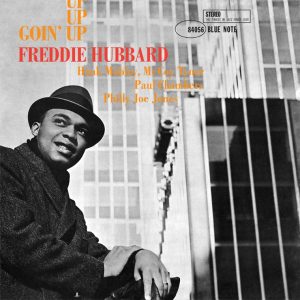 Blue Note was not a company that liked to keep its stars idle. Just under 5 months after the "Open Sesame" sessions, Hubbard was back at Rudy Van Gelder's studio for his next album as a leader, "Goin' Up". Tyner was back on piano, and this time he was paired with Miles Davis' venerable rhythm team of Paul Chambers and Philly Joe Jones. Hank Mobley was hired on tenor, and within a few months, he joined Davis for a short stay in his frontline (where, on one track of the "Someday, My Prince Will Come" sessions, he was reunited with Chambers and Jones!) Again, Hubbard lets his tenor man supply two of the original compositions, and saves his own sole original for the closer. The group also plays two compositions by Kenny Dorham, "Asiatic Raes" (aka "Lotus Blossom") and "Karioka". On the first of these, Hubbard is poised but still fiery as he gains inspiration from Jones' active commentary. Mobley picks up on Hubbard and Jones' collective momentum with lean, swinging lines. Tyner digs in more than on the previous album, and Chambers grabs his bow for his rhythmically complex solo. Jones gets a chorus of fours and a pair of solo tags before the track fades out. Mobley's medium-tempo opus, "The Changing Scene", finds the tenorist in supreme form, with a contrasting (but non-competitive) solo from the trumpeter, and an exceptionally well-developed solo by the pianist. Dorham's "Karioka" fulfills the same stylistic change that "Hub's Nub" filled on the previous album. The changes are truly a challenge, but while it sounds like the three soloists are keeping a close eye on the lead sheet, their solos are still coherent and focused. Jones keeps the momentum going throughout, and he plays an exciting solo near the end of the track. Mobley's "A Peck a Sec" (aka "The Latest") opens with an engaging introduction that stays with the listener long after the song ends. The main melody is a flowing bop tune, and the solos by Hubbard, Mobley, and Tyner swing with confidence. "I Wished I Knew" has no relationship to the famous Harry Warren standard, and perhaps the similar title kept this Billy Smith original from gaining popularity amongst other jazz musicians. Hubbard's thematic statement is among his most tender offerings in this collection, and Mobley nearly tears the listener's heart out with his emotional solo. Tyner's solo is a little too busy for this setting. Chambers' concise solo on the final bridge brings back Hubbard's passionate horn. "Blues for Brenda", an original that Hubbard named for his wife, carries a swinging groove and supports relaxed solos from all of the principals. Apparently, all of the complete takes were masters, as no alternate takes are included in the Mosaic collection.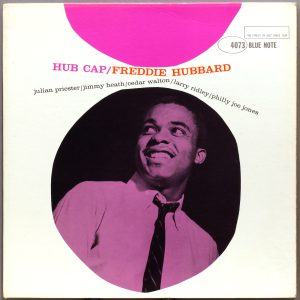 Five months later, Hubbard returned for his third album, "Hub Cap", but this time he played a greater role in the album's preparation. He composed four of the six works and added a third horn to the frontline. Jones was the only holdover from the previous album, and he keenly grasps the subtle role he plays in this slightly larger ensemble. Cedar Walton takes over the piano chair and contributes one original to the date. Bassist Larry Ridley was only on his third studio date, but his playing is quite solid. Trombonist Julian Priester and tenor saxophonist Jimmy Heath were both established musicians, and they are quite impressive both as soloists and ensemble players. The subjects of the title tune must have been attached to a Jaguar, as the melody and harmony take sudden, jagged turns while maintaining a rapid speed. Clearly, this tune was much more challenging than the standard repertoire, and the group does its best to keep this car on the pavement. "Cry Me Not", composed by Randy Weston and arranged by Melba Liston, is another stunning ballad. Liston uses the trombone and tenor for dramatic counterpoint in the theme statements and edgy backgrounds for Hubbard's passionate solo. Hubbard's "Luana" has an attractive obbligato figure which runs through the introduction and theme. Hubbard uses space to great advantage in his solo, and the overall architecture of his solo is quite impressive. Heath's expressive tenor solo ebbs and flows, while Priester's solo is constructed from long, asymmetrical phrases. Walton builds his solo from tantalizing single lines, and Ridley's spot is marked by his fine interplay with Jones' hi-hat. Jones has a couple of effective four-bar fills before the tune and its obbligato return. "Osie Mae" brings on the funk and combines it with a contrasting two-part form. The two elements combine in the solo choruses, but the unusual harmonic structure makes for a strange partnership. The soloists meet the challenge head-on, and they all succeed admirably, yet overall, the piece seems to be suffering from an identity crisis. "Plexus" was Cedar Walton's first recorded composition, and while the later version he recorded with Art Blakey is better known, the Hubbard recording is an excellent reading of a challenging work. Heath gets the first solo, and he works his way through several intriguing ideas over a constantly changing rhythm background. Priester takes his time developing his thoughts, and Walton jumps in with a strongly defined melodic direction. Then Hubbard enters, and his brash flamboyant approach to the material makes us forget all that came before. Jones raises the excitement by several notches during Hubbard's solo, then plays a thrilling solo of his own. "Earmon, Jr." was composed by Hubbard and arranged by Ed Summerlin, who was Hubbard's composition teacher. The scoring is noticeably lighter here than anywhere else on the album, and the adapted blues changes are refreshing both for the listener and the musicians. The sole alternate is an earlier run-through of "Plexus" which is a notch or two below the master in overall quality.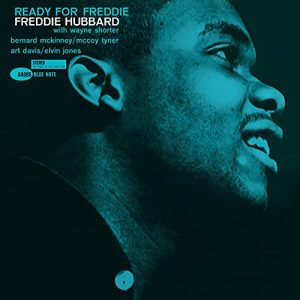 For his next Blue Note album, "Ready for Freddie", Hubbard assembled a rhythm section full of current and former Coltrane sidemen: Tyner on piano, Art Davis on bass, and Elvin Jones on drums. Tenor saxophonist Wayne Shorter, Hubbard's front-line partner in the Jazz Messengers and on this date, still displayed a close kinship with Trane. The one non-Coltrane player was Bernard McKinney (later known as Kiane Zawadi) who filled the front line on the euphonium. Except for its unusual 34-bar form, Hubbard's opening composition "Airietis" is not very progressive. The solos all fall into the advanced bop style popular at the time, but no one really pushes the limits. "You're a Weaver of Dreams" had appeared on the "Cannonball and Coltrane" album (featuring all of the members of the 1959 Miles Davis sextet except the leader). Hubbard opts to play pretty, getting a very dark sound from his horn (was he playing flugelhorn?) and creating a gorgeous solo. The rhythm section heats things up during Tyner's half-chorus, but the original slow tempo returns for the coda. "Marie Antoinette" is a delightful Wayne Shorter opus, and the tenorist lets loose here with bold lines and a broad tone. Hubbard picks up on Shorter's energy and in his solo, he demonstrates how he developed his style from Clifford Brown. McKinney/Zawadi makes a fine statement in his single chorus, Tyner's treble lines sparkle, and Davis contributes an assertive solo. Hubbard's exuberant blues "Birdlike" makes its debut here, and Hubbard's solo is a gem, balancing fiery lines with well-placed silence. Jones inspires him as only he could, matching percussion jabs to every trumpet motive. Shorter's slightly hoarse tenor sound attaches to his solo, mainly because most of his ideas remain in the same register of the horn. In contrast, McKinney/Zawadi produces a rounded tone and fluid bop lines. Tyner swings hard over Jones' commentary, and then everyone drops out for Davis' brief but memorable statement. This album also carried the premiere recording of Hubbard's "Crisis", a tune Hubbard and Shorter recorded with Art Blakey's Jazz Messengers a few weeks later. On the later recording, Blakey lit the fuse under this piece, creating an impassioned performance from the entire group. Surprisingly, Jones is much more sedate, so the composition simmers rather than boils over. Hubbard is reserved and thoughtful—the piece was about the threat of nuclear war, after all—and Shorter raises the dramatic level with a strongly expressed plea for peace. McKinney/Zawadi is not as assured on this track, but he successfully navigates over the shifting patterns of the form. Tyner sounds frilly here, but Jones gets us back on track with a dramatic solo. Both of the alternates, on "Airietis" and "Marie Antoinette", were made after the master takes were complete. They are good efforts, with solid solos in both cases, but Alfred Lion probably determined that the earlier takes had the necessary sparks. However, Jones' explosive drums on the alternate of "Airietis" makes me wonder…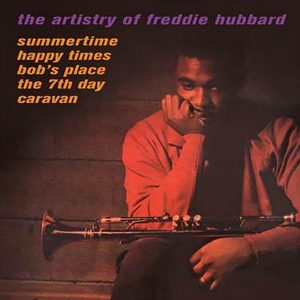 We now skip ahead nearly a year to July 1962 for Hubbard's first album for Impulse, "The Artistry of Freddie Hubbard". Somehow, Hubbard managed to secure a second recording contract for both this album and the forthcoming "Body and Soul" LP. Again, Hubbard leads a sextet, this time with John Gilmore on tenor, Curtis Fuller on trombone, Tommy Flanagan on piano, Art Davis returning on bass, and Louis Hayes on drums. Hubbard wrote three of the five pieces, with the remainder being two well-worn standards. "Caravan" was arranged by the trumpeter and was soon after recorded by the Jazz Messengers. Hubbard grabs the solo spotlight as soon as the opening head is complete, and his improvisation is fiery, impassioned, and unpredictable. Fuller's style is closer to straight-ahead bebop, but he maintains the energy of Hubbard's solo and contributes many fine ideas in his solo. Gilmore shows his Coltrane roots in his brief spot, and Flanagan's improvisation is a model of fluidity and grace. "Bob's Place" is dedicated to producer Bob Thiele, and Hubbard's intricate melody neatly hides the tune's blues structure. Hubbard gets all of the solo time he wants, and he shines through chorus after chorus of brilliant invention. Gilmore molds his solo from asymmetrical phrases, and Fuller does a similar feat, albeit in his own fashion. Flanagan's quick fingers serve him well in light of the speedy tempo, and Davis' solo displays his superb technique with the bow. Hubbard and Hayes engage in a fine round of fours to complete the solo section. The skippy melody of "Happy Times" sounds unlike any other Hubbard composition, but the sextet turns in an amiable performance with the leader making oblique references to the tune in his solo. "Summertime" opens with a dramatic introduction before settling into a rolling waltz tempo. Hubbard's melodic statement floats over the ground beat, maintaining the feeling of a lullaby. The groove breaks down slightly as Fuller begins the opening solo, and the trombonist sounds on the verge of losing his footing. With Davis' assistance, Gilmore helps re-establish the time during his solo, but the beat is still a little watery under Flanagan, and that might be due to Davis' spontaneous dialogue with the pianist. Hubbard's entrance gets things back in order, and he proceeds to deliver a dramatic statement that reminds us of the song's roots as an operatic aria. "The Seventh Day" is a modal work closely associated with Miles Davis' composition alternately called "Neo" and "Teo". Hubbard rips through several upward scale passages in his solo, and while Coltrane may have been the secondary influence, the overall solo sounds like an homage to "Sketches of Spain". It is Gilmore who really evokes the spirit of Trane here (and Davis assists with a powerful bowed passage halfway through his solo).
Mosaic's set basically drapes three LPs over two CDs, but the lack of alternate takes on "Here to Stay" and the presence of three of them on "Hub-Tones" caused a timing problem that Mosaic fixed by swapping the positions of the two albums. To maintain chronological order in this essay, I have jumped to the next disc, but there is no other reason for anyone else to do so. "Hub-Tones", recorded for Blue Note just three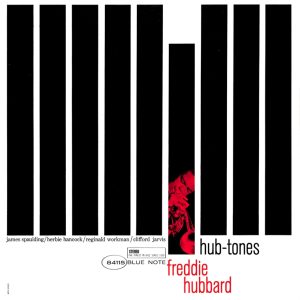 months after the first Impulse LP, reverts to quintet format with some of Blue Note's finest artists filling the spots. James Spaulding doubles on alto sax and flute, Herbie Hancock takes the piano chair, Reggie Workman is on bass, and Clifford Jarvis returns on drums. Hubbard wrote all of the tunes, except for the opening standard, "You're My Everything". That piece opens in a relaxed two-beat feel that changes to straight four for the solos. Hubbard lets his solo build gradually, and wisely keeps his most explosive moments for later in the album. Spaulding's alto tone is the first thing that grabs our attention, followed by his original concepts of phrasing and note choices. Hancock's brief solo follows the groove while adding a few thought-provoking ideas. "Prophet Jennings" was dedicated to the artist Richard Jennings. Boasting an 11-bar form—along with a melody that disguises it—it is fascinating to count bars through the solos to hear how the musicians adapt their ideas into the form. Hubbard, Spaulding (on flute), and Hancock all find their own paths, with Hancock's being especially fluid. The title tune is a blues, which naturally includes the 12th bar we anticipated in the previous track! While the players sounded very assured on "Jennings", they act like a completely different band when playing this up-tempo blues. Hubbard blows off steam in his solo, and Spaulding explores the changes with his own unique approach. Hancock sounds like he's having a great time with fingers flying and great pieces of melody coming from all sides. Hubbard comes back for more high-register fireworks and Jarvis caps the track with a stunning display of quick-paced drumming. Next, Hubbard pays tribute to his late trumpet rival, Booker Little, with the elegiac "Lament for Booker". As the sole horn soloist on the track, this is Hubbard's personal remembrance and it is as touching as Lee Morgan's original recording of "I Remember Clifford". Spaulding, Hancock, and Workman all offer their own side commentaries, but this is Hubbard's moment and he makes every note of this sound contribute to his statement. Hancock adds his own improvisation which compliments Hubbard's heartfelt creation. The closer, "For Spee's Sake" was dedicated to Spaulding. It starts with a slow, bluesy passage before segueing into a quick blues. Oddly, Hubbard's first solo lacks direction, but Spaulding rights the ship with brilliant developments of improvised ideas and aggressive across-the-beat phrasing. The groove settles in during Hancock's solo, and Workman submits a finely swinging statement before a series of fours between Hubbard and Jarvis. The alternate takes are interesting: "You're My Everything" really didn't need another try after the fine master take was already in the can; "For Spee's Sake" did, but the results were not as good; and the only apparent reason for a second take on "Hub-Tones" was that someone thought that they could do better (and they were right this time).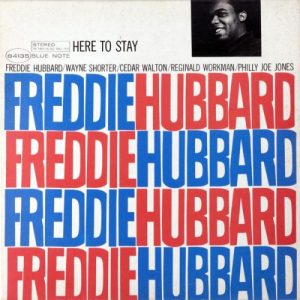 "Here to Stay", recorded right before the end of 1962, was one of those anomalies in the Blue Note catalog: music recorded and sequenced, graphics created and liner notes written, catalog number assigned…and then left unissued until it was rescued from the vaults by Michael Cuscuna (the producer of the Mosaic set). Cuscuna first released this music on a 1976 2-LP set. Shorter again shares the front line, with Walton, Workman, and Philly Joe Jones in the rhythm section. "Philly Mignon" is a fast-paced opener dedicated to the drummer. Hubbard has no issue with the tempo, but his tone seems less brilliant than before. Shorter's darting tenor lines inspire a chattering dialogue with Jones. Walton focuses on single lines for his spot, before an ensemble passage introduces Jones' crisp and exciting solo. In an interesting touch, the tune is only played in full in the final chorus. "Father and Son" is a gorgeous Cal Massey composition played in harmony over Jones' mallets, and Hubbard engages in a fascinating dialogue with Jones in the early sections of the trumpet solo. Shorter contributes a moaning, soulful statement with Walton urging him on with isolated block chords from the keyboard. The pianist skips across the keys, and the performance ends with an ensemble variation on the theme and a recap of the original melody. Next up is Hubbard's first recording of "Body and Soul". Shorter opens with a deeply romantic passage, and then the trumpeter takes the spotlight. He lets the slow tempo work to his advantage, leaving plenty of silence between phrases, and only fully divesting from the melody at the bridge. The rhythm section moves to long-meter in the next chorus, giving Walton a half-chorus of exploration before ushering Hubbard back in. The final bridge is a masterpiece of construction with Hubbard subtly developing a motive while constructing unusually-shaped phrases. A return to the melody with a dramatic cadenza closes this version. "Norstrand and Fulton" is a tricky Hubbard original that alternates between 3/4 and 4/4 time. This is another example where the musicians were probably keeping a close eye on the lead sheet as they soloed. However, as with all of the other tracks from this session, the band successfully created a master take on the first full attempt. Hubbard pulls the rarely-played standard "Full Moon and Empty Arms" from the vault, brings the tempo up to medium-fast, and challenges everyone in the band with the slightly unusual changes. All of the solos are quite good, and Jones' brushwork is exemplary. Workman opens Massey's "Assunta" alone with a compelling vamp. The band picks up the 6/8 feel, and Shorter's expressive tenor sets the mood for the solos. Again, Hubbard contrasts but doesn't compete with his front-line partner. Walton creates a folk-like improvisation over the changes, which imply modal scales while using chords. Hubbard makes a more dramatic statement—with Jones in support—before returning to the melancholy theme and closing the album.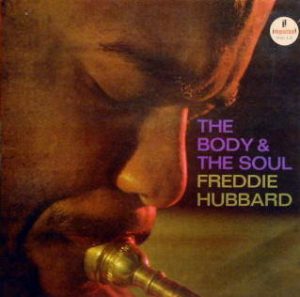 Impulse was associated with ABC-Paramount Records, and had deeper pockets than the independent Blue Note label. The second album Hubbard made with Impulse, "The Body and the Soul of Freddie Hubbard" featured the trumpeter much like a vocalist, with alternating backgrounds of strings, big band, and combo. Mosaic has re-arranged the track sequence to keep each session together (and, almost certainly, to accommodate the running times of CDs), so the shifting backgrounds heard on the original album are missing here. Unfortunately, jumping between CDs is a hassle, except if you have a CD changer. "Body and Soul" led the album's playlist (and perhaps the impending release of this version led Blue Note to hold "Here to Stay" indefinitely). I wouldn't say that the septet version here is necessarily better than his earlier attempt, but this version has its moments, including Hubbard's interpolation of "Prisoner of Love" in the second eight, and the ensemble backgrounds (with Eric Dolphy leading on flute). Wayne Shorter arranged and conducted the entire album, and his charts are very creative, but always supportive of Hubbard. "Dedicated to You", a beautiful song rarely covered by jazz musicians, had been recorded twice in as many months on Impulse, with Coltrane and Johnny Hartman in March, and this version in May. Hartman's classic rendition is hard to beat, and Hubbard's seems a little too flowery. The final septet piece, "Clarence's Place" finally falls into a swinging jazz style, with a tonality-stretching alto solo by Dolphy leading the way. Hubbard adds more fire to the mix, Shorter grabs his horn for an impassioned chorus, Curtis Fuller plays a brief but compelling chorus, and Walton's joyful treble lines close the solos. The string session, recorded the day after the Coltrane/Hartman session features two Duke Ellington works and a Hoagy Carmichael standard. "Chocolate Shake" is taken at a pensive tempo, much slower than Duke's original 1941 recording. Hubbard is like a stage actor, delivering dramatic lines and leaving enough space to let them sink in with the audience. On "I Got it Bad and That Ain't Good", Shorter sets Hubbard's trumpet against various instrumental groups in the orchestra, only combining the colors in the second half of the arrangement. Hubbard's emotional reading of "Skylark" is one of the album's highlights, combining his rich tone, a finely-crafted dynamic range, and perfectly executed variations on the theme. Shorter's chart uses the French horns and woodwinds to great advantage. The big band session included versions of "Arietis" (now renamed "Aries") and "Thermo", both of which Hubbard had recorded before in small group versions, and "Mañha de Carnaval", which he would record again in a brilliant 1980 quartet performance. Hubbard's 1963 solo on the latter tune is surprisingly festive, in stark contrast to the original song. He is similarly brazen on the other two tracks, with his solos demonstrating increasing mastery of his horn and the new directions of the music.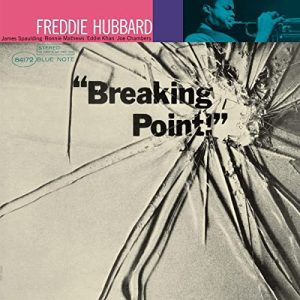 While Hubbard was an established leader on records by 1964, he did not have his own working band until shortly before he recorded "Breaking Point" in May. The difference is immediate and striking. The band, featuring James Spaulding, pianist Ronnie Mathews, bassist Eddie Khan, and drummer Joe Chambers, was fully invested in free jazz. Hubbard's active participation on Dolphy's groundbreaking album "Out to Lunch" just three months earlier certainly influenced the music of this band. The title track has an Ornette Coleman-like introduction and Calypso-styled theme, but no one seems too interested in playing off the theme as written; instead, the band immediately moves into free improvisation after every reiteration of the theme. During Mathews' dense piano solo, the rhythm breaks apart with piano, bass, and drums moving at different tempos. At the end of the track, the ground beat goes away, and everyone improvises their own ending. "Far Away" is a modal piece in 3/4 time, with an atmospheric theme statement by trumpet and flute. Spaulding packs a lot of emotion into his ensuing solo, and Mathews contrasts him with a quick-fingered solo in the upper-midrange of the keyboard. Hubbard plays majestic lines above the churning rhythm. As he progresses through the various scales, his lines grow more impassioned and Coltrane-esque. A virtuosic Kahn solo leads to Chambers' statement which gains in intensity with each bar. "Blue Frenzy" is the most traditional track on the album, but it still reflects the forward edge of the group. It uses the 3/4 Coltrane groove, but not the modal background, and the soloists (especially Spaulding) find a way to include the wail of the blues within this contemporary setting. I suppose that "D Minor Mint" was included to show that the Hubbard Quintet could still blow a straight-ahead blues when requested. This track fills the bill, but Chambers keeps the intensity high with his powerful dialogues with the soloists. In an unusual move for Blue Note, this album closes with a ballad. Granted, it was not just any slow piece, but Chambers' glorious original, "Mirrors", which became one of the most beloved compositions from this period. Hubbard and Spaulding's trumpet/flute pairing was never more delicate than on this track, and as they gently diverge toward the end of the theme statement, there is still a sense of musical unity. Hubbard plays one of his best ballad solos here, alternating tender thoughts with dramatic outbursts. Spaulding plays sweetly over the soft cushion of the rhythm section, and Mathews effortlessly segues from accompanist to soloist before the horns return. Rather than creating edited versions of the master takes for jukebox singles, Hubbard's quintet decided to create shortened arrangements of "Blue Frenzy" and "Mirrors". These fine versions are included at the end of the CD.
By the time of the next album, 1965's "Blue Spirits", Hubbard had replaced two key members of his quintet, pianist Harold Mabern for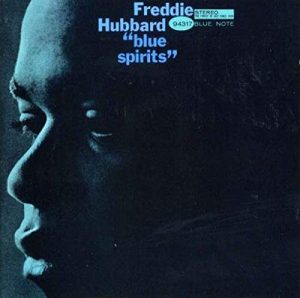 Mathews, and bassist Larry Ridley for Khan. He decided to expand the group for this album using a mixture of new and familiar voices. For an octet session, Bernard McKinney/Kiane Zawadi returned on euphonium, and Joe Henderson joined on tenor sax. Clifford Jarvis was back on drums and Big Black was added on congas. "Soul Surge" is a funk blues in 7/4 time presented in an uninspired arrangement. The band dutifully pounds out the ground beat as the horn backgrounds delineate the 4 + 3 division of the bars. Hubbard and Spaulding play impassioned solos, but considering the triumphs of "Breaking Point", this seems to be a letdown. Henderson enlivens the proceedings with an outstanding solo based on Spaulding's final phrase. Mabern and Big Black follow with brief solos both set with the insistent 7-beat pattern in the background. "Cunga Black" has a straight-eighth feel in its melody line and a strong dance beat from Jarvis and Big Black. Again, Henderson's solo stands out, but the biggest question about this session is WHY? The septet session was recorded a week later. Hank Mobley replaces Henderson, and the rhythm section is comprised of McCoy Tyner, Bob Cranshaw, and Pete La Roca. The title track features an excellent framing arrangement and a dazzling Hubbard solo with fine development of ideas and a broad dynamic range. Spaulding is inspired again, and Mobley's lean style of this period fits well within this context. Tyner, now a true master following his tenure with Coltrane, lends his tremendous power to fuel an excellent rhythm section. "Outer Forces" finds Hubbard in sterling form, but the other horns struggle with the tempo and the overall direction. Tyner gets things back on track before the final chorus. "Jodo" is the strongest track on the album. Hubbard's composition is a virtual harmonic landmine, with standard harmony, modes, and suspensions coming up every few bars. Yet, all of the soloists play through the sequence with confidence, creating thrilling solos along the way. Overall, "Blue Spirits" was not equal to any of Hubbard's previous Blue Note albums. It is not too surprising that the label held up its release for nearly two years.
The Mosaic set closes on a brighter note, with an unfinished album project from 1966. The sextet featured Henderson, Hosea Taylor on alto sax and bassoon (!), and the rhythm team of Hancock, Workman, and Elvin Jones. The two tunes recorded are closely tied to the Blue Note sound, specifically the progressive jazz being recorded in the mid-to-late-1960s. Had Blue Note continued under its original ownership for a few more months, this album might have been an interesting addition to its catalog. But then, what if's plagued Hubbard for the rest of his career. What if he had stayed true to his original vision instead of moving into commercial music? What if he had taken better care of his embouchure (and the rest of his body) so he could have continued creating for many more years? And, what if he would have stayed away from the cocaine? Unfortunately, these things happened, and combined with his oversized ego, Freddie Hubbard erased most of the progress he made during the 1960s at Blue Note and Impulse. He was still a great player, but he could have been so much greater.