Due to suspended late-night trips on public transportation in early 2022, Jazz History Online's Concert Digest feature has been unavoidably curtailed. For now, we will cover as many concerts as funds and transportation schedules will allow. As COVID-19 restrictions are reduced, we hope to return to our earlier regime of several new reviews per issue. Your patience and indulgence are greatly appreciated.
Please scroll down for earlier entries.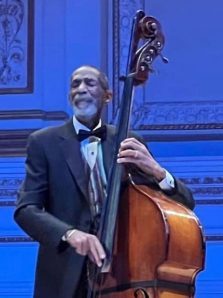 NYC 2-FOR-1: RON CARTER 85TH BIRTHDAY CONCERT/
BILL CHARLAP TRIO
ARTIST: Ron Carter & Friends
VENUE: Carnegie Hall; New York
DATE: May 10, 2022
PERSONNEL: "Golden Striker Trio": Donald Vega (p); Russell Malone (g); Ron Carter (b)/ "Foursight Quartet": Jimmy Greene (ts); Renee Rosnes (p); Ron Carter (b); Payton Crossley (d). Lester Holt (mc); Stanley Clarke, Lenny White (presenters).
Although many venues come close, there is no place quite like Carnegie Hall. I am among the fortunate musicians who have performed there, and I can testify to its glorious sound (both onstage and in the audience) and magnificent ambiance. My visit to Carnegie for Ron Carter's 85th birthday celebration was not only my first time back since the pandemic, but surprisingly, my first visit since my choral performance 19 years ago! It was a thrill to walk into that storied concert hall and to remember concerts I had attended there many years ago.
"For the Love of Ron" fêted Carter as only Carnegie Hall could. Host Lester Holt (who revealed to the audience that he was not only a jazz fan, but a bass player, too!) kept his remarks to a minimum to allow more time for the music. Even the gift of a custom electric bass made by Stanley Clarke was kept short. Three of Carter's groups were included in the program: the "Golden Striker" Trio, the "Foursight" Quartet, and the untagged Octet (which featured four cellists, Carter on piccolo bass, and a three-piece rhythm section). The trio and quartet played before intermission, with the octet (playing more selections than the smaller groups) saved for the second half. The trio and quartet played for about 35 minutes each. The trio adapted to the short time frame with ease. The group, based on trio models of Art Tatum, Nat King Cole, and Oscar Peterson, focuses on ensemble interplay and tidy arrangements. Pianist Donald Vega played a brilliant solo on "Laverne Walk", and guitarist Russell Malone surprised the audience with a full unaccompanied chorus of "The Shadow of Your Smile" within the arrangement of Carter's original "Candelight" (Malone's segue into "Happy Birthday" was not much of a shock, considering the event). Carter was in excellent form on an unusual setting of "Soft Winds", which also included some very intriguing polytonal sections.
The quartet was waiting in the wings, so when the trio finished, Carter left the stage and returned in less than half a minute. I heard the quartet last August in Baltimore at the Keystone Korner, and I was captivated by over two hours of their glorious music. Unlike the trio, the quartet's arrangements seem based on suggestions and discoveries; as such, pieces played in consecutive sets may not necessarily include the same figures and gestures. For example, "My Funny Valentine", played in both sets in Baltimore, was also performed in Carnegie, where it included both the poignant single-line melody statement by Renee Rosnes, and a coda based on John Coltrane's "A Love Supreme" (the latter omitted in the late Baltimore set). Basically a piano/bass duet–until the Coltrane interpolation, when Payton Crossley joined in–the Carnegie performance was highlighted by the sensitive counterpoint between Rosnes and Carter. "You and the Night and the Music", the closer in Baltimore and Carnegie, featured stunning improvisations by Jimmy Greene and Crossley, but the shifting patterns of four-bar exchanges heard in Baltimore did not carry over to the current performance. For those listeners who had not heard the quartet in a club setting, the Carnegie performance was a fine introduction. However, it should be stated that this quartet excels in a nightclub, where they have ample time to explore and expand the music. Perhaps they should have been allotted the entire second half of the Carnegie concert.
As it stood, the intermission didn't start until 9:30. In an effort to hear as much music as possible on this visit, I double-booked myself with the thought that a typical concert would be completed within 2 hours., and I would have time to catch a club set elsewhere. That was not the case, so rather than miss my second engagement entirely, I reluctantly left Carnegie at the interval and grabbed a cab to Birdland.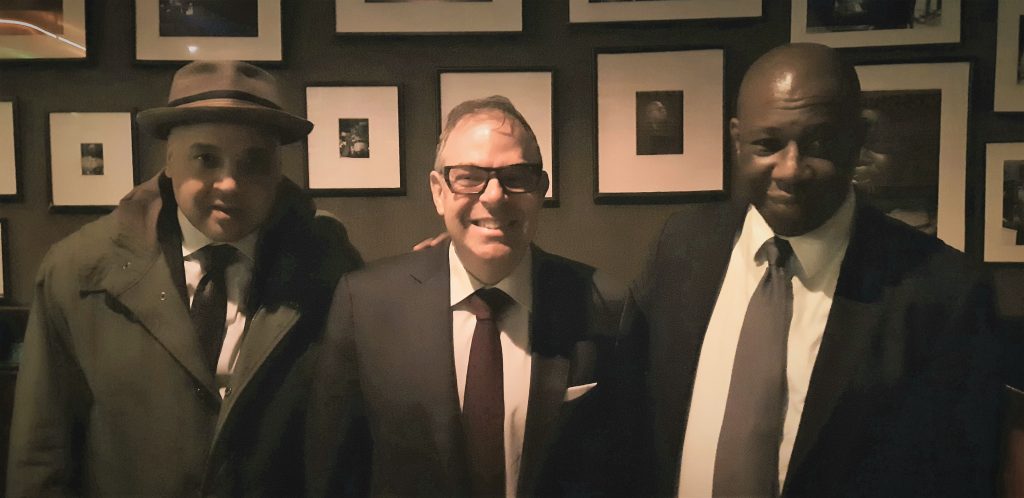 ARTIST: Bill Charlap Trio
VENUE: Birdland; New York
DATE: May 10, 2022
PERSONNEL: Bill Charlap (p); Peter Washington (b); Kenny Washington (d).
When I arrived at Birdland, I found that Bill Charlap had just started his final set (thank heavens for being fashionably late!) and that the room was full to near capacity. Opening with a blazing rendition of "I'll Remember April", Charlap kept the energy level raised with a mightily swinging arrangement of Cole Porter's "All Through the Night". I had never seen this trio live, and all of the photos I had seen of Charlap made me believe that he was very reserved and dignified. That was not what I saw at Birdland. Charlap was as kinetic as Cecil Taylor in his prime, as he peppered his solos with sharply accented bass notes and lightning-fast runs up and down the keyboard. What remained consistent from my earlier knowledge was Charlap's encyclopedic repertoire, including pop gems like "Make Me Rainbows" (written by John Williams, long before he wrote movie scores) and the delightful "Put on a Happy Face", to adaptations of big band classics (Thad Jones' "Little Rascal on a Rock") and movie themes (Harry Warren's "An Affair to Remember"). Aside from "Affair" and a gorgeous "Smoke Gets in Your Eyes", there weren't many ballads; however, one unannounced selection held special meaning for me: "Our Love Rolls On", a song by the late Dave Frishberg, a composition notable for its stunning melody and condensed phrase lengths. It was strange to hear the song without Frishberg's lyrics, but it was a great tribute from one pianist to another.
Of course, with 20-plus years as a working ensemble, the Bill Charlap Trio can handle virtually any piece of music. Bassist Peter Washington and drummer Kenny Washington know the immense book of charts as well as Charlap, and it was amazing to hear a band member suggest the next tune and see Charlap kick it off without any discussions of tempo or key. Because of this fast-paced impromptu programming, the group played satisfying full-length versions of eleven songs in just under an hour. And yet, it was all over too soon. However, there will be more concert coverage of Bill Charlap here in the next few months, as he invited me to attend his acclaimed "Jazz in July" series at the 92nd Street Y.
Oh yes, I plan to be there.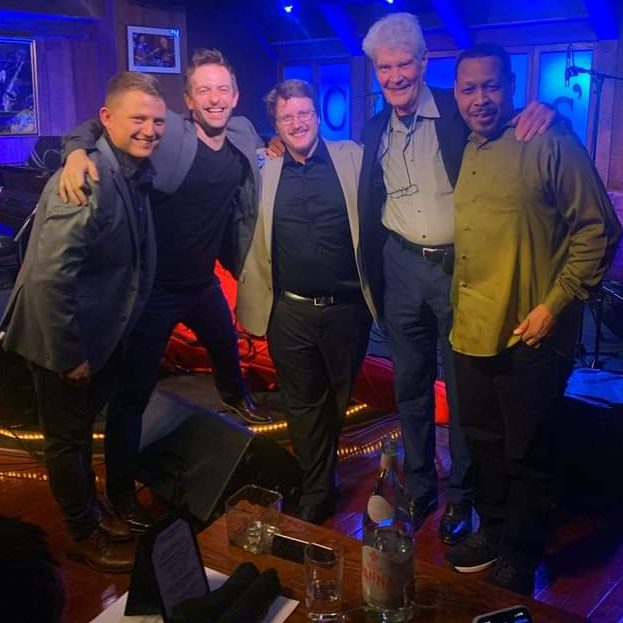 Horizons Quintet (L-R): James Collins, Benny Benack III, Daniel Wilkins, Gene Perla, Byron Landham
ARTIST: Horizons Quintet
VENUE: Chris' Jazz Cafe, Philadelphia
DATE: April 15, 2022
PERSONNEL: Daniel Wilkins (ss,ts); Benny Benack III (trumpet); James Collins (p); Gene Perla (b); Byron Landham (d).
The Horizons Quartet is a cross-generational group based in Philadelphia. It combines the talents of established veteran musicians Gene Perla and Byron Landham with the dynamic younger players Dan Wilkins and James Collins. Wilkins and Collins are extraordinary musicians with deep knowledge of jazz history, and flexible styles that work within multiple genres. These young men come to jazz through family connections, as their fathers are also well-known jazz musicians (For the record, Daniel's father Skip was my jazz theory professor in college, and he is also a former contributor to Jazz History Online.) For a special gig at Chris' Jazz Cafe in Philadelphia, Daniel invited Benny Benack III (also part of a large jazz family) to augment the group. Benack is an emerging star in his own right, but within the Horizons ensemble, he was simply another member of the group, adding his unique, but complimentary, solo voice to the ensemble.
The set began with Wilkins intoning a hip medium-tempo version of "How Deep is the Ocean". His smoky tone mixes elements of Joe Henderson and Wayne Shorter, and his ideas remained consistent across the mellow first chorus and the swinging second. Benack's
follow-up was on trumpet, but his sound was so rounded that I did a double-take to be sure he hadn't switched to flugelhorn! His jagged phrases cut across the phrase lines, marking a significantly different approach from Wilkins' smooth tenor and Collins' sparkling piano. The next tune, a Wilkins original titled "Benediction of the Moon", was a vastly different experience. Spotlighting a lyric melody over samba rhythm, the performance included a full-toned soprano sax solo, followed by long, flowing lines from the trumpeter.
"Reminiscing with You" is a Wilkins melody over the changes of "I Remember You". The spirit of Clifford Brown was in the air as Benack's solo quoted the late trumpet master (and former Philly local musician). Wilkins showcased both his tenor and soprano horns here, offering distinct stylistic differences between the two instruments. Landham and Collins shared the spotlight on "The Blade's Proposition". The extended piano solo started quietly, accompanied by dancing cymbals. As the
intensity of Collins' statement increased, Landham was a true collaborator, matching a percussive answer to each keyboard impulse. The set closed with "Get the Point" which featured another spectacular Landham solo.
Horizons Quartet's eponymous album comes highly recommended. It contains several of the pieces played at the Philadelphia and Wilmington concerts. It can be ordered at www.pmrecords.com.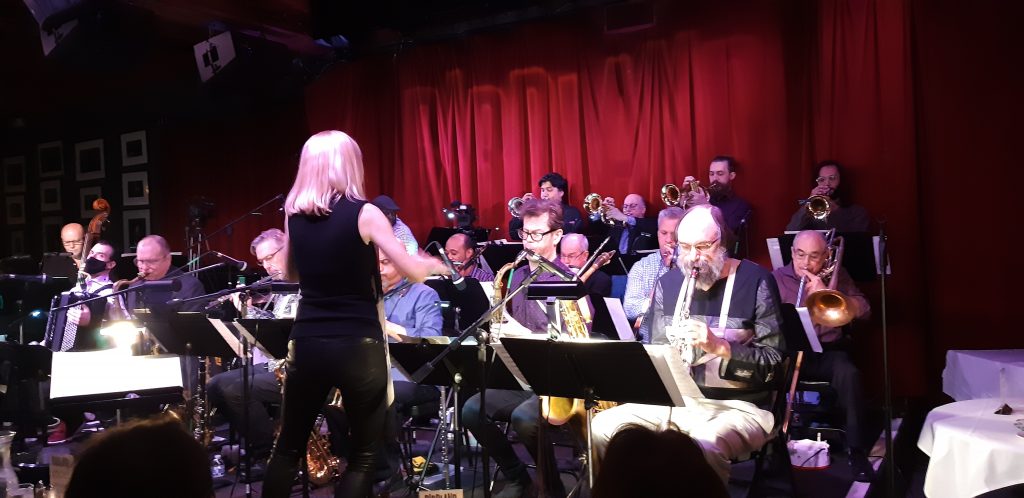 Maria Schneider Orchestra at Birdland; March 10, 2022.
TWO SETS, SAME NIGHT, AT BIRDLAND
ARTIST: Maria Schneider Orchestra
VENUE: Birdland; New York City.
DATE: March 10, 2022
PERSONNEL: Greg Gisbert, Michael Rodriguez, Chris Van Leeuwen, Michael Dudley (tp); Dion Tucker, Keith O'Quinn, Marshall Gilkes, George Floyd (tb); Steve Wilson, Dave Pietro, Rich Perry, Donny McCaslin, Scott Robinson (r); Gary Versace (p); Julien Labro (acc); Jeff Miles (g); Jay Anderson (b); Johnathan Blake (d); Maria Schneider (comp, cond).
For those New Yorkers desiring a variety of music without the hassle of club-hopping, Birdland offers an ad hoc double bill every Thursday night. While the club presents concurrent acts in the upstairs jazz club and downstairs theater most nights, it is only on Thursdays when the sets are scheduled so listeners can hear complete performances by both artists with a very short intermission between groups. Thursday, March 10 was a very special evening at Birdland with Maria Schneider's Orchestra in the midst of a week-long engagement upstairs, and LA vocalist Sara Gazarek commencing a three-night stint downstairs. If there was one constant between the two audiences, it was mutual admiration: everyone wanted to hear both ensembles!
Maria Schneider's award-winning orchestra features some of New York's most loyal musicians. While there were inevitable substitutions within the ranks, many of the musicians at Birdland were the same ones I had seen over the years on Schnieder's gigs in New York, New Jersey, Colorado, and DC. With several sets of music to fill at Birdland, Schneider pulled several classics from her library. On Thursday's early set, she "toggled" (her word) between tracks from her earliest and latest albums. It had been several years since I heard the supremely lyric Schneider composition, "Green Piece", and the solos by Rich Perry and Scott Robinson brought a new freshness to the score. I was seated just a few feet from the bell of Robinson's baritone sax, and it was a visceral thrill to feel the rush of air as the band lit into another classic, "Dance You Monster, to My Soft Song". Alto saxophonist Dave Pietro played a dynamic solo over the turbulent drums of Johnathan Blake, and then Michael Rodriguez and Greg Gisbert lit into a brilliant series of trumpet exchanges where the phrase lengths were not limited to the usual patterns of four or eight bars.
Schneider's charts can be rough on brass player's embouchures, so she programmed a rest in the form of "Stone Song", a whimsical feature for Steve Wilson and Blake. Schneider brought out a unique piece of pottery fashioned by Jack Troy which contained tuned stones. Dubbed "Stoney", the piece was entrusted to Blake who shook and slid the object in dialogue with Wilson's inquisitive soprano. The brief ensemble passages appeared about halfway through the work, giving the brass their needed rest, while providing the audience with a different set of sounds. "The Sun Waited for Me" from Schneider's song cycle, "Winter Morning Walks" was another understated highlight with Donny McCaslin's tenor playing improvised passages against the original melody played here by Marshall Gilkes (and on the original recording by Dawn Upshaw).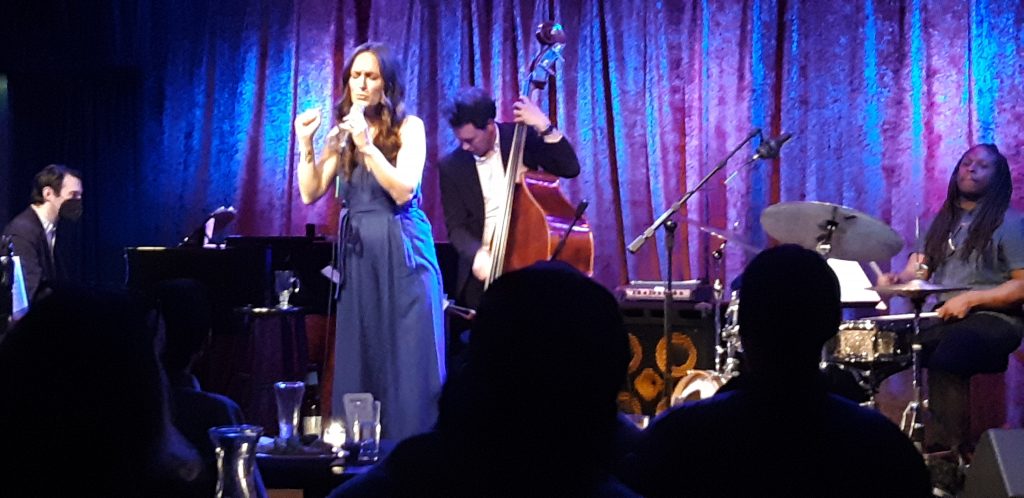 ARTIST: Sara Gazarek
VENUE: Birdland Theater; New York City.
DATE: March 10, 2022
PERSONNEL: Sara Gazarek (v); Julian Shore (p); Alex Boneham (b); Jonathan Pinson (d).
Before I knew it, the Schneider set was complete, and it was time to run downstairs for a long-awaited set by Sara Gazarek. Unlike Schneider, whom I've caught live on several occasions, I had only heard Gazarek live once, and then as a guest artist. After a long hiatus, Gazarek was back in New York (the site of her first jazz gig) to perform her music from her impressive discography. Accompanied by a well-rehearsed trio from LA (pianist Julian Shore, bassist Alex Boneham, and drummer Jonathan Pinson), Gazarek revealed a penchant for dramatic shifts in volume. To my ears, these dynamic contrasts happened spontaneously (usually in the middle of solos) which meant that every member of the ensemble had to listen carefully and instantaneously react to any sudden changes. A missed shift from loud to soft would be an obvious and clear mistake, but no one missed a step over the entire set.
The set opened with a breathtaking version of a song associated with Sarah Vaughan, "Lonely Hours". I suspect that the Divine Sarah would have been very impressed with Sara's scat solo, which displayed her wide vocal range, and inventive use of unique syllables. From there, Gazarek moved into Frank Loesser's "Never Will I Marry", which she dedicated to her ex-boyfriends, before coyly admitting that she was once again a newlywed. The new tune brought another scat solo, with a completely different approach to syllables and melodic content. Gazarek reprised a medley recorded on two of her previous albums, combining the Beatles' "Blackbird" with the 1920s standard "Bye Bye, Blackbird". Gazarek did not mention the strong thematic ties within the lyrics of the two songs, but her earnest performance made the connection clear.
Gazarek saved her best material for the end. She sang a fragile rendition of the Frank Sinatra classic, "I'm a Fool to Want You", and then stunned us all with an unaccompanied performance of the verse to Duke Ellington's "I Got it Bad and That Ain't Good". When the band came in for the chorus, Gazarek was right on pitch, and from there, she soared through the heartbreaking lyric. Another a cappella episode appeared during the coda. Then Pinson launched a powerful drum solo, and while the mood had changed, the subject matter of broken hearts remained for her dramatic reinterpretation of Dolly Parton's "Jolene". This time, Gazarek portrayed a woman unwilling to accept the fates of lost love, and ready to confront her romantic competitor. Before the pandemic, this setting was one of Gazarek's greatest artistic triumphs (and one fully deserving of its Grammy nomination). Hopefully, she will be able to regain the momentum she had in pre-COVID days. Hers is a unique and wondrous talent.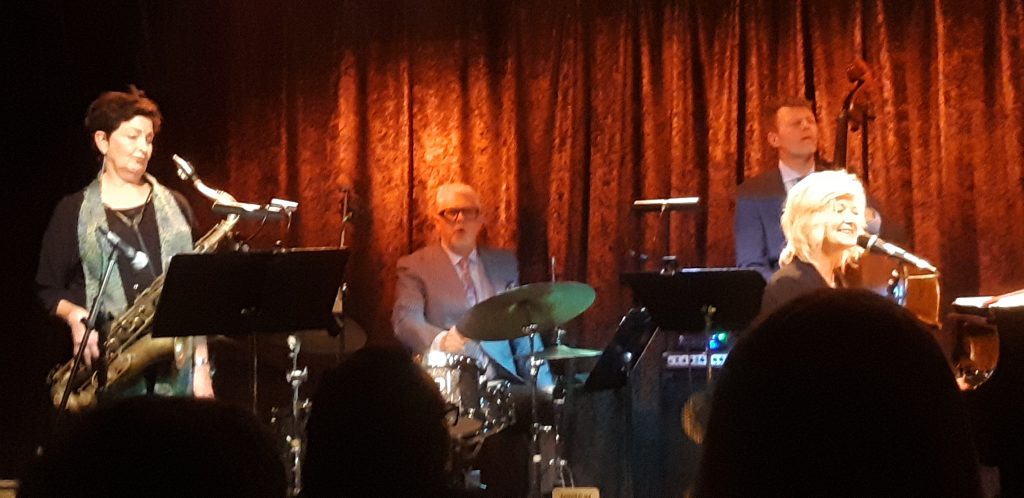 ARTIST: Dena DeRose Trio
VENUE: Birdland Theater; New York City.
DATE: February 25, 2022
PERSONNEL: Dena DeRose (p,v); Martin Wind (b); Matt Wilson (d); with guest soloist Virginia Mayhew (ts).
When addressing her audiences at Birdland, Dena DeRose told a story typical of current jazz groups: Her trio had last played Birdland in the fall of 2019, and went into the studio a few days later to record an album. The disc was released in the spring of 2020, and due to the pandemic, the scheduled concert tour was postponed until now. But DeRose's trio is far from a typical group. DeRose teaches at the University of Music and Dramatic Arts in Graz, Austria, while bassist Martin Wind and drummer Matt Wilson play free-lance gigs and lead their own groups in New York. So instead of building their chemistry over a hundred or so gigs per year, they do the same work within a handful of US engagements. While the gaps in trio work might lead others to tenuousness, DeRose's trio has the uncanny ability to not only pick up where they left off but to expand the parameters of their well-crafted repertoire.
My best illustration of the trio's approach comes from the final tune on their Birdland set, "Don't Be on the Outside, Looking on the Inside". DeRose originally recorded this arrangement on her Shirley Horn tribute "We Won't Forget You" (full disclosure: I wrote the liner notes to that album). On the CD, DeRose adopted the same medium-tempo Charleston groove that Horn had used on her recording, with solos played over straight-ahead swing. The live performance retained a few elements from DeRose's recording, including Wilson's drum solo over Wind's walking bass, as well as DeRosa's seductive vocal. But at Birdland, with Wilson doubling between a tambourine on his left side and snapping backbeats on his snare played on the right, Wind anchoring the group with a sly double-stopped bass line, guest tenor saxophonist Virginia Mayhew adding lean blues licks, and DeRose leaning into the keyboard for seriously funky piano riffs, the performance took on greater proportions, complete with unexpected tempo changes, and dramatic shifts of dynamics.
One element of the DeRose trio which never seems to appear on their albums is their abundant sense of humor. Wilson is a big part of the overall jocularity with his creative drumming. At one point—specifically NOT a bossa nova—he pulled out a pandeiro, a Brazilian hand drum which he alternately played with a wire brush and his open palm. Earlier, he ended a ballad by pantomiming a roll several inches above the cymbals (the percussion equivalent to "air guitar"?), but the coup de grace was a very real and powerful snare press roll near the end of "I'm Glad There Is You". It wasn't immediately evident why Wilson did that, but it set up a very funny bit for DeRose. In a turn rare for her, DeRose sang an unaccompanied cadenza that went something like this: "I'm very, very, very, very, very, very, very (turning towards the audience as the laughter starts), very, very, very, very, very, very, very, very, very, very, very, very, very, very, very, very, very, very (big breath) very, very, very, very, very, very, very, very, very, very, very (another big breath as she turns back to the keyboard) (SLOW TEMPO) glad there is YOUUUUUUUUU!"
The trio's next album will not be recorded until DeRose's next trip to New York, and I hope it includes her new piece "Hold Fast to Your Dreams". DeRose discovered Langston Hughes' classic verse last fall and matched it to a melody she had sketched in the previous spring. She featured this stunning piece throughout her Birdland engagement. In its present form, it runs about 8 minutes and includes a passionate vocal, an ethereal bowed bass solo, and dramatic percussion. It's hard to say what it will sound like after being worked out on tour and in the studio, but the inspiring message and powerful music captured the hearts of the New York audience. That response will only grow if the piece is spotlighted on a recording. That album would also benefit from appearances by DeRose's Birdland guests, Ed Neumeister, Scott Robinson and Virginia Mayhew, all highly creative and underappreciated members of the New York jazz scene.