When I started Jazz History Online in the spring of 2011, I decided to focus my articles on the music (rather than the personal lives) of jazz musicians. The only exception to that rule occurs when a musician volunteers information about their private life which in turn enhances our appreciation of the music. For example, the brilliant compositions and improvisations of trumpeter Tom Harrell can be better appreciated with knowledge of his severe bipolar condition and the medications he must take to treat the illness. The three videos reviewed here all dig deep within the personal lives of their subjects, telling us more about them as humans, rather than important jazz musicians.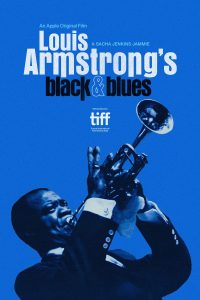 On the surface, Sacha Jenkins' new documentary "Louis Armstrong: Black and Blues" (currently streaming on Apple+) doesn't add much information to what we already know about Armstrong. Every jazz history textbook tells of Armstrong's overwhelming influence on the burgeoning art of jazz. The reassessment of Armstrong's later works has been readily accepted thanks to the powerful arguments posed by Ricky Riccardi in his ongoing biographies, articles, and liner notes. Finally, Armstrong's recollections of personal racial incidents have been public knowledge since 2001, when ABC's "Nightline" played a selection of Armstrong's privately recorded tapes. However, Jenkins has done the best job of collecting this material into one place, offering a compelling story with evenly divided portions on Armstrong's music, biography, and racial struggles. With the exception of biographical quotes taken from vintage film clips, all of the expert opinions are presented as audio clips. This allows Jenkins to use quotes from late critics like Stanley Crouch and Leonard Feather. Along with numerous photos and clips, this method allows the viewers to maintain their attention on Armstrong. The trumpeter decorated his tape boxes with original collages created from newspaper clippings and photographs, and Jenkins animates that style to illustrate Armstrong's story. Armstrong's words are frequently spelled out on the screen—obscenities and all—to emphasize their importance. When there is only the written word to convey Armstrong's memories, Jenkins employs the rapper Nas to read the quotes. In these sections, Armstrong becomes a young man again, and the anger we hear transmitted through Nas' voice represents the thoughts that Armstrong dared not utter in the world of Jim Crow laws. When Armstrong spoke out about President Eisenhower's lackadaisical approach to the crisis at Little Rock's Central High School, it was a shock to the general public, but an emotional release for the trumpeter. Armstrong could have vented his opinions earlier and with greater frequency, but as the biggest name in jazz, he knew that he had the most to lose. Even his post-Selma quote "They would beat Jesus if he was Black and marched" didn't seem to quell the charges of Uncle Tom-isms. Yet, over 50 years after Armstrong's death, Jenkins' film helps us understand Armstrong's struggles, and appreciate his unique way of overcoming them.
Peter Schnall's profile of Ron Carter, "Finding the Right Notes" (PBS Home Video) may be one of the most searingly honest films ever made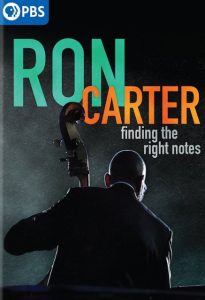 about a jazz musician. Most of the honesty comes from Carter himself, as he discusses the peaks and valleys of his personal life, along with the struggles he finds as a top-rank musician. Most of the film was made in 2017, as Carter approached his 80th birthday, and dealt with the sudden death of his son Myles. Even in the wake of tragedy, Carter pushed on with his daily routine as best as he could. It is only in the familiar surroundings of a recording studio where the seemingly unflappable Carter stumbles. Musically, Carter's error is relatively minor, but emotionally, it is a breaking point. Thankfully, Carter recovers fairly quickly, successfully completing his part of the recording, but how many other artists would allow such a fragile moment to be documented? Schnall's skill as a filmmaker is a contributing factor: throughout the film, we see and hear fellow musicians praise Carter for his unequaled professionalism; significantly, it is only Carter who speaks of the challenges of finding the right notes. The studio clip shows that Carter is human and not quite infallible. The film's epilogue brings us through the COVID era, with Carter expanding his presence on social media, and developing his approach for the eventual return of live performances. An emotional clip of Carter's return engagement to New York's Blue Note nightclub effectively contrasts with performances from his 80th birthday celebration at the same club. Now at the age of 85, Carter has found peace within himself on a number of issues; just listen to the film's ongoing interview and notice how many times Carter says "and I'm OK with that". He even forgives the legendary conductor Leopold Stokowski, who was impressed with the then-teenaged bassist, but told him that "my Texas orchestra will never hire a colored boy". Considering the time of the quote—the late 1950s—and Stokowski's clear intent, Carter is absolutely right to give the conductor a pass for an unfortunate phrase. But what a sad commentary on our history that skin color outweighed prodigious talent even in an organization so revered as a symphony orchestra. Elsewhere in the film, Carter complains that jazz does not receive the same respect as classical music. That is absolutely true, but it was the short-sightedness of a classical organization that drove Carter to pursue his eventual career path. That was certainly a win for jazz.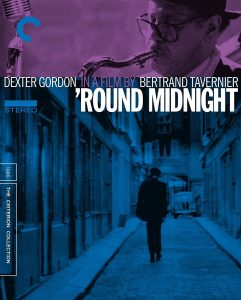 Carter also appears in the classic jazz feature film, "Round Midnight", recently reissued by Criterion on DVD and Blu-Ray. While the film is ostensibly fiction, it is closely based on the life stories of Bud Powell and Lester Young. Dexter Gordon plays Dale Turner, a legendary jazz saxophonist, who comes to 1959 Paris as a broken man dying of alcoholism. François Cluzet co-stars as Francis, a devoted jazz fan and commercial artist (based on Powell's real-life friend Francis Paudras) who lives with his pre-teen daughter Bérangere (Gabrielle Haker). All three of these characters are alone and unwanted at the outset of the story. Turner's situation is particularly difficult, as he wants a friend who likes him as a person, not just as the greatest tenor player in the world. Listen to the dialogue as Turner/Gordon constantly changes the subject away from jazz and toward ordinary topics: another glass of beer, the correct French pronunciation of beef steak, and his ice-breaking question to the little girl, "Aimez-Vous Basketball?" By moving into a new apartment (with Dale as a third tenant), getting a promise from Dale to stop drinking, and the restoration of having his pay delivered directly, Francis creates that special friendship and gives Dale a renewed sense of purpose. Gordon was not in optimum health when making this film, but he took an active role in developing the character. In an unusual move, director Bertrand Tavernier recorded all of the music live on set, and apparently in sequence. We can hear Gordon's playing improve in conjunction with Dale's gradual transformation. Bobby Hutcherson, Herbie Hancock, and Wayne Shorter all have performing and speaking roles, and while the performances are shortened for dramatic purposes, the music helps to propel the storyline, especially in the short sequence featuring vocalist Lonette McKee. The final section of the film takes place in New York. Martin Scorsese plays Turner's passive-aggressive manager, and the band includes Gordon, Freddie Hubbard, Cedar Walton, Ron Carter, and Tony Williams (Carter is the last survivor of this stellar ensemble). There is also a touching scene where Turner tries to reconnect with his estranged daughter, Chan (Victoria Gabrielle Platt), who seems mildly disappointed that the tune Turner wrote for her, "Chan's Song", does not have lyrics. Criterion's 4K Blu-Ray restoration is a beauty, with a rich palette of colors and an exquisite 5.1 DTS soundtrack. The supplements include a 1969 performance by Gordon (too bad Criterion didn't include more of this material), interviews with Gordon's widow and biographer Maxine Gordon, Michael Cuscuna, and Gary Giddins, and an hour-long documentary featuring behind-the-scenes footage and alternate versions of several scenes. In an interesting case of "what-if", one of the alternate scenes is an extended version of the contemporary outdoor concert, with McKee returning to sing the lyricized version of "Chan's Song". McKee's part of the scene was cut, probably due to time restrictions, but it was a shame to remove this small narrative connection. Jazz is usually as misunderstood and mistreated as Dale Turner when it comes to the movies. "Round Midnight" was the exception. It was a film about jazz made for people who love jazz, but the humanity of the story appealed to a general audience. Couldn't Hollywood produce fewer comic-book movies and a few more gems like this?