LYNNE ARRIALE: "THE LIGHTS ARE ALWAYS ON" (Challenge 73532)
|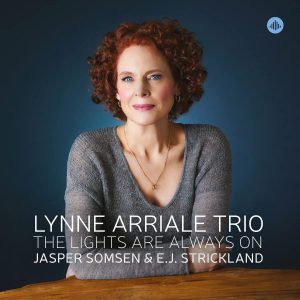 The title of Lynne Arriale's new CD "The Lights are Always On" is from a quote from Dr. Prakash Gatta, an esophageal surgeon from Tacoma, Washington. Like all other front-line workers, Gatta did not have the option of working from home during the pandemic. As Gatta says, Babies are being born; bones are being set. This hospital, this profession… we are in a league of our own; we'll take care of you, I promise. That sense of commitment acts as an inspiration for Arriale, and the music on her album salutes those people who strive to make the world better for everyone. "March On" opens the album with a celebration of activists and protestors. Despite the title, the piece is in 3/4 time, but the downbeats of each bar sound like the slow forward march of a picketing crowd. Arriale's initial piano solo also builds in slow steady segments, with Jasper Somsen's bass and E.J. Strickland's drums adding energy in increments. The title track is delicate as lace with Strickland's cymbals complimenting Arriale's high-register solo. As the piece progresses, a strong bass line develops which symbolizes the willpower of front-line workers. "Sisters", dedicated to the women fighting to end gender inequality, has a bold melody and a strong gospel feel. Arriale's solo mirrors her theme, with a determined pace and unbroken intensity. "Honor" was inspired by truth-tellers such as Lt. Col. Alexander Vindman, Fiona Hill, and Marie Yovanovitch, each of whom displayed great courage by telling the truth, despite the threat of personal attacks from political leaders. Again, Arriale finds a musical equivalent, portraying these brave souls with a slow and steady tempo under a piano solo which evokes sensitivity and strength. The mood lightens with a tender portrait of "Loved Ones" and the uplifting strains of "Sounds Like America". Arriale's salute to the late Supreme Court Justice, "The Notorious RBG" is less fiery than I expected, but Justice Ginsberg's steady resolve is certainly echoed in the song's steadfast groove. The understated symbolism is also used in "Into the Breach", which recounts the events of January 6, 2021. Arriale's quirky melody indicates that something is wrong from the outset, and Strickland's violent drumming is a metaphor for the brutal invasion of the US Capitol. Senator John Lewis is the subject of "Walk in My Shoes", and his strong resilience can be felt within the theme and solos. The album concludes with the slow and dignified tribute, "Heroes". This album may be the most literal of Arriale's politically-motivated works, but its artistic merit comes from the way she uses established jazz piano styles to create highly personal images of current events. It is a very profound recording.
ELI DEGIBRI: "HENRI AND RACHEL" (Degibri 1009)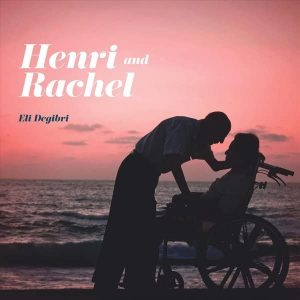 Behind the clear disc holder on Eli Degibri's new album, lives the lead sheet of the title track, "Henri and Rachel". The song is in 5/8 and looks quite complex on the page, but in fact, it is a logically developed melody that is not difficult to sing. The album actually begins with a small group of vocalists—probably the quartet and a few studio visitors—singing the wordless melody which was named for Degibri's parents. Rachel suffers from dementia, but this melody stuck with her, and even amidst her illness, she was able to recognize and sing the melody for her son. Degibri digs into his childhood memories for "Gargamel", named for a character on the cartoon show "The Smurfs". The slow tempo is enticing, as Degibri's tenor weaves through the changes. Pianist Tom Oren's solo includes an homage to Erroll Garner before discovering a new path. "Like Someone in Love" opens a four-song suite dedicated to Degibri's fiancé. The Jimmy Van Heusen standard is performed in 5/4 time with Oren playing an adapted Alberti bass line, while bassist Alon Near doubles the melody with Degibri, and drummer Eviatar Slivnik adds an increasingly active commentary. Oren creates a new melody over the ongoing bass line, and Degibri makes his final theme statement in the top register of his horn. The oddly constructed ascending keyboard lines of "Longing" add tension as Degibri develops his soprano saxophone solo. Oren and Slivnik's heated interplay during the piano solo is one of the album's highlights. In the song named for his bride-to-be, "Noa" is portrayed as a serene and calming influence. Degibri leaves space in this solo, letting the music breathe, even as the emotional temperature rises. "The Wedding" depicts a dizzying array of emotions, with anticipation the most prevalent. "Don Quixote", dedicated to Henri, is a clever 5/4 piece on the altered chords of "Lover". It's not an easy piece to follow, but the quartet's confident performance is quite impressive. The soulful 4/4 groove of "Ziv" honors Degibri's manager and best friend, Ziv Damary. "Preaching to the Choir" starts quietly with a short motive shared between the members of the quartet. The tenor solo builds in volume and intensity at a steady pace until it ends with a mighty wail. Oren maintains the emotional level so that Degibri can make another dramatic statement before the band takes off on a rapid play-off. The album comes full circle with an intimate tenor/piano duet on the title tune. What a lovely way to pay tribute to your family and friends.
FRED HERSCH: "BREATH BY BREATH" (Palmetto 2198)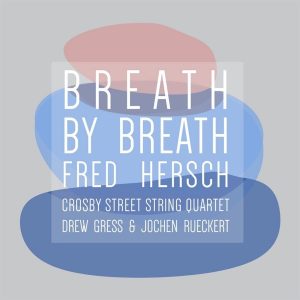 "Dedication" is also a synonym for commitment, and Fred Hersch was inspired to write "The Sati Suite" by his meditation practice, which helped him maintain his inner peace during the pandemic. A long-time devotee of string quartets, Hersch has built upon the interplay within the string quartet to create works where his piano improvisations can interact with the strings and his rhythm section—usually at the same time. "The Sati Suite" makes up the majority of "Breath by Breath", one of Hersch's most ambitious albums to date. Bassist Drew Gress and drummer Jochen Rueckert complete Hersch's trio. They have the uncanny ability to create improvised counterpoint with an open and spacious sound. The Crosby Street Quartet (with Joyce Hammann and Laura Seaton, violins; Lois Martin, viola; and Jody Redhage Ferber, cello) were an astute choice for this recording, as all of the members know the jazz language and have successfully translated that knowledge to their instruments. As a result, the usual tension between the classical and jazz styles is absent, and the pairing of jazz piano trio and string quartet becomes an integrated ensemble. Hersch's composition juxtaposes the strings, piano, and rhythm section in many ways, but each internal group has plenty of space to shine on its own. The stylistic palette is quite diverse, with elements of folk, jazz, tango, and classical music interspersed, yet the suite feels unified and consistent. In the liner notes, Hersch recommends that listeners play the suite in its entirety (remember when that was the natural thing to do?) and the music supports that philosophy, with the various elements flowing into each other. I couldn't imagine listening to only one movement of this suite, and I've resisted the urge to describe every track in detail. It is far more gratifying to let the piece develop around you, and marvel at the extraordinary playing both in solo and ensemble settings. The encore is "Pastorale", an homage to Robert Schumann, featuring a delicate melody first played against a Romantic-era piano accompaniment, and then treated to a delightful collection of developments interweaving the strings and rhythm. Hersch has always been revered as a composer, but this album might lead to new directions in his career.
MARTIN WIND: "MY ASTORIAN QUEEN" (Laika 3510391)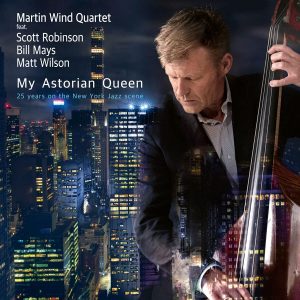 To celebrate 25 years in New York City, bassist Martin Wind's new release "My Astorian Queen" pays tribute to some of his favorite NYC musicians, and his wife, whom he met on a blind date on his second day in the city. The album gets off to a leisurely start with Thad Jones' "Mean What You Say". Pianist Bill Mays improvises from the outset, backed by the deep swing of Wind and drummer Matt Wilson. Scott Robinson enters on trumpet with a loose rendition of Jones' main theme, following with a solo with swing-style construction. Wind's well-articulated solo precedes another Robinson solo, this time on tenor sax, and with a much freer approach. "Solitude" is not the Ellington standard, but a melancholy ballad Wind wrote during the pandemic. Robinson bends notes and wails on clarinet in the theme statement, Wind makes a strong declamatory statement in his solo, and Robinson returns for a solo filled with sorrow and resignation. Wilson's accompaniment to Robinson's solo is perfectly modulated to the contours of the clarinet solo. Mays closes the solos with a flowery statement that offers a slight contrast to the other solos. In a clever arrangement of "Broadway", Robinson displays a surprisingly light touch on the gigantic bass saxophone. Mays' sharply accented improvisation sits perfectly over Wilson's brushes and Wind's steady walking bass. Wind's solo is both funky and funny, with soulful double-stops mixed in with witty ideas. "Peace Waltz" is a gorgeous Mays original, played as a piano/bass duet. Mays' delicate lyricism is a great match with Wind's deep bowed tones, and the communication between the two men is heart-rending. The introduction to the Brazilian standard "È Preciso Perduar" starts with piano and brushes, with bass and the piano's lower register in unison moving into the theme. Robinson joins in on tenor and while his tone here resembles Stan Getz, the ideas would have been a little too avant-garde for the iconic tenor man. Wind's solos with great passion before Wilson comments on the theme with highly expressive brush strokes. Robinson makes a quick jump to bass sax for this chorus, then goes back to tenor for the final theme. "Out in PA" is an atmospheric prelude to the title composition. Both pieces were composed by Wind and are dedicated to his wife, Maria. The first piece is a remembrance of the first weekend getaway by the future couple, and it features a passionate tenor sax solo, more finely-executed arco bass, and an emotional piano chorus. Wind starts the title track alone, with the rest of the rhythm section entering quietly. Mays' delicate touch enhances his sparkling solo, and Robinson caresses the melody with a velvety tenor sound. Robinson's trumpet announces the theme of "There's a Boat That's Leaving Soon for New York", and Mays' distinctive octave-doubled lines maintain the swing. Robinson and Wilson both have great showcases on this track, with Robinson accompanied solely by Wind in the first part of his solo, and Wilson interacting with Mays' block chords. The album ends with an unusual version of the theme from "New York, New York". Suffice to say, it's a little different than what you'd hear on New Year's Eve at Times Square or on any cruise ship.