Hello everyone–
Welcome to the spring edition of Jazz History Online. Sorry for the delay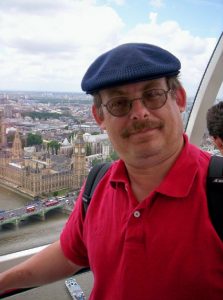 in getting this issue to you, but as we all know, deliveries have been very slow lately, and I simply can't review materials if I don't have them! I've also taken on extra freelance work (including COVID-19 tracing and book editing) which takes a necessary portion of my time.
Before telling you about this issue's contents, I want to discuss a few upcoming changes to the site. As most of you know, I moved to the East Coast to be closer to the major music scenes. Now that concerts are starting again, I plan to cover several concerts in every issue of JHO. I'm starting a concert journal, which will include concise reviews of each show I attend, with the most recent entries at the top of the page. This means that concert reviews will still use a single spot on The Front Page, rather than a separate listing for each concert. That being said, I have booked a week-long trip to Chicago over the Labor Day weekend. The Chicago Jazz Festival has been reduced to a single night (apparently, the city wants to use the time to highlight all of the music genres whose festivals were canceled due to COVID). I hope to use the extra time to focus on local artists and their bands. The omnibus review will appear as a separate article. By the way, I am happy to report that I am fully vaccinated and ready to travel! If you haven't gotten the shot, DO IT!
On July 19, 2021, Jazz History Online will celebrate its 10th anniversary. The issue that will publish around that date will look a little different than usual. I plan to feature many of our best-loved articles on The Front Page, including the extended articles on Frankie Newton and the Swingle Singers, along with notable reviews from the past decade. That won't leave much room for our regular features, but I hope to include a few articles that will be new to you. We'll have an interview with vocalist Lara Solnicki about her intriguing new CD, "The One and the Other". I plan to rework a recently rescued historical essay on Django Reinhardt. I should have a few new CD Reviews up by then as well as a few reviews in the concert journal. All of this is subject to change, but I will do my best to get these articles up…and on time (uh, oh; I hope I'm not promising too much again…)
The present issue of JHO features my review of the long-awaited set, "The Complete Louis Armstrong Columbia and RCA Victor Live Sessions, 1946-1966". Mosaic (with a production team including Armstrong expert Ricky Riccardi) has produced another magnificent collection, and my 4000-word review discusses each session in depth. Put this set on your must-have list! Other new reviews include a new book by Jeff Gold, "Sittin' In" which shows classic nightclubs through handbills, menus, and souvenir photos of the audience members rather than the musicians. The CD reviews are once again split into two sections: the
instrumental albums appear in what may be the final edition of "Jazz in the Time of COVID-19", while the vocal albums are evaluated in an essay titled "Just Sing…" As a bonus feature, I am reposting my article on George Gershwin's "Summertime", which continues to be one of the site's most requested articles. The Charlie Parker track, which was unexpectedly dropped from YouTube, has been replaced with a duplicate version of the same track.
We now have over 2700 Facebook fans! Are you one of them? If not, please go to https://www.facebook.com/JazzHistoryOnline/ and join the party! To be sure you get our Facebook messages, hover over the "liked" button on our Facebook page, and click the top two selections ("Get Notifications" and "Following"). If you'd like a monthly e-mail update of new articles (no, we won't sell your addresses to anyone else), or would like to communicate with me, please write to jazzhistoryonline@live.com
Stay safe and healthy,
Tom Cunniffe