Scroll down for earlier entries….
ARTIST: Ron Carter Quartet
VENUE: Keystone Korner, Baltimore, MD
DATE: August 21, 2021
PERSONNEL: Jimmy Greene (ts); Renee Rosnes (p); Ron Carter (b);
Peyton Crossley (d).
Ron Carter is a wise jazz master. His stage announcements are minimal and to-the-point, and it's easy to see that he rarely says anything that doesn't have his full commitment. He has assembled one of the most creative jazz combos on today's scene, and rather than generating his own fanfare, he has let the word go out from fans and critics. That has certainly happened, judging by the capacity audiences that have heard the group in recent months. In a touching stage announcement at Baltimore's Keystone Korner, Carter said We just finished an 18-month intermission. Every night when we were working, we tried to make it a special night by how we played little ideas that came up and new arrangements. We all try to do another level every night, but you just see us one set, so you don't see the growth of us getting better. Well, tonight in the first set, you saw us really getting better. That is high praise for any musician, but when it refers to top-flight artists like tenor saxophonist Jimmy Greene, pianist Renee Rosnes and drummer Peyton Crossley, the remarks are both inspiring and humbling.
Carter has an interesting method for assembling setlists: he will select several pieces—many from his own pen—and combine them by mood and tempo. Like his former boss, Miles Davis, he dovetails the end of one piece with the beginning of the next. But unlike Davis, he will tie the medley together with a short reprise of one of the key pieces. At this point—roughly 50 minutes into the set—Carter will make an announcement and then close the set with two standards. At the Keystone on this night, those two standards remained the same for both sets. The first—introduced by Carter as "my favorite ballad"—was "My Funny Valentine" and the second being "You and the Night and the Music". Far from being a cool-down, these pieces were the highlights of each set. But as Carter implied, hearing the pieces twice displayed the artistic growth (and flexibility) of this group. "Valentine", perhaps the most overplayed standard in the jazz repertoire, regained its emotional potency in the hands of Rosnes and Carter. The arrangement opened with Rosnes' single-line rendition of the melody, with Carter adding inquisitive counterpoint in the first set, and a mixture of melody and arpeggios in the second. The solos were played against an insistent minor-second obbligato, and they were primarily introspective the first time around, and guardedly playful later in the evening. In both versions, this episode was followed by Rosnes' unaccompanied (and beautifully harmonized) setting of the melody. But on the first set, Carter re-entered with an abstracted version of John Coltrane's "A Love Supreme" motive, and with Crossley joining in, the rhythm section seemed to discover a new ending for this arrangement. Yet in the second set, Carter left out the Coltrane quote and just added a short accompanying coda. "You and the Night" also seemed to be in flux, as Greene played his first chorus as a chase, either with Carter (first set) or Crossley (second set). The band also toyed with eight-bar exchanges between the band and Crossley, but the idea appeared in different places in the two renditions (throughout much of Greene's solo in the first set, but only in Rosnes' solo on the second set—and in different parts of the song form as well!)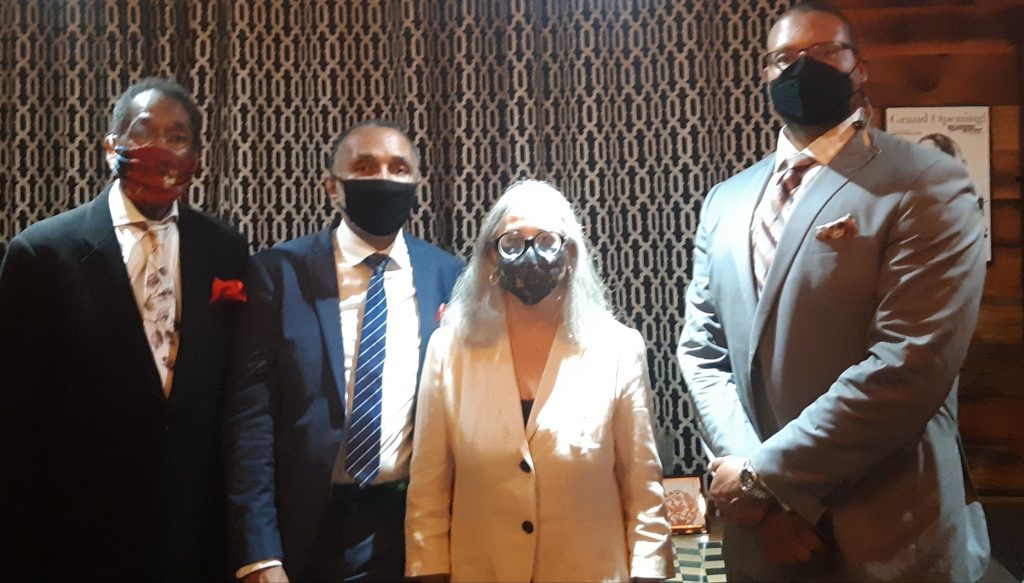 The first set's medley was centered around the strutting "Mr. Bow Tie". On that tune, Carter's solo showed his rich tone and soulful lines to great advantage, followed by Greene who used the shifting backgrounds to build an impressive statement. Rosnes created a sparkling improvisation filled with brilliant runs and culminating with dramatic isolated chords to usher in Crossley's astounding solo on cymbals. On the following "Seven Steps to Heaven", Rosnes used the break to slow the tempo to a medium gaunt, enjoying the slower pace before raising it back for Crossley's solo turn. "Little Waltz" found Rosnes at her most delicate, playing in the upper register before surprising the audience with a quote from "Summer of '42". Carter's solo acted as a prelude to his stunning unaccompanied feature on "Willow Weep for Me", which featured abstractions of the melody and passionate variations. Greene's exciting, passionate solos enriched the second set, on a medley built around the blues "Caminando". The extended tenor solo from "Caminando" was only a prelude for a thrilling workout on "Joshua". Again, the shifting background patterns continued through the solos, offering challenges and inspiration to players and listeners alike. Rosnes built her solo up from quiet introspection to full-bodied confidence, and Greene picked up on her intensity for his burning statement. The highlight of the second set was a beautiful version of "Flamenco Sketches". Rosnes used Miles Davis' solo as the theme, as Carter and Crossley added the appropriate Spanish touches. Greene used the piece to salute many tenor sax giants. Coltrane was there, as was Dexter Gordon, Albert Ayler, and (quite surprisingly) Stan Getz. What a vivid imagination to consider how these players would interpret this material!
At the end of the night, Carter thanked the audience "times 35", noting the whole band's gratitude for fresh, attentive audiences. In return, we must thank the Ron Carter Quartet "times 100" or more for a brilliant and revitalizing evening of beautiful music. Catch this band either live or on a live stream during their current tour. It's true: they just get better every night, and with players of this caliber, that is a high level indeed!
ARTIST: Terell Stafford Quintet
VENUE: Clifford Brown Jazz Festival; Wilmington, DE
DATE: August 4, 2021
PERSONNEL: Terell Stafford (tp); Tim Warfield (ss, ts); Bruce Barth (p); Nathan Pence (b); Billy Williams (d).
For the past 34 years, the city of Wilmington, Delaware has honored their favorite jazz son, Clifford Brown, with a free jazz festival. Brown, born in Wilmington on October 30, 1930, was a local sensation here before making his professional recording debut in 1952. By the time of his accidental death only four years later, Brown was a major jazz icon with an impressive legacy of recordings. Many of those recordings played on the sound system between acts at the Clifford Brown Jazz Festival. Over the years, the festival has come under criticism for programming smooth jazz (a genre that Brown would never have played) but this year's edition has a healthy mixture of straight-ahead and smooth jazz, and the large audience were highly appreciative of the music, regardless of genre.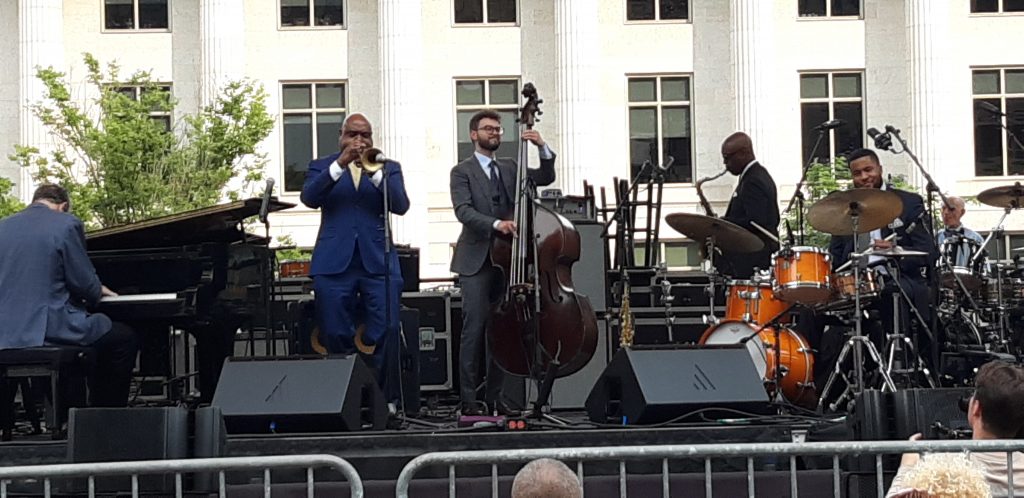 The festival organizers could not have found a more appropriate artist to open the festival. In addition to being one of the finest trumpeters in jazz, Terell Stafford found his main influence in Clifford Brown. On the festival grounds, just blocks away from Brown's birthplace , Stafford opened the festival with a brilliantly conceived arrangement of Brown's original "Daahoud". The melody was set against a stop-time figure adapted from the Brazilian clavé. Each soloist played their opening choruses over this rhythm before the backing shifted into 4/4 swing; all of them made the most of the tension generated before the rhythmic shift, and the release later on. Next, Stafford symbolically raised the roof of the outdoor setting with an exciting version of Lee Morgan's "Mr. Kenyatta". Tim Warfield started off the solos with an incisive exploration of the changes before Stafford tore into a roaring solo that left the crowd cheering. The exuberant swing of Bruce Barth's solo had the pianist literally bouncing on the piano bench. The band returned to the melody, but left room for a bass solo before closing the tune. They used this idea a couple of times during the set to great effectiveness, with more of the crowd listening to Pence's solo instead of idly talking. The program continued with a sweet gospel-flavored original, "Favor" (introduced with an unaccompanied trumpet passage featuring growls and flutter-tongue effects). Then it was time for Stafford to "play pretty". Without spoken introduction, he launched into the standard "Old Folks", and his solo gracefully moved from tenderness to forcefulness in only three choruses. Barth's solo included a locked hands sequence that recalled another 1950s jazz icon, Erroll Garner. The set's official closer, Billy Strayhorn's "Johnny Come Lately" was treated to another stop-start arrangement, although this time the true melody was not revealed until the final chorus. Warfield blew a brilliant solo on soprano sax, followed by more thrilling trumpet, thundering piano, and exciting drums. At the tune's end, Stafford segued into Brown's infectious medium blues "Sandu", finishing the set where it started, with another tip of the hat to the brilliant musician who inspired this festival.
The Clifford Brown Jazz Festival continues through Sunday, with performances by Kenny Barron, Jane Bunnett, Dianne Reeves and Terri Lyne Carrington. All performances are free, and held outside at Rodney Square in downtown Wilmington.
ARTIST: Roseanna Vitro's Celebration of Life
VENUE: Deer Head Inn; Delaware Water Gap., PA
DATE: July 24, 2021
PERSONNEL: Roseanna Vitro (v); Cyrus Chestnut (p); Dean Johnson (b); Tim Horner (d); sitting in: Charlie Porter (tp).
The Deer Head Inn stands majestically along Main Street in the bucolic village of Delaware Water Gap, PA. The club has a loyal following, drawing fans from across the region, and whenever a favorite musician appears at the Deer Head, the room is packed with appreciative listeners.
Last Saturday night Roseanna Vitro came to town with two of her most trusted sidemen, and a considerable ringer. The result was an unforgettable night of music.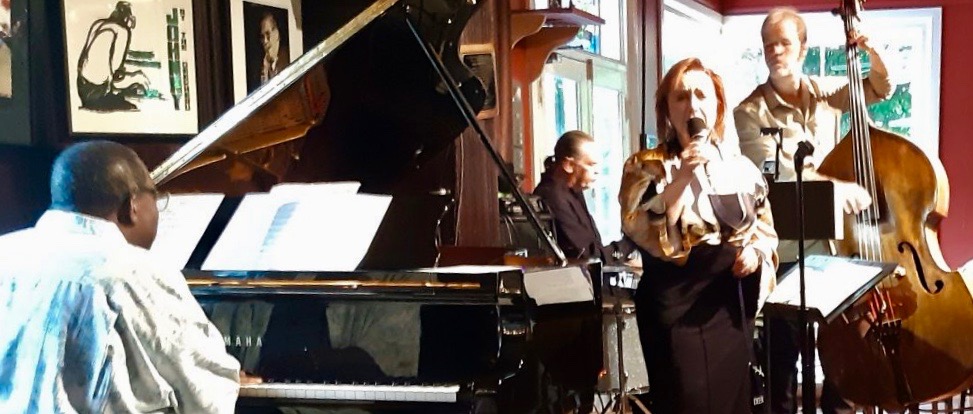 The ringer was Cyrus Chestnut, and his powerful roots-based piano was a constant well of inspiration. Vitro had never hired Chestnut before, and time after time, I heard chords and gestures from the keyboard absent from earlier editions of the band. Chestnut's dominating presence asserted itself in the trio pieces that opened each set, but when Vitro stepped on stage, he assumed the role of accompanist confining his embellishments to ideas that added to the ensemble's performance. So, on Vitro's opener "Reza", it was drummer Tim Horner who established the loose bossa feel and fueled a surging Vitro scat solo over the final vamp. It was on "Crazy He Calls Me" when Chestnut shined. He followed Vitro's deliberate but soulful reading of the lyrics with a gorgeous improvisation full of deep melodic invention and sensitive filigrees. Johnson also contributed a lyric solo before Vitro returned with a vivid melodic invention. "I'm Through with Love" was treated to an exciting arrangement with Vitro singing the first chorus in long meter over the rhythm section's double-time feel. When the trio shifted back to the slower tempo, the effect was electric! Later in the tune, Vitro shifted from words to scat, and her solo offered clear evidence of her love for Ella Fitzgerald. Vitro closed the first set with a song dedicated to her late mother, Ruby Mae. "I Ain't Got Nothin' but the Blues" is a superb pop song that always inspires bluesy solos and a big soulful ending—as it did here—but I was most impressed with Chestnut's tremolo obbligato. It's a trick that Earl Hines (over)used on his later recordings, but Chestnut's use of the device was an integral part of the solo he was developing with his left hand, and it enhanced the total effect.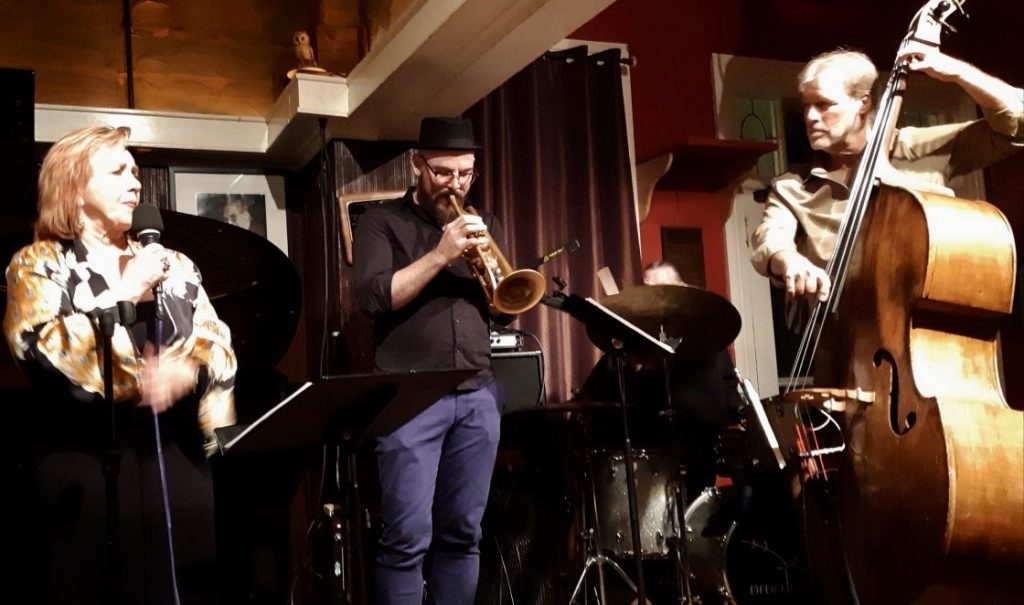 It was Tim Horner's birthday, and at the beginning of the second set, Vitro appeared with a slice of birthday cake. complete with a candle. The entire room sang to him and cheered when the candle was extinguished. However, the most memorable part of the second set was the guest appearance of trumpeter Charlie Porter, newly relocated to the East Coast from Portland, Oregon. From his solos on "But Not for Me" and "One Mint Julep", it was obvious that Porter knew his jazz history, especially the parts recorded on Blue Note. His style effortlessly mixes the concepts of Clifford Brown, Lee Morgan, and Freddie Hubbard with a burnished tone reminiscent of all three. It will be interesting to see how his style develops in the next few years. Before Porter sat in, Vitro introduced a tune from her forthcoming Charlie Parker tribute disc. This version of "Scrapple from the Apple" featured words by Vitro's husband, Paul Wickliffe, and is indicative of the improved lyrics that Vitro has paired to Bird's melodies. As the evening came to a close, Vitro performed songs from her earlier recordings including "Funkarello" (from her Bill Evans tribute) and Ivan Lins' "I Just Need Your Kisses" (from "Tropical Postcards"). In between were a group of stunning ballads , including the slow and torchy "Don't Let the Sun Catch You Cryin'", the touching but humorous "Why Try to Change Me Now?" and the stirring closer "God Bless the Child". Roseanna Vitro called the program "Celebration of Life" and the concert lived up to its title: it was deep and inspiring, and it made us forget our troubles.
ARTIST: Ken Peplowski Quartet
VENUE: Birdland; New York City
DATE: July 17, 2021
PERSONNEL: Ken Peplowski (cl,ts); Ted Rosenthal (p); Martin Wind (b); Matt Wilson (d).
In Alfred Hitchcock's masterpiece "Rear Window", Thelma Ritter laments "You'd think the rain would cool things down, but all it did was make the heat wet". She could have been speaking of the weather in the Big Apple on July 17, 2021. It was hot, sticky and uncomfortable—
basically, the least likely climate for an enthusiastic audience to gather to hear jazz. However, we are not in ordinary times, and the capacity crowds at Birdland clearly valued having a good time in public more than enduring the oppressive weather.
Birdland's featured performer, Ken Peplowski, did not disappoint. He played two full sets without repeating any songs. Those songs were connected with Peplowski's comedic patter which was almost as much fun as the music. A born raconteur, Peplowski joked about the heat ("Can you put another log on the air conditioning?"), ribbed his sidemen ("That was a great solo! What went wrong?"), and told tales about composers Arthur Hamilton and Carroll Gibbons. He noted that one of his recordings was used in a movie as the background for a striptease by Nicole Kidman. When introducing a later tune, he claimed that when Nicole Kidman heard it, she put her clothes back on!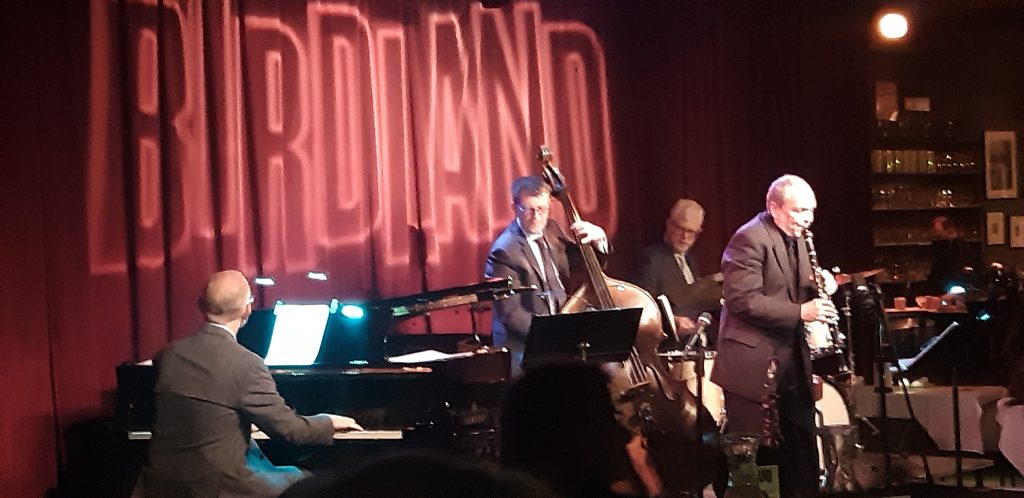 Of course, the main attraction was the music. Peplowski presented a richly varied collection of songs, some of which were quite obscure. The first set's opener, "It All Depends on You" started with a careful delineation of the melody from Peplowski's clarinet before moving into pure improvisation. His fluid technique was perfectly matched with a rich tone that extended across all registers of the horn. Ted Rosenthal, one of the finest accompanists in New York, countered with a delightful potpourri of jazz tropes and gestures. Martin Wind punctuated his solo with a well-stated quote, but Wilson—usually the comedian in such surroundings—played it straight…for the time being. Wilson had his own moments throughout the night, including a surprise solo on tamborim during a Pixieguena choro, a witty set of four-bar exchanges on "Soon", and a brilliant interplay with Wind on "Have You Met Miss Jones" where the two musicians stretched and contracted the meter seemingly at will.
Many of the obscure titles came from Peplowski's vast collection of vintage sheet music. From my vantage point, I could see that at times,
Rosenthal was reading from copies of the original sheets. Peplowkski played several of the rare ballads on tenor sax. Although the ghost of Ben Webster appeared on occasion, Peplowski's tone remained soft and tender as he caressed the forgotten melodies. On songs like "I'll Close My Eyes", the quartet saw no reason to complicate the original tune, but "Garden in the Rain" benefitted from the spontaneous counterpoint between clarinet and piano. Near the end of the evening, Peplowski played Benny Carter's "The Courtship" in a manner as elegant as the composer. Then came a breathtaking unaccompanied version of "Single Petal of a Rose" on which Peplowski merged the inner and outer voices of Duke Ellington's solo piano work. By the time the concert ended, we went outside and discovered that the heat and humidity had subsided. It always feels that way after an evening of serenades.
ARTIST: Kenny Barron Trio
VENUE: Keystone Korner; Baltimore, MD
DATE: June 12, 2021
PERSONNEL: Kenny Barron (p); Kiyoshi Kitagawa (b); Johnathan Blake (d).
One of the cardinal rules about live performances is "Expect the unexpected": the passage which never worked in rehearsal suddenly falls together in front of an audience; an outside noise intrudes on a player's concentration or, in the case of the Kenny Barron Trio, the acoustics have suddenly—and unaccountably—changed since the previous night's gig at the same club. After Saturday night's opening set, Johnathan Blake confirmed this to me when I asked him about a seemingly chaotic approach to the opening number. When this happens, the instinctual belief among musicians is that they cannot be heard by their fellow players or the audience. Therefore, they play at maximum volume to start and adjust as the music progresses. From my vantage point at the bar, I had difficulty hearing Barron's improvisation as he competed against the rest of the band, all playing at top volume. When it came time for Kitagawa's bass solo, Barron and Blake dropped out. The bassist's delicate notes and impressive tone filled the room, and when piano and drums returned, Barron and Blake adjusted their volume to the bass, and the problem was solved. The medium-tempoed "How Deep is the Ocean?" which followed featured a beautifully sculptured Barron solo, and effective accompaniment by Kitagawa and Blake, with the latter switching between brushes and sticks without disturbing the mood.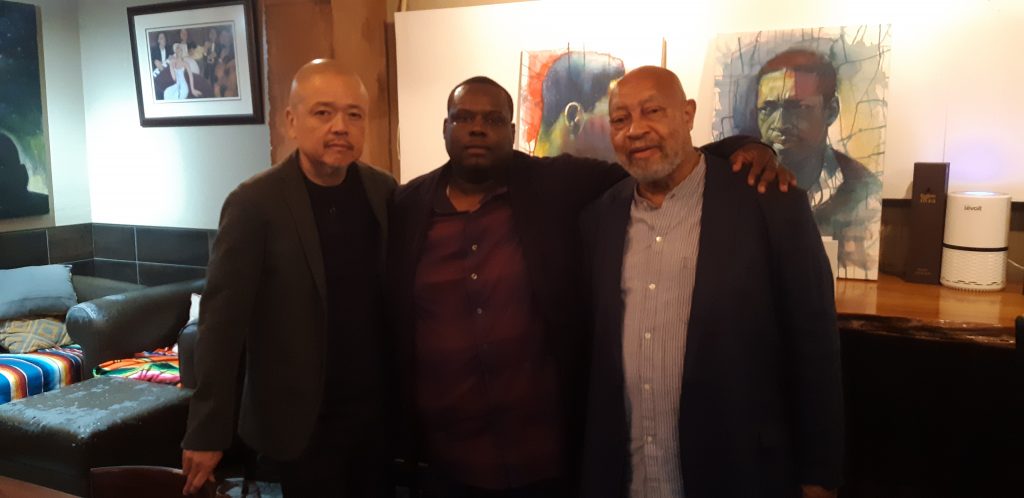 Barron followed with an exquisite solo medley of songs by Duke Ellington and Billy Strayhorn. Barron developed each piece over two choruses, bringing out their individual characteristics. The short repeating figure of "Lotus Blossom" contrasted with the longer-limbed melodies of "A Flower is a Lovesome Thing" and "Melancholia", while the melodic riches of the tunes culminated in "Star-Crossed Lovers", the "Romeo and Juliet"-inspired piece from "Such Sweet Thunder." Barron told me that he wants to make a solo piano album soon. An Ellington/Strayhorn collection would be most welcome.
The highlight of the set was a high-energy up-tempo interpretation of Wayne Shorter's "Footprints". Stripped of its innate mysticism, the piece became a swirling maelstrom loosely supported by ambiguous blues changes. In the middle of Barron's solo, a Latin idea popped up and was briefly developed by the trio before it was also swept up in the overall soundscape. Blake topped off the number with an extended drum solo notable for the extraordinary number of pitches produced on his three-tom setup. A slow and meditative version of "Blue Moon" was the perfect answer to what had just transpired. Here, Barron's delicate touch was on full display as he tenderly interwove his original thoughts with Richard Rodgers' classic melody. Barron's masterful statement made a closing statement of the melody completely unnecessary.
Unfortunately, that was all of the music I was able to hear. The first set started quite late, and when I left the club at 10 pm to return to Wilmington, the Keystone's staff was still seating a new audience for the set which was scheduled to start at 9:30. As later concerts and shows become more widespread, late-night train schedules will expand to reflect demand. It can't happen soon enough.
ARTIST: Duchess
VENUE: 55 Bar; New York City
DATE: May 27, 2021
PERSONNEL: Amy Cervini, Hilary Gardner, Melissa Stylianou (v); Michael Cabe (p); Matt Aronoff (b); Ross Pederson (d).
For their first post-pandemic concert, the vocal trio Duchess returned to the same venue where they sang their debut performance seven years earlier. The 55 Bar is a holdover from Prohibition, an old speakeasy tucked in a corner of Greenwich Village. The venue holds about 50 people at most, but by the time Duchess finished their two-set dinnertime gig, the room was filled with friends and well-wishers. The musical energy inside the room was more than ample competition for the hip-hop dance event occurring right outside the doors.
The members of Duchess were buzzing with nervous energy before the show started, and before the audience knew it, the last-minute soundcheck had melded into the opening of the performance. Their traditional set-opener "We Love Being Here with You" was the only song repeated in both sets, and on the second time around, I caught a new line referring to COVID-19. The pandemic was a natural source of the stage banter, with the topic showing up in the intros to "A Little Jive Is Good for You" and "Blah, Blah, Blah" (the latter termed a "pandemic love song" by Gardner and Stylianou—not George Gershwin's intentions, I'm sure!) Cervini, not one to be topped, had her own share of funny lines through the show, the best coming when Stylianou produced three kazoos from a nearby suitcase. Cervini noted that the Andrews Sisters did not have kazoos. They had instruments…and a manager.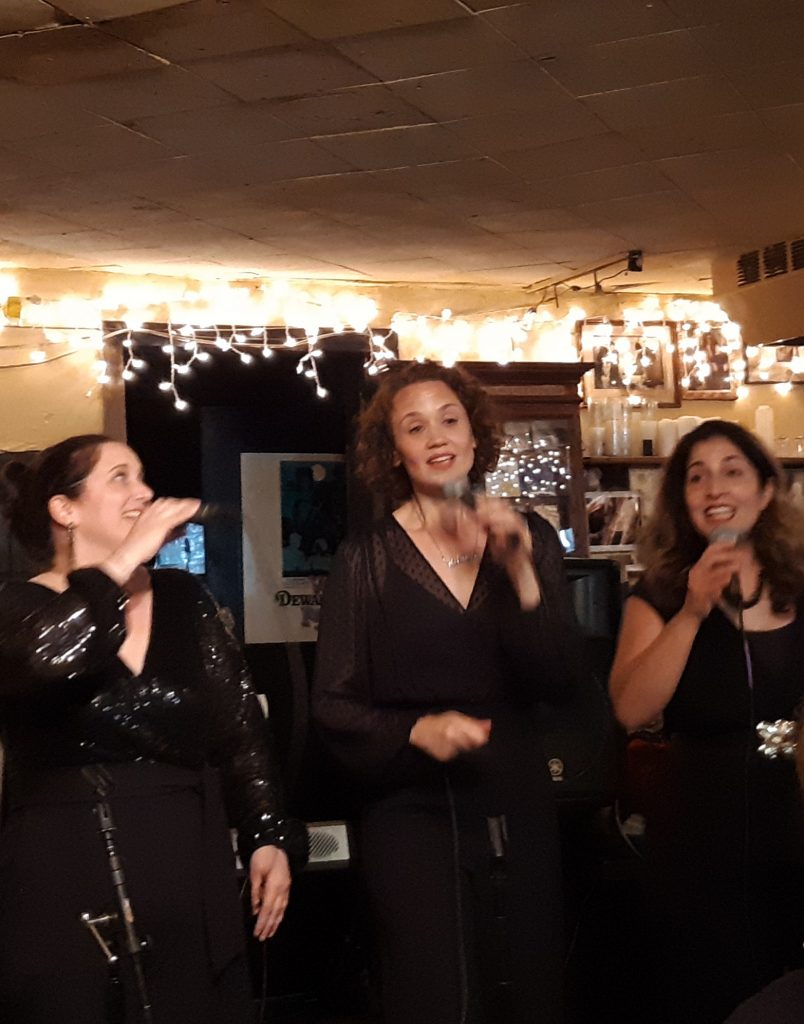 Despite their months apart, the group re-discovered their ensemble style right away, breathing and phrasing as one, and pronouncing the ridiculously fast double-speak chorus of "Everybody Loves My Baby" with absolute precision. Wycliffe Gordon's exquisite arrangement of Duke Ellington's "Creole Love Call" includes a wonderful spot for the three vocalists to scat together. At the 55 Bar, the chorus sounded like a pot of gumbo simmering on a stove, mixing blues feeling with reduced dynamics. "On the Sunny Side of the Street" included more interplay, but this time, it built into a powerful shout chorus punctuated by Pederson's tom-tom and bass drum hits (This was Pederson's first gig with Duchess—he usually plays with Manhattan Transfer—and he did a superb job keeping on top of the many tempo changes in the Duchess book). Cabe turned in a powerful solo in octaves on "Three Little Sisters", and Aronoff made great use of his extended solo space on several numbers. Gardner swung mightily on an energetic "Hallelujah, I Love Him So", Stylianou's deep tones enriched the standard "Humming to Myself" and Cervini wailed as she covered Connie Boswell's solo part on "Heebie Jeebies". The show ended all too soon, but the 55 Bar had another band booked for later in the evening. It won't be long before Duchess will have the headline spots for themselves again.
ARTIST: Michelle Lordi
VENUE: South Jazz Kitchen; Philadelphia
DATE: May 14, 2021
PERSONNEL: Michelle Lordi (v); Nir Felder (g); Nathan Pence (b); Rudy Royston (d).
As Michelle Lordi said from the stage of South Jazz Kitchen, it was good to sing in a nightclub again. Outdoor gigs and livestreams helped to fill the performance gap during the pandemic, but there is no greater inspiration than an attentive audience. The audience was glad to be there, too. There was nary a conversation nor an errant cellphone ring to interfere with the music at hand. Although the CDC had just announced the lifting of mask requirements the day before, South was still working under restricted occupancy rules. Only 35 people were allowed in the room, and tall plexiglass barriers separated the musicians from the audience.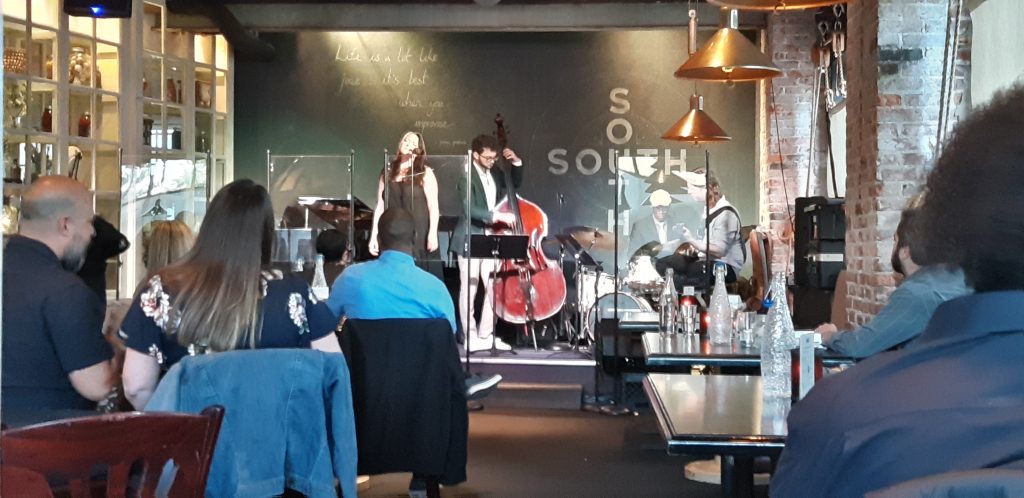 As she did in an outdoor concert last July, Lordi performed several selections from her latest CD, "Break Up with the Sound". What was new in the South performance was Lordi's renewed intensity as she slowly sang the familiar lyrics of Alec Wilder's "Moon and Sand" making us remember the deep meaning of the words. Her version of the Jacques Demy/Michel Legrand movie song, "I Will Wait for You" had a special poignancy after nearly 15 months of enforced isolation. Lordi also premiered some of her newest original songs, the most memorable being "Never Break", which tells of the uneasy feelings which come with a new relationship. The rhythm section was completely in step with Lordi's message, responding with seemingly cautious rhythms over a tight, minimalistic drumbeat. The band's easy flexibility was on display throughout the set. On "Wayward Wind", Felder quickly moved from laid-back country fills behind the vocal to a progressive jazz feel in his solo. Royston spiced up "Lover Man" with a complex beat pattern he calls a "6/8 Afro-Cuban mix". Regardless of the terminology, the beat inspired powerful swing from Felder and Pence. Pence opened the concert with a stunning unaccompanied intro to Cole Porter's "True Love". And as evidence of this group's continued creativity, the repeat performance in the second set had Felder and Royston joining Pence in the same spot for a remarkable three-way improvisation.
After over a year's hiatus, any concerts are bound to have a few rough edges. Lordi and the trio skirted most of the common issues: her voice was in very good shape, with accurate pitch, fine diction, and superb control, while the band was well-rehearsed and very inspired. As Lordi mentioned in a stage announcement, there aren't many "happy songs" in her current repertoire, and those songs would be welcome for an audience emerging from a difficult period. I'm confident that those songs will appear soon, and that this exquisite band will find a way to make this new material uniquely their own. For now, it's just good to be back.