Jazz musicians have suffered greatly in the COVID-19 crisis. In addition to losing several legendary musicians to the virus (Lee Konitz, Ellis Marsalis, Wallace Roney, Bucky Pizzarelli among others), performing opportunities went from barely adequate to non-existent in a matter of days. In accordance to state and local quarantine orders, all of the usual venues—nightclubs, bars, concert halls and restaurants—were shuttered in mid-March 2020, and they have only re-opened in fits and starts. At this writing (September 2020) the bars and restaurants which survived the lockdown are only open for dining with severely reduced seating capacity. As they struggle to stay in business, only a few of these venues have hired musicians. In New York, the problem has been compounded by a new regulation from the state's liquor authority that prohibits venues from promoting or charging admission for music in their establishments. The law will only be enforced until regular performances resume, but it carries a harsh penalty: the suspension or loss of the venue's liquor license.
In the interim, several musicians have produced livestreamed performances. Many of these concerts are basic one-camera shoots (occasionally plagued with technical difficulties) but others have been quite elaborate (a recent live performance from London by The Swingles featured a multi-camera, surround sound production). Recent improvements in technology allow musicians to perform simultaneously in separate locations without time lags (as in a stunning duet by Tierney Sutton and Tamir Hendelman created earlier this summer). Nightclubs including New York's Village Vanguard and Baltimore's Keystone Korner have followed the lead of Spike Wilner (of the NYC clubs Smalls and Mezzrow) by offering livestreams of club performances. Keystone re-opened in mid-June, but reverted to livestream only when the mayor shuttered the bars; they reopened in mid-September for limited indoor dining and music, the latter presented simultaneously live and online.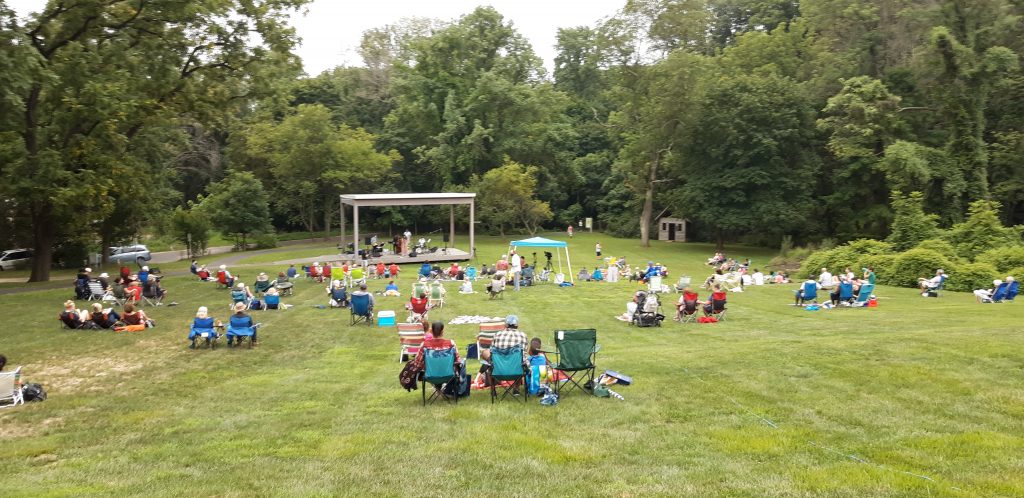 Live performances are slowly re-emerging around the world. On July 30, I attended my first jazz concert since February 29. It was a concert by vocalist Michelle Lordi held outside at the Abington Art Center in Montgomery County, just north of Philadelphia. Part of a world music series curated by Lordi, the free concert was attended by over 200 people, who socially distanced themselves over a large grassy area. Masks were required, and those who forgot their masks at home could get a free one from the venue, or purchase one from an on-site vendor. I sat near the back (approximately 100 yards away from the bandstand) but the sound system allowed me to hear the music clearly, and another Philadelphia vocalist seated near me, Maci Miller, commented about how nice it was to hear live music again. (Miller is in the midst of her own series of streamed concerts on Facebook Live).
In Chicago, a few clubs have reopened, and local vocalist Keri Johnsrud told me that plexiglass has become an integral part of the bandstand. At a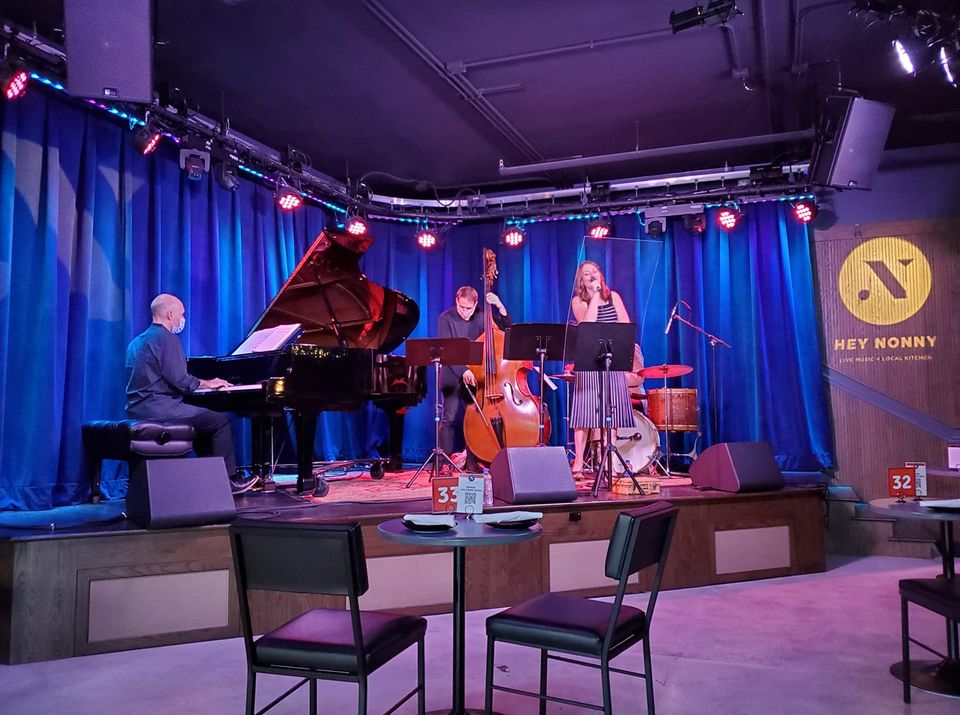 performance at Hey Nonny in Arlington Heights, Johnsrud had a large piece of plexiglass protruding from her music stand which was set to catch errant droplets (see photo). Johnsrud also said that Andy's, a bar and jazz club in downtown Chicago, has a more elaborate plexiglass set-up in front of the stage. Trumpeter and vocalist Larry Browne reports that at his July 4 concert near Aix-en-Provence, France, a piece of plexiglass was attached to his music stand, and while it was fine for catching droplets from his horn, it was too short to shield his mouth when he sang. The plexiglass "cage" has been a standard method for isolating drummers to their own microphones, but saxophonist Michael Cox states that while he has set up plexiglass barriers for teaching private students in his studio at Capital University (see photo), he has not encountered such barriers on the bandstands in Columbus, Ohio. A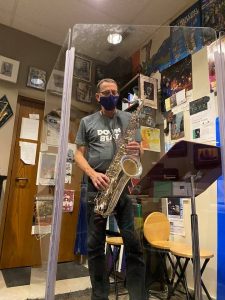 restaurant in Orange County (outside of Los Angeles) has also launched a series of outdoor concerts, but the unique layout of the venue allows singers to perform safely without a plexiglass barrier.
For those ready to return to live performance, the options are there. With the exception of the (optional) plexiglass, the precautions required for concerts are no different than what we've heard on the news: wearing a face mask, social distancing, frequent hand-washing. (Most clubs also require that vocalists bring their own microphones, but most singers have done that for years.) However, with most venues still closed to musicians, the trick is to find new places to perform. For the immediate future, outdoor concerts are ideal, as they offer plenty of room for social distancing, and a lower overall risk of catching or spreading the virus. But winter will soon be upon us, and outdoor concerts won't be an option. House concerts represent one possibility, performances in heated tents are another.
As creative musicians, we must create our own opportunities. It is unreasonable to expect that gigs will start to flow in once nightclubs re-open. We don't know how many clubs will survive the hiatus, and we must accept that social distancing may become the new normal (Personally, I have always found it extremely uncomfortable to sit shoulder-to-shoulder with total strangers in a movie theater or concert venue). If gigs are not allowed in your local area, use the opportunity to build your audience in other cities. Naturally, it's important to be respectful of the local musicians and not interfere with their opportunities to reconnect with their fans.
Speaking of the fans, it's important to reiterate that the audience members truly appreciate hearing their favorite artists in person. Many of the fans face the same anxieties about going out in public as the artists, and I've heard several performers say that the applause and positive energy is even greater now than it was before the pandemic. Pianist/vocalist Champian Fulton told me that after one of her post-quarantine concerts, she had several requests for selfies and hugs. Loneliness is another side-effect of an enforced lockdown.
Will this guarantee you a gig next Saturday night? No.
Will you think of every possible thing that could go wrong? No.
Will this work for every musician? No.
Will you make as much money as before? No.
Will any of this be easy? No.
Should you take any of this advice if you're still uncomfortable about appearing in public? No.
BUT…If you want to work again, maintain (or re-capture) the levels of artistic excellence you achieved pre-COVID, re-connect with your audiences and explore new creative adventures, then it's time to get back to work. Inactivity is not an option.
Thanks to Michelle Lordi, Maci Miller, Joanna Goldsmith-Eteson, Todd Barkin, Kristina Koller, Keri Johnsrud, Champian Fulton, Lee Hill Kavanaugh, Ryan Keberle, Michael Cox, Larry Browne, Sylvain Bellegarde, Janis Siegel, Lauren Kinhan, Marissa Dodge, Tamir Hendelman, Tierney Sutton, Julie Kelly and Judy Wexler.
Photo of Michelle Lordi concert by Thomas Cunniffe. Keri Johnsrud and Michael Cox photos provided by the artists.