Roseanna Vitro has been working on a Charlie Parker project for years. At present, she's putting the finishing touches on the album and has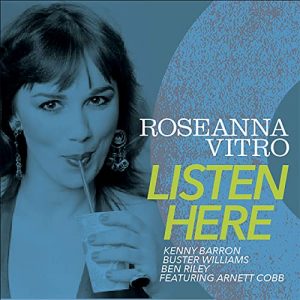 scheduled a livestream performance in a few weeks. While we are waiting for that recording, she has released her debut album, "Listen Here" (Skyline 2001) on CD for the first time. Recorded in 1982 with the stellar rhythm section of Kenny Barron, Buster Williams, and Ben Riley, this album will be a new listening experience for Vitro's many fans. Her rich voice captures our attention from her first entrance and holds us for the rest of the album. Her energy vaults from the speakers as she punches out the title phrase of "No More Blues" (with Riley's bass drum providing backup) and her ensuing scat solo displays her skill at developing original ideas. She rides the uneven groove of a 5/4 "You Go to My Head", and then wails the blues on "Centerpiece" alongside her mentor, Arnett Cobb. Cobb sticks around for a medium-tempo jaunt through Duke Ellington's "Love You Madly" and when Vitro trades phrases with Cobb, we hear an early version of her "improvising with lyrics" technique (basically creating a new melody around the contours of the original words and music.) Vitro is a superb cook, and her performance of Johnny Mandel's "A Time for Love" is as delicious as homemade pumpkin pie: she wraps her voice around the glorious melody, enunciates Paul Francis Webster's lyrics with delicate precision, and adds just the right amount of emotion. Tom Jobim's touching "This Happy Madness" and Dave Frishberg's "Listen Here" are early examples of Vitro reaching beyond the standard repertoire, and listen to how she makes these tunes her own (my favorite example is the way she phrases "skipping through the park" on the Jobim). "It Could Happen to You" features a sprightly opening chorus, and another powerful Cobb solo. Vitro then takes charge of the track with imaginative melodic inventions and a take-no-prisoners swing. "Easy Street" peaks with a soulful ending after a slow gradual build-up (I suspect she would take it in a different direction if she re-recorded it now) and her voice soars over the sparse arrangement of "Sometime Ago". Williams and Vitro start "You Took Advantage of Me" as a duet, and Williams' solo separates two more fine examples of Vitro recasting the words with her daring melodies. The last track, "Black Coffee" starts with someone advising the group to hold the tempo down, and with a little creative echo added by Vitro's husband and engineer Paul Wickliffe, we are transported to a dive somewhere in Texas. Before long, Vitro is shoutin' the blues with power and soul. Vitro has developed in many ways during her career, but this classic album still stands up pretty well. I'm glad she decided to re-release it.
When Jane Monheit first appeared on the jazz scene, the press focused on her physical beauty and tried to deny her musical talent. Monheit became a major star despite the critics, and listening to her recordings,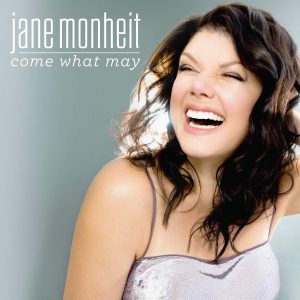 it's hard to fathom what all the fuss was all about. Her latest album, "Come What May" (Club44 4109) shows that Monheit still has the energetic delivery, outstanding diction, and perfect intonation that marked her debut recording. The bright opening number, Frank Loesser's "I Believe in You" exudes confidence in every line, and Monheit embodies that enthusiasm in a rendition that includes coy sexiness, brilliant scat runs, and swinging rhythm. She rightly treats "When a Woman Loves a Man" as a song of seduction, and she slides around the time and pitches without losing the thread of the tune. She includes the verse on "Let's Take a Walk Around the Block" before gamely digging into the tongue-twisting lyrics co-written by Ira Gershwin and Yip Harburg. I'm less enthusiastic about her version of "Lush Life". Billy Strayhorn's enigmatic song resists filigree and histrionics, and Monheit plays it a little too loose. Her free variations on the melody work against the quiet loneliness which Strayhorn's lyric portrays. Her take on Irving Berlin's "Let's Face the Music and Dance" effectively contrasts mystery and joy as she inserts scat between the lyric stanzas. A string orchestra surrounds Monheit's voice on "Samba do Avião" and the rhythm section of Michael Kanan, Miles Okazaki, David Robaire, Rick Montalbano, and Kevin Winard combine with the strings to emulate the classic bossa nova arrangements of the early 1960s. Monheit glides into a lush reading of Hoagy Carmichael's "The Nearness of You". She takes her time enjoying the sounds of the words and appreciating the sentiments they form. In the second chorus, she sings a glorious wordless melody that intertwines with the strings. Bassist Robaire takes a walk with Monheit on the "Sunny Side of the Street" before a drum/scat break moves us into "Get Happy". The tunes work together somehow, and there is a coda which ties the lyrics together, but it might have been better to do the songs separately instead of as a medley. Monheit sings "The Man That Got Away" with a defiant strut and lots of variations on the melody, but this version has the same credibility issues as "Lush Life". But before coming to the conclusion that Monheit can't sing torch songs, listen to the stunning version of "My Funny Valentine" which closes the album. After a lovely reading of the rarely-heard verse, she sings the familiar melody with few melodic changes and plenty of vulnerability. Another wordless countermelody lifts the arrangement to a higher emotional level, and after masterfully bringing the performance to a standstill with an elongated "are you smart", she breaks your heart with a poignant reading of the final line. If there are any remaining doubts about Jane Monheit's bona fides, let her performance of "My Funny Valentine" assuage those concerns.
Gretchen Parlato was the first musician profiled on Jazz History Online. Her career was moving at high speed a decade ago, but she applied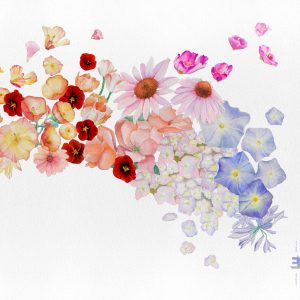 the brakes after the release of her "Live in NYC" CD/DVD set so that she could concentrate on her marriage to drummer Mark Guiliana and the birth and raising of their son, Marley. By 2018, she formed a new group, with guitarist Marcel Camargo doubling as music director, and the unorthodox rhythm section of cellist Artyom Manukyan and percussionist Léo Costa. After a tour that culminated at the Jazz Standard in New York, the band went into the studio to lay down a set of basic tracks. Over the next two years, extra dubs were added from a wide range of sources. The resulting album, "Flor" (Edition 1170) contains many elements which will be familiar to longtime Parlato fans—including segments recorded on iPhones—but the surprises come with new concepts that provide new directions for Parlato's musical imagination. The album begins with a potent reminder of Parlato's deep love of Brazilian music with a passionate reading of "É Preciso Perdoar" featuring Parlato's English translation along with the original Portuguese lyrics. Despite the feathery quality of her voice, Parlato communicates the intensity of the lyric with great conviction. A mixed-meter setting of Anita Baker's "Sweet Love" follows, highlighted by Parlato's brief scat solo. As on her earlier albums, she avoids the typical scat syllables when improvising, preferring open and closed vowels. The origin of the next song was a lullaby composed by a 5-year-old boy named Magnus for his as yet unborn brother. Ten years later, Parlato wrote a song—also named "Magnus"—around the lullaby and invited the boy to share the lead vocals. A number of children—including Magnus' brother and Parlato's son—participated in the final joyous chorus. "Rosa", a Brazilian ballad by Pixinguinha will surprise many Parlato fans as she sings the wordless and wide-ranging melody in full voice as a duet with Manukyan. "What Does a Lion Say?" returns to the subject of childhood with Parlato's original lyrics resembling a vivid bedtime story. The 3/4 ostinato gives the piece a hypnotic feel while the strongly articulated arco bass/cello line evokes the circus. The track segues into a Latin version of Roy Hargrove's "Roy Allen" with Parlato's smooth wordless lines set against the rhythmic scatting of guest Airto Moreira. The song evolves into an intensely grooving samba with rich overdubbed unison group singing, Camargo's ecstatic guitar solo, and the combined percussion arsenals of Moreira and Costa. Parlato's warm vocal on "Wonderful" is enhanced by the children. The tune celebrates the inner greatness of all of us. Marley leads off a solo section where the kids talk about all the wonderful people they know, with Camargo's daughter Chloe offering an extended list. If this song does not bring a smile to your face, seek help immediately! Yo-Yo Ma's recording of Bach's Cello Suites is in regular rotation on the Parlato/Guiliana family's sound system, and Parlato offers her full voice again, singing the first of the two minuets from Suite 1 a cappella. Camargo joins her for the next section, and when the remainder of the band enters, Bach inexplicably moves from Leipzig to Rio de Janeiro! As has been said many times, Bach's music is strong enough that it can be played in any style. This track proves it! The final track has the entire group (plus Guiliana on drums) exploring David Bowie's metaphysical soliloquy "No Plan". The words declare This is no place, but here I am, yet the strength of the arrangement and the performance convey a strong and definite direction. Gretchen Parlato has indeed returned, and there will be many exciting musical adventures for her (and us) ahead.
Before the pandemic hit, the word was out that Alyssa Allgood had formed a new band and was ready to premiere a new and exciting repertoire. I was set to hear that music live in Chicago in mid-March
2020, but the lockdowns started that weekend, meaning that new music would have to wait. The months of isolation led Allgood to sharpen the focus of her concept and to reflect on the current crisis. Allgood and her new band gathered in a Chicago recording studio in August to create the astounding album, "What Tomorrow Brings" (Cellar 12121). Allgood's opener, the wartime classic "There Are Such Things", features plenty of idyllic images from nature and romance. Her sunny reading of the lyric makes us believe that those images are not fantasies but real possibilities. "Enclosure", an original by bassist Dennis Carroll, deals with the emotional difficulties of starting a new relationship, while Abbey Lincoln's "Should've Been" examines the mistakes of the previous love affair. "Memories", co-written by Allgood and Carroll, speaks of the persistence of memories, and how they continue to relate to our current lives. In just those four songs, Allgood covers an enormous area of intimate territory, and she communicates those feelings with stark, heartfelt interpretations. "This Bitter Earth" (a tune also covered by Veronica Swift below) is treated to a medium-tempo setting, with Allgood taking the optimistic approach as she realizes that life can be hard, but the way to survive it is through a positive attitude. "Mad About the Boy" juxtaposes Allgood's barely concealed excitement with a mysterious backing arrangement with Mike Allemana's detached guitar chords, Carroll's bass strumming, and George Fludas' mallets on toms. Allgood's original "Time Found" addresses the benefits of isolation, specifically the extra time to re-examine our priorities. And then at last, Allgood lets loose the spirited, extended scat solo we have anticipated. She may have spent a lot of her spare time working on storytelling, but she didn't neglect her improv chops! With that release of tension, Allgood's version of Milton Nascimento's "Bridges" seems warm, comfortable, and relaxed. "Try Your Wings" offers a gentle push to move forward, "Light Out of Darkness" shows the benefit of doing so, and "For All We Know"—performed here as a guitar/voice duet—reminds us to treasure what we have. The album closes with "Passing Glances" a triumphant commitment to love and joy. Fittingly, there is another burst of scat to provide the album's peak. Those who would like to more of Allgood's tremendous scat singing are hereby directed to her CD release concert streamed a few weeks ago on YouTube.
Like Allgood, Veronica Swift amazes me with every new performance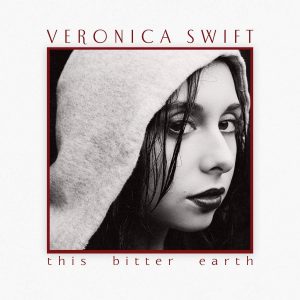 and CD. Her new disc, "This Bitter Earth" (Mack Avenue 1177) was conceived before the pandemic, but it was during lockdown when she realized how the songs were related. Swift's take on "This Bitter Earth" is like a different song from Allgood's version. Swift uses Emmet Cohen's rhapsodic piano, a string quartet, and a dead-slow tempo to transform the song into a tragic lament. Even the closing line "This bitter Earth may not be so bitter after all" has a questioning veil within its final chord. Her sardonic take on "How Lovely to Be a Woman" (from "Bye Bye, Birdie") starts as a march but explodes into bright swing with Swift's powerful scat break. Swift struts in the final chorus with a great variation on the melody. The verse that Swift uses as an intro to "You've Got to Be Carefully Taught" sounds like an original concoction since it refers to Manhattan rather than the South Pacific. Yet, with the number of hate crimes that have occurred since the pandemic, the lessons of Oscar Hammerstein's lyrics must be relayed again. In addition to her powerful interpretation of the lyric, Swift sings a passionate scat episode before Bryan Carter's drums close the track. Swift follows Hammerstein's theme with "Getting to Know You", a song that seems innocuous on its own, but actually deals with the same issues as "Carefully Taught". The strings surround Swift in the opening chorus before she breaks loose with the swinging rhythm section. In the final chorus, she spins more incredible melodic variations with the sole accompaniment of bassist Yasushi Nakamura. Swift's low-register reading of "The Man I Love" launches an extended song suite about a troubled love affair. An up-tempo setting of "You're the Dangerous Type" seems to ignore the warning signs—and Swift's gleeful scat solo and final overdubbed bebop line appear to strengthen the theme of abandon—and the seductive "Trust in Me" overrides the basic impulse to do the opposite (Aaron Johnson's bass flute and Carter's finger cymbals add to the exotic atmosphere). The emotional peak of the song suite (and the album) comes with a devastating take on "He Hit Me And It Felt Like a Kiss", which Swift sings with Armand Hirsch's solo acoustic guitar. Swift does nothing beyond a straight unembellished performance of the song, but the power of the misogynistic lyrics pack an emotional wallop. "As Long as He Needs Me" continues the victim's tale with Swift singing the song in a slow deliberate manner, then adding a brighter middle passage before the dramatic ending. "Everybody Has the Right to Be Wrong" offers some consolation, but the final track of the suite, "Prisoner of Love" shows that certain patterns are hard to break. The album's penultimate track has Swift using Dave Frishberg's 1971 song "The Sports Page" to comment on Donald Trump's claims of "fake news" (Cohen's piano solo is a stunner!) The closing track, Amanda Palmer's "Sing" presents an eloquent solution for all the stress that the world's problems have caused: just sing. It's awfully hard to argue with a philosophy like that.