BEAT KAESTLI: "LIVE IN EUROPE" (B+B Productions—self-produced)
With so few male jazz vocalists on the scene, it's strange that Beat Kaestli isn't better known. We've reviewed the Swiss vocalist on these pages before, and just as on his pre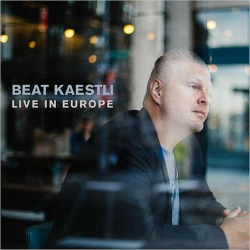 vious release "Collage", his recent release "Live in Europe" offers stunning examples of his wide stylistic range and innovative approach to the repertoire. On these recordings, made in the Czech Republic, Germany and Austria in April 2015, Kaestli is accompanied by the Walter Fischbacher Trio (with bassist Peter Dvorsky and drummer Andreas Winter) and the combined forces create unforgettable renditions of songs inside and outside the traditional jazz songbook. The album opens with a slow funk treatment of "Day In, Day Out" which brings out the sexual undercurrent of this great standard. Kaesti sings the song with a perfect mix of correct and colloquial pronunciation—just enough to make the language sound natural and not forced.  A medley of "Missing" and "Here Comes the Rain Again" veers between rock and Latin feels, with Fischbacher moving far into the latter style in the course of his piano solo. The impressionistic "Softly, as in a Morning Sunrise" opens with an extended solo by Dvorsky before segueing into a Kaestli vocal that floats over the ground beat. "That's All" offers several examples of Kaestli improvising variations on the melody, and his scat singing—limited to brief segments scattered within the program—reveals a fine melodic and harmonic imagination. On "The Choice You Make", Kaestli effortlessly switches between English and French without disrupting the flow of the storyline, and in the unique take on "What Are You Doing the Rest of Your Life" which follows,  Kaestli's smooth vocal glides over an active double-time feel in the rhythm. The best track is saved for last: an exquisite version of "Body and Soul" that builds gradually from its a cappella opening through Kaestli's delicate high-register coda of the first chorus, and closes with a half-chorus filled with unexpected vocal leaps and an understated coda. This track alone might be enough to convince listeners that Kaestli deserves greater recognition.
SARAH McKENZIE: "WE COULD BE LOVERS" (Impulse 42117)
Australian pianist and vocalist Sarah McKenzie has received some of her greatest acclaim overseas, which may explain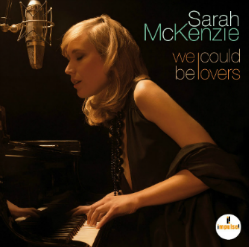 why her first album for Impulse, "We Could Be Lovers", is only available in the US as an import CD. The album reveals McKenzie as a promising young talent with an impressive list of influences. She has been compared to Diana Krall more times than she probably wishes, and McKenzie's tight, polished combo arrangements certainly recall some of Krall's early recordings. However, McKenzie takes a looser approach to melody and lyrics, and she takes greater risks than Krall. McKenzie has listened to instrumentalists and vocalists alike, as shown in her ingenious treatment of Abbey Lincoln's "The Music is the Magic", where Lincoln's original background riff is fused with the soulful quality of a 1960s Blue Note funk groove. At 27, McKenzie's vocal style is already quite developed, and her individual vocal influences are a little hard to pick out. I hear some traces of Jane Monheit in McKenzie's melodic variations, but the occasional raw touches to her sound recalls Melody Gardot. Overall, the closest contemporary to McKenzie might be another singer/pianist, Nellie McKay. McKenzie's original "That's It, I Quit" was written during a fit of depression. However, the lyrics (and McKenzie's performance) exhibits the same unique mix of cynicism and sunniness that marks McKay's style. Further, both McKenzie and McKay know how to make a standard their own: McKay in her tribute album to Doris Day, "Normal as Blueberry Pie", and McKenzie in the heart-rending version of "Moon River" that closes her album. In addition to McKenzie's piano and vocals, the personnel includes Hugh Stuckey (guitar), Alex Boneham (bass), Marco Valeri (drums) along with guest artists Ingrid Jensen (trumpet), Yosvany Terry (alto sax), Troy Roberts (tenor sax) and Warren Wolf (vibes).
BRANFORD MARSALIS/KURT ELLING: "UPWARD SPIRAL" (Okeh/Marsalis Music 30688)
Kurt Elling has always been able to hold his own alongside jazz's greatest instrumentalists, but his latest album with the Branford Marsalis Quartet may be the most rewarding collaboration to date. The disc, "Upward Spiral" allows all five musicians plenty of room for expressiveness, and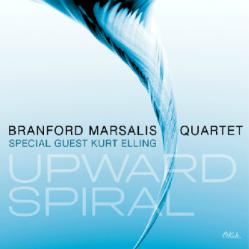 everyone seems eminently comfortable in the surroundings. I'm particularly impressed with their extended arrangement of Sting's "Practical Arrangement". The song has been covered a lot in recent years, but Elling and Marsalis have transformed it with a free rubato ballad feeling and by adding open-ended instrumental solos between the vocal episodes. Elling delivers the lyric in a conversational but earnest manner, without the gruffness of Sting's voice. At nearly 10 minutes, you won't hear this performance on jazz radio, but the track is almost worth the price of the album in itself. There are many more highlights, though. The opening track, "There's a Boat Dat's Leavin' Soon for New York" features outstanding solos by Marsalis on soprano sax, and Joey Calderazzo on piano. Just as the track is about to end, Elling adds a hipster monologue—delivered sotto voce—that fully evokes Gershwin's original character of Sportin' Life. A sassy version of "Doxy" features outstanding backup from the rhythm section (Calderazzo, bassist Eric Revis and drummer Justin Faulkner) along with swinging improvisations from Elling and Marsalis. Marsalis plays a gorgeous tenor commentary alongside Elling's tender reading of "Blue Gardenia", and later the two men perform a heartbreaking duet on "I'm a Fool to Want You". Elling's long-standing love of poetry emerges in Calvin Forbes' "Momma Said", and as Elling reads the poem, the quartet improvises the background. Of course, it's a throwback to the old jazz-and-poetry experiments of the 1950s, but I wonder if the instrumentalists had ever tried this kind of improvisation before. The music's open structures lend itself to fresh interpretations on the bandstand, and fans of both Elling and Marsalis will want to get this album, and then catch the group during their upcoming concert tour. This music will certainly sound very different after several months on the road!