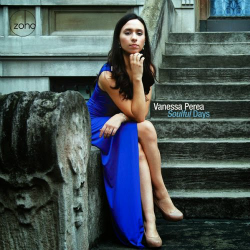 Vanessa Perea makes me very glad that I'm a jazz writer, and quite optimistic about the future of vocal jazz. The 26-year old Perea has mastered many of the components of jazz singing—scat, vocalese, melodic variation, lyric comprehension and delivery—within a few years of concentrated study. Born in New Jersey to a Cuban mother and a Colombian father, she grew up with salsa, R&B and church music. It wasn't until midway through her studies at New Jersey City University that became aware of (and later immersed in) jazz. She studied with Roseanna Vitro, who shared recordings of Ella Fitzgerald, Sarah Vaughan, Carmen McRae, Anita O'Day, Joe Williams and Eddie Jefferson. With the encouragement of trombonist Robert Edwards, she delved into the instrumental music of Lee Morgan, Cedar Walton, Bud Powell, J.J. Johnson and Kenny Dorham. She also found a strong kinship with the music of Brazil. All of these influences play a role on her CD, "Soulful Days", one of the most stunning debut albums in recent memory.
Perea has a lithe, flexible voice and she rarely uses vibrato, yet she never strays off-pitch. When improvising, she has a laconic approach to rhythm, but she sings right on the beat when performing complex bop heads with Edwards. Her diction is impeccable, especially when singing tongue-twisting original vocalese lyrics. And when singing a ballad, she knows the secret of reflecting her influences while creating her own unique interpretation. When scatting, her note choices reveal a well-developed harmonic sense. She takes chances while improvising, but she doesn't try to impress the listener with fancy techniques; rather, she uses the technique she has to create inspired and thoughtful solos. Throughout the recording, one gets the feeling that Perea is less interested in being the featured singer than being a member of the band, and the recording mix supports this, as Perea's audio level is about the same as the horn players.
Perea's strong commitment to jazz is evident from the playlist of "Soulful Days". The title track is Perea's newly-lyricized version of Cal Massey's classic "These Are Soulful Days", and it is one of four vocalese pieces on the album. Except for Cedar Walton's "Martha's Prize" (renamed "December Blue" with lyrics by Alex Tyshkov), Perea set the words for all of the vocalese pieces, including the J.J. Johnson solo on "Too Marvelous For Words", and Kenny Dorham's composition, "K.D.'s Motion" (here as "Let Me Tell You"). Unfortunately, Zoho decided that a page advertising their latest releases was more important than including the vocalese lyrics. The closing track, "Celia" is a wordless romp through Bud Powell's bop opus, with Perea and Edwards both contributing swinging solos. The opening cut, "Devil May Care" is taken at a slower tempo than usual, and Perea delivers the lyric with a dash of introspection, as if she's not completely sure about the song's philosophy. She even dares to remake "Jim", a song forever associated with the classic Sarah Vaughan/ Clifford Brown recording. Perea adds the little-known verse to her version, and carefully avoids retracing the steps that Vaughan took sixty-odd years ago. She even tempts fate by having trumpeter Mat Jodrell improvise a half-chorus, but Jodrell also finds his own way, separate from Brown's immortal contribution. Perea displays her flexible approach to rhythm on the seldom-heard Caetano Veloso Portuguese ballad, "Luz Do Sol". Throughout the album, Edwards' arrangements show both the dexterous trombonist and the supremely talented young vocalist in the best possible light. The rhythm section of pianist Dave Lantz, bassist Dylan Shamat and drummer Evan Sherman acts as a tight and cohesive unit, and each member makes the most of his solo time.
What truly sets Perea's album apart from other vocalist's debuts is the combination of confidence and maturity that appears on every track. Her impressive technique proves that she knows what she's doing, but her maturity lets her make an impression without getting in the listener's face. With proper guidance and support, Perea could become one of jazz's top vocalists in the very near future. For once, a young jazz vocalist is not "a diamond in the rough", but a polished musician with a strong background and an exciting future.