As a jazz historian, a good portion of my work comes through tribute albums. I've been hired to write the liner notes for some of these recordings, and each month, several others arrive in my mailbox for possible review on this website. It's made me quite an expert on the subject, and I've written in several venues about my own criteria for what constitutes a successful tribute album. I find that I'm particularly attracted to tributes which offer the unexpected. To cite albums that I've annotated, I praised Charlie Byrd's Django Reinhardt salute, "Hot Club du Concord" for creating "gypsy jazz" arrangements of songs written after Reinhardt's death. I was gladdened by Dena DeRose's decision not to duplicate Shirley Horn's crawling-tempo ballads on her new CD, "We Won't Forget You", and Ann Hampton Callaway's forthcoming live album saluting Sarah Vaughan includes several songs which were not solely associated with "The Divine One". In the case of the two albums reviewed below, it was a happy surprise to discover each used the opposite instrumentation than I expected: George Gershwin tributes (especially those featuring "Rhapsody in Blue") always feature a symphony orchestra, but Ted Rosenthal's is for trio alone; and while salutes to Bill Evans are typically played by piano trios, Martin Wind opts for a quartet and full orchestra.
Rosenthal's "Rhapsody in Gershwin" (Playscape) opens with his 17-minute trio version of "Rhapsody in Blue". The arrangement maintains the main themes of Gershwin's original version, but Rosenthal shuffles their order, throws the material into a broad range of styles, and adds spots for improvisation. The original "Rhapsody" was assembled at the last minute for its premiere by Paul Whiteman's orchestra, with Gershwin improvising cadenzas on the spot, so it can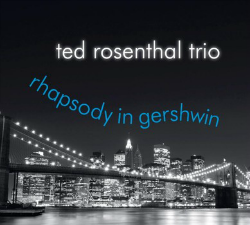 't be said that Rosenthal has taken undue liberties with the piece; indeed, one of the joys of hearing this new version is that one is never quite sure what direction it will take next. It is not a substitute for the original (as a former clarinetist, I miss the work's iconic opening glissando!) but it is a fascinating alternative. The surprises continue through the rest of the album, as Rosenthal, bassist Martin Wind and drummer Tim Horner explore seven of Gershwin's best pop songs. Rosenthal's sly rhythmic manipulations in the opening theme of "Let's Call the Whole Thing Off" are echoed later in his delightful piano solo. The trio hints at three different simultaneous tempos on "Fascinating Rhythm" before moving into a driving swing. Later in that arrangement, the trio plays an extremely complex rhythmic figure and suspends audible time-keeping—in the midst of the four-bar exchanges with Horner! Yet far from being mere gimmicks, these concepts work precisely because of the unshakeable rhythmic sense of the three musicians. Rosenthal acknowledges the influence of Bill Evans through the piano voicings on "I Loves You, Porgy", but I hear further influence in the highly interactive byplay of piano, bass and drums.  "They Can't Take That Away From Me" includes a pair of extended quotes during the solos, and Rosenthal's setting of "Strike up the Band" seems to go in several directions at once without losing forward momentum. The only arrangement that doesn't work for me is Rosenthal's attempted mash-up of "Someone to Watch over Me" with "Peace Piece", but that track also features a marvelous solo by Wind, so it's not a total loss. And while several of the pieces have unpredictable introductions, the closing setting of "Love Walked In" cleverly disguises the melody within a modal context. Overall, this is a exceptionally well-conceived album, certainly one of Rosenthal's very best, and a fine salute to Gershwin.
On Martin Wind's "Turn out the Stars: Music Written or Inspired by Bill Evans" (What If? Music), the surprises come as much from the soloists as from the arrangements. In this live recording, Wind's long-established quartet (featuring saxophonist Scott Robinson, pianist Bill Cunliffe and ex-Evans sideman, drummer Joe La Barbera) performs with the Orchestra Filarmonica Marchigiana, under the baton of Massimo Morganti. Four of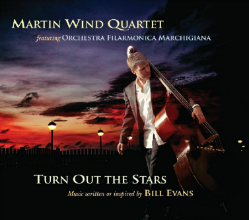 the orchestral arrangements are by Wind, but the arrangements by Robinson and Cunliffe reveal a richer sense of orchestral colors. Cunliffe's stunning version of Evans' "Twelve Tone Tune Two" brings out the piece's inner drama better than any of Evans' own recordings, and Robinson adds a wild solo which embraces free jazz sounds within a harmonic setting. Evans was never a supporter of the avant-garde, but on "Blue in Green", Robinson shows that one can play outside the harmony without sacrificing beauty. Both the orchestra and the quartet play with a finely-detailed sense of ensemble, and the compatibility of these two groups is particularly notable in "My Foolish Heart" where the orchestra comes in and out of the texture in a subtle and understated manner. Here, Wind plays a moving arco bass solo on the melody and Robinson offers a heartfelt tenor statement. The quartet's brightly-swinging version of "The Days of Wine and Roses" follows, performed with a modulation in the middle of the chorus, as Evans and Toots Thielemans played it on their album "Affinity". In complete contrast to the previous "Foolish Heart", Robinson and La Barbera slash through the 4/4 swing, and Cunliffe's solo, which opens unaccompanied, takes great liberties with the rhythm. Robinson, well-known as a multi-instrumentalist, doubles on C melody sax on his original "Jeremy" (the notes don't identify Jeremy's last name, but since this is on a Bill Evans tribute, should we assume that it is dedicated to Evans' friend, flutist Jeremy Steig?) Cunliffe plays a gorgeous solo on Don Friedman's Scott LaFaro homage, "Memory of Scotty", and the quartet's rubato performance of La Barbera's tender "Kind of Bill" is breathtaking. While this album might have benefited from a few less ballads (contrary to popular belief, Evans rarely played albums or nightclub sets of all ballads), it is a deeply-felt summation of Evans' influence as pianist, composer and musical icon.