With a preponderance of new talent appearing by the month, one of the greatest challenges for a young jazz vocalist is finding a way to stand out from the crowd. Regardless of whether the singer is self-releasing an album or has the backing of an established label, their originality must be obvious—even on the CD cover. Since most vocalists appear first as leaders, their names may not be as familiar to a radio program director or a critic as the trumpet player they heard last year in so-and-so's band. An unknown singer with a disc full of standards may not get the same attention as one who records lesser-known tunes or originals. The two discs reviewed below caught my eye for their adventurous repertoire; in both cases, the music was exceptionally well-performed and very accessible.
New York-based Allegra Levy's disc "Lonely City" (Steeplechase Look Out 33118) is the most impressive debut album I've heard in quite some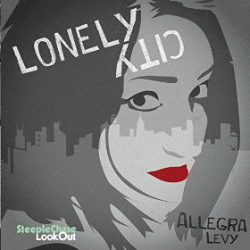 time. Levy offers eleven original love songs, and most of them are structured like Tin Pan Alley standards. These songs are quite challenging, with unpredictable melodies and sophisticated harmonies, along with lyrics that alternate between razor-sharp wit and deeply felt emotions. Levy states that all of the songs were based on her own romantic experiences (she has been through a lot for a 24-year-old!) and that she hopes that it can provide catharsis for those undergoing similar personal struggles. The album seems to take the form of an inside-out song cycle, starting with the end of a relationship (the bitter "Anxiety") and closing with the beginning of a new one (the tender "Duet"). Levy's vocal delivery of these pieces reminds me a little of Blossom Dearie, but with a full voice, instead of Dearie's breathiness. She swings exceptionally well, leads ensemble passages with her voice, and displays an advanced command of jazz harmony when scatting. The band is top-notch, playing flawlessly in a wide variety of styles, including straight-ahead swing, samba, blues, tango and progressive pop/jazz. Playing arrangements by producer John McNeil and pianist Carmen Staaf, the group includes trumpeter John Bailey, saxophonist Adam Kolker, violinist Mark Feldman, bassist Jorge Roeder and drummer Richie Barshay (although not identified on the cover, Staaf overdubbed the accordion part on "Clear-Eyed Tango"). Levy is still developing as a vocalist—there are occasional intonation and placement issues throughout the album—but her songs could provide an interesting gateway to her unique talent. The music would challenge the average cabaret audiences (and possibly jazz audiences too) but I suspect that if Levy gets the proper exposure, she could exploit a very specific niche in the music scene.
"Whose Shadow?" (LSM 2) is Canadian vocalist Lara Solnicki's sophomore release. It seems to be a much better reflection of Solnicki's diverse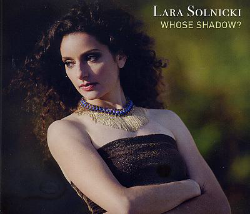 talents than her all-standards debut CD, "A Meadow in December". Solnicki was trained as an opera singer (don't let that dissuade you—her superb vocal technique is the only obvious remnant of her training) and she is a published poet. The track list of "Whose Shadow" includes music by Kate Bush, Joni Mitchell and Peter Gabriel, alongside convincing jazz versions of pieces by Maurice Ravel and Henry Purcell, and a pair of fine originals—one set to an original poem and one wordless. There is only one true standard—the closing "I'll Remember April", which offers Solnicki an opportunity to show off her understated scat technique.  Solnicki's bio says that she has a four-octave range, but most of her singing here is in the comfortable mezzo-soprano range. Her diction is impeccable—not crisp and perfect like most classically trained singers, but with the just right amount of colloquialism to make it sound natural. On a glorious version of "The Peacocks", Solnicki caresses Norma Winstone's complex lyrics while highlighting Jimmie Rowles' angular melody. Those vocalists who dare to sing this challenging song generally focus on the lyric or the melody; it's a special treat to hear a vocalist who can do both at the same time.  Producer George Koller anchors the band on acoustic and electric bass, which features soloists Lina Allemano (trumpet), John Johnson (woodwinds) and Ernie Tollar (bamboo flute) and a superb contemporary rhythm section of pianist Mark Kieswetter, guitarist Ted Quinlan, drummer Nick Fraser and percussionist Davide DiRenzo. A look through the live concerts section of Solnicki's website reveals that most of her performances have occurred north of the border. She should strongly consider a US tour. She could gain many new fans with her outstanding musicianship and fresh repertoire.