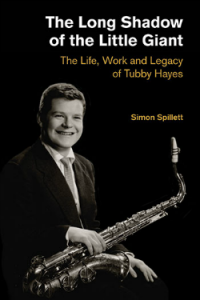 There's been a flood of Tubby Hayes discs issued in the past dozen years, and nearly all of them contain two consistent elements: brilliant playing by Hayes, and detailed liner notes by Simon Spillett. Spillett, who is also a fine tenor saxophonist in the Hayes style, has essentially cornered the market on modern jazz CD notes in the UK. For the past decade, he's been working on a full-length study of Hayes' life and music. The results have finally been published as "The Long Shadow of the Little Giant" (Equinox) which is not only a first-class biography, but provides unique insights into the music and society of the United Kingdom from the early 1950s through the early 1970s—none of which Spillett witnessed first-hand.
From the start of his musical training, Tubby Hayes was a quick study with a restless spirit. After early studies on the violin and piano, he taught himself how to play the tenor sax, and within three years of picking up the horn for the first time, he was working as a professional musician. As his career progressed, he picked up several other instruments, including vibraphone, flute and soprano sax. He mastered each new instrument with blinding speed, recording on each within months of acquisition. Hayes picked up new styles with the same dedication. He was one of the first British musicians to learn the hard bop style played by Horace Silver, Art Blakey, Hank Mobley and Clifford Brown. Not content to wait for the albums to be issued in the UK, he would order them from the US (and probably had them delivered by fellow musicians working transatlantic gigs on the Queen Mary ). He was the UK's youngest bandleader when he launched his own octet in 1955. Two years later, Hayes and Ronnie Scott formed the two-tenor Jazz Couriers, which quickly became Britain's finest modern jazz group of the late 1950s. Through his technical mastery and rich musical imagination, Hayes was always considered one of the UK's finest jazz musicians, but he was rarely satisfied to ride on his success. Hayes was the first British jazz soloist to play club dates in the United States, and with the unique opportunity to hear the latest styles from Miles Davis, John Coltrane, Roland Kirk and Sonny Rollins in person, he was able to modify his own style (and to a certain extent, the styles of his sidemen) to incorporate the new music. The personnel of his bands would change every few years, and listeners could hear bebop, modal music, free jazz—or a mixture of all three—when hearing a Hayes performance.
Spillett's narrative winds effortlessly through the twists and turns of Hayes' career, focusing on the music, but with telling sidelines into his messy personal life. Hayes was married twice, had a string of girlfriends (many while he was still married), fathered two children, and had serious addiction issues with both alcohol and hard drugs. Eventually all of the fast living caught up with him. Overworked and overweight, Hayes suddenly collapsed in the autumn of 1965. From then on, his body would give out about every other year and Hayes would be off the scene by doctor's orders. Hayes had a heart valve replaced in the early 1970s, and physically, he was never the same man again. He dropped so much weight that his longtime moniker was now merely ironic. The final chapters of Spillett's book are heartbreaking, as his fellow musicians recount how Hayes was unable to carry his own saxophone, walk up hills, or sleep laying down. When improvising, his phrase lengths were a fraction of what they had been just a few years before, because he couldn't generate enough air to blow the horn. Hayes died in 1973 after surgery to replace the faulty heart valve. He was only 38 years old.
Hayes loved American music, and after a few visits to New York in the early 1960s, he considered immigrating to the States. He finally decided against moving because he was happier being the top jazz musician in Britain instead being one of several great tenor players in the US (and necessarily being in competition with his idols). However, as Spillett's narrative illustrates, Beatlemania hit the UK jazz scene as hard (if not harder) than it did in the US. On both sides of the Atlantic, jazz gigs were much harder to land after 1964. Meanwhile, the free jazz movement was alienating listeners left and right, and when Hayes started including free music into his repertoire, many fans and critics wondered if it was a serious stylistic change or if Hayes was just playing it as a fad. There's little question that Hayes would have had greater recognition among American jazz fans had he moved to the US, but even on the strength of his existing performances and recordings, many US jazz aficionados know his name and his work. Thus, it's a little odd to find Spillett's book written for a British audience. He paints a vivid picture of the British modern jazz scene, not only highlighting Hayes, but many of his brilliant colleagues, including Jimmy Deuchar, Phil Seaman, Jackie Sharpe, Terry Shannon and Allan Ganley. All of these musicians deserve greater recognition in the States, and American fans who read Spillett's book will receive a suitable introduction. But to get the most out of this book, they will also need to remember that Britons measure body weight in stones (1 stone equals 14 pounds—where do they come up with this stuff?), and face a confusing array of local geographic names and obscure British idioms (one critic described Hayes' lifestyle as "a contagious knee-up"; even after Googling it, I have no idea what the phrase means). This book deserves to be read and comprehended worldwide; a map, glossary and a few parenthetical explanations would truly help the cause.
Yet the above criticism should not scare off American readers. "The Long Shadow of the Little Giant" is one of the best biographies I've read in years. Spillett makes honest critiques of Hayes' music and life (how many other biographers would dare to say that their subject "alternated peaks of stunning success with troughs of stupid mistakes"?), he addresses the critics who panned Hayes' recordings and performances, and discusses the long-held notion that British jazz was always inferior to its American counterpart. I don't always agree with Spillett's assertions—Hayes sometimes did play "too many notes" and I've never really heard anything uniquely British about his music—but his arguments are thorough and well-defended. Unlike other biographers, Spillett says that even after writing this book, he is still a die-hard Tubby Hayes fan. He has certainly honored Hayes and his legacy with this superbly-crafted book.