When composers create music, they usually have a specific sound or instrumentation in mind. Those sounds are typically heard on the song's debut recording, but an arranger who hears that recording might have a different conception of the work's sound. The end result could be anything from a straight transfer of the material to a complete transformation of the original work. And, as the discs reviewed below prove, the effects of these arrangements can evoke a number of reactions; anything from exposing the works of established masters to inspiring political outrage.
Ben Markley—a former contributor to these pages—writes in the liner notes to his new album "Clockwise: the Music of Cedar Walton" (OA2 22139) that "starting a big band was something I never thought was in the cards for me". Still, as director of Jazz Studies at the University of Wyoming, he is doubtlessly aware that big bands need fresh repertoire and more often than not, that music comes from small combo works. Markley's charts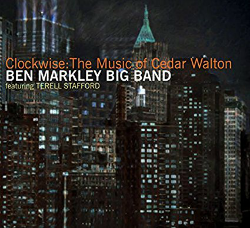 incorporate many of the standard tropes of big band writing—the large brass-driven tuttis, sax section variations, shout choruses, unique mixtures of instrumental colors—and makes Walton's compositions sound right at home in this expanded medium. For the most part, Markley retains Walton's original tempos and genres, and focuses on creative methods of voicing the lines and presenting countermelodies and solo backgrounds. To fill the ranks of the band, Markley has recruited some of the best free-lance musicians and jazz educators from Colorado and Wyoming, including trumpeters Pete Olstad and Greg Gisbert, trombonist Paul McKee, saxophonists Wil Swindler and Peter Sommer, guitarist Steve Kovalcheck, bassist Ken Walker and drummer Chris Smith. To this impressive crew, Markley added one amazing ringer: trumpeter Terell Stafford. Stafford leads off the solos on "Cedar's Blues" with a fine illustration of the development of trumpet styles between Clifford Brown and Freddie Hubbard; yet this is not just a history lesson from Stafford—he also performs the crucial role of soloing over a building ensemble background, adding to the overall excitement of the piece. Markley contributes a wide-ranging solo on "Hindsight", which includes a superb unaccompanied passage halfway through. McKee plays an inspired solo on "Fiesta Español" and Kovalcheck hits an authentic soul groove with his fills and solos on "I'm Not So Sure".  Both Stafford and Sommer play outstanding solos on "Holy Land"—which makes it a highlight of the album—but I was particularly taken with their brief duo improvisation near the end of the track: both of these men have technique to spare but they know how to temper it to serve the music. This exceptionally well-played tribute is an important addition to the legacy of Cedar Walton.
Mark Masters' latest disc "Blue Skylight" (Capri 74143) salutes Charles Mingus and Gerry Mulligan, two jazz composers who were contemporaries, but rarely shared the same stage. Yet through clever juxtaposition of compositions from all eras of both men's careers, Masters illustrates similar aspects of their styles. The bass-centered rhythmic drive that was a huge part of Mingus' music is here through the opener, "Monk, Bunk and Vice Versa", but it is a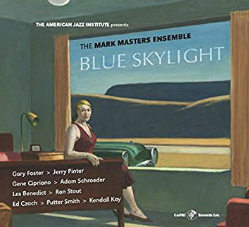 lso the force behind the following track, Mulligan's funky "Out Back of the Barn". Masters also spotlights a decided similarity in each man's way of writing melodic lines (it is surprising to hear a serpentine Mingus-style line in the midst of a Mulligan opus). The comparisons don't always work—for example, I don't hear much similarity between "So Long, Eric" and "Wallflower"—but the differences are not as sharp as one might expect. Both composers revered Duke Ellington and Billy Strayhorn, and both Mulligan's "Strayhorn 2" and Mingus' "Duke Ellington's Sound of Love" are particularly striking ballads. What's missing are essential elements of each man's style: none of Mingus' overpowering emotions or Mulligan's delicate improvised counterpoint. If Masters' point is that Mingus and Mulligan both loved straight-ahead swing, then his seven-piece ensemble of West Coasters has done an exceptional job of realizing the argument. Bassist Putter Smith, with the unenviable role of filling Mingus' shoes, provides an unerring pulse (and beautifully crafted solos) to the group, and baritone saxophonist Adam Schroeder brings the spirit of Mulligan alive on "Strayhorn 2". The sax section of Gary Foster, Jerry Pinter, Gene Cipriano and Schroeder on "Apple Core" reminds me of the Pacific Jazz LP "Gerry Mulligan Songbook", but I cannot find a similar correlation for the Mingus tracks: Les Benedict's trombone does not contain the passion of Jimmy Knepper and the absence of the vocal on "Eclipse" robs Mingus' ode to interracial romance of its central theme. To be certain, this CD is quite enjoyable, with plenty of fine solos and outstanding ensemble passages, but it falls short as a tribute to Charles Mingus and Gerry Mulligan.
Under the guise of a traditional New Orleans jazz band lineup (with Crescent City stalwart Evan Christopher on clarinet) trombonist Chris Washburne presents a stunning—and utterly delightful—transformation of traditional jazz repertoire on his latest disc, "Rags and Roots" (Zoho 201701). The opening track, the inevitable "Maple Leaf Rag", fragments Scott Joplin's original melody and subjects it to a dizzying array of styles.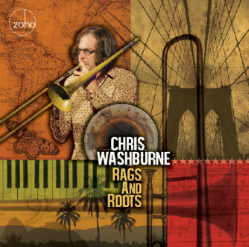 Citing a 1931 arrangement created for Los Hermanos Castro (considered the first Cuban big band), Washburne presents a unique chart mixing "St. Louis Blues" and "The Peanut Vendor". The audacious coupling works because each composition contains elements of Cuban music, but the imagination it took to combine the two pieces is mind-boggling! Washburne and his ensemble run the gamut of American music from 1850-1940, but this program is far from a museum piece. The dramatic solos and backgrounds on William Grant Still's spiritual "Here's One" are as contemporary as anything written today, and when the group does play something in the traditional style (like the opening of Joplin's "Solace") they perform it in a light-hearted manner, showing that they're having some fun but not denigrating the music in the process. In addition to Christopher and Washburne, the band includes trumpeter Alphonso Horne, pianist Andre Mehmari, bassist Hans Glawischnig, and drummer Vince Cherico. In their solos, the members display great freedom mixing contemporary attributes into this old music, and while such an approach may not appeal to purists, it is a brilliant way to demonstrate that this repertoire is still valid, decades after its original conception. It's clear from the repertoire—which includes long-forgotten gems by Joplin, Ernesto Nazareth, and Louis Moreau Gottschalk—that Washburne has done extensive research into this heritage. However, he is also unwilling to play the warhorses in the same tired way (his wild reinterpretation of "The Entertainer" veers so far from Joplin's original that Washburne called his creation "Mildly Entertained"). There are a few concessions to modern sensibilities—the misogynistic lyrics of Gerard Dupervil's "Ala Cote Gen Famn" have been changed to represent a feminist outlook, and a martial beat and dramatic arrangement was added to "Strange Fruit" (aren't the lyrics are strong enough by themselves?)—but overall, this album is an unorthodox but respectful salute to a classic era of American music.
For her debut album, "Left, Right, Left" (Orenda 39), drummer Tina Raymond uses a combination of traditional American songs and left-wing protest anthems to create an aural picture of the United States' political arena. The concept is not new—Charlie Haden's Liberation Music Orchestra has been doing thi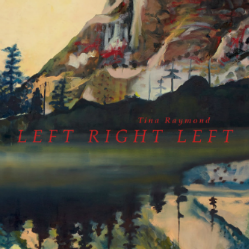 s for almost four decades—but Raymond's approach is unique because it uses only a piano trio, without the addition of horns or vocals. Therefore, Raymond's recording must convey its message solely through pure instrumental music. The mere fact that it succeeds is remarkable enough; that it sends such an emotional wallop is phenomenal. Raymond is joined by pianist Art Lande and bassist Putter Smith (yes, the same bassist as on the Mark Masters CD above) and their fine ensemble is matched only by their unity of purpose. Lande's polytonal take on "Battle Hymn of the Republic" starts out with wry humor, but the mood turns serious as the musicians are forced to navigate the challenging harmonies. Lande's arrangement of "America the Beautiful" (not "America" as listed on the disc) maintains a serious tone, but is softened through the lush reharmonization of the original song. Raymond contributed settings of pieces by Woody Guthrie, Pete Seeger, Joni Mitchell and Joan Baez. With the exception of "If I Had a Hammer", the trio arrangements are so different from the originals that I wonder if a casual listener would recognize the tunes in these altered forms, especially without the lyrics. For example, I listened to Guthrie's original recording of "Union Maid" before listening to Raymond's version, and that was the only way I knew that the quote of the familiar "I'm Stickin' to the Union" theme was originally intended as deep irony. That element is missing from the rendition on this album, even though the tenderness of the trio version is quite special. On the other hand, the understated trio improvisation on Mitchell's "Fiddle and the Drum" reveals astounding imagination in its conception, and a undercurrent of rage in its realization. In a way, Smith's original composition "Xxmas in Baghdad" might be the best vehicle for furthering Raymond's audacious concept. The unsettled rhythmic feel and the nagging melodic motives keep the listener on edge until the final chord. I can't say with certainty that this recording will encourage further protests—the daily news offers plenty of inspiration—but "Left, Right, Left" certainly demonstrates that jazz is a highly relevant music in these troubled times.