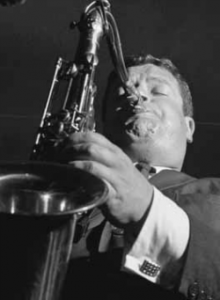 For the American jazz fans who remember him at all, Tubby Hayes was a British hard bop tenor saxophonist who played in New York in the early 1960s and then disappeared from the American scene. For British jazz fans, Hayes was—and is, four decades after his death—the most gifted jazz musician ever produced by the United Kingdom, and a multi-instrumentalist whose music encapsulated a number of jazz styles. The Brits are closer to the truth on Hayes, but not just due to national pride. Many of Hayes' best recordings were never issued in the United States. Tony Hall, who produced some of Hayes' finest albums during the 1950s, licensed a few of those records to American labels, including a Dizzy Reece session with Hayes issued by Blue Note as "Blues in Trinity". But rather than formulating an international deal with Blue Note for Hayes' best LP, the 1959 "Tubby's Groove", Hall sent Alfred Lion a separate album recorded at the recording sessions. Lion apparently listened to the recording and had it sequenced into an album, but never issued it. The album was re-discovered in 2008 and issued on the British Candid label as "Tubby's New Groove". That CD is part of an avalanche of unissued Hayes recordings released in the last decade. While nearly all of these albums were produced in England, they are easy to obtain in America, and most can be purchased without going through UK websites. MVD Entertainment, a Pennsylvania distributor that also issued the Miles Davis/John Coltrane "All of You" European concert box set reviewed here a few months ago, has several Tubby Hayes collections available at budget prices, including "The Complete Tempo Recordings", "Without a Song: Rare Live Recordings" and "Symphony".
Born in 1935, Edward Brian Hayes received his earliest musical training on violin and piano. His fascination with the saxophone began at the age of five, when he saw a saxophone in a shop window. Shortly before his twelfth birthday, he received a beat-up tenor sax as a Christmas gift. Within three years, he was working as a professional jazz musician and astounding musicians with his technical mastery of the instrument. When he was twenty, Hayes led an octet which played new compositions by American jazz icons like Horace Silver, Duke Jordan and Billy Taylor. Hayes was the most accomplished soloist in the group, a situation that repeated itself several times in Hayes' career. He seemed eager to find new challenges, whether it was adding new influences to his already well-developed style, or picking new doubles such as vibes and flute. The one band in England where Hayes felt he was among his peers was the Jazz Couriers, a two-tenor quintet which Hayes co-led with one of his primary influences, Ronnie Scott. The tenor chases—usually on tunes with extended forms like "Guys and Dolls" and "Day In, Day Out"—were hallmarks of the group, but with Hayes doubling on vibes, they could play a wide range of music within the hard bop style. The Couriers disbanded after two years, just before Hayes recorded "Tubby's Groove". The 1955 octet (in both live and studio settings), Hayes' quartet and quintet sets from 1955 and 1956, all four albums by the Jazz Couriers, an interesting 1958 set of overdubbed Hayes performances, and the UK-issued session of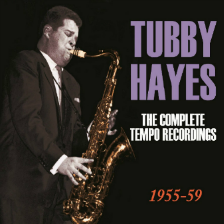 "Tubby's Groove" are all included in the 6-CD set, "The Complete Tempo Recordings" (Acrobat 6002). Missing are Hayes' important sideman dates with Jimmy Deuchar and Victor Feldman, but those tracks can be found on Proper's inexpensive 4-CD set "The Little Giant". All of these sets include detailed notes by Simon Spillett, whose full-length biography of Hayes, "The Long Shadow of the Little Giant" will be published by Equinox in May 2015.
The three-disc "Without a Song" (Acrobat 9042) spans most of Hayes' career, starting with a 1954 track with the Vic Lewis Orchestra and closing with the title track recorded at a pub on March 8th 1973, three months to the day before his death at age 38. While the set is not a compendium of Hayes' best recordings, it offers live performances by Hayes on tenor and soprano saxes, vibes and flute, and chronicles his continuously evolving style. Hayes' tenor solo on the Lewis version of "Bark for Barksdale" sounds a lot like Stan Getz, but on the fiercely swinging jam on Silver's "Room 608" which follows, Hayes has become his own man, mixing elements of Hank Mobley, Frank Foster, Sonny Rollins and Zoot Simsinto his own unique and identifiable style. In February 1958, the Jazz Couriers toured the UK with the Dave Brubeck Quartet. The Couriers' only live album was recorded on February 16, but the Acrobat set includes a track recorded two nights earlier: a Hayes arrangement of "Love Walked In" that would not be officially recorded until the Couriers cut their last album a year later. The track shows the close stylistic empathy between Hayes and Scott— as both men dig in and swing, each matches the other in technical prowess and intricate solo construction. Another Hayes/Scott tenor battle appears on a dimly recorded 1958 live version of "Sonny Sounds". At a racehorse tempo, Hayes plays a solo loaded with blindingly-fast runs, which leaves Scott with the same dilemma faced by many of Hayes' sidemen: just how to follow such a stunning display of virtuosity. Here, Scott ultimately has trouble keeping up. Next is an all-star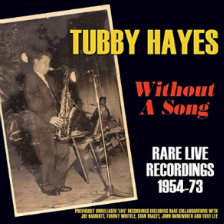 version of Count Basie's "Swingin' the Blues" with Humphrey Lyttelton's trad-to-swing band and Johnny Dankworth's big band. The energetic track includes a trumpet chase with Lyttelton, Alex Welsh, Bert Courtley and Kenny Baker, a vibes duet between Hayes and Lennie Best, and a sax battle featuring Dankworth, Kathy Stobart, Ronnie Ross and Hayes. The recording stems from a BBC radio broadcast, and while spoken identification of soloists are usually an unnecessary intrusion, in this case, they help introduce US audiences to these fine British musicians. The final track from the 1950s is a barn-burning Hayes feature on a German big band version of "Cherokee". Hayes fleet-fingered solo climaxes with a brilliant a cappella chorus. While Hayes could play sixteenth- and thirty-second-note runs with remarkable accuracy, it seems clear that he was ready to find a new challenge.
Through a unique exchange between the British and American Musician Unions, Tubby Hayes was allowed to play a two-week engagement at New York's Half Note, and Zoot Sims reciprocated by performing at Ronnie Scott's new eponymous London nightclub. The timing was particularly fortunate for Hayes: in 1961, the then-new styles of modal and free jazz were in full flower in New York. Hayes had limited time to listen to other musicians, but he heard Ornette Coleman's quartet, and the Miles Davis Sextet with Hank Mobley and J.J. Johnson.  Then, shortly after returning to the UK, Hayes heard the John Coltrane Quintet (with guest Eric Dolphy) in concert. Coltrane had just recorded "Chasin' the Trane" at the Village Vanguard before leaving for England and the music that emanated from the stage hit London's jazz world like a tidal wave (Acrobat and MVD have issued a box set of the tour—minus the London performance—on "So Many Things", Acrobat 7085).  For Hayes, Coltrane's 40-minute live version of "My Favorite Things" was both fascinating and befuddling. Hayes could play long solos over bop changes, but Coltrane was up to something different. It took a while for Hayes to fully assimilate Coltrane's influence, but the Acrobat set's first hint comes from a Spring 1962 recording of "In the Night", a piece with undeniable connections to Coltrane's setting of "Things": it is a modal composition in waltz time and played by Hayes on the soprano sax (a double he would soon abandon). Shortly after returning from a second (and longer) visit to the US in late May 1962, Hayes participated in another London all-star session, this time with trumpeter Shake Keane and fellow saxophonists Johnny Dankworth and Joe Harriott. Interestingly, the first tune is "Milestones" and the musicians seem to have the style within their grasp. Harriott's short solo attempts to add a free approach to the modal style, while Hayes and Dankworth are much more conservative in their solos. Harriott and Keane lay out for the session's other piece, "There Is No Greater Love". The relaxed bounce and familiar changes create a fine backdrop for both saxophonists. Dankworth's stop-time episode is outdone by Hayes' unaccompanied half-chorus, but overall, the piece feels more like a friendly collaboration than a showdown.
A January 1964 version of "Modes and Blues" shows Hayes' Quintet in transition. The piece opens with a subdued introduction, then moves into a boppish theme featuring an unusual construction of two eight-bar sections of Dorian mode followed by a chorus of twelve-bar blues. Hayes has no problem navigating the form, and his seven-minute solo is one of the highlights of the set. Allan Ganley, one of the best British drummers of the period, sparks Hayes' statements and does his best to keep trumpeter Jimmy Deuchar focused (it's fairly clear that Deuchar was uncomfortable with this music and his solo has abrupt jumps from bop lines to modal ideas). Pianist Terry Shannon—who was also a member of the Jazz Couriers—approaches the music with the soulful attitude of Wynton Kelly, and bassist Freddy Logan walks through his solo. Because of the song's unusual form, the four-bar exchanges with Ganley are a little hard to follow, but the drummer acquits himself well and the band stays on top of the arrangement. Hayes seemed to have no problem with jumping back to earlier styles when necessary, and in February 1964, he subbed for Paul Gonsalves on a London concert by Duke Ellington and his Orchestra. Unfortunately, no recording is known to exist of that performance. From the same period, Acrobat offers a poorly recorded Hayes big band version of "Baubles, Bangles and Beads", on which the tenorman's solo seems like a throwback to the 1959 "Cherokee", right down to the extended closing cadenza. On a March 1965 meeting with fellow tenor saxophonist Tommy Whittle, Hayes seems intent on further expanding the already-dense harmonic language of "Have You Met Miss Jones". After taking over from the more traditional Whittle, Hayes superimposes new chords and overlays new key centers on the tune's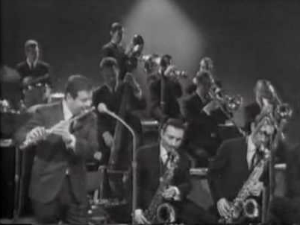 harmonic structure. Of course, this was all part of Coltrane's language, but Hayes maintains his sense of melody throughout—something Coltrane was usually willing to let go. The tenor chase near the end must have raised the roof off the club! For all of his gifts, Hayes could be very flashy, and the 1965 version of "Don't Fall off the Bridge" is an unfortunate example. When taken at a sane tempo, this is actually a very well-constructed modal piece, but the ridiculously quick speed taken here robs it of all its inherent charm.
If Tempo's Tony Hall made curious choices about which Hayes LPs to import to America, his was still a greater effort than anyone at Hayes' next label, Fontana. Although Fontana had connections to Mercury Records, precious few of Hayes' 1960s recordings were issued in the US (and this, despite two successful US visits!). "100% Proof" was the title track of a superb Hayes big band album from 1966. The version on the Acrobat set was recorded about 6 months before the LP version, but follows the same general direction. The piece is a self-penned concerto for Hayes where the saxophonist improvises in a wide range of styles, including ballad, blues, waltz, bop and free. The album "100% Proof" is still hard to find in the US, but after hearing this live version, I suspect that many listeners will want to at least to the original album on Spotify. The final track on Disc 2 and the first track on Disc 3 offer two examples of Hayes on flute. Hayes first picked up the flute in the late 1950s, but it took a while for him to truly master the instrument. On the 1966 versions of "So What" and "Sing Me Softly of the Blues", he shows the clear influences of Eric Dolphy and Rahsaan Roland Kirk by playing the instrument with considerable force and occasionally singing and blowing simultaneously. Hayes' greatest album of the 1960s was "Mexican Green", which offered Hayes' closest approach to Coltrane's model. "Dear Johnny B" was a tribute to British Johnny Butts, who had perished in an auto accident in 1966. The live version on the Acrobat set is twice as long as the LP version and Hayes transforms his anger about the loss of a colleague into a brilliant 11-minute solo full of great ideas and amazing motivic construction.
The nickname "Tubby" was not given without reason, and Hayes' health went into a serious decline from 1967-1969. He required surgery to replace a faulty heart valve. In addition, he had a heroin habit which he tried to quit cold turkey. Then to top things off, his girlfriend Joy Marshall died of an accidental overdose of barbiturates. When Hayes returned to the scene in late 1969, he had lost enough weight to make his nickname ironic. On Acrobat's sole track from 1970, Hayes plays another original from the "Mexican Green" album, "Off the Wagon", and in contrast to the expansive "Dear Johnny B" solo, Hayes says his piece within the theme statements, fully improvising only on the bridges. By 1972, Hayes' health had improved enough for him to resume playing and touring. On his tender version of "I Thought about You", his phrases are notably shorter and his sound less muscular, but his ability to improvise at length had returned, as well as his fertile musical imagination. A 1973 recording of "Sonnymoon for Two" features a burning (if rather short) blues solo by Hayes. Here, the rhythm section plays with plenty of enthusiasm but not much ensemble—the same criticism that was directed at the whole of Hayes' 1955 octet. Despite a few jarring harmonic conflicts with the Norwegian rhythm section on "Here's That Rainy Day", Hayes turns the performance around with an emotionally overwhelming solo and an extended closing cadenza. Hayes' regular working rhythm section of pianist Mike Pyne, bassist Ron Mathewson and drummer Spike Wells appear on the title track. Hayes and the trio play with plenty of energy, but as Spillett notes, the audience was probably a typical pub crowd that didn't appreciate the music being presented. Such was the state of jazz in 1973.
In several ways, the recent Tubby Hayes issues resemble the posthumous releases of Charlie Parker. Most of the recordings are from nightclub performances or jam sessions, the tracks are quite long (and still sometimes incomplete), the sound ranges from acceptable to abysmal, and the featured performer is typically in fine form, but the other musicians leave something to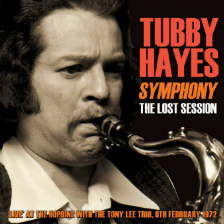 be desired. Several labels have issued Hayes' live recordings, including Candid, Harkit, TenToTen, Gearbox and of course, Acrobat. There's even one label (the oddly named Savage Solweig) that is completely dedicated to issuing live recordings from Hayes' own archive. While I have no problem recommending the "Without a Song" collection due to its coverage of Hayes' entire career, I find it a little harder to recommend Acrobat's single-disc "Symphony" to anyone except hard-core Hayes fans. Not that the music isn't good—indeed, Hayes is in excellent form—but I believe that anyone learning about Hayes would be better served by exploring the original commercial albums before delving into the live material (and the same advice carries to the music of Parker). For the record, "Symphony" is an hour long 1972 recording of Hayes' first gig at the Hopbine after his heart surgery. The recording was made by a fan in the audience, and while the audience is attentive during Hayes' solos, they talk a lot when the rhythm section plays alone. There are fine versions of "I Thought about You" and "Sonnymoon for Two" that compare well with the versions on "Without a Song".
So, if you're new to the music of Tubby Hayes, start with the Acrobat set of Tempo recordings and the Proper collection "Little Giant" (Note that there are duplications between the two sets since all of these early recordings are now in the public domain in England). Then pick up "100% Proof", "Mexican Green" and the two discs recorded by Hayes' quintet at Ronnie Scotts, "Down in the Village" and "Late Spot at Scotts". The two Hayes albums made in the US are now available on a Fresh Sound reissue. With the live sets, I'd start with recordings featuring Hayes' working groups (in 1962, with Jimmy Deuchar, Gordon Beck or Terry Shannon, Freddy Logan and Allan Ganley; in 1967, Mick Pyne, Ron Mathewson and Spike Wells). You can also check out this wonderful half-hour video of Hayes' 1965 big band  on YouTube. Above all, be sure to pick up Spillett's long-awaited Hayes bio, "The Long Shadow of the Little Giant". Few people know Hayes' music as well as Spillett, and his book promises to be the definitive work on this brilliant and unjustly forgotten musician.