ELI DEGIBRI: "SOUL STATION" (Degibri 1008)
Leonard Feather once dubbed Hank Mobley "the middleweight champion of the tenor saxophone" and like many of Feather's pronouncements, the comment probably did more harm than good. True, Mobley came up in an era where tenor players seemed to come a dime a dozen, but Mobley had a unique sound and concept, which was no better illustrated than on his 1960 Blue Note masterpiece, "Soul Station". Eli D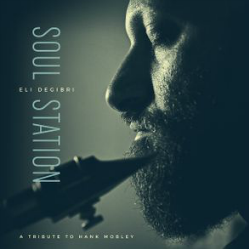 egibri, an underrated tenor man in his own right, considers Mobley a personal hero, and on his new CD, "Soul Station: A Tribute to Hank Mobley", he performs all of the songs from the original album, and adds a personal tribute at the end. The first chorus of the opening track, Irving Berlin's "Remember" sounds like a carbon copy of Mobley's version, featuring the melody over a two-beat bounce. But when Degibri starts to solo, we can hear that while the Mobley influence is clear, his harmonic and melodic vocabulary encompasses a wider range than Mobley's. Pianist Tom Oren was a good pick for this recording, as he brings a strong influence of Mobley's pianist, Wynton Kelly, but who can also move away from the model whenever necessary. "This I Dig of You" is my all-time favorite Mobley side, and I love how Degibri (now on soprano) and Oren play an extremely accurate transcription of Kelly's original solo (Mobley's original solo is also a gem, and one long overdue for a vocalese lyric). Bassist Tamir Shmerling plays a rich-toned solo before Degibri soars in for a set of swift exchanges with drummer Eviatar Slivnik. This recording was made in Tel Aviv, and Degibri notes that "Soul Station" is taught in Israel's jazz education programs, which goes a long way towards explaining why Degibri's quartet plays this music with such authority. Yet, they also understand that jazz is a living music, which is subject to different approaches. On one hand, Degibri can resurrect the ghosts of Art Blakey and Mobley with the sly addition of a vintage audio clip, and still bring a modern and unbridled passion—going far beyond what Mobley would ever play—into a ballad treatment of "If I Should Lose You". And on the heels of that stunning performance comes a version of "Split Feelings" where the solo styles mark a nearly complete departure from Mobley's original. Degibri returns to the original model for the title track, and he captures Mobley's essence in his tribute, "Dear Hank". This album is a fine introduction to Degibri, and one that may also inspire listeners to re-evaluate Hank Mobley.
BRAD GOODE QUINTET (featuring ERNIE WATTS): "THAT'S RIGHT!" (Origin 82764)
Neither trumpeter Brad Goode nor tenor saxophonist Ernie Watts could be called underrated, but both of them deserve wider recognition. Both men are brilliant talents, and along with an outstanding rhythm section, they have formed a superb jazz quintet capable of a broad range of styles and genres. "That's Right", their new release for Origin, was recorded after a successful concert at the 2018 Jazz Educators Network conference in Dallas, and it presents the group in a varied repertoire encompassing standards, originals, blues, straight-ahead and progressive jazz. The opening track, pianist Adrean Farrugia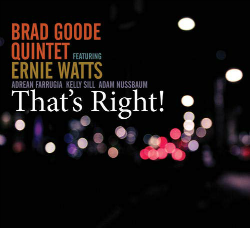 's "Half Moon" starts out with a bouncy rhythm that sounds like a lift from a pop-jazz recording of the late 1970s, but Watts completely transforms the piece with his boundary-stretching solo. Similarly, the style adapts soloist by soloist on Goode's intriguing original, "Regret", with the trumpeter playing haunting exploratory lines, followed by Watts digging into the changes from an opposite direction. "Perplexity" is one of Goode's polytonal pieces, where the soloists play over a sequence of stacked chords, which usually makes them sound as if they are playing in a different key than the rhythm section. Farrugia, Goode, Watts and drummer Adam Nussbaum each find ways to present a different approach to this formidable challenge. On "Blues in the Night", the group reduces the chord sequence to a pair of vamps, with Goode discovering all sorts of interesting note choices and Watts ratcheting up the intensity with flurries of notes. The final vamp is exhilarating, with the two horns matching each other's peaks, phrase by phrase. Bassist Kelly Sill contributed the waltz "A Sense of Fairness" and his solo leads in unexpected and delightful directions. Nussbaum's extraordinary cymbal work transforms this work through color, timbre and dynamics. He anticipates the soloists with great accuracy, so that his accents enhance their statements. Watts scored his funky original "Letter from Home" with the tenor melody above the trumpet harmony, but the tenorman's authoritative voice overcomes the upside-down scoring and leads the listener to the melody line. The quintet has a lot of fun with this tune, devouring the changes while hitting all of the composition's inherent accents. Nussbaum's tune "We Three" is a stunner, and this version incorporates a unique triple improvisation between piano, trumpet and tenor. Goode's "Who Parked the Car" inspires fine solos by the entire group, Billy Eckstine's "I Wanna Talk About You" revisits the polytonal technique (with significantly different results than before) and the disc ends with Von Freeman's "Jug Ain't Gone", a blues which Goode uses each week to close his weekly student-friendly jam here in Colorado. The present version offers splendid curtain calls to each member of the quintet. With its members scattered across the country, it may be a challenge to gather this band for a tour, but when they do appear, seek them out—their music holds all kinds of opportunity for creativity and expansion.
STEVE TURRE: "THE VERY THOUGHT OF YOU" (Smoke Sessions 1804)
When Steve Turre moved to New York in 1973, he met one of his idols, Curtis Fuller, who gave the young trombonist some sage advice, namely that the hardest thing to do is to play simple and have it mean something. Those words were paramount in Turre's mind as he tackled his new ballad-heavy album, "The Very Thought of You". Turre admits that he thought of himself as a singer, and was inspired by vocalists when he created his lean interpretations of the album's standards. A string section is present, but only on four tracks, which are judiciously spaced through the album (and in a magnanimous gesture, he gave the string parts to students at Julliard, offering many of them a rare opportunity to record on a commercial album). Marty Sheller's exquisite string arrangement leads the strings and Turre into a tender reading of the title track.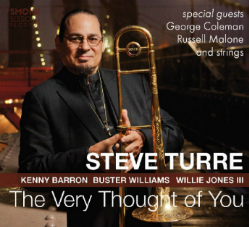 Turre keeps his focus on the melody, only adding variations where they will not interfere. Kenny Barron takes the solo spotlight with a thoughtful improvisation that offers just the right amount of contrast. Buster Williams anchors the group with his full rich tone, and Willie Jones III is a model of restraint behind the drum kit. A medium-tempo "September in the Rain" gives the group (with Russell Malone added on guitar) the chance to stretch out. Turre is still thinking melodically, quoting a long section of "There's a Small Hotel" in his solo. "No Regrets" is not the old Billie Holiday tune, but a 1974 original by the trombonist. Played here as a duet with Malone, the guitarist shows his versatility as an accompanist, utilizing several interesting ideas without disrupting Turre's expansive melodic line. "Carolyn in the Morning" was J.J. Johnson's tribute to his wife, and the quartet caresses the piece, with each member finding their own unique way to support the delicate melody. Barron takes another gorgeous solo, and Williams provides a simple but poignant countermelody. When Turre solos, Jones' brushes supply a finely wrought accompaniment. Williams' solo takes a few unexpected turns, but the solo holds together well as a whole. Tenor saxophonist George Coleman appears with Turre, the strings and the rhythm section on "Never Let Me Go", and the veteran saxman improvises a statement with note choices that cling in the listener's memory. The sweetness-and-light Turre original "Sachiko" is juxtaposed with the aforementioned free improv, which is titled "Freedom Park, SA", is dedicated to the victims of apartheid, and is played as a duet with Jones. While the track contains the album's most explosive moments, the overall mood remains somber and muted. A bossa nova arrangement of "The Shadow of Your Smile" with Malone and the strings precedes Turre's relaxed ballad, "Time Will Tell" (featuring another standout Williams solo) and a sprightly version of "Yardbird Suite" with Turre and Coleman sharing the front line. The closer is the venerable and frequently parodied "Danny Boy", and I'm afraid that Turre's wah-wah mute takes away any remaining dignity this song may have. To be fair, it's tough to make a fresh statement on this warhorse, and I'm more and more convinced that the secret died with Ben Webster. One misfire doesn't ruin the entire record, of course, and this album has more than enough high points as compensation.