FREDDY COLE: "HE WAS THE KING" (High Note 7286)
One of Freddy Cole's early albums was titled, "I'm Not My Brother, I'm Me". While Freddy has successfully created his own career based on his own repertoire, he h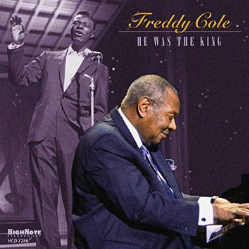 as occasionally paid tribute to his big brother in concerts and recordings. "He Was The King", recorded just over 50 years after Nat King Cole's death, is Freddy's first full-length album in tribute to his famous sibling. Using a superb rhythm section with John Di Martino on piano, Randy Napoleon on guitar, Elias Bailey on bass and Quentin Baxter on drums, the familiar parallel chords of the King Cole Trio set the stage on "It's Easy To Remember". Still when Freddy enters—with tenor veteran Houston Person right behind him—it is his sound and feeling that comes through. Freddy's voice has a rougher timbre than Nat's and his interpretation is quite loose and flexible. He brings a great conversational quality to up-tempo numbers like "Exactly Like You" and "The Best Man", and his intimate reading of "Maybe It's Because I Love You Too Much" brings renewed intensity to this neglected ballad. Freddy is also a fine pianist, and on two tracks, "The Best Man" and "Sweet Lorraine", he turns in strongly swinging solos and outstanding self-accompaniment. It is particularly instructive to compare Freddy's version of "Lorraine" to Nat's: Freddy slows down the tempo, and avoids the temptation to bounce on the repeated quarter-notes as Nat did; his piano voicings sound natural and organic rather than rehearsed and arranged. True, Nat established this song as a standard, but Freddy remakes it as his own. Close listening reveals inevitable similarities in vowel production between the two brothers, but if any proof were still necessary, this tribute album effectively erases any doubt about Freddy Cole's uniqueness as an artist.
BARB JUNGR: "SHELTER FROM THE STORM" (Linn 530)
British vocalist Barb Jungr's twentieth album "Shelter from the Storm" is subtitled "Songs of Hope for Troubled Times". The repertoire draws from the songbooks of Joni Mitchell, Bob Dylan, David Bowie and Leonard Cohen, along with a pair of Broadway standards and three originals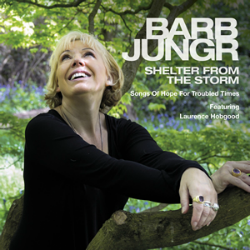 co-composed by Jungr and her chief collaborator, pianist Laurence Hobgood. Her swaying, mixed meter arrangement of "Bali Ha'I" which opens the album might be said to evoke the waving of palm trees, but the intensity of Jungr's delivery turns this song into a much more visceral experience. Her manner of floating over the ground beat reminds me of late-period Sarah Vaughan, and while she seems intent on communicating the lyric's messages, her musical variations sometimes outshine the original material. That is not the case on the Dylan-penned title tune, which is one of the best jazz adaptations I've heard of his work. Jungr nails the vernacular narrative style but she and the rhythm section (which also includes Michael Olatuja on bass, and Wilson Torres on drums) maintain a strong jazz feeling which swings without relying on typical formulas. Of the Jungr/Hobgood originals, I'm rather fond of "Venus Rising". It has the tone of a brightly optimistic pop song of the early 1970s, but Jungr's earnest delivery and the churning rhythm background makes us believe in the cheery lyrics. Hobgood, long a master accompanist, offers a splendid solo that tempers but does not break the uplifting mood. The thought of following this song with the perennial show-stopper, "Something's Comin'", might seem like overkill, but Jungr offer a slow-burning Latin version of the "West Side Story" favorite, keeping a feeling of expectation—but with a different meaning than intended by Bernstein and Sondheim! Not everything works on this album—Jungr sounds a little too much like the composer on Joni Mitchell's "Woodstock", and not even a catchy funk riff can keep the song from sounding hopelessly dated—but most of this album is exceptionally well-performed. It may not save the world, but it can't hurt it either.
MARK MURPHY: "LIVE IN ATHENS, GREECE" (Harbinger 3202)
The publicity materials for the posthumous Mark Murphy release, "Live in Athens, Greece" claim that it is Murphy's last recording. Actually, it's not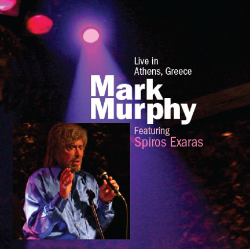 even close: this recording was made in April 2008, and Murphy continued to record through the end of 2012. Still, this album is a valuable document of late-period Murphy. He is in fabulous voice, showing remarkable flexibility switching between his expressive baritone to his stunning falsetto. His control extends to his fellow musicians as well: on the opening "My Funny Valentine", he effortlessly moves the band from the slow ballad feel of the first chorus into a burning hot Latin feel—and just as easily brings them back to the original tempo. Most of the program is a tribute to Miles Davis, and Murphy has the group dovetail the tunes as Miles used to do. This is particularly effective on Murphy's astounding a cappella introduction for "On Green Dolphin Street". Murphy is utterly fearless, singing through the verse and first chorus alone, adding all kinds of wild variations, and maintaining pitch all the way through! Later, on the ballad medley of "When I Fall in Love" and "My One and Only Love", Murphy puts his heart gently on his sleeve and wrings deep emotion from these well-known standards, even when he apparently forgets one of the lines, and creates something new off the top of his head. The band—pianist Thomas Rueckert, guitarist Spiros Exaras, bassist George Georgiadis and drummer Alex Drakos—are receptive to Murphy's onstage directions, swing powerfully throughout and acquit themselves admirably in their lengthy solos, but this is really Murphy's show, and this album may be one of the best examples of him in an unrestricted live performance. At the end of the concert, an ecstatic Murphy asks for an invite back saying, "Anytime you want me, just call". Oh Mark, if it were only so easy….