CARMEN CUESTA: "TODA UNA VIDA" (Tweety 4)
In the publicity material for her new album, "Toda Una Vida", Carmen Cuesta says that when she first heard the Beatles, she didn't understand the English words, b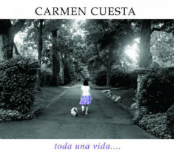 ut she responded to the music. She asks the same of her listeners with this program of Spanish boleros. With the exception of "Besame Mucho", most of the songs will be unfamiliar to American listeners (even the lone bossa nova, Jobim's "Eu Sei Que Vou Te Amar", is fairly obscure—but see below!). While all of the songs are sung in Spanish—or Portuguese for the Jobim—it's easy to appreciate the passion in Cuesta's voice (notably on the Carlos Gardel song, "El Día Que me Quieras") or the playful give-and-take on "El Reloj" between Cuesta and her husband, guitarist Chuck Loeb. The recording was made in Cuesta's home city of Madrid, with several excellent musicians from that city, including pianist Moises P. Sanchez and bassist Antonio "Toño" Miguel. The rhythm section also features Uruguayan drummer José San Martín and Cuban percussionist Yuvisney Aguilar. Loeb is the main soloist on acoustic guitar, but there are also several fine guest soloists including Antonio Serrano (harmonica), Kike Perdomo (flute) and Oli Rockberger (piano). While it is hard to classify this as a jazz album, the musicality and production values are at a very high level, and those listeners who listen to international vocal recordings without consulting the translations may well enjoy this sensuous and romantic album. Still, if Cuesta would post a page of translations on her website, she might increase the sales and popularity of this well-sung album.
PAULINHO GARCIA: "BEAUTIFUL LOVE" (Jazzmin/Shrinktunes—no catalog #)
Born in the Brazilian city of Belo Horizonte, but based in Chicago since the late 1970s, Paulinho Garcia may be best known for his du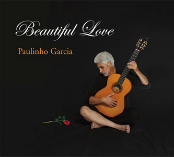 o Two for Brazil, where he performs the music of Stan Getz and João Gilberto with saxophonist Greg Fishman. On his intimate and deeply romantic new album "Beautiful Love", Garcia is on his own, accompanying his understated vocals with his solo acoustic guitar. As the album title suggests, Garcia's list of songs celebrate love in all its forms. He spices up the list of standards with several surprising touches, including the verses to "When I Fall In Love" and the title track, three songs in Portuguese (including the same Jobim song covered by Cuesta above), a delightful scat solo on "Bluesette", and subtly re-imagined arrangements of warhorses like "Boulevard of Broken Dreams" and "I Wonder Who's Kissing Her Now". He also includes an original composition, a traditional song, and a rarely-heard modern classic (Cy Coleman's lovely "With Every Breath I Take" from the show "City of Angels"). The guitar accompaniment is kept very basic, but there are occasional surprises in style and harmony. Garcia's English is quite good, and while he hews closely to the original melodies, he creates his own unique interpretations with a conversational approach to rhythm. The album was made without overdubs, so it sounds like Garcia is serenading you (and presumably, the special person in your life) in your darkened living room.  
BEAT KAESTLI: "COLLAGE" (Unit Records 4488)
Switzerland is a country famous for embracing a multitude of cultures and for remaining neutral in the face of conflicts. Thus, it is only natural that "Collage", the latest album by Swiss-born vocalist Beat Kaestli collects and combines music from a wide variety of styles and genres. L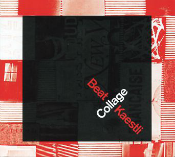 isteners will recognize several of the songs, including "La vie en Rose", "I Wish You Love" and "Besame Mucho" (another shared title with the Cuesta album, and also sung here in Spanish) but it is the arrangements that make this wide-ranging repertoire work so well. For example, the opening track "En Bord de Mer"/"Lugar Comum" successfully mixes the sounds of Brazilian samba and French chanson in a manner that favors neither style over the other, but brings out the best of each. The next track, "Le Haut sur la Montagne" is marked as a traditional French song, but Kaestli and his ultra-flexible quartet make it sound like a party tune from the Caribbean! Kaestli's warm baritone is well-matched with Will Holshouser's accordion on his plaintive original "The Choice You Make" (with alternate verses sung in English and French), and the trio of Kaestli, Holshouser and guitarist Jesse Lewis perform a delightful jazz waltz arrangement of the Swiss national anthem "Cantique Swiss". Kaestli and guest vocalist Clarice Assad generate wonderful chemistry on the sprightly "Comme en Plein Reve" (which opens with Holshouer playing stride on his accordion!). Bassist Matt Wigton offers strong backup on "Round Midnight", with Kaestli singing the French lyrics by Claude Nougaro. Fred Kennedy's percussion is used sparingly, but that makes it all the more effective when he is added to the ensemble. Kaestli is an intriguing talent with a unique vision. If you have not heard him before, "Collage" is a great place to start.
 
ROZINA PÁTKAI: "VOCÊ E EU" (self-produced digital download)
There can be little better evidence of the international appeal of Brazilian music than "Você E Eu", a new album of bossa nova classics sung by the Italian-born and Bu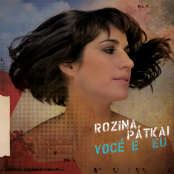 dapest-based vocalist Rozina Pátkai. It is not just the novelty of Eastern Europeans performing these songs from half a world away, but the total conviction in which the songs are played. Pátkai's Portuguese sounds nearly perfect and she has a flexible sense of rhythm that enhances her distinctive interpretations. Like Cuesta, Pátkai communicates emotions directly even when the words are unfamiliar. And when dealing with a well-worn piece like "The Girl From Ipanema", Pátkai finds a new approach rather than retreading the usual path (in this case, she delivers the lyrics in a languid style that reminds me of waves gently brushing against the beach). Charlie Chaplin's "Smile" is transformed into a quick-paced samba (with Pátkai singing the words in flawless English) and later in the album, she performs an emotional version of Gershwin's "The Man I Love", sung in Spanish with backing by the RTQ String Quartet. Elsewhere, she is accompanied by a superb group featuring trumpeter Balázs Pecze, guitarist Mátyás Tóth, bassist Márton Soós and drummer Balázs Cseh. In addition to capturing the mixture of top-of-the-beat percussion and relaxed melodic playing that are essential elements of the Brazilian sound, they play the tidy arrangements with sensitivity and great musicality. Like the other albums in this survey, "Você E Eu" is a recording that could easily fly under the radar, but it is a strong recording that deserves to be heard.