GEOF BRADFIELD: "OUR ROOTS" (Origin 82701)
Back in 1965, Clifford Jordan recorded an album of songs written by Leadbelly called "These Are My Roots". The album recast several folk tunes and blues in a modern jaz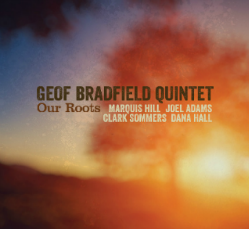 z style without losing the flavor of the original songs. When Chicago tenor saxophonist Geof Bradfield was asked to recreate a classic jazz album of his choosing for a local concert series, he chose the Jordan album, and on his new CD, "Our Roots", he reprises four of those tracks and adds songs by another great Southern blues singer, Blind Willie Johnson. Like Jordan and his ensemble, Bradfield's quintet (with trumpeter Marquis Hill, trombonist Joel Adams, bassist Clark Sommers and drummer Dana Hall) use the wide-open and slow-moving harmonies to create searching improvisations that reach into the vocabulary of free jazz and post-bop but still keep the music accessible. Bradfield and Hill are particularly well-matched in both sound and spirit, and they play a series of exchanges on the Calypso-flavored "Yellow Gal" where each player seems to pick up the other's musical thought. Adams plays a stomping solo on "Before This Time Another Year" and the team of Sommers and Hall provide a volcanic backdrop to Bradfield on the stunning "Black Girl". Johnson's moaning wordless blues "Dark Was the Night, Cold Was the Ground" gets a tumultuous reading that draws its energy from Hall's brilliant use of brushes. While the quintet arrangements are not credited on the album or in the publicity materials, I assume that they are Bradfield's; whomever wrote them has a highly-developed craft of small group orchestration, and obtains a superbly balanced sound and clearly delineated lines from the three horns. This remarkable album enhances the original visions of Leadbelly, Johnson, and Jordan, while leaving its own unique mark upon the music.
KIRSTEN EDKINS: "ART & SOUL"  (self-produced)
In a recent review of Mark Winkler's "Jazz and other Four-Letter Words", I singled out a Kirsten Edkins solo for praise, and privately wondered why I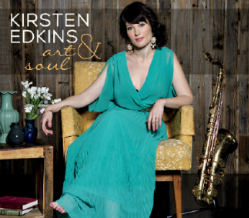 hadn't heard of her before. I suspect that many will know more of her with the release of her superb new debut CD, "Art & Soul". Edkins plays soprano, alto and tenor saxes on this album, producing a rich singing sound on each horn, and blending particularly well with the other horn players on the disc, trumpeter Mike Cottone, trombonist Ryan Dragon, and reedman Bob Sheppard. Throughout the album, Edkins plays inquisitive, unpredictable solos which have an unquestionable swing despite phrases that deliberately go against the grain of the underlying rhythm. Apparently, Edkins likes to work with complex rhythmic backgrounds, both as a composer and instrumentalist. To cite just a few examples, her "Mean Greens" starts off with a Blue Note organ groove, but the beat evolves as the track progresses, providing Edkins, organist Larry Goldings and guitarist Larry Koonse with a continuously fresh background. Bassist Mike Valerio and drummer Mark Ferber do a splendid job of breaking up the time on the slow and sexy triple-time blues "The Bug", while "Imagineering", a two-tenor workout with Sheppard, might sound like a Lee Konitz/Warne Marsh vehicle if not for the shifting metric patterns. There are also plenty of opportunities for straight-ahead swing, as on the funky opening tune "Big B", the lilting waltz of the title track, and the closing "No Ordinary Joe" (while dedicated to drummer Joe LaBarbera, the style of the piece hints at the band style of another great drummer, Art Blakey). Like many of the great jazz masters, Kirsten Edkins here plays music that has its roots in the past, but subtly challenges its listeners with elements of the unexpected. This album should mark the beginning of a long and fruitful career for this talented young musician.


JON IRABAGON: "BEHIND THE SKY" (Irabbagast 4)
Best known as the saxophonist for the satirical and progressive quintet Mostly Other People Do the Killing, Jon Irabagon's new solo CD "Behind the Sky" shows that he ha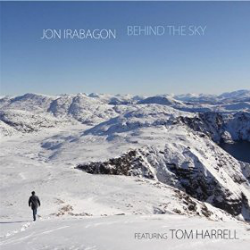 s never lost his ability to play swinging straight-ahead jazz. While Irabagon incorporates many of the concepts of later Coltrane and other free jazz pioneers into his concept of straight-ahead playing, the overall effect is not of random sound effects but an overarching portrait of a human being's wide range of moods. Although Irabagon's brief liner note states that the album's 11 original compositions were written while he was going through the grieving process, several of these pieces sound like a celebration of life, bursting with unbounded joy and energy. Even "Music Box Song (For When We're Apart)" opens with a wistful nature that belies its title before exploding into an overwhelming statement of pure emotion. On three tracks, Tom Harrell joins Irabagon and his long-time rhythm section of Luis Perdomo, Yasushi Nakamura and Rudy Royston. Harrell's trumpet and flugelhorn statements balance between strength of line and fragility of tone, and they provide a welcome catalyst to Irabagon's powerful tenor and the forceful—yet highly responsive—work of the rhythm team. The two horns are brilliantly showcased in a fascinating dual improvisation on "Obelisk", where the two divergent lines complement each other while maintaining their own directions. The rhythm section gets a workout on "Sprites" with Nakamura and Royston offering remarkable interplay to both a spectacular solo by Perdomo, and a dazzling final turn on soprano by Irabagon. Royston breaks loose at the end of the track with a ferocious solo. Perhaps the most emotionally raw track is the Irabagon/Perdomo duet on "Lost Ship at the Edge of the Sea", where strong outbursts interrupt the tranquil mood. This album may challenge your notions about what constitutes straight-ahead swing, but it overflows with creativity and embodies the very spirit of jazz.