DENISE DONATELLI: "FIND A HEART" (Savant 2150)
The bio on Denise Donatelli's website states that she alternates jazz and adult contemporary styles with ease. Her new album "Find a Heart"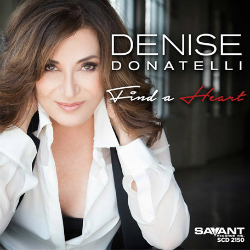 hovers between those two worlds and with good reason: Donatelli covers a number of pop/rock songs written within the last three decades by jazz-savvy songwriters like Donald Fagan, Sting, Russell Ferrante and Jeremy Lubbock. Most of the time, Donatelli and her pianist-arranger Geoffrey Keezer avoid the temptation to move these songs into straight-ahead jazz arrangements. Instead, they let the two genres feed off each other while discovering the common ground between them. This method allows the songs to retain something of their original style, while also allowing Donatelli's rhythm section Keezer, Leonardo Amuedo, Carlitos del Puerto, and Marvin "Smitty" Smith, and guest artists Chris Botti, Bob Sheppard and Christine Jensen opportunities to improvise. Donatelli's voice has an edgy quality that works well with these pop songs, but she reveals her jazz roots throughout the disc with a flexible, swinging approach to the rhythm and a willingness to take chances with the melodies. The rhythm section does a marvelous job of balancing the straight-eighth and swing feels, making subtle changes that are only noticed after the fact. Sting's "Practical Arrangement" works particularly well with this hybrid style, as does Fagan's "Big Noise, New York" and Beck's "Eyes That Say I Love You". I'm less impressed with the David Crosby-penned title track (the seesawing rhythmic feel gets monotonous), and I wonder whether Journey's "Troubled Child" truly belongs on this album. However, the duet treatments offered on an old song (Billy Strayhorn's "Daydream") and a newer one (Lubbock's "Not Like This") illuminate the continuum in songwriting styles, and that might be the best point Donatelli makes with this exceptionally conceived album.
MARK CHRISTIAN MILLER: "CRAZY MOON" (Sliding Jazz Door—no #)
For the past decade and a half, Mark Christian Miller has worked behind the scenes as a music promoter. However, encouragement from trusted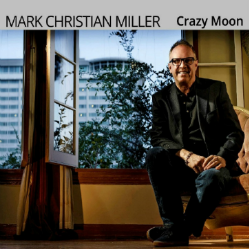 colleagues in New York City led Miller to re-launch the singing career he started in the late 1990s. His new album "Crazy Moon", co-produced by Miller and fellow vocalist Judy Wexler, shows what we've been missing for the past decade and a half. Miller has a light tenor voice with a warm inviting style. The opening arrangement of "Wrap Your Troubles in Dreams" has a lot of tricky stop-and-start passages; a lesser singer might pounce on these attributes, but Miller glides through them, offering tasty light accents, and a finely-crafted coda. His maturity allows him to approach Charles Aznavour's "Tomorrow is My Turn" with a sweet mixture of wistfulness and optimism. Most of his variations are rhythmic rather than melodic—even on a well-known standard like "Cheek to Cheek", he makes only one minor melodic change in the opening chorus, but there are several adjustments to the word placements. As the album progresses, Miller's song choices become quite inspired, including a light Latin take on John LaTouche and Marvin Fisher's "Strange", a tender version of André Previn's "Second Chance", a retro-styled arrangement (with the original verse) of Artie Shaw's "Moonray", and a sensitive duet version of the inexplicably obscure Jerome Kern/Dorothy Fields ballad, "April Fooled Me." Josh Nelson, Dave Robaire and Sammy Miller offer solid rhythm backgrounds throughout and guest soloists Ron Stout, Larry Koonse, Bob Sheppard and Billy Hulting each provide fine moments in between Miller's vocals. The effective and open arrangements are by Miller, Nelson and Jamieson Trotter. I suspect that Miller will make several new fans with this album. Hopefully, we won't have to wait another 15 years for his next recording.
CAROL WELSMAN: "ALONE TOGETHER" (Welcar 368)
At least two of the other vocalists featured in this set of reviews are also trained pianists; however, only Carol Welsman actually plays keyboard on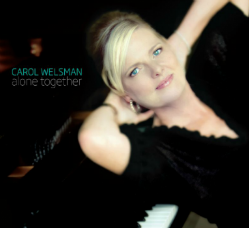 her album. It's clear throughout her disc "Alone Together" that her vocal and piano styles are closely intertwined. On the opening track, "Day by Day", she scats in unison with her piano lines, and the harmonically astute modulations in "It Might As Well Be Spring" could only come from a piano-centric musician. Yet on the first chorus of "Sand in My Shoes", the piano temporarily retreats and we can hear Welsman's flexible approach to rhythm and intimate delivery of the lyrics. Welsman's audacious a cappella introduction to the title track is a virtual duet in itself as she alternates between lyrics and scat.  She displays remarkable diction on "Disappointed", Eddie Jefferson's lyricized version of Charlie Parker's famous JATP solo on "Oh, Lady Be Good", breaks your heart with an intense reading of "If the Moon Turns Green" and swings with vigor on "The Blues Are Out of Town". The slightly husky quality of Welsman's voice might recall Diana Krall, but Welsman clearly offers more inventive approaches and interpretations than her fellow Canadian pianist/vocalist (Incidentally, Welsman started her career in Toronto, but she's lived in the Hollywood Hills for the past decade). Unlike the other CDs in this survey, Welsman traveled to New York to record her album, hiring the remarkable rhythm team of Rufus Reid and Lewis Nash (who are both in exquisite form). The underrated trumpeter Wallace Roney plays several fine solos on this album, and guitarist Jay Azzolina enhances the rhythm section on three tracks, and plays superb obbligatos on the album's best track, a vocal-piano/guitar/bass version of Duke Ellington's "I Didn't Know About You". "Alone Together" is a superb introduction to Carol Welsman's intimate vocal and piano style.
MARK WINKLER: "JAZZ AND OTHER FOUR-LETTER WORDS" (Café Pacific 45125)
The second track of Mark Winkler's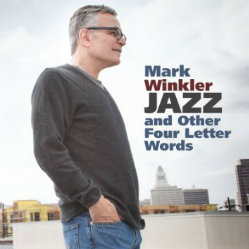 "Jazz and other Four-Letter Words" is a duet with Cheryl Bentyne on the Dave Frishberg/Bob Dorough classic "I'm Hip". The lyrics of this song describe a narrator who is not as hip as he thinks. But Winkler and Bentyne are clearly hipper than the subject of the song, and their delightful version has numerous moments where the dichotomy between material and performance comes through (Bentyne has great fun with the word "zen"). For the most part, Winkler, who wrote the lyrics to five of the eleven songs on this disc, is fully aware of his hipness, tossing off a series of inventive metaphors within his original "My Idea of a Good Time" or offering a sly approach to the Gershwin's "Nice Work if You Can Get It". And while Paul Simon's music usually doesn't translate to jazz very well, Winkler mines gold with his version of "Have a Good Time". His approach can go over the top rather easily, as on the abundant references in "Your Cat Plays Piano", but that's also a good example of his deep sense of humor. When he turns serious on his original ballad, "I Chose the Moon", he displays an innate talent for shaping melodies to fit the confessional style of the lyrics. Winkler has assembled an impressive group of instrumentalists for this album (including several performers who played on the other CDs in this survey—these folks get around!): veterans John Clayton, Jeff Hamilton, Jamieson Trotter, Larry Koonse, Pat Kelley, Bob Sheppard, Walt Fowler, and an exceptional young talent, tenor saxophonist Kirsten Edkins, who plays a great solo on the swinging and extremely clever title track.