DENA DEROSE: "TRAVELIN' LIGHT" (MaxJazz 507)
As a teenager, Dena DeRose played and sang for two years at a hotel bar in her hometown of Binghampton, New York. She soon developed a regular following who came to hear her sing and play standards on an old upright Wurlitzer piano. On her newest album, "Travelin' Light", DeRose returns to her musical roots, but in an enviable and idealized setting. Recorded over three nights at the Chromatic Attic in Antwerp, De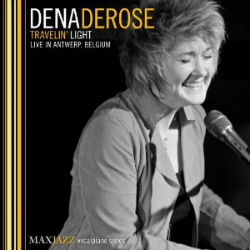 Rose performs for a handpicked audience on a gloriously tuned and voiced Steinway grand. Vocally and instrumentally, DeRose's style might be tabbed "organic" for it seems simple and basic at the roots, but it produces remarkable blooms of melodic and harmonic beauty. Her inventions stand in bold relief against her basic style, so that the listener takes notice at a rhapsodic piano improvisation (as on "Blue in Green"), a daring vocal exploration (in "East of the Sun") or a dynamic unison bop line for piano and voice (on "I'm Old-Fashioned").
DeRose loves to resurrect neglected standards, and she has found a gem in the Arthur Hamilton/Johnny Mandel song, "I Never Told You". DeRose's understated vocal is a perfect match for this song, letting the listener discover the underlying story of the lyrics and its surprising turns. Another highlight is her version of Antonio Carlos Jobim's "Portrait in Black and White". Not many singers attempt this piece due to the melody's ever-changing maze of chromatic intervals. DeRose sings the tricky song with absolute accuracy, and instead of the original Portuguese lyrics, she performs a touching set of English lyrics by Roger Shore. Even for those who have heard the song before, DeRose's version provides a renewed sense of discovery. There is one further point to make about these pieces: after each of the above songs, DeRose segues into another song that's a little better known. The segue from "I Never Told You" to "Twilight World" is direct and simple, but "Portrait" ends with an indefinite-sounding piano figure which DeRose lets ring for several seconds before starting "Why Did I Choose You?" In both cases, we expect applause between the tunes, but the audience waits, and the resulting juxtaposition is stunning. I'm not sure if this is how it happened live, but it is very effective on the recording. This album is loaded with wonderful moments and surprises. Get yourself a copy and enjoy! THOMAS CUNNIFFE
HOT CLUB OF DETROIT: "JUNCTION" (Mack Avenue 1067)
There are several Hot Clubs in various cities around the world, and most of them are modeled on the Hot Club of France co-led by Stéphane Grappelli and Django Reinhardt. Unfortunately, few of these groups go beyond the "gypsy jazz" repertoire and swing style of the original French group, and fewer still recognize the deeply melodic style that Reinhardt developed in the la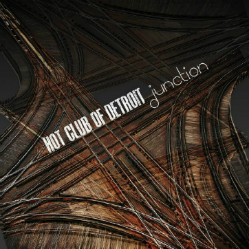 te 30s. However, the Hot Club of Detroit is a notable exception. Their latest album, "Junction", continues on a path of musical discovery that has emerged over several albums. While isolated elements of their music recall the Grappelli/Reinhardt ensemble sound, most of their repertoire is progressive with plenty of original compositions on the playlist. Even when the French elements come out there's usually a contemporary twist, as on "La Foule" sung by guest vocalist, Cyrille Aimée, where part of the setting is in 5/4 time! More typical of the group's adventurous style is "Hey", which features a tenor sax duel by Andrew Bishop and Jon Irabagon over a shifting rhythmic background, and "Chutzpah", a multi-styled piece that opens with an extended free improvisation and moves into an energetic dance rhythm with a Jewish-sounding melody laid on top (listen to how Irabagon's wild soprano sax solo ties all of the elements together.) The group's great sense of musical humor comes to the fore in the odd and delightful "Puck Bunny" (which is original in more than one definition!)
When the Hot Club of Detroit offers a tribute to Reinhardt, they do it in a unique way. At the center of the album, they play "Messe Gitane", an unfinished mass by Reinhardt which previously existed in a recorded fragment for solo organ. The Hot Club's arrangement is a simple, dignified work made up of sustained chords and elegant duet lines for two clarinets. Evan Perri plays a delicate acoustic guitar solo in the style of the composer before the clarinets return. Then the group segues into "Django Mort", accordionist Julien Labro's setting of Jean Cocteau's poem read at Django's funeral, with Cyrille singing the beautiful original melody. But while there are further tributes and covers on this album (including an elegiac salute to George Shearing, an intriguing vocal version of Ornette Coleman's "Lonely Woman", and a tongue-in-cheek arrangement of the Phish song "Rift"), this album seems more interested in exploring the future than digging up the past. If only the other Hot Clubs would be this daring! THOMAS CUNNIFFE
MARK MASTERS ENSEMBLE: "ELLINGTON SAXOPHONE ENCOUNTERS" (Capri 74118)
The American Jazz Institute is a Los Angeles-based non-profit that presents concerts and recordings in a wide range of jazz styles. The AJI's president, Mark Masters, is a talented arranger with an extra talent for gathering superb musicians to realize his scores. On his latest AJI project, "Ellington Saxophone Encounters", Masters' ensemble includes some of LA's finest reedmen (Gary Foster, Don Shelton, Pete Christlieb and Gene Cipriano) and a brilliant rhythm team (Bill Cunliffe, Tom Warrington and Joe LaBarbera). The album's special guest is also its only New Yorker, baritone saxopho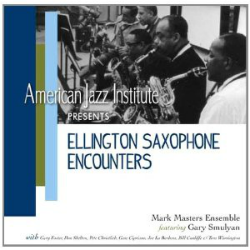 nist Gary Smulyan. The recording is a tribute to Duke Ellington and his saxophonists, but no one tries to copy the sounds of Johnny Hodges, Paul Gonsalves, Jimmy Hamilton or Harry Carney (although Smulyan's rough tone offers the flavor, if not the style of Carney). Further, the album's repertoire is a fresh mix of compositions by the original saxophonists, not just a familiar rundown of Duke's greatest hits. Masters doesn't try to emulate the Duke either, offering well-orchestrated charts for the five saxes that launch and support the soloists. There's a wealth of reed doubles (clarinets, soprano sax, and possibly a second baritone on one track), and it would have been nice if the booklet had listed all of the musicians with a breakdown of the instruments played on each track.
Smulyan is easily the most recognizable soloist of the group, with his gruff, bop-inspired sound. He is prominent in the sound mix—even more than Carney on Ellington's later records—and in addition to solos on nearly every track, he is featured alone with the rhythm section on a beautifully-played Carney original, "We're in Love Again". Shelton (formerly with the Hi-Lo's and the Singers Unlimited) displays his fine clarinet chops on "Get Ready" and "Peaches", and Christlieb has a splendid tenor solo on Ben Webster's "Love's Away". Foster and Cipriano aren't featured as much, but they solo well and their ensemble work (especially Foster's lead) is exemplary. Cunliffe plays in a modified swing/bop style, but never loses his own sound, even when offering flashes of earlier players like Ellington, Erroll Garner and Sir Roland Hanna. Doug Ramsey's notes tell the recorded legacy of each tune along with well-researched history of their places in the Ellington canon. This brightly swinging album is a fine addition to the legacy of Duke Ellington and his famous sidemen. THOMAS CUNNIFFE

MONDAY MICHIRU: "SOULCEPTION" (Adventure Music 1077)
Monday Michiru's career is extensive. She is an award-winning actress, a leading figure in underground dance music, and a pioneer of the acid jazz movement. Over the years, she has developed an impressive career as a singer, flutist, arranger, composer and lyricist. These qualities are all evident in her latest recording, "Soulception," a captivating foray into jazz and Brazilian musical styles. Michiru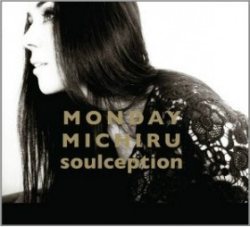 comes from an accomplished musical family (mother Toshiko Akiyoshi, father Charlie Mariano, stepfather Lew Tabackin) and it shows not only in her natural talent, but in her intelligence and good taste. The set consists mostly of Michiru's own rich variety of compositions and arrangements, and opens with a spoken introduction over a musical background that poses the question: "Is there a God? Only the soul can really know." She answers this question in her own individual way with "Adventures," which features her voice, both solo and overdubbed, in a delightful melody that leaps and soars over Boris Kozlov's robust bass vamp and then over a brassy background. "What is in a Soul" opens with Alex Sipiagin's multi-trumpet playfulness, and then Michiru's voice enters with a lively samba.
Among the other tunes are "Native Tongue," reminiscent of some of Sergio Mendes' earlier work, which features Michiru's wordless vocal carrying the melody over acoustic guitar followed by  a mood shift into a funky groove; "Map of the Soul," a catchy melody with Michiru's voice and Sipiagin's trumpet interweaving and some outstanding drumming by Nate Smith; and the delightfully tribal "The Elusive Song," which spotlights some challenging vocal gymnastics over hand clapping and Michiru's  overdubbed backup vocals. Adam Rogers' acoustic guitar solo over the backup vocals adds a nice touch. Ed Motta's voice joins Michiru's on Milton Nascimento's "Bridges" ("Travessia"), with Gene Lees' English lyrics and Gil Goldstein's accordion adding just the right mood. Michiru adds her own lyrics to mandolinist Hamilton de Holanda's "Brasilianos" Goldstein jumps in again with sensitive accompaniment on the accordion, and both he and Sipiagin offer energetic solos. Michiru has never been to Brazil, but she has certainly captured the spirit of the music and culture on "Soulception." In fact, in this new release she stretches her musical muscles in every direction: stylistically, as an arranger and flutist, and especially as a vocalist. Most of these songs are challenging, and Michiru nails every one. There are many fascinating little details in this album, with more appearing with each listening. AMY DUNCAN

LEWIS NASH QUINTET: "THE HIGHEST MOUNTAIN" (Cellar Live 91811)
Although he has one of the largest discographies of any jazz musician today, Lewis Nash needs more opportunities to record as a leader. His newest release, "The Highest Mountain" is his first album under his own name in nearly six years. Recorded live at the Cellar Jazz Club in Vancouver, British Columbia, the album proves that Nash is a superb bandleader with a great knack for picking excellent musicians and outstanding repertoire. Na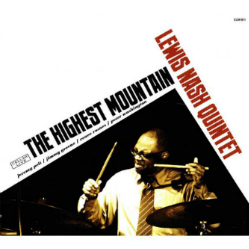 sh and his group perform seldom-covered pieces by Bobby Hutcherson, Clifford Jordan, Joe Henderson, Thad Jones, Ornette Coleman and Thelonious Monk. In addition, Nash's longtime pianist, Renee Rosnes, contributes a wonderful original to the program, "From Here to a Star". That track may be the best introduction to this group with Rosnes laying down a rich cushion of harmony, and bassist Peter Washington and Nash setting a perfect rhythmic base, allowing trumpeter Jeremy Pelt and tenor saxophonist Jimmy Greene to either lock in or float over the groove.
The title track is thrilling, with great ensemble drive, powerful solos, and a tight arrangement that focuses all of the elements. Greene's solo is exploratory but accessible, and Pelt's rich sound on flugelhorn gives his improvised lines extra weight. Nash plays a wonderful solo that maintains its energy even when he switches to brushes midway through. Rosnes has a lovely sense of touch at the keyboard, and she leads off the album's only standard, Gordon Jenkins' "Goodbye", with solo piano. Her accompaniment of the horn solos display her outstanding musicianship, and her own solo, mostly in single lines, subtly changes the mood without disturbing the flow of the performance. The final solo on the album goes to Washington, with an extended spot on a smoking version of Monk's "Eronel". Here, the full tone, imaginative lines and flawless intonation that make him an anchor of the rhythm section are all displayed in a beautifully-conceived solo. A model of expertly played modern jazz, this album should be required listening for all jazz students, and a must-have for all lovers of small group jazz. Hopefully, we won't have to wait another six years for more music from this superb group, THOMAS CUNNIFFE  
THE UPTOWN VOCAL JAZZ QUARTET: "HUSTLIN' FOR A GIG" (HouseKat—no catalog number)
The Uptown Vocal Jazz Quartet (UVJQ) is continuing the tradition of vocalese hipness, much to the satisfaction of those of us who love Eddie Jefferson, King Pleasure and Lambert, Hendricks & Ross. But on their new CD, "Hustlin' for a Gig," they add another whole dimension to the tradition with new original compositions and engaging original lyrics. The group's members are Robert McBride, Holly Shocke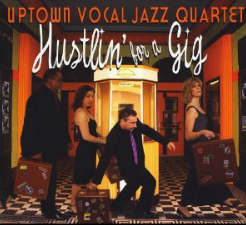 y, Andre Enceneat and leader Ginny Carr, who is responsible for UVJQ's original music, both lyrics and arrangements. The group is backed by a swinging 8-piece rhythm and horn section. Speaking of Jefferson, the opening track is a tightly harmonized, cooking tribute to the high priest of jazz vocalese—"He Was the Cat"—that features a fine tenor sax solo by Chris Vadala.  "Hustlin' for a Gig" is a lazy, cool blues with a smart lyric and backup vocal riffs reminiscent of LH&R's Basie adaptations. "Gone Gone Gone" is a hymn to the proverbial "flash in the pan"—here today and gone tomorrow, and would actually work well on a Broadway stage, while "I'll Remember Why," a smoothly harmonized ballad, tells about a lost love. The bluesy, finger-snapping "Caught You Spreadin' Your Love All over the Place" is a solo vocal with smooth, Basie-like backgrounds and punctuations from the rest of the group.
    
"This is the Life" is an upbeat swinger, reminiscent of the old big band vocal groups, includes a four-part harmonized scat and a nimble guitar solo by Steve Herberman. "A Million Miles," a pretty bossa-style love song with delicious harmonies, features Alan Blackman's sensitive touch on the piano. The vocalists take turns on "Java Junkie," a playful blues about coffee addicts with a fun, Dixie-style instrumental interlude. The lyrics describe the typical caffeine junkie: Big rain may be fallin', big snow may be squallin,' but Starbucks is callin' my name. A departure from their jazz ballads and swinging numbers is "Now I Have This," a seventies soul-style song that strongly recalls Stevie Wonder's "You and I," and features a love duet and some scat solos. The set ends with the medium swinger "You Ain't Seen Nothin' Yet," spotlighting the group's tight harmonies. All-in-all, the UVJQ mixes the old and new in a charming, original way on this recording. Their voices are pitch-perfect, as well as their diction—you can understand every word. AMY DUNCAN