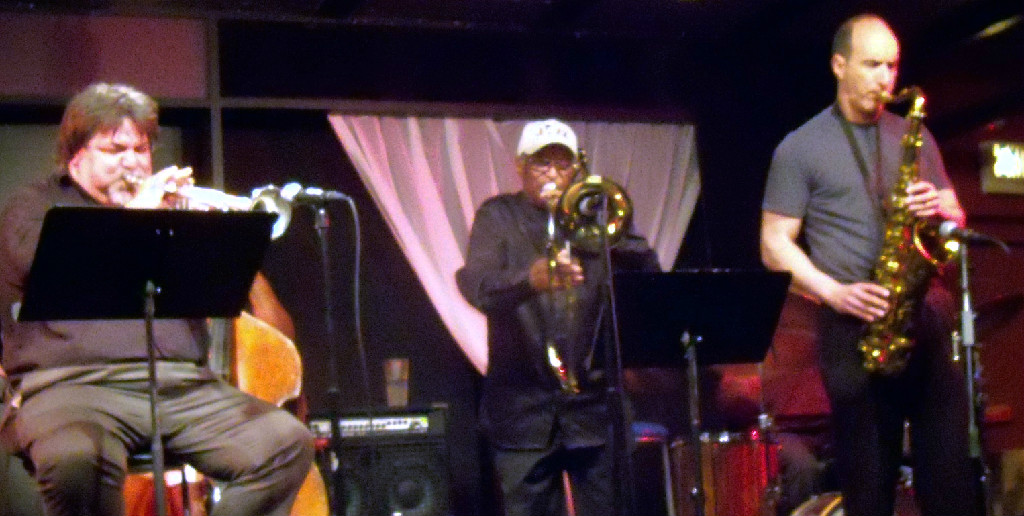 Before the 9:00 set by the Curtis Fuller–Keith Oxman Sextet at Dazzle, producer and record collector Tom Burns was speaking with a fan next to the bandstand. Burns was offering advance copies of the latest CD by Fuller and Oxman, while the fan held a newly-autographed LP of John Coltrane's "Blue Train". While "Blue Train" was not Fuller's first recording, it was an important early milestone for the trombonist, and the sight of Burns and the fan with these two musical bookends seemed to encapsulate Fuller's career. Later, in the midst of the band's set, Fuller introduced his Coltrane-influenced original, "The Maze", as a piece about "my friend John."  Fuller played on the theme but did not take a solo, leaving room for vastly different explorations by Keith Oxman's tenor sax, Al Hood's trumpet and Chip Stephens' piano. Meanwhile, Fuller sat on a high stool with a Buddha-like smile, deeply engrossed in the music.
The 77-year-old Fuller still elicits a rich sound from his horn, getting a bright tone when playing off-mike with the ensemble, but losing the high overtones when playing a solo with the mike thrust deep into the bell of his trombone. His ideas were as fresh as ever, but he played surprisingly short solos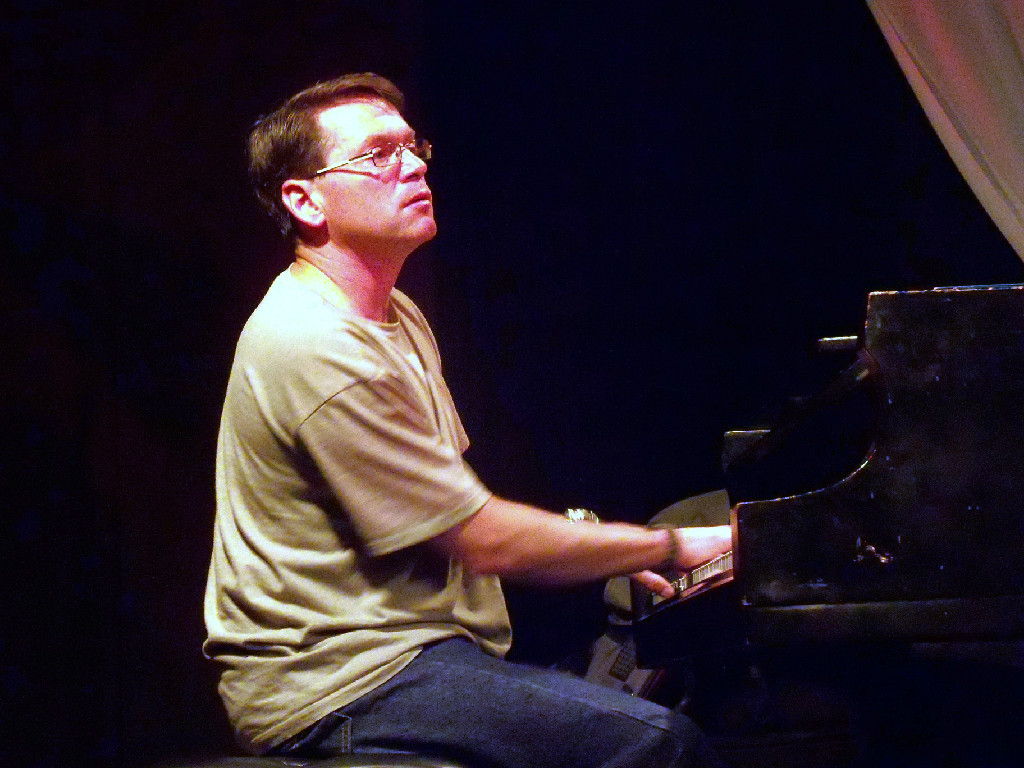 throughout the evening, and seemed to have as much fun introducing the tunes and his fellow musicians. The band—Oxman, Hood, Stephens, and the redoubtable bass/drum team of Ken Walker and Todd Reid—showed great flexibility as they moved between modal and post-bop styles, playing each with astonishing conviction, yet never losing their musical identity. Oxman's deep tenor tone reflected a multitude of influences, but even when incorporating elements of Coltrane's style in "The Maze", there was no question that this was Oxman's interpretation of Trane, and not just a copy. Similarly, one can hear traces of Clifford Brown, Freddie Hubbard, Lee Morgan, Don Cherry and Lester Bowie in Hood's trumpet, but his unique mixture of styles keeps him from sounding like any one of his influences for long. His improvised commentary with Harmon mute on the aptly-titled "Sweetness" was one of the highlights of the set. Stephens, who teaches jazz piano at the University of Illinois at Champaign/Urbana, was in superb form all night, with muscular quartal voicings in the opening number, "The Clan" and subtle chords in a mystical version of Billy Strayhorn's "Chelsea Bridge". Elsewhere, Stephens showed an encyclopedic knowledge of jazz piano, even updating Earl Hines' old trick of sustaining a high tremolo over several blues choruses. Walker and Reid got fewer solo spots, but made the best of them with Walker's melodic solo on "Chelsea Bridge" and Reid's mallet-driven spot on "The Clan".
Fuller first teamed up with Oxman about eight years ago through their mutual friend, Javon Jackson. They quickly found a musical kinship, and Fuller has made several trips to Denver to perform at Dazzle and to mentor Oxman's music students at Denver East High School. The sextet has become a perennial favorite at Dazzle, and the new album, "Down Home", set for a June 19 release, will be the third album Burns has recorded of the group for his Capri label. The group will play two more sets at Dazzle on Saturday, April 14. Fans of great modern jazz should be sure to attend.
Photos by Thomas Cunniffe.