Jazz History Online is not in the business of fortune-telling, but it's always gratifying to hear young musicians who have mastered the jazz language and have the potential to either carry the old traditions into the future or blaze innovative trails. The three vocalists reviewed here are all currently in their late 20s or early 30s and have developed their styles and sounds to a very high degree. They are certainly not the only promising vocalists on the scene, but their latest albums are very impressive.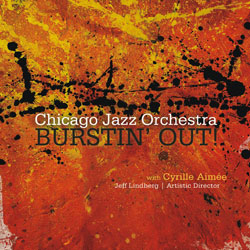 In the space of only a few years, Cyrille Aimée has risen from relative obscurity to being one of the most in-demand singers on the current jazz scene. Her light, flexible voice is comfortable in gypsy jazz groups, Brazilian duets (with Diego Figueiredo) and straight-ahead jazz combos. Her latest album with the Chicago Jazz Orchestra, "Burstin' Out" (Origin), shows that she is also a very effective big band vocalist. Several of the tunes are part of Cyrille's normal repertoire, but have been re-configured for the CJO's expanded forces of brass, reeds and strings. For example, "September in the Rain" now includes an extended shout chorus for voice and horns, as well as an extended tag for Cyrille's adventurous scat singing and Eric Schneider's muscular tenor sax. On "Easy Living" she deftly maneuvers through a thickly scored Taylor Eigsti arrangement, and she delivers a letter-perfect rendition of Charlie Parker's original lyric for "Yardbird Suite". "Them There Eyes", adapted from an old Count Basie arrangement, is revitalized with an energetic reading from Cyrille and the band, and after an exhilarating series of solos, is capped with Cyrille's daring thematic variation (including a surprising modulation!) in the final chorus. And she can break your heart too, as demonstrated by her touching rendition of "I'm Through with Love". There's a wide range of arrangers on the album—some tracks credit as many as four different arrangers!—and the CJO plays this variety of music with great spirit and precision. Cyrille Aimée's talents go far beyond the reaches of this CD (her tender French chansons and her creative use of vocal looping are not to be missed), but this album offers substantial evidence of her mastery of swinging classic jazz.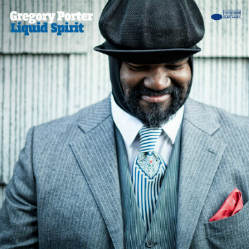 Gregory Porter has a voice that commands attention. He considers himself a jazz singer, but his music also includes elements of blues, soul and gospel. On the title track of his Blue Note debut "Liquid Spirit", Porter shows an emotional directness reminiscent of Oscar Brown, Jr. Yet on the very next track, the Abbey Lincoln/Max Roach composition "Lonesome Lover", he makes subtle changes to his sound to evoke the sorrow and passion imbued in the lyric. He is an engaging storyteller, and several of his original compositions are accessible enough to garner crossover airplay. But several of Porter's originals, including "Water under Bridges", "When Love was King" and "Wolfcry" show a deep appreciation and assimilation of classic songwriting. For all of the strengths of his original compositions, Porter's strongest statement as a jazz vocalist comes in the final track, "I Fall in Love Too Easily". Without restraining his passionate delivery, he performs an interpretation that both respects and expands the standard tradition. He has surrounded himself with excellent instrumentalists so that the jazz quotient is maintained even when the songs veer towards pop and r&b. The saxophonists Yosuke Sato and Tivon Pennicott both have fine solo moments, and the rhythm section of pianist Chip Crawford, bassist Aaron James and drummer Emanuel Harrold provide a solid but pliable background for Porter's vocals. This album should gain Porter the recognition he deserves; for his next album, he may want to focus on more standards to display the depth of his roots.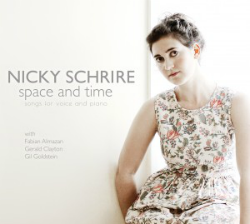 In contrast to the above discs, Nicky Schrire's latest album "Space and Time" (self-released through Magenta Records) is quiet and understated. Comprising four duets each with pianists Gil Goldstein, Gerald Clayton and Fabian Almazan, the album includes standards, Schrire originals, and unusual selections like South African bassist Victor Ntoni's "Seliyana". Schrire's agile voice allows her to flawlessly sing anything her vivid musical imagination and tonal expertise requires. For example, she sings the verse to "Someone to Watch Over Me" unaccompanied and she intimates several daring harmonic substitutions through an angular variation on the melody. As the track progresses, Schrire takes surprising melodic and harmonic turns that are not present in Goldstein's minimal accompaniment. Yet this album is not just a musical high-wire act. Schrire is quite skilled at telling a story, and the lyrics of her original compositions have a straight-forward quality that shines through the unusual melodies. Schrire and her accompanists spice up the repertoire with unusual (but musically appropriate) touches like the inside-the-piano drumming on Massive Attack's "Teardrop", the mysterious rumbling at the beginning of "Say It Isn't So" and the overdubbed vocals on "And So I Sing" and "Here Comes the Sun". In the press release for this album, Schrire says that she's not a jazz purist. But jazz purists aren't really what we need right now. Instead, we need musicians who can balance tradition and innovation. It may be that Nicky Schrire, Gregory Porter and Cyrile Aimée will become jazz's movers and shakers for the next generation. Or it might be someone we've never heard of. We must wait to see what the spirits have in store.
(Full disclosure dept: As many of this site's regular readers know, Nicky Schrire is an occasional contributor to our pages. However, her album went through the same detailed screening process as any other CD reviewed here. We are all the more proud to have such a talented musician as part of our writing staff.)