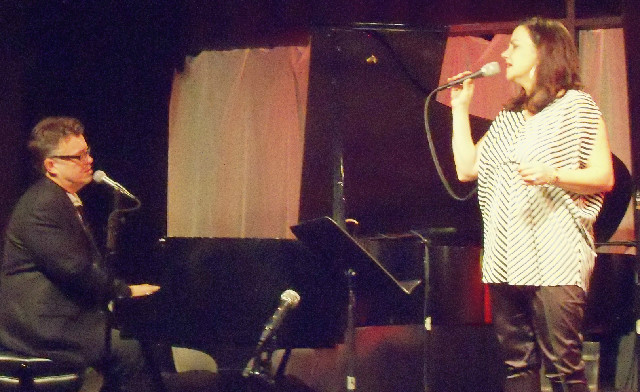 What to do on your day off? For the New York Voices, currently touring the Western US, the answers take two separate directions. Between performances in Casper, Wyoming and Flagstaff, Arizona, two of the members decided to hit the slopes for a day of skiing. The other two, Peter Eldridge and Lauren Kinhan, traveled to Denver's Dazzle night club for what Eldridge called "a drive-by gig". They enlisted the help of several local musicians, including saxophonist Bob Rebholz, bassist Mark Simon, drummer Mike Marlier and vocalist Aubrie Hamrick, and in a 90-minute afternoon rehearsal, the group learned two dozen pieces to be performed that night. While all of the musicians have performed with Eldridge and Kinhan in previous Denver appearances, there were several new compositions to learn, and to their eternal credit, the group played the arrangements as if they'd been performing them for years.
Eldridge and Kinhan used the opportunity to perform their original songs, most of which stylistically fall outside of the realm of New York Voices. Their music blurs the most basic genre classifications, and there is great distance between a song's original inspiration and the final composition. Eldridge opened the first set with his tune "Sunday Driver", and while he acknowledged the influence of Dave Frishberg, the song seemed much more sophisticated than anything Frishberg would write. Later, Kinhan introduced one of her originals as a country song, but I couldn't imagine any country band maneuvering the song's harmonic and melodic challenges as well as Kinhan and the instrumentalists.
Kinhan has an expr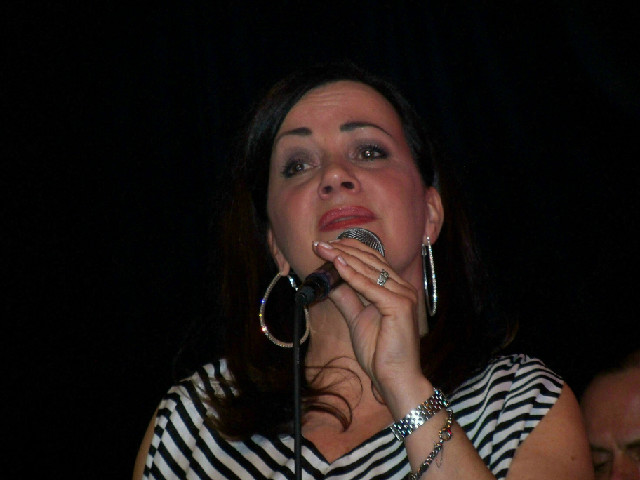 essive, soulful voice with astonishing flexibility. In the second set, she followed an emotional (and harmonically daring) version of Gershwin's "I Loves You, Porgy" with her original "Vanity's Paramour". The latter piece features an extremely complex melodic line and tongue-twisting lyrics. Yet, Kinhan sang the song with seemingly little effort and delivered an emotional wallop as well. Much of her music comes from original poetry, which ranges from the deep melancholy of "We're Not Going Anywhere Today" to the uplifting "Here Is My Avalon". Eldridge, doubling on piano and vocals, plays with great rhythmic impetus in an adapted locked-hands style. His vocal range may not be as wide as Kinhan's, but his expressive power is quite overwhelming. He touched our foolish hearts in a cleverly re-harmonized version of the Victor Young standard and made us laugh out loud to his witty lyrics on "Buffet Philosophy". Later, he sat astride the piano bench and placed an empty cardboard box between his knees. Using brushes, he drummed his own accompaniment to his song, "Full Grown Man on the Playground". Then Merlier joined in on his drum set, and the two percussioni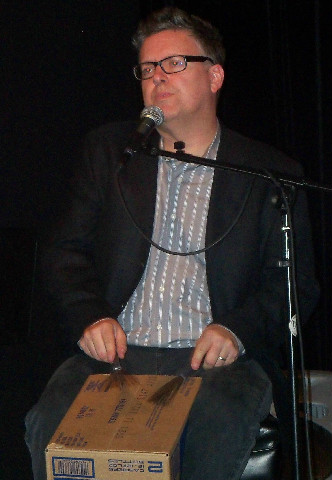 sts traded fours in between Eldridge's vocal statements. Throughout the night, Simon filled the room with his rich bass sound, and played a beautifully-crafted solo on "My Foolish Heart". In her two appearances on stage, Hamrick's voice blended seamlessly with Eldridge and Kinhan. Rebholtz was in great form all night, displaying his simpatico relationships with Eldridge with a lovely soprano sax obbligato on "An Interesting Person", and with Kinhan on an all-too-brief scat and tenor duet on "Dory and the Single Oar".
Most of the music was written for solo album projects, and the evening's program alternated between music from Eldridge's albums and Kinhan's. Since they usually appear on each other's albums, Kinhan was on stage to sing backups for Eldridge, and then would take the spotlight for some of her own pieces. It wasn't until the end of the second set that we heard an actual duet, "There Alone Go I". The heartfelt piece was co-composed by Kinhan and Eldridge, and from the gorgeous blend of their two voices, we must hope that they will compose more songs that they can perform together. Eldridge and Kinhan work well as a team, and their intense, personal music appeals to a wide range of tastes. If they come to your city on their day off, make sure you're there to hear them.
All photos by Thomas Cunniffe.