Perhaps the best way to begin discussing this new Teddy Wilson set is to reveal what it is not. Unlike their collections of Louis Armstrong, Coleman Hawkins, Lester Young and Count Basie, Mosaic's "Classic Brunswick & Columbia Teddy Wilson Sessions" is not a comprehensive boxed set. It fills in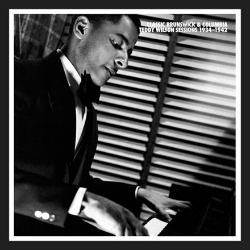 (some) of the gaps of Wilson's prolific discography between 1934-1942, leaving out the much-reissued—and absolutely essential—combo recordings of Benny Goodman and Billie Holiday. It's not too grand a leap to say that the Goodman and Holiday boxes should be in every serious jazz record collection, and anyone building a jazz library should acquire those albums before getting Mosaic's Wilson box. Mosaic and Sony negotiated for a 7-CD collection and size limitations required a few more difficult choices. The Mosaic set includes only sessions led by Wilson, and of those, the important "Blues in C-Sharp Minor"/"Warmin' Up" session was dropped from the current set as it also appears on Mosaic's Chu Berry box, and the Lester Young "I Found a New Baby" was also deleted because it appears in the Basie/Lester Columbia set. Unfortunately, Mosaic can't sell you copies of either the Berry or the Basie/Young boxes as they are now out-of-print, so if you can't find the sets in a library, you are left to buy a used—but overpriced—copy on ebay or discogs.
The problem with all of the inherent gaps becomes apparent after the opening session, a solo piano date from 1934. Here, the 22-year-old pianist—fresh from a period when he regularly played all-night sessions with Art Tatum—is determined to show his stuff. Oddly enough, it's not the influence of Tatum that we hear through Wilson's hands, but Earl Hines. Sharply executed octave lines, tremolos and audacious bass lines penetrate these sides, which are among the most energetic in Wilson's entire recording history. When the session ends, we jump ahead 15 months to a pair of instrumental tracks tucked in the middle of a Billie Holiday session. And there we find the Teddy Wilson we all recognize: elegant, refined, and tasty, with never a note laid to waste. What happened in between the fiery May 1934 solo session and the sedate 1935 Holiday session? Basically, fifteen recording sessions happened, including sides with Wingy Manone, Benny Carter, Taft Jordan, Bob Howard, Willie Bryant, plus the first Goodman Trio sides and an important solo with Red Norvo on a tune we'll get back to in a few paragraphs: "I Surrender, Dear". With the help of Tom Lord's online "Jazz Discography" and some diligent searching online, you can hear Wilson develop through these pivotal recordings, but isn't that what we've always expected Mosaic to do?
Taken in full, the Mosaic set includes all of the solo sides for Columbia and Brunswick—a reason for celebration in itself—plus Wilson's fine big band sides, a handful of instrumental dates and several sessions with vocalists ranging from the outstanding (Ella Fitzgerald and Lena Horne) through the underappreciated (Nan Wynn and Midge Williams) to the dreadful (Boots Castle and Jean Eldridge). Most of this music stands up very well on its own, and for the most part, the selection of alternate takes—several previously unissued—show just how much improvisation occurred on these records. Further, Wilson brought in some of the era's finest musicians for these sessions—for example, the three sessions featuring Nan Wynn feature, in turn, Tab Smith, Johnny Hodges and Benny Carter. Goodman appears several times, as does the superb Bobby Hackett, as well as Wilson's longtime colleague Ben Webster.
Webster was the key soloist in Wilson's short-lived big band. The ensemble, which used two trumpets, two trombones, four saxes and four rhythm, was well-rehearsed and capable of executing both powerful shout figures, and a swinging dance beat. Buster Harding's chart on an African-inspired piece "Booly-Ja-Ja" features intricate ensemble work and thrilling solos, while Wilson's arrangement of "The Man I Love" provides the pianist with an outstanding showcase for one of George Gershwin's finest songs. What kept Wilson's band from hitting it big may have been its lack of show-biz pretensions. In a vintage interview quoted in the notes, Wilson states flatly that he and his band members were musicians, not entertainers. Unfortunately, musicianship alone was not enough to compete with the flash of Jimmie Lunceford or the accessibility of Glenn Miller.
Among the small group sides, I was most attracted to the 1937 sessions featuring Wilson, Harry James, Red Norvo and John Simmons. Annotator Loren Schoenberg writes off the first attempts at "Ain't Misbehavin'" as "odd" and "strange", but the interesting mixture of James' muted trumpet and Norvo's vibraharp—an instrument he would not pick up again for several years—sound like an early prototype for the Modern Jazz Quartet and both principals seem to relish the challenge of this most unusual instrumentation. A week later, the same quartet tried again—this time with Norvo on xylophone—and the results were delightful takes on "Ain't Misbehavin'", "Honeysuckle Rose" and a two-part blues "Just a Mood". I was pleasantly surprised with the Nan Wynn sessions. Wynn didn't have a large vocabulary of stylistic devices (and to be honest, most singers of the time didn't need  many—they recorded singles, not albums, and their in-person features with big bands came only a few times per night) but Wynn sang in tune with precise rhythm, and on occasion, she could improvise around a melody (cf. her versions of "On the Bumpy Road to Love"). On the set's final session, Wilson reunites with Goodman's band vocalist Helen Ward on a lovely song called "You're My Favorite Memory". What makes this track so memorable is something we take for granted today: The entire first chorus of this 78 is a vocal/piano duet—no band, no rhythm, just Wilson displaying his outstanding accompanying skills behind a fine vocalist. This may be the earliest recorded example of such a (non-blues) duet; it certainly presages Wilson's superb 1943 duet with Mildred Bailey on "Rockin' Chair" for V-Disc (ALL of the Bailey/Wilson sides are essential parts of Wilson's discography. The corresponding Mosaic set is also out-of-print, but Sony has loaded all of the tracks on Spotfiy, Deezer and other major streaming services).
Without question, the highlight of the Mosaic set is the Chicago session of April 11, 1941. Presented here nearly complete—only a few sides have been lost over the years—this mostly unissued date features talk, rehearsals and a plethora of alternate takes. Wilson opened the date with his excellent rhythm section of bassist Al Hall and drummer J.C. Heard. We hear Wilson discussing repertoire with engineer Bill Savory before the trio runs down a version of Hines' "Rosetta" for balance. The group continues with a speedy arrangement of "I Know That You Know" and a gorgeous understated rendition of "Love Me or Leave Me". They play three takes on "Them There Eyes" and six tries on "China Boy" before Wilson dismisses them for the day. What follows is unprecedented in Wilson's discography and few others of this period: a series of 10 complete—and remarkably different—takes on "I Surrender, Dear".  Schoenberg's notes explain everything about this series of recordings except for the crucial question—why? He rightly states that any of the takes could be considered a masterpiece, but Wilson seemed dissatisfied (the reasons are certainly not apparent from the recordings) and he continued to create beautiful versions of this song. Apparently, Wilson approved the last take for release, but it was for naught: the recording stayed in the vault until late in the LP era, when French CBS collected all of the Wilson solos for a boxed set.
Looking at Mosaic's discography for this collection, I wonder about all of the unissued material that comes from 1941 and 1942. The April 11 session has approximately 90 minutes of music, all of which is seemingly acceptable, yet Columbia only released five tracks at the time. In the last three sessions of the collection, each date only yielded one track released on 78. Was Columbia getting disillusioned with the pianist, or was Wilson dealing with setbacks, both professional (the demise of his big band) and personal (his divorce from fellow pianist and bandleader Irene Wilson)? It seems that something was clouding the judgment of both Columbia and Teddy Wilson, and we may never know the answer to that puzzle. Thankfully, the music survives, and while this Mosaic collection does not provide the complete picture of Wilson's development, it gives us several crucial pieces.