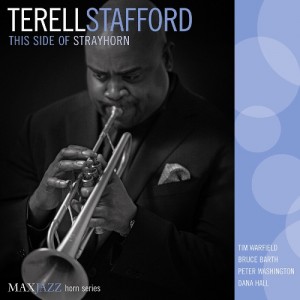 For most of his career, Billy Strayhorn worked in the shadows of Duke Ellington, and as a result his gifts as a composer were not widely recognized during his lifetime. Of course, Ellington was Strayhorn's biggest supporter, recording, performing (and most importantly, crediting) his music. After Strayhorn's passing, Ellington recorded a brilliant memorial album "…And His Mother Called Him Bill". Since then, Strayhorn's music has been the subject of several album-length tributes, including those by Joe Henderson and Tommy Flanagan. Trumpeter Terell Stafford joins that austere company with his new MaxJazz CD, "This Side of Strayhorn".
Produced by John Clayton, and featuring arrangements by pianist Bruce Barth, Stafford and his quintet take a fresh look at Strayhorn's music, maintaining the original moods of some songs (the nostalgic "My Little Brown Book", the ballads "Lush Life" and "Day Dream") and making dramatic changes to others (an aggressive version of "Raincheck" and a stunning rhythmic re-write of "Johnny Come Lately"). While Barth's charts don't sound Ellingtonian, they fit especially well into the quintet's sound, and the group digs into this music with the same fervor as they would with hard bop originals. Elements of the Ellington sound are not far away though, with Stafford's expert work with mute and growl techniques showing that he would have been an excellent addition to Ellington's brass section.
Stafford is well-known for his fiery trumpet work, but he is also a master balladeer, and his lovely version of "Lush Life" gives new life to a much-abused standard. Stafford's burnished tone matches the world-weary lyric, and he phrases the song as a great singer would, letting the song speak for itself without adding unnecessary embellishments. The melancholy mood holds though the double-time section and Stafford's reprise of the melody is marked by a gradual (rather than sudden) return to the original tempo. Tim Warfield has been Stafford's front-line partner for several years and his warm smoky tenor and not-too-strident soprano are excellent foils to the leader. Warfield's solos have a great interior logic, and his solo on "Multicolored Blue" shows a great appreciation for earlier tenor styles and a wonderful sense of dynamic contrast.
The rhythm section of Barth, Peter Washington and Dana Hall provide excellent support and fine solos throughout the CD. Their splendid teamwork is especially noteworthy on "Lana Turner" (a tune recorded by Ellington as "Charpoy"), where the levels of intensity all stem from the rhythm section's groundwork. Washington is also in superb form on "UMMG" where his duet with Stafford recalls—but does not copy—the work of Dizzy Gillespie and Jimmy Woode on Ellington's famous "Jazz Party" recording. Hall gets his best opportunity on the tricky arrangement of "Johnny Come Lately" where he expertly navigates the chart's twists and turns, and then tops it off with a wondrously inventive solo. The Barth/Stafford duet on "Day Dream" is one of the album's highlights, and based on their marvelous interplay, these two should strongly consider making a duet album.
This excellent album, created in cooperation with Strayhorn biographer Walter van de Leur and Billy Strayhorn Songs, comes highly recommended.