JANICE BORLA GROUP: "PROMISES TO BURN"  (Tall Grass 281)
In addition to being one of the best singers in the Chicago area, Janice Borla is currently director of vocal jazz at North Central College in Naperville, Illinois. Her newest album, "Promises to Burn" features her husband, drummer Jack Mouse, and many of the same m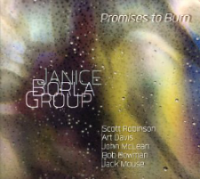 usicians who performed on Mouse's recent CD, "Range of Motion": the front line is held by trumpeter Art Davis and tenor saxophonist Scott Robinson, with guitarist John McLean, bassist Bob Bowman and Mouse's drums filling out the group. Borla sings complex lines like Bill Evans' "Funkarello" and Lennie Tristano's "Lennie's Pennies" with uncanny accuracy, and her lithe, flexible voice allows her to function as one of the horns. Within the first two tracks, she sings with each of the instruments, seamlessly blending her sound to her accompanists. Borla wrote all of the arrangements, and at times she uses her wordless voice as a solo background. Her scat singing is quite inventive, revealing a deep knowledge of jazz harmony. Not satisfied with the usual mix of bop tunes and standards, Borla has included pieces by contemporary jazz artists Jack DeJohnette, Joey Calderazzo and Bob Mintzer to the playlist. And when she does include a standard, she finds unique ways to make it her own. Her version of Leonard Bernstein's "Some Other Time" is an elegant dance between voice, tenor and guitar. It is refreshingly free of the histrionics that have marred other performances of the song. The introduction of "You Don't Know What Love Is" sounds like a samba, but Borla foreshortens the phrases so that 16 bars of melody are squeezed into 12 bars. The compressed chord sequence is also used in the solo section, and Robinson, Borla and Bowman seem happy to rise to the challenge. But while the music challenges preconceptions about this music (and vocal jazz in general), Borla's presentation is quite accessible, and easy to appreciate by any open-minded listeners.
REBECCA DUMAINE/DAVE MILLER: "BETTER THAN ANYTHING" (Summit 619)
After a decade of teaching voice and acting on the East Coast, Rebecca DuMaine relocated to the San Francisco Bay, where she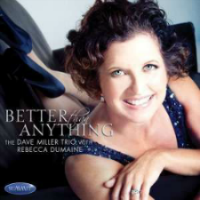 continued private teaching and rekindled her interest in jazz singing. On her disc "Better than Anything" (Summit), she is accompanied by a trio led by her father, pianist Dave Miller. She rarely scats, but she clearly improvises melodic variations over the lyrics (her second chorus of "What Is There to Say" is particularly fine). DuMaine's light voice swings easily over the trio and she effortlessly changes the rhythms to emphasize important words in the story. She has researched some of the more obscure alternate lyrics for "Oh! Look At Me Now" and has written updated lyrics for the title track. The main problem with this disc is a feeling of sameness, even with varying arrangements and styles. With 15 tracks and a total running time of just under 52 minutes, the album might have been better with fewer, but longer and more developed tracks. While Miller is a fine accompanist and a passable soloist, DuMaine desperately needs a horn player as a contrasting solo voice. And while bassist Mario Suraci and drummer Bill Belasco are marvelous in their supporting roles, neither gets a solo opportunity on the entire album. DuMaine might also consider picking up a second language—with three Brazilian songs on the playlist, it seems a shame that she doesn't sing any of them in Portuguese. DuMaine has the musicality and maturity to become a major jazz vocalist, but she could certainly stand to take a few more risks and expand her musical horizons.
VERTICAL VOICES: "FOURWARD" (self-produced)
Julia Dollison and Kerry Marsh enjoy a good challenge. Their previous album was a vocal adaptation of the big band music of Maria Schneider. While retaining their group name Vertical Voices, they have expanded from a duo to a quartet, a change reflected in the title of their new CD, "Fourward". Dollison and Marsh now teach in Colorado (Dollison at Metro State University in Denver, and Marsh at the University of Northern Colorado i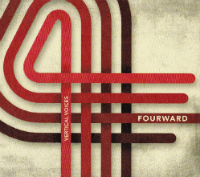 n Greeley), and Vertical Voices' two newest members also teach in acclaimed university vocal jazz programs—Jennifer Barnes at the University of North Texas in Denton, and Greg Jasperse at Western Michigan University in Kalamazoo. All of the arrangements on "Fourward" were written by members of the group, and they reflect a wide range of musical styles. The album opens with a wordless adaptation of the Yellowjackets' "Timeline" which offers brief scat solos by all four vocalists, and a brilliant final chorus which builds and builds through overlapping vocal lines. Imogen Heap's "First Train Home" mixes overdubbed effects with the well-blended pure voices of the ensemble. While Vertical Voices embraces some of the more progressive aspects of vocal group style, they have not left tradition behind. Their gently swinging version of Johnny Mandel's "Emily" reflects the influence of Singers Unlimited and New York Voices, and their refreshing take on Carol Welsman's "New Day" should inspire listeners to investigate the music of this fine Canadian pianist and vocalist. Through most of the album, the group is accompanied by a full rhythm section (including pianist Joe Gilman), but on Ralph Towner's "Hand in Hand", the accompaniment is pared down to percussion and tabla. When the instruments drop out on that track, we hear one of the few a cappella segments on the entire album. Call me old-fashioned, but I'd like to hear more of this group without the electronics and the instruments. I suspect that they could find exciting new directions within the realm of a cappella music.