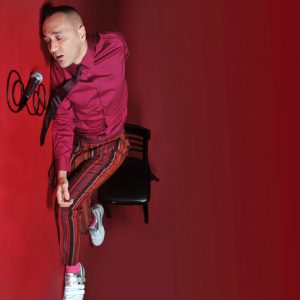 Theo Bleckmann uses his playful tonal perfectionism and provocative musical sensibility in approaching his vocal artistry. His uncategorizable style has become his calling card in the jazz world foreshadowing the future of vocal jazz. His eclectic choice of material includes Charles Ives, Kate Bush, Joni Mitchell, standards and original compositions. What makes his music so intriguing is his use of ineffable soundscapes using his voice and a loop pedal along with a range of unusual instruments from kalimba, chimes, glockenspiel, toy microphone, and sewing machines. Besides a Grammy Nomination for Best Classical Crossover Album for the project "Twelve Songs by Charles Ives," Bleckmann received the prestigious Jazz ECHO award from the Deutsche Phono-Akademie in his native Germany. With approximately fourteen recording projects, Bleckmann humbly gives credit to an impressive list of musical risk takers like himself. He worked as a core ensemble member in Meredith Monk's group for fifteen years in addition to performances with diverse composers such as Philip Glass, John Zorn, David Lang, Kirk Nurock, and Kenny Wheeler. He effortlessly displays his delicate delivery and tonal beauty on his recent solo recording, "I dwell in possibility," and on collaborations with guitarist Ben Monder and the Refuge Trio (featuring pianist Gary Versace and drummer John Hollenbeck). Bleckmann shared this interview during his stay in Berkeley, California during a special workshop he presented along with Laurie Antonioli at the Jazzschool.
ELLEN JOHNSON: You've been referred to as a "mad genius" or one that approaches music and performance in a highly provocative style. How did that happen?
THEO BLECKMANN: I have always sought out different ways of expressing myself artistically. I saw myself becoming a painter, so all through my childhood I studied art. I was also a gymnast, a figure skater and, as a boy soprano, I performed as a soloist in children choirs and studied classical piano and guitar. I loved the community of performing and singing with others as it was quite different than always drawing from oneself in painting. By the time I was nineteen I eventually turned to music full time. I encourage my students to be a bit "all over the place" rather than limiting their viewpoint too early on. I don't want them to become experts in a self-imposed, narrow field of conventional experts. Most of them come in with so much guilt about their "extracurricular" interests that I tend to encourage the diversity rather than shoot it down. I tend to follow my own interests based on instinct and less on income. Creativity for me takes place between play and the unknown. One of the main qualities that drew me into jazz and contemporary music in the first place was its spirit of defiance–the urge of creating something provocatively new out of the past and to challenge the listener while simultaneously seducing them. This energy requires an outbound and inclusive view of all creativity.
EJ: Besides your own compositions you've recorded music from artists as diverse as Kate Bush, Charles Ives, Joni Mitchell, and Stephen Sondheim. How do you determine what compositions to record?
TB: I don't tend to distinguish songs or composers by "genre" but instead by whether I feel I have something to contribute to their music. Of course, I have to really love the song I take on and, I tend to live with music for a long time before I decide to record. Fifteen years prior to re-arranging Charles Ives with the jazz-rock ensemble Kneebody, I played Ives's music with pianist Denman Maroney right off the page. Kate Bush's music has been in my life since my teens and I had been toying around with a few arrangements for years before taking on her entire catalog of work. Taking my time allows me to have a deeper relationship with each song and/or composer, one that might otherwise be quite superficial or artificially superimposed.
EJ: You've collaborated with a varied and eclectic group of artists including Laurie Anderson, Michael Tilson Thomas, Sheila Jordan, John Zorn and Meredith Monk. What made you seek out those relationships and how has it contributed to your artistry?
TB: I didn't actively seek out a lot of these collaborations, they happened very organically, either because someone heard me sing or someone else passed my name along. Every one of these artists (and many others not listed above) has influenced me tremendously. They all have different ways of getting to their truth and it opens up many doors for my own thinking and process of making music. Jazz instrumentalists often go through the school of "on the job training" by learning from experienced bandleaders, so why shouldn't the same apply to vocalists?
EJ: What inspires you to explore the different tonalities, colors and dimensions of the human voice?
TB: The human voice has a limitless range of expression. When you add words, you often obfuscate that very power. I have always enjoyed making sounds with my voice, but rather than merely repeating or imitating sounds, I am interested in getting to a more personal truth with wordless singing. This is a somewhat involved process and one I became familiar with in my work with Meredith Monk. It requires each sound, each syllable to have a strong connection to your own emotions, similar to that of a lyric or a narrative. Once you have gone beyond mere "vocal photography" (as Meredith calls it), you can actually embody the sound; you are the sound, which then tells an incredibly powerful story without words.

EJ: It seems that electronics/technology play an important role in your approach to composing. What motivated you to integrate these instruments in your performances and recordings?
TB: In 1993 the very first looper I ever bought was simple and had very little memory. I got it on a whim as a practice and composing tool. I spent about two years working with it and writing hundreds of short loop pieces for it before finally performing with it onstage. I like the expansion of orchestration, something that cannot ever be replicated with any other instrument or synthesizer because it is its very own vocal sound. With it, I am able to become a tapestry against which other things can take place, a choir of voices or a soloist who paints with vocal sounds. These electronic tools have informed my arrangements and compositions in two ways: sometimes ideas come about because of my setup and other times I compose away from my setup and then try to realize it with my electronics. That process turns it into yet another, third thing. Over time my setup has grown in complexity. However, in recent years I have unplugged it a lot just to see what happens. My recent solo record "I dwell in possibility" was recorded without any of my electronics. Instead, I made use of the different acoustics at a monastery in Switzerland where we recorded the CD. I actually felt more challenged to NOT use my usual set up and rely on it as I had before. Of course great credit in this whole field goes to Jay Clayton and Urszula Dudziak, who have been pioneering the use of electronics in vocal jazz for many decades.
EJ: Do you see jazz singers headed in a more eclectic and innovative direction in the future, as in moving away from the standards and accessing other types of compositions? What are the challenges of taking the road last traveled?

TB: Yes, a lot of singers are now veering away from the standard repertoire. They want to take on their own musical history, not that of their parents or grandparents. Even though The Great American Songbook will always be timeless and is a great way to learn about composition, improvisation and jazz, jazz is an evolving art form that requires constant change and reinvention. I believe we are at a truly exciting crossroads in vocal jazz. Young singers all over the world have gone through extensive training of the tradition but so many of them do not feel represented by it anymore. They have found their own repertoire and new ways of doing things, which is how this music is going to survive.
EJ: Since our music reflects our life, what other influences help to inspire you as a jazz artist?
TB: I am very influenced by the visual arts. In many ways, I believe that the visual arts and performance art are often ahead in their risk-taking and irreverence. Art most often does not have to deal with the aspect of time or having to keep an audience entertained, so ideas can be quite puzzling, daring, disturbing, ridiculous and absurd, and they can encapsulate very focused, provocative and undiluted ideas.
EJ: Where do you see your music going in the future?
TB: I honestly don't know. The way I choose projects is very instinctual and based on a hunch—the magic 8-ball says: "Signs point to yes."
BONUS VIDEO: "This Woman's Work" (from "Hello Earth! The Music of Kate Bush")

Theo Bleckmann (voice, electronics, arrangements)
Caleb Burhans (violin, guitar, voice)
Henry Hey (keyboards)
Skuli Sverrisson (electric bass)
John Hollenbeck (drums, percussion, crotales)
Video footage recorded live at Symphony Space Thalia, NYC
Recorded live March 11, 2011
videography by John Labbe