When Jazz History Online started seven years ago, reissues and historic recordings were somewhat rare. More often than not, our staff pulled classic recordings out of their own collections to review because there weren't new editions to cover. With the current reissue boom, the box sets have started to pile up around the JHO office. To lessen the backlog, here are brief reviews of seven newly-released historical recordings. Some feature music which is well-known; others offer newly discovered performances by jazz icons. Some of these releases have been delayed, while others surprised us with their sudden appearance. It's a treasure trove, with something for everyone.
Bill Savory was a recording engineer who worked for several radio transcription companies in the Thirties and Forties. He used the studio equipment to tap into the network feeds of remote broadcasts by some of the greatest jazz groups of the era. For years, all that was released of Savory's collection were tracks of Benny Goodman, but in 2010, when Loren Schoenberg acquired the Savory collection for the National Jazz Museum in Harlem, he discovered recordings by several jazz icons including Count Basie, Lester Young, Coleman Hawkins, Fats Waller, Jack Teagarden, Lionel Hampton, Roy Eldridge, Ella Fitzgerald and Chick Webb. When word got out about this amazing collection, many jazz fans assumed that Mosaic Records would issue the recordings. However, the contract initially went to Apple Music, who has issued four volumes of Savory material to date through downloads on iTunes. Eight years after their rediscovery, Mosaic has finally issued "The Savory Collection, 1935-1940" (Mosaic 266) a 6-CD collection which includes all of the recordings issued by Apple, along with several bonuses. (Reviews of Volumes 1, 2 & 3 have been published in earlier issues of JHO; follow the links beneath each volume number to read the original notices. Volume 4 was released at the same time as the announcement of the Mosaic set, so I decided to include that review with the box set). Disc 1 of the Mosaic corresponds with Apple's initial volume, starting with Hawkins' expanded broadcast version of "Body and Soul", followed by two tracks by Fitzgerald and Webb. The Yacht Club remote by Waller and his Rhythm has been improved with complete transfers of all the selections, and the addition of a charming Waller feature on "When I Go A-Dreamin'". The first of several outstanding Martin Block radio jam sessions follows, with Hampton leading a combo including Herschel Evans, who passed away just months after this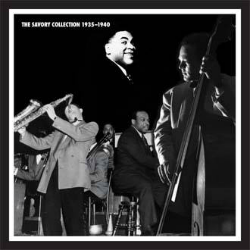 broadcast. In both this session, and the Basie sessions which close the set, Evans is heard to great advantage, performing stunning solos which re-establish him as one of the greatest swing era tenor saxophonists. Disc 2 follows the sequence of Apple's Volume 3 (Apple's Volume 2 was dedicated to Basie, and Mosaic wisely decided to save those goodies for the end). Albert Ammons and Joe Sullivan performances from Café Society bookend the disc, with a Roy Eldridge/Chick Webb session, a Waller-led Block jam featuring Teagarden and Pee Wee Russell, and several tracks by the John Kirby Sextet appearing in the middle. The one improvement is that the complete version of the Benny Carter Orchestra's "More Than You Know" has been restored.
Apple's Volume 4 is split between Mosaic discs 3 and 4. Two fine Block jam sessions appear, one with Bobby Hackett and Joe Marsala, and the other with Teagarden. Also included are three brief Hackett features, including his first recorded version of "Body and Soul". Two sessions by Mildred Bailey are newly issued in the Mosaic set, and while the sound isn't the best, Bailey displays her delicate voice, superb diction, and profound swing. A Stuff Smith selection from the 1938 Randall's Island Jazz Festival doesn't fare as well, with extensive radio crosstalk coming in from other stations. Teddy Wilson's big band leads off Disc 4, and the sound quality is stunning for its day (Engineer Doug Pomeroy worked miracles restoring these fragile and decomposing source discs). A so-so set by Glenn Miller's band leads into a disappointing collection of Joe Sullivan piano solos, recorded at a private party. Sullivan has long been underrated, but the 25 minutes of piano improvisations will not raise his stature. He seems unable to focus on any song for more than two minutes, and there are violent changes in style as he switches gears. Sullivan was far from the first or last to need a formal structure to present his best interpretations, and that element is missing in these recordings. Discs 5 and 6 are all Basie, capturing his band with soloists Buck Clayton, Harry Edison, Dicky Wells, Herschel Evans and Lester Young in full swing at Randall's Island, the Famous Door, the (Chicago) Panther Room and other locations. Apple issued 11 tracks from the Famous Door, and Mosaic adds another 10, including unheard arrangements of "Moten Swing", "He Ain't Got Rhythm", "Oh, Lady Be Good" and "Russian Lullaby". While the highlights of the Basie tracks are those originally issued by Apple (including two versions each of "Texas Shuffle" and "Limehouse Blues", and a wonderful small group jam on "Rosetta") every new track from this legendary band is a treat. The band, energized by the unbeatable rhythm team of Basie, Freddie Green, Walter Page and Jo Jones, is riveting throughout the two hours of music presented here. As good as the rest of "The Savory Collection" is, the Basie tracks are worth the box set's $99 asking price. There are only 5000 copies, so if you haven't heard this music yet, be sure to get one now. By the way, these recordings have not exhausted the Savory Collection. Schoenberg is still negotiating with the musician's estates, so there may be many more volumes to come on Apple, and maybe even Mosaic.
From 1951-1954, Norman Granz made his first attempt at a "song book" series, not using a vocalist, but the then-new Oscar Peterson Trio. The 5-CD set "Oscar Peterson Plays" (Verve 5380361) collects 10 12-inch LPs, each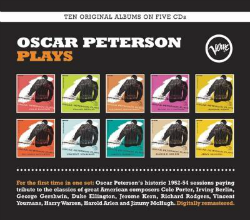 focusing on a different composer: Cole Porter, Irving Berlin, George Gershwin, Duke Ellington, Jerome Kern, Richard Rodgers, Vincent Youmans, Harry Warren, Harold Arlen and Jimmy McHugh. Peterson is the main soloist throughout the set, and his technical prowess and creativity never falter. As the set progresses, the arrangements become more varied, and there are additional solo opportunities for Barney Kessel, Herb Ellis, and Ray Brown. More often than not, the highlights of these 113 tracks lie in the small details—a sensitive interpretation, an unusual approach to a melody, a stunning turn of phrase in the midst of a solo—rather than a handful of outstanding tracks. The best advice I can give to potential listeners is not to listen to this set in long stretches. One or two composers at a sitting makes it easier to focus on the details.
Apparently, the master tapes for these rare LPs have disappeared or were unusable, so all of the transfers were made from discs; most of the scratches have been filtered out, but some pops and swishes remain. By the way, there is one mistake on the set: On the Irving Berlin album, Peterson plays a standard called "If I Had You"; unfortunately, it is not the song by that title which Berlin wrote—instead it is the more familiar song written by Irving King and Ted Shapiro. Apparently, someone discovered this error after the original LP was released, for in 1959, when Peterson re-recorded the Songbooks in stereo with his then-current trio of Ray Brown and drummer Ed Thigpen, he replaced "If I Had You" with another Berlin standard. The stereo remakes are also available in an imported Verve set called "The Song Books". The 5 CDs in that set include 9 albums, as Youmans and Warren shared an LP in the 1959 cycle.
There are few delights greater than the vocal duets of Ella Fitzgerald and Louis Armstrong. From their initial Decca recordings in 1946 through their 1956-1957
triumphs on Verve, Fitzgerald and Armstrong wedded their unique and accessible styles in a variety of settings from studio orchestras to small combos. All of their duet recordings are present in the new 4 CD set, "Cheek to Cheek" (Verve 26763), including several alternate takes, a rare live performance featuring Ella with Armstrong's All-Stars, and a vintage radio broadcast with Bing Crosby. While the Decca sides justify the new reissue—an earlier set collected only the Verve masters—those early recordings only display the initial chemistry between these two friends. By the time they recorded their eponymous first album for Verve, there is an unmistakable intimacy to their music. The choice of four songs associated with Fred Astaire and Ginger Rogers helped (listen to their tender version of "Isn't This a Lovely Day" and the glorious interaction on "They Can't Take That Away From Me" for prime examples) but once the mood was in place, every song they touched seemed to carry a subtext of love and warmth. I doubt that "Moonlight in Vermont" or "The Nearness of You" will ever receive greater interpretations than what Ella and Louis performed on this day in August 1956. Fitzgerald's effortless melodic variations are the perfect contrast to Armstrong's blunt vocal and instrumental statements (a combination referred to as "whipped cream and sandpaper") but neither performer was locked into their specific roles, as evidenced by their rendition of "Tenderly", where Armstrong improvises a brilliant reduction of the melody, and Fitzgerald closes the side with an impression of Armstrong's signature coda. The Oscar Peterson Trio (plus Buddy Rich) provides outstanding support through the album, and their quiet power is especially noteworthy on "Cheek to Cheek" as they subtly build the performance over three extended choruses, and then effortlessly bring everything back down to the original dynamic within a few beats. "Ella & Louis" ends with the glorious "April in Paris", which finds both principals sing their choruses sotto voce, as if they were hesitant to disturb a budding rose. Armstrong's trumpet chorus is soft and delicate as well, and the final duo half-chorus lets this album close with a whisper rather than a bang. How appropriate that this song was the last music Armstrong heard before he died.
On the sequel album, "Ella & Louis Again", the mood is relaxed, and it's obvious that everyone in the studio was having a great time. This is especially true on the outrageous take of "Stompin' at the Savoy" where things start to fall apart when Armstrong's music falls off the stand and he starts scatting to cover the space (you see, there is some truth in that old jazz myth!). Things continue to spin out of control with Granz's signal for additional choruses, and through Armstrong's aborted story of a notorious incident involving Fitzgerald in Atlantic City. The lightheartedness also pervades through the duo versions of "I Won't Dance", "A Fine Romance" and "Let's Call the Whole Thing Off", as well as the solo renditions of "Comes Love" (Ella) and "Let's Do It" (Louis). Yet, Fitzgerald and Armstrong also calmed things down to create a sensitive performance of "Autumn in New York" (Somehow, I don't think it's a coincidence that both "April in Paris" and "Autumn in New York" were both composed by Vernon Duke). Just five days after completing "Ella & Louis Again", the pair returned to the studio to record a classic version of "Porgy and Bess". The main release has been discussed here, but this box set also includes two mono masters and a handful of rehearsal takes. [One note regarding the rehearsal and alternate takes: On this set, Verve included a sampling of Armstrong's alternates and rehearsals for his "Ella & Louis Again" solos, but they couldn't fit all of the tracks within the 4 discs. To have the complete session, listeners will need to purchase  the "Pops is Tops" set discussed directly below.]
"Pops is Tops" (Verve 27518) is a 4-CD set collecting the Verve solo studio recordings of Louis Armstrong. All of the music was recorded over a 2 ½ month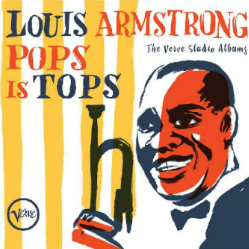 period starting in August 1957. Armstrong was performing a grueling set of nightclub performances during this period, and on the earlier recordings, his trumpet is shaky and inconsistent. Granz let Armstrong rest his chops while focusing on singing. On the two albums which open the collection, "I've Got the World on a String" and "Louis Under the Stars" (both with orchestras arranged and conducted by Russ Garcia), Armstrong artfully conceals his embouchure problems with improvisations in the lower register of the horn, and makes some of his best statements vocally. The mono take of "Little Girl Blue" presents Armstrong at his most sensitive, singing the lyrics with great tenderness, while subtly using dynamics to profound dramatic effect. The title track of the first album finds Armstrong swaggering like Frank Sinatra, and his version of "I Gotta Right to Sing the Blues" makes a stunning comparison with his classic 1933 recording, even without the final majestic trumpet chorus on the remake. The opening track of "Louis Under the Stars" is one of Armstrong's finest recordings of the period: "Top Hat, White Tie & Tails", a exuberant performance that also lead off the 1958 "Playboy Jazz All-Stars" album (which was undoubtedly the track's first release). He is also magnificent on two familiar songs from his repertoire, "Home" and "Body and Soul". The one misfire is "You're Blasé". As great as Armstrong was, this song seemed to stymie him. Each time he hits the middle of the bridge, he misses a critical chord change and plays notes that are outside of the harmony. Why this track was issued in the first place is a total mystery to me, and its reissue is an embarrassment to this great artist. (The Fitzgerald/Armstrong set has a similar sequence, as Armstrong feels his way through "Oh Bess, Where's My Bess?" However, the difference is that after the session, Armstrong received a rehearsal tape from Russ Garcia.  Armstrong practiced diligently at home, and then came back to the studio two months later and overdubbed a stunning take of the song.)
Thankfully, there are more than enough triumphs on "Pops is Tops" to make up for "You're Blasé". "Louis Armstrong Meets Oscar Peterson" is a triumph from beginning to end. Recorded in mid-October 1957, Armstrong's trumpet chops are back in shape, and he performs brilliant high-register work on three takes of "Let's Fall in Love". The duet readings of "What's New?" (with Peterson) and "There's No You" (with guitarist Herb Ellis) are especially noteworthy, with Armstrong delivering understated and sensitive readings of these fine songs. The fourth disc reissues the digital collection "A Day with Satchmo", which documents all of the recordings Armstrong made on August 1, 1957.  It's fascinating to hear Armstrong working his way through "I Get a Kick Out of You" (in the early takes, the verse gives him lots of trouble, but the final version is quite good), "Makin' Whoopee", "Let's Do It" (with several choruses of rare lyrics) and "Willow Weep for Me". The highlight of the set also comes from August 1, although it appears at the end of disc 3. It is an unfettered jam on "Indiana" suggested by Armstrong as a warm-up. Armstrong starts by blowing his horn from the opposite side of the studio(!) and the Peterson Quartet accompanies with total abandon. The sound mix is a complete mess and the performance lacks any discipline, but the energy of the performance will raise any listener from their seat. Note that these CDs use the mono editions of these albums; for the most part, the choice is a good one as the tight mono mixes are far superior to the dispersed sound of the stereo versions. There are plenty of stereo recordings within the set, including all of the rehearsals, alternate takes and the "Indiana" jam.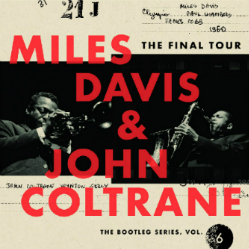 Columbia/Legacy's Miles Davis reissues continue with "The Final Tour, 1960 (The Bootleg Series, Volume 6)" (Columbia 44839). This set, which comprises the first three stops of the eight-night tour, was nearly omitted from this survey because we've covered most of this music before. Acrobat's 4-CD release "All of You: The Last Tour" was reviewed here, and it includes all of the material on the Columbia set, except for the two-set performance at Paris' Olympia Theatre. However, Columbia prides itself on being the first company to pay royalties to the musician's estates, and that is a very good reason to include the album here. Another good reason is the sound quality: Columbia's engineers have removed the echo from the Paris concert, and fixed an out-of-phase cymbal sound from the Copenhagen and Stockholm concerts that appears throughout Acrobat's edition of these performances.
The Paris concerts opened the Davis Quintet's tour, and apparently the French weren't sure about John Coltrane's evolving methods of improvisation. To be fair, most of his current recordings had not yet been issued in the US, let alone Europe, so the saxophonist's attempts at multiphonics (playing more than one note at a time) was controversial to say the least—especially within a fairly straight-ahead context. In the coming years, Davis' concerts would become more progressive, with bolder improvisations by the leader as well as his young sidemen, but in March 1960, the rhythm section of Wynton Kelly, Paul Chambers and Jimmy Cobb still hewed to the tightly-swinging model of Davis' Prestige and early Columbia recordings, and while Davis' solos took a few chances with notes and pitches, it was Coltrane's explosive solos which seemed to blow the music out at the seams.  I've heard various tales about the audience mumbling—and even booing—Coltrane at this concert, but, save for an outburst during the second set's "Walkin', none of those noises come through on this recording (Indeed, the crowd is surprisingly positive: someone whistled their approval of the multiphonics in the first set's "All of You"!)
As I've noted in earlier reviews of "The Bootleg Series", if Columbia wants to make unauthorized recordings of Miles Davis obsolete by offering their superior and legal editions, those editions need to be complete. I have no problem with ditching a LaserLight double-disc of the Paris concert or a Natasha Imports issue of the Stockholm performance, but I will retain my copy of the Acrobat set, primarily because it contains recordings of the tour as it continued through Germany, Switzerland and The Netherlands. Or is Columbia planning a Volume 7 to add these concerts, along with the hard-to-get Amsterdam concert? The ball's in your court, Columbia! [To be accurate, the Acrobat set may be unauthorized, but it is not a bootleg. It was produced in England, where recordings go into public domain 50 years—now revised to 70 years—after the original recording.]
One thing I truly hate about the Davis set (and the Verve Armstrong and Armstrong/Fitzgerald sets) is the expanded digipaks. The Verves both spread out 24 inches to access all of the CDs, and the Columbia stretches to 30 inches! That's awkward enough when laying it out over a table at home, but it's even worse to navigate in the car. Also, the Verve sets hide their booklets behind disc trays, which means that some listeners could miss out on Ricky Riccardi's fine liner notes and the copious recording information. The Verve Oscar Peterson set uses a modified chubby jewel case, which adds flip trays on each end to accommodate extra discs. For those who hate plastic boxes, the Acrobat Davis set offers a simple 5×5 paperboard box with room for each CD in paper sleeves and a generous booklet. If the digipaks didn't take up the same amount of shelf space as the chubby boxes (which was the original rationale for digipaks) I wouldn't raise a fuss, but I think expensive multi-disc sets deserve packaging that is both manageable and practical.
"Both Directions at Once" (Impulse 28228) is the enigmatic title of a newly released John Coltrane Quartet session. Before this album, the only track released from this March 6, 1963 session was a 5 ½ minute version of Franz Lehar's "Vilia"; we now know that Coltrane and company recorded almost 90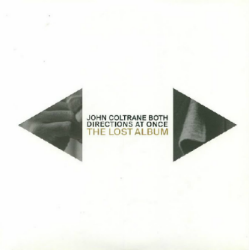 minutes of music that day, and—except for "Vilia"—none of the music had been prepared for release. No one seems to know why, but the music and pertinent data offer a few clues. One thing is certain: brevity was on Coltrane's mind this day. He knew that the band was scheduled to make its first recording with a singer (Johnny Hartman) the next day, and he knew that he couldn't play his typical long solos on a ballads album. I'm sure that Coltrane knew that he and his band could condense their performances—they had done so on the "Ballads" album a few months earlier—but perhaps this session could serve as a dry run for the next day's session, without using any of the tunes Hartman would sing. At the time of these sessions, the Coltrane quartet was headlining at Birdland, where they could play their usual extended arrangements without obstruction. So going to Rudy Van Gelder's recording studio two days in a row might have been a way to reinforce a "short-tunes" discipline by linking it to the location. With the exception of an untitled slow blues, all of the tracks run between 3 and 8 minutes long (significantly shorter than many of Coltrane's Impulse recordings). The takes of "Vilia" and "Nature Boy" are concise and straight-forward, much in the style of the "Ballads" album. The "Untitled Original 11383" seems like a condensed version of "Impressions" but with different changes. Then Coltrane decided to play "Impressions" itself, but significantly, in a shorter form. Coltrane successfully creates complete improvised statements on all of the takes, and he usually does it in 3 to 4 minutes, rather than the 13 minutes it took at the Village Vanguard a couple of years earlier.
Throughout the session, he tinkers with the music, dropping McCoy Tyner out of the mix (sometimes for a chorus, and other times, for the whole track). On "Untitled Original 11386"—undoubtedly the most interesting of the Coltrane tunes on this album—the theme comes back to introduce each soloist. On take 1, Coltrane and Tyner are the only soloists, but on take 2, the composer adds a duet between Jimmy Garrison and Elvin Jones on take 2 (unfocused on this take, but much clearer in concept on take 5). Takes 3 and 4 are missing, but by the time they tried take 5, the band adopted a Latin feel for parts of the tune, and Tyner doubled Coltrane's melody a perfect fourth below. "One Up, One Down" has a similar recurring motive: a series of exchanges between Coltrane and Jones which launches each new solo. And while the various takes of "11386" and "One Up" all hover in the 8 minute range, Coltrane changes the instrumental timbre about every two minutes. Was he trying to get away from the nightclub/live recording model of head/17 minute saxophone solo/other solos/head? Or, was Coltrane trying to make his music more accessible without changing its basic properties? I suspect the latter. Except for rare singles like Atlantic's "My Favorite Things", he couldn't have received much radio airplay at the time, and he had yet to perform on US TV with his quartet. But commercial success was only part of the issue. As Coltrane connected with contemporary events, he had music that he needed to share with a large audience. "Alabama", which memorialized the four black girls murdered in a Birmingham church bombing later in 1963, was just such an event, and significantly, Coltrane played "Alabama" on his first US TV appearance, Ralph J. Gleason's "Jazz Casual". The only track on "Both Directions at Once" that falls from the "short-tunes" mode is the aforementioned slow blues. But perhaps there is a clue for this too: in July 1962, Atlantic issued its LP "Coltrane Plays the Blues". Coltrane confessed to Reggie Workman that he didn't like it when record companies issued his older recordings to compete with his new ones. There is no question that Coltrane's art had advanced dramatically in the three years between "Plays the Blues" and "Both Directions", but slow blues did not play a large part of the Quartet's repertoire in 1963, and perhaps Coltrane was trying to find a way to fill that gap as a way to answer fan requests for tracks from "Plays the Blues". Why was "Both Directions" not issued at the time? Probably because Coltrane wasn't trying to make an album; he was experimenting in the studio. But whether Coltrane intended it or not, "Both Directions" is now a best-selling album, and it is getting more publicity than any of his earlier albums (there's even a TV commercial!). Perhaps Coltrane achieved that balance of progressive music and accessibility after all. It only took 55 years.
Accessibility was never an issue for Erroll Garner. One of the most popular jazz artists during the 1950s, Garner was a self-taught musician who never learned how to read music. He had a remarkable gift for improvised melody, dynamics, and those qualities, combined with an extraordinary keyboard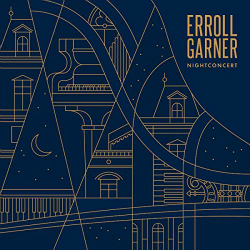 technique, kept musicians and laymen riveted to his unique interpretations of standards and originals. He was a prolific recording artist, and for several years virtually every record label had a Garner LP available for sale. That market saturation, along with the eventual rise of the Beatles, may be the reason that Garner's manager, Martha Glaser, felt that the pianist's star was beginning to fade in the United States. Thus, the 1964 Amsterdam concert presented in Mack Avenue's new release "Nightconcert" (Mack Avenue 1142) will be new to most American listeners. Philips issued a heavily edited LP edition in 1965, but the album was only issued in Europe. The LP omitted many of Garner's extended introductions which, as Nate Chinen states in the CD liner notes, were improvised on the spot, and designed to keep the audience (and Garner's trio members!) guessing as to the identity of the upcoming piece (Track 7 of this disc is a complete marvel—you will never guess the standard Garner plays, nor will you figure out how he got there!). Garner did not believe in playing songs the same way twice—the version of "Where or When" that opens this concert bears little resemblance to the version on "Concert by the Sea"—and whether playing a well-known standard or a current movie theme, Garner's non-stop creativity is as stunning today as it was generations ago. Garner's rhythm team of bassist Eddie Calhoun and drummer Kelly Martin had been with the pianist for years, and while they couldn't predict what tunes (or keys) Garner would play, the pianist did not ignore their presence. For example, on this concert's version of "Night and Day", Garner improvises a catchy little riff, and rather than just let it go, he repeats it so Calhoun and Martin can accentuate it. Basically, Garner's primary role was of a soloist, but he knew how to create an arrangement on the spot, and his rhythm section (who were never given solos) knew how to follow his lead to make each piece special. Garner's music does not require detailed analysis. It is music which revels in "the sound of surprise".