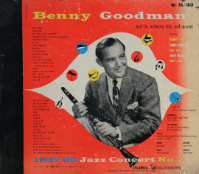 In 1953, Columbia Records issued a 2-LP set of Benny Goodman broadcast performances recorded by engineer Bill Savory. Intended as a follow-up to their hugely successful issue of Goodman's 1938 Carnegie Hall concert—which Savory had mastered for LP—Columbia gave the new Savory collection the misleading title "Jazz Concert No. 2" (the expanded CD reissue had the more accurate title, "On the Air"). When Savory recorded these performances, he was working for a transcription service, which sold disc copies of radio broadcasts to artists and networks. Savory's occupation gave him access to professional disc recorders and an uncompressed audio feed of the music, which yielded extended recordings and remarkable fidelity. However, the music Savory captured made heads turn: a stunning rendition of "St. Louis Blues" where Goodman spontaneously expanded the written arrangement to allow more soloists to play, wild improvisations by the Goodman Trio and Quartet that exceeded the brilliance of their studio recordings, exciting recordings of big band arrangements not recorded on 78s (cf. "Ridin' High") and humorously, a version of "Let's Dance" where Goodman missed his cue and whistled his famous clarinet tag into the microphone. Columbia producer George Avakian asked Savory about the difficulty in picking tracks for the album, and Savory reportedly said, "I just picked my favorites from the first box of discs."
Savory's comment led many historians to inquire about the rest of his collection, but the engineer was reluctant to share his recordings, or divulge their contents. When Savory died in 2004, his son was put in charge of the estate. Fortunately, he saved the recordings from the garbage dump(!) and eventually, he offered them to Loren Schoenberg and the National Jazz Museum of Harlem. As he examined the discs, Schoenberg quickly discovered that there was more to the Savory Collection than just Benny Goodman: Savory had captured major artis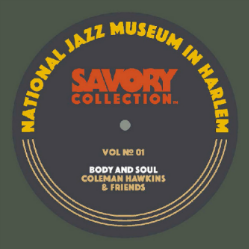 ts like Louis Armstrong, Duke Ellington, Coleman Hawkins and Fats Waller, up-and-coming groups like the Count Basie Orchestra and the John Kirby Sextet, and obscure artists like Joe Mooney, Bob Zurke and Emilio Caceres. Since acquiring the collection, Schoenberg has offered brief snippets of the music on websites and radio interviews, but has now authorized the first release of full tracks from the Savory holdings. "Savory Collection, Vol. 1" is only available as a digital download from Apple, but retains the appearance of an album, with cover art, liner notes, CD-friendly 71-minute playing time, and a recommended track sequence. The new album has the same effect as the old "Jazz Concert No. 2": it forces us to reconsider our knowledge of great jazz icons.
The most ballyhooed discovery opens the album: Coleman Hawkins' live 6-minute version of "Body and Soul" was recorded in May 1940, about six months after Hawkins' commercial recording. Hawkins famously recounted that he didn't listen to the original record  of "B&S" in the studio, but it seems clear that he heard it several times in the following half-year. Time and again, Hawkins' live solo refers to phrases originally played on the 78. In contrast to the tightly compacted ideas on the commercial recording, Hawkins takes his time developing his solo. Having more room to stretch out, he includes more of the melody in the opening chorus, and near the end, he discovers new ways to expand the complex harmony of the song (this is particularly astounding, since the extended harmonies Hawkins implied on the commercial recording were already beyond the ears of most listeners of the time). A further Hawkins track from the same broadcast features an arrangement of "Basin Street Blues" that was considerably better than the charts Hawkins recorded commercially with this band.
A pair of Ella Fitzgerald tracks follows, featuring Chick Webb on drums, and "unknown personnel from the CBS Studio Orchestra." Frankly, I am amazed with the swing and energy of the band. Obviously, these studio musicians were not heading home after playing all day for the radio; they were out listening to (and probably playing in) the burgeoning swing bands, giving them a firm grasp on the style. The musicians were clearly inspired by the energy generated by Fitzgerald and Webb, and they respond with a jumping version of "A-Tisket, A-Tasket" and a lovely rendition of the inexplicably rare song, "I've Been Saving Myself for You". Fitzgerald is in great voice, and Webb's brilliantly modulated rhythm lifts both tracks. The Fats Waller tracks that follow are rather fragmented, with unexpected fade-outs breaking up the music. However, what remains of the music is spectacular, with fiery trumpet from Herman Autrey (on "Sixty Seconds Got Together") lush ballad tenor from Gene Sedric (on "I Haven't Changed a Thing") and glorious piano from the leader (on a solo version of "Alligator Crawl"). Waller keeps a brisk pace throughout the broadcast, combining songs into medleys, and changing up tempos to maintain the listener's interest. As Dan Morgenstern once noted, had Waller lived long enough, he would have been a natural on television.
To my ears, the best part of this collection is the Lionel Hampton Jam Session, broadcast in late 1938 on Martin Block's "Make Believe Ballroom". The lineup is similar to what Hampton assembled for his Bluebird recordings of the time, but on this set, we get to hear multi-chorus solos by Hampton, trumpeter Charlie Shavers, trombonist Vernon Brown, tenor saxophonist Herschel Evans and the underrated alto saxophonist Dave Matthews. The rhythm section of Howard Smith (piano), Milt Hinton (bass) and Cozy Cole (drums) offers immaculate backup (and is captured with breathtaking presence through the combined talents of Block's original engineers, Bill Savory and remastering engineer Doug Pomeroy). The first two tracks of this set are surprisingly long—a version of "Dinah" that runs 7 minutes and an improvised blues of nearly 10 minutes. Here, some 15 years before long jam session tracks were de rigueur on LPs, Hampton and his fellow musicians create extended-length performances where the inspiration never lags and the arrangements follow a natural development. The other highlight of the Hampton set is Evans' feature on "Stardust". Evans was part of the Basie band at this time, and I'm sure that he didn't get many opportunities to play ballads in that group. Here, just two months before his untimely death, Evans plays a perfectly-paced solo. There are a few rough edges, but he reveals enough artistry to make us ponder what might have been. At the end of the broadcast, Block announces that this broadcast was part of a series of live jam sessions. I hope that Savory recorded more of these shows; they were probably fascinating!
The album concludes with two rarities: a 1936 duet by guitarists Carl Kress and Dick McDonough on "Heat Wave" and a version of "China Boy" by a trio led by violinist Emilio Caceres. As Vincent Pelote writes, the guitar duet was probably thorough-composed. However, hearing the lively interaction between the two musicians is still great fun to hear. Caceres was a Latin bandleader from San Antonio who rarely traveled to New York City. His younger brother, Ernie, had settled in the Big Apple and was a baritone saxophonist in bands led by Glenn Miller, Bobby Hackett, Benny Goodman and Jack Teagarden. Emilio and guitarist Johnny Gomez joined Ernie for a NYC radio broadcast made about two weeks before the trio recorded for Victor. On the broadcast, Emilio plays a busy energetic solo, filled with brilliant double-stops, followed by Ernie, who plays the final chorus on two clarinets simultaneously! Ernie may have been copying an old vaudeville trick from Wilbur Sweatman, but his execution sounds like the prototype for Rahsaan Roland Kirk.
Schoenberg and the National Jazz Museum of Harlem have promised many more volumes in this series, including an entire disc of the Basie band featuring Lester Young. If Schoenberg's interviews are any indication, we should also expect music from Ellington, Goodman, Billie Holiday and Bobby Hackett. The current method of downloads works fine, but I can appreciate the call for versions in FLAC/lossless, CD and vinyl. Assuming that copyrights can be cleared, the music should be made available in these formats. This music deserves to be heard far and wide, and it appears that there are many new treasures left to be shared. Keep 'em coming, gentlemen—the world is waiting.