Happy New Year, everyone (yes, I know we're late)!
Welcome to the year-end/new year edition of Jazz History Online. This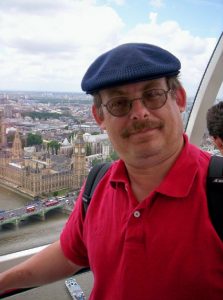 issue was supposed to be published on December 31, but 2020 had one final trick to pull. I was posting a set of reviews to the site on December 30, and noticed that a number of site updates needed to be installed. I proceeded to install them and POOF! all of the pages went blank. I could see that the content was still safe within the site, so I contacted our IT goddess, Polly, with a feverish call for HELLLLLLLLP! It took a couple of days to fix things, but we're back to normal again. The CD Reviews are literally hot off the press (finished about two hours ago).
Of course, we lead off this issue with the 2020 Summation. We can all agree that it was a lousy year, but I still shake my head in wonder at how so many awful events in my life somehow coalesced to get me out of Denver, and on the East Coast. For better or worse, most of us made it through. The Book Review features the second volume of Ricky Riccardi's Louis Armstrong biography. "Heart Full of Rhythm" covers Pops' big band years, and as he would say, "It's a gasser!"
The new Armstrong set from Mosaic is still due in weeks, but until then, we have several wonderful new releases in the Retro Review, including discs by Dave Brubeck, Ella Fitzgerald, Charles Mingus and Sonny Rollins. In the early part of December, I noticed that many readers were searching for my article on the Bill Evans 1968 trio, doubtlessly looking for my discussion of the new Resonance double CD, "Bill Evans at Ronnie Scott's". Rather than keep everyone waiting, I revised the article to include the Resonance discs, and published it in mid-month. The latest edition of our CD Review series, "Jazz in the Time of COVID-19" covers 6 albums, by Dave Douglas, Fred Hersch, Carla Marciano, Royal Bopsters, Matt Wilson and Martin Wind.
We now have over 2700 Facebook fans! Are you one of them? If not, please go to https://www.facebook.com/JazzHistoryOnline/ and join the party! To be sure you get our Facebook messages, hover over the "liked" button on our Facebook page, and click the top two selections ("Get Notifications" and "Following"). If you'd like a monthly e-mail update of new articles (no, we won't sell your addresses to anyone else), or would like to communicate with me, please write to jazzhistoryonline@live.com
Stay safe and healthy,
Tom Cunniffe