The COVID-19 has shut down the world's economy in short order. While elements of the economy are beginning to open up again, live performances will be one of the last elements to restart. Most club and concert dates have been cancelled well into 2021. For many jazz artists, recorded music is their primary source of income. The albums reviewed here are all current releases; most of them were released during the period of nationwide lockdown. Of course, most of the music was recorded long before anyone had heard of the coronavirus. Many of these musicians are still producing music online, which is understandably different than these albums. However, these recordings show us what we as audience members took for granted before the virus. These reviews will be a continuing feature on Jazz History Online as long as the crisis continues. The current set encompasses instrumental and vocal jazz. JHO has always encouraged its readers to support the musicians by purchasing their CDs. The message could not be more urgent now. If you can afford to help, please do.
DAVE DOUGLAS: "OVERCOME" (Greenleaf 15—digital only)
When COVID-19 took over our lives in March 2020, everyone had to adapt to a new normal. Musicians were particularly challenged because social distancing prevented the close physical content thought necessary for intonation and communication. Dave Douglas' new album, "Overcome" demonstrates that superb music can be made even when the artists are not in the same room. The album was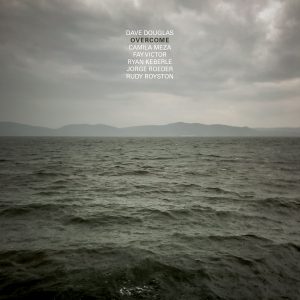 recorded by each musician in isolation at their home studios. I do not know the sequence of the actual recording process, but I can say that the album is a remarkable achievement in that it succeeds as well as recordings with all of the musicians playing together. I attribute part of that success to the three members of the sextet who represent the core of Ryan Keberle's group, Catharsis. Trombonist Keberle, guitarist/vocalist Camila Meza and bassist Jorge Roeder have performed and recorded as a trio, and their music features a great deal of collective improvisation. Trumpeter Douglas also includes collective play in his groups, including the fine ensemble Riverside. Vocalist Fay Victor and drummer Rudy Royston are both sympathetic to these practices, and are outstanding additions to the present ensemble. The opening track, "We Shall Overcome" features an understated improvised duet by Douglas and Keberle, and an increasingly complex group improvisation by Victor, Meza and the horns. While renditions of this civil rights anthem can become big and majestic, this version is emotionally contained with Royston's steady—and swaggering!—beat. The feeling of cautious optimism continues with "When We Are Together Again", with Victor and Meza delicately interweaving their scat lines. "Peace" is a Douglas original about the futility of warfare. Victor's warm voice envelops Langston Hughes' poetry, Douglas creates astounding obbligati throughout, and Keberle contributes a powerful and emotional solo. The album's longest track, Royston's instrumental "Perspective", sounds like one of the spacey free jazz improvisations recorded in the Sixties and Seventies. It's hard to tell just how much of this piece was written and how much was improvised. Further, the form of the piece is not clear, and I suspect that engineer Tyler McDiarmid did a great deal of work to assemble this fascinating track. Perhaps one day, we'll get to hear a live version so we can compare the differences. The title track is not related to the opening civil rights anthem, but a new love song composed by Douglas, with lyrics by Meza. My favorite moment is Victor's unexpected scat entrance as Meza sings about being overcome with the sound of your voice. The album closes with "Good Trouble", which memorializes Senator John Lewis by mirroring his unique combination of outward grace and inner rage. This ensemble was scheduled to tour in 2020; let's hope that will happen in 2021. They have important music to make, and I suspect that this album has only begun the process.
FRED HERSCH: "SONGS FROM HOME" (Palmetto 2197)
When the quarantine began, Fred Hersch and his partner Scott Morgan retreated to their home in the Pennsylvania woods. Hersch's Steinway B piano was there, situated in a room with cathedral ceilings and fine acoustics. Realizing that in-person concerts were cancelled for the foreseeable future, Hersch decided to broadcast solo performances over Facebook. He quickly found his audience, and the positive comments ensured the continuation of the series for several months. Hersch's new CD, "Songs from Home" revisits some of these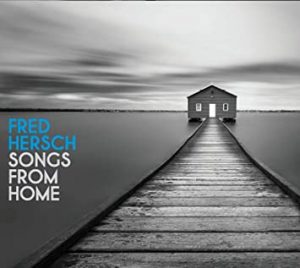 performances, all re-recorded in August, 2020. He draws from his childhood when pop, rock and Broadway albums dominated his family's record collection. "Wouldn't It Be Loverly" starts with a child-like motive, but as Hersch develops his interpretation, he expands the lines into delicate counterpoint. Eventually, a second melody emerges from Hersch's improvisation and it gently intertwines with Frederick Loewe's original composition. When songs like Jimmy Webb's "Wichita Lineman" and Joni Mitchell's "All I Want" were topping the charts, jazz musicians were stymied by the unusual forms and unorthodox style. Yet, Hersch's re-examinations of these songs find their strong spots and uses them in new and creative ways. Naturally, the album also includes several Tin Pan Alley standards, including a witty, light-footed take on "After You've Gone", a version of "Get Out of Town" with remarkable interplay between left and right hands, and a meditation on Duke Ellington's "Solitude". Later in the album, Hersch combines "West Virginia Rose" (a piece he wrote for his mother) with the beautiful "The Water is Wide". As folk songs go, "Water" is nearly perfect as is. Hersch's rendition of the melody is suitably straight-forward, but when he improvises, he creates a new melody that touches the heart with its simplicity and emotion. "Consolation" is subtitled "(a folk song)" but is actually a rather complex piece by Kenny Wheeler. Hersch's dense counterpoint leaves the folk elements behind, but offers an intriguing maze full of unexpected turns. Hersch's other original piece, "Sarabande" features a lithe bass line which propels the entire performance. The Beatles' "When I'm Sixty-Four" closes the set, and in his liner notes, Hersch confesses that he is near the end of his 64th year. Have no fears, Mr. Hersch: we still need you (and we'll still feed you) for as many years as you want to play.
CARLA MARCIANO: "PSYCHOSIS" (Challenge 73486)
Bernard Herrmann was not a jazz composer, His most notable foray into jazz came in his final film score, "Taxi Driver", where—seemingly out of nowhere—he composed a sultry alto saxophone theme which he attached to Betsy, the unwilling recipient of Travis Bickle's affections. Herrmann died right after completing the recordings for "Taxi Driver", so we don't know if he had suddenly decided to make jazz part of his compositional world or if this was a one-off flirtation. Italian saxophonist Carla Marciano has created a unique tribute to Herrmann in her new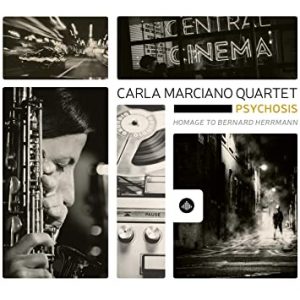 CD, "Psychosis" which reimagines Herrmann's melodies into a jazz setting. Fittingly, the album opens with "Betsy's Theme", but Marciano and pianist Alessandro La Corte tease us with fragments of the melody scattered through an extended rubato introduction. The ominous beats of drummer Gaetano Fasano and the amorphous sound of Aldo Vigorito's bass bring us into tempo, but while Marciano plays the melody with moderate decoration, the mysterious background produced by the rhythm section (led by La Corte's synthesizer) leaves us with an uneasy feeling. The prelude from "Marnie" changes tempos and styles every few bars. A dramatic interlude by La Corte ushers in a medium-tempo Coltrane-like vamp. La Corte's McCoy Tyner-like piano solo sets the stage for Marciano's re-entry which evolves from a melody statement to a dazzling Trane-inspired solo. Marciano's decision to remain on alto instead of soprano helps her retain her own distinctive personality. The quartet segues into a five-minute group improvisation designed to bridge the gap "From 'Marnie' to 'Twisted Nerve'". All I know about the latter film is that it was a British slasher film that apparently revolted its audiences upon its release in 1968. Mariciano transforms Herrmann's Theme and Variations into a brilliant up-tempo jazz waltz. Marciano shines with her free-bop solo on sopranino sax, and La Corte displays remarkable jazz chops over the surging rhythm section. An extended piano interlude brings us back to Hitchcock and "Psycho". Herrmann's main title music is not only set in straight eighth-notes, it is nearly anti-melodic. Marciano uses this to her advantage, setting up a conflict between the theme and a pulsating jazz rhythm. It is a most disturbing marriage which leads to shrieking alto sax and polyrhythmic drums. Oddly enough, it is the unaccompanied drum solo which provides relative calm! The quartet's version of harrowing main title from "Vertigo" starts with a reasonable approximation of the original scoring, but before long, La Corte's synthesizer transport it into an odd space-age lounge. Vigorito emerges with a finely-executed unaccompanied solo which leads into the "Scene d'Amour" from "Vertigo". I can't say that Marciano's multiphonics or the Coltrane vamps do much to enrich this beloved Herrman composition. However, I love Marciano's soaring tone as she plays Herrmann's ever-rising theme. The sax and piano solos in the main section are dramatic and tasty, respectively, and the exuberant backup from Vigorito and Fasano bring the Herrmann suite to a satisfying conclusion. The bonus track, another Coltrane-inspired arrangement on John Williams' "Hedwig Theme", seems out of place here, and it only lessens the impact of the Herrmann suite.
ROYAL BOPSTERS: "PARTY OF FOUR" (Motéma 372)
The multi-generational vocal group, Royal Bopsters, was designed as a stand-alone ensemble which would spotlight aging vocalists in guest roles. Their self-titled first album featured Mark Murphy, Jon Hendricks, Annie Ross, Bob Dorough and Sheila Jordan, and in the five years since that album's release, all of the guest artists (save Jordan) have passed away. Unfortunately, one of the charter members of the Bopsters died, when alto Holli Ross lost her battle with cancer in May 2020. The Bopsters' new release, "Party of Four" was completed before Ross' death, and a guest appearance by Dorough was also captured before his passing. The group has one new member—Pete McGuinness replaced Darmon Meader shortly after the first album—leaving Amy London and Dylan Pramuk as the only remaining original members.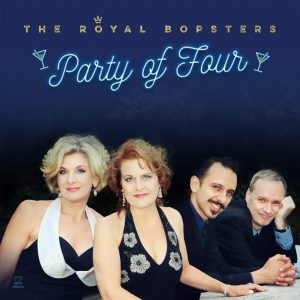 The album brushes off any sense of loss with a bright program of jazz and pop standards. "But Not for Me" lifts a Chet Baker scat solo for a brilliant soli section (lyricized by Ross). The group swings like a big band with rhythmic precision and dense four-part harmony. Another Baker solo appears on "The Gypsy", which is paired in a medley with Tadd Dameron's "On a Misty Night". Guest bassist Christian McBride plays a beautifully-articulated solo punctuated by the Bopsters' riffs, and the vocalists close with a recreation of Dameron's original shout chorus. "How I Love You" is Pramuk's lyric adaptation of Dexter Gordon's solo on "I Love You for Sentimental Reasons". Pramuk continues to impress with his complete mastery of vocalese. This showcase will remind many of Eddie Jefferson's "Moody's Mood for Love" and both lyrics and their performer deserve just as much acclaim. The Bopsters frame Sheila Jordan's guest appearance on "Lucky to Be Me" with a harmonized verse and a short lyricized Bill Evans solo. Jordan, who just turned 92, sounds amazing, with fine pitch and control, throughout the melody, scat solo and a quite surprising coda. "Why'd You Do Me the Way You Did?" is a previously unheard Mark Murphy song performed with gusto by London, while Billy Strayhorn's classic "Day Dream" is treated to a lovely a cappella arrangement by Pramuk. Ross' swan song is on her lively update of Tito Puente's "Cuando Te Vea". She soars over the surging rhythm, and leads the ensemble from the middle of the group. Ross translated the original Spanish lyrics, but also sings a portion of the song in the original language. McGuiness—also a gifted trombonist—vocally mimics his horn in a brief scat solo. Bob Dorough offers a sassy vocal and hilarious scat on his "Baby, You Should Know It" as the Bopsters provide active commentary. "Our Spring Song" and "Rusty Dusty Blues" both came from big band libraries. The former is a McGuinness original, composed for his own orchestra and now adapted for the Bopsters with new lyrics by London, while the latter is based on the collaborative recording by Lambert, Hendricks & Ross with Joe Williams and the Count Basie orchestra. Pramuk adds unique touches as he assumes Williams' role. A sensitive and nuanced version of Wayne Shorter's "Infant Eyes" precedes the swinging arrangement of "My Shining Hour" which closes the album. Hopefully, this will not be the end of the Royal Bopsters. A Holiday video included a new singer in Ross' place, signaling that the group will continue on, celebrating the great vocal masters, including one of its own.
MATT WILSON QUARTET: "HUG!" (Palmetto 2196)
Need a hug? I think everyone needs one, after endless months of social distancing. Matt Wilson's delightful new CD "Hug!" takes listeners on a fun-filled ride with several unexpected turns. Wilson is one of jazz's most beloved drummers because of his unique combination of high
musicianship and cheeky humor. The music on this album is unabashedly progressive with extraordinary communication occurring between the members of the quartet (Jeff Lederer, reeds; Kirk Knuffke, cornet; Chris Lightcap, bass; Wilson, drums). But as a bandleader, Wilson realizes that a light touch can add to the music's accessibility. Lederer can play the most outrageous squawks on his tenor and Knuffke can offer unusual note choices, but if the context is filled with understandable content and the intensity is kept low, the audience will respond with a positive reaction. Wilson has done this for years with his "Christmas Tree-O" and it works just as well with this quartet. The horn men complement each other's solos with understated commentary, and the rhythm section weaves their lines with subtle grace. There's an unexpected guest whose voice is sampled on "Space Force March"/"Interplanetary Music". The pieces were written by Wilson and Sun Ra, respectively, and the satiric edge is quite prevalent. Elsewhere, tunes by Gene Ammons and Roger Miller (!) coexist with pieces by Abdullah Ibrahim, Dewey Redman and Charlie Haden. All of these composers work well within Wilson's universe because of their fine melodic content and their overall flexibility. Wilson's approach lets us hear these pieces as absolute music, without categories or barriers. The audience must come to this music with open ears, but the basic language has been around for years. By not allowing this music to become uncomfortably intense, Wilson can present this music on its own terms without compromising its integrity. Further, by mixing in light pieces like the sunny title track and the carefree soft-shoe cover of "King of the Road", the album retains an easy flow and accessible nature. Over the years, Wilson has effectively turned up the heat as in his work with the Liberation Music Orchestra and on his major projects like the Carl Sandburg project, "Honey and Salt", but "Hug!" shows that he is sensitive to the mood of his audiences. By no means is it a "sell-out"; rather, it is a reasonable and welcome answer to a troubled world. (One sour note to Palmetto: Is it too much to ask to create a standard CD package for this album? Apparently, this CD is only available in a flat mini-LP cardboard cover without liner notes, photos or—most importantly—a printed spine identifying the album. A little package like this will get lost amidst the jewel cases and digipacks. It deserves a better fate than that.)
MARTIN WIND/PHILIP CATHERINE/ACK VAN ROOYEN: "WHITE NOISE" (Laika 3510382)
This quiet recital is an ideal reaction to the horrors of our contemporary (and sometimes contemptable) world. The warm flugelhorn sound of Ack Van Rooyen, Philip Catherine's pearl-toned guitar, and Martin Wind's rich and resounding bass combine for the first time on "White Noise". The group's repertoire mixes standards and originals, and each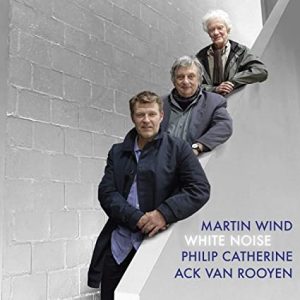 man brings his maturity and wisdom to the material. Collectively, they are well beyond the years of empty and flashy solos, and instead, they focus on creating beautiful, finely-honed original melodies which enrich the original material. Even though they have rarely played together, they know how to simultaneously improvise without getting in each other's way, and even on challenging works like Wind's original title composition, the openness of their ensemble sound makes the music warm and inviting. Speaking of the title track, close listening reveals that Catherine overdubbed his solo over his rhythm guitar track. Yet, the effect is achieved with such subtlety that it might go unnoticed by most listeners. There's an interesting answer in the following track, "But Beautiful" as Catherine plays the melody against Wind's double-stopped bass. It's little moments like that which makes this recording stand out, but listeners need not pay such close attention to enjoy this album. Like a great film, it has the capability to captivate on a surface level, and allow the audience to explore its depths at their own will and discretion. With its European roots and understated tone, some readers may believe that the album sounds like an ECM record. There are certain similarities, but I find that the presence of standards, the overall warmth of the performances and the tighter feel of the arrangements pull it away from the ECM style. Due to its European origins, the CD may be expensive and challenging to acquire, but several internet outlets have reasonably-priced downloads available. However, the audio quality on the disc is stunning in its own right, so if you must download, get a high-quality copy.