DAVE BRUBECK: "TIME OUT-TAKES" (Brubeck Editions 20200901) Every time I hear a jazz musician play in 5/4, 7/4, 9/8 or 11/8 time, I know that somewhere Dave Brubeck is smiling. During the last eight years of its existence, the Dave Brubeck Quartet made playing odd meters sound effortless. In the newly released set "Time Out-Takes", we hear the long-sequestered alternate takes for the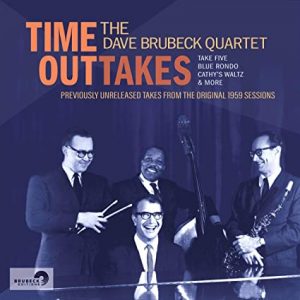 group's flagship LP, "Time Out". These unissued tracks have been discussed in two recent Brubeck biographies, so it seemed inevitable that they would be released at some point. Thankfully, the most egregious mistakes were left in the vault, but every track here presents different approaches to music we all know very well. The new disc follows the original album's playing order, and the opening version of "Blue Rondo a la Turk" is quite impressive, with only a few still-unsettled matters in the harmony exposing it as an alternate. The solos by Paul Desmond and Brubeck add a few telling middle-east note choices to unite the contrasting parts of the composition. Rhythmically, the 9/8 pattern (counted 2+2+2+3) is solidly played by Joe Morello and Eugene Wright. "Strange Meadow Lark" was the only 4/4 composition on the album, so there were no rhythmic issues. The newly-released version gives us the opportunity to hear another lyric improvisation by Desmond and a sassy retort from Brubeck. "Take Five" had a lengthy gestation as the group tried to find the groove. The version included here is considerably different from the well-known master take. Morello starts the track with a repeated two-note cymbal riff, the melody chorus sounds oddly empty without the tom-toms filling in the lower register, and Morello's interactions perplex Desmond in the latter's solo chorus. Brubeck keeps the well-known piano riff going for a few bars after Desmond finishes, but unlike the master take, Brubeck stops playing the riff during the drum solo. Morello clearly delineates the time throughout his solo (a little better than on the master, I think) and the track fades out on Desmond's repetition of the main motive. "Three to Get Ready" is nearly the match of its better-known master, and I wonder if Morello's slight hesitation in the opening melody of this take was the ultimate reason for its rejection. I love the sprightly version of "Cathy's Waltz" (properly spelled on the new release). Desmond's improvisation intertwines with Brubeck's catchy vamp, and when Brubeck takes over, his ideas straddle between the waltz ostinato from Wright's bass, and the 2-beat brush pattern of Morello. Apparently, the tune's coda wasn't settled and as a result, all of the energy dissipates in the final bars. The final two tracks on "Time Out"—"Everybody's Jumpin'" and "Pick Up Sticks"—were both captured in single takes, but the session tapes revealed an unreleased version of "I'm in a Dancing Mood" and a remake of "Watusi Drums" (which eventually morphed into "Pick Up Sticks"). These pieces had been in the Brubeck book for a few years, with "Dancing Mood" acting as Brubeck's favorite showcase when appearing on TV, and "Watusi" serving as Morello's cpncert feature until "Take Five" took that coveted spot. "Watusi Jam"—as it is retitled here—strips away most of the original melody and concentrates on the interaction of Brubeck and Morello over a grooving 6/4 rhythm. Morello plays an impressive solo, and I'm glad the Brubeck family found a way to issue this track. The album closes with a montage of mistakes and banter from the various sessions. Messrs. Brubeck, Desmond, Wright and Morello may have been jazz icons, but they were also human.
ELLA FITZGERALD: "THE LOST BERLIN TAPES, 1962" (Verve 450137)
As her numerous concert recordings reveal, Ella Fitzgerald would eagerly accept song requests—even for songs that weren't part of her repertoire. One such request was the basis of one of her greatest triumphs. Someone who attended Fitzgerald's Berlin concert in 1960 requested "Mack the Knife", and when she introduced the song on stage, she admitted that she wasn't sure that she knew all of the lyrics. Nonetheless, she jumped in, and when she forgot the words, she brilliantly improvised her way out of trouble. The crowd went wild, as if they were secretly hoping to hear her as she worked her way out of a jam. Although Fitzgerald would never admit it, improvising her way out of trouble was one of her unique gifts. When she returned to the newly-separated city of Berlin the following year, she had mastered those troublesome lyrics, and the audience cheered politely. "Mack" reappears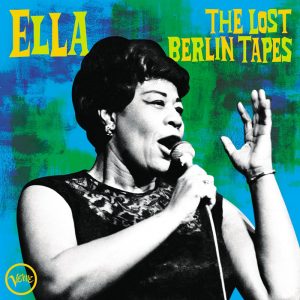 in the 1962 Berlin concert, newly released as "Ella: The Lost Berlin Tapes". Once again, the lyrics are correct, and her imitation of Louis Armstrong is recognized and appreciated, but the strangest mistake comes at the end of the track, when she forgets the city where she is singing! Naturally, the audience forgives her—as if they had any other choice. Fitzgerald performs at her normally high level throughout the concert. She makes "My Kind of Boy" into an artistic Superman who combines the best qualities of Frank Sinatra, Nat Cole, Count Basie and Harry Belafonte. She wails on "Cry Me a River"—who said that Ella couldn't communicate tragedy?—glides through a couple of Fred Astaire specialties, "Cheek to Cheek" and "I Won't Dance", and is spellbinding on "Someone to Watch Over Me". "Jersey Bounce" is a medium-tempo scat vehicle, and "Angel Eyes"—a favorite Fitzgerald ballad at the time—gets an intimate reading, primarily accompanied by piano (Paul Smith) and bass (Wilfred Middlebrooks), with drums (Stan Levey) only appearing on the coda. Levey gets the spotlight on "Clap Hands! Here Comes Charlie" as he drives the arrangement through its various twists and turns, and then contributes a fine solo. Smith was an outstanding accompanist (hear him cover an early entrance by Fitzgerald on "Good Morning Heartache") but I've never cared for him as a soloist. The fills he adds on "Taking a Chance on Love" are flashy and do nothing to enhance the performance. "Hallelujah, I Love Him So" is hardly a typical Fitzgerald vehicle, but like "Mack" two years earlier, she approaches it with gusto. The audience loves it so much that Fitzgerald sings the whole number again, this time with considerable variations to the original melody, and an extended vamp. "Summertime" acts as a blueprint for the stunning version Fitzgerald filmed in Germany six years later. "Mr. Paganini" is instantly recognized by the audience, and someone in the hall provides the "mournful cry" mentioned in the verse. After the nearly-perfect "Mack", Fitzgerald closes the concert with a request for a blues. She tells the audience that she didn't know many blues tunes (however, she did record an all-blues album later in 1962) and while her version of "Wee Baby Blues" was a far cry from Big Joe Turner, it's a fun ride as Fitzgerald improvises new verses to the delight of the crowd. With the abundance of live Fitzgerald sets available, it's hard to single out any album as the best example. Still, this previously unknown Berlin concert is a good representation of Ella Fitzgerald in top form.
"CHARLES MINGUS AT BREMEN, 1964 & 1975" (Sunnyside 1570)
Anthologies of Charles Mingus recordings are nothing new, but nearly all of them are restricted to specific periods in his career. With the sole exception of the 1993 Rhino compilation, "Thirteen Pictures", Sunnyside's new 4-CD set "Charles Mingus at Bremen, 1964 & 1975" is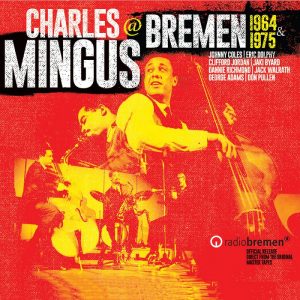 the first collection where listeners can easily compare Mingus' ensembles from the mid-1960s and mid-1970s. In addition to the shared city, the two full-length concerts share one seminal Mingus work: "Fables of Faubus". A detailed analysis of the two versions will offer an adequate summary of the albums as a whole. The version of April 16, 1964 is considerably faster than the studio recordings. Mingus can be heard singing his inflammatory lyrics off-mike, but basically this is an instrumental version. Johnny Coles leads off the solos with his warm tone and intriguing note choices. Mingus added a rubato section to the solo spots, and the trumpeter engages Mingus, pianist Jaki Byard, drummer Dannie Richmond, tenor saxophonist Clifford Jordan and bass clarinetist Eric Dolphy in a musical conversation than never collapses into cacophony. Byard's solo features bright single line melodies in the treble register, with counterpoint and harmony added as the rubato section approaches (which starts as an unaccompanied solo for the pianist, spiced with quotes from "The Star-Spangled Banner" and "Lift Every Voice and Sing") Eventually, Richmond and Mingus set up a deep groove for a collective improvisation, and an ensuing up-tempo episode finds Dolphy interacting with Byard's fantastic keyboard runs. Jordan's passionate improvisation has abundant soul, and he jumps into the altissimo range during the dramatic rubato, and stays up there to ride over (in sequence) the medium-tempo groove, an up-tempo chase, and exchanges with Richmond. Mingus solos next, spotlighting his impeccable pizzicato technique in an extended unaccompanied section. Soon after, Byard and Richmond add a strongly-accented single note figure that evokes an old work song. Dolphy takes over, drawing low sorrowful tones from the bass clarinet and adding an occasional multiphonic squawk. The other musicians let him play unaccompanied for quite some time and finally enter with sustained tones and short ideas. Richmond revs up the engine to build the performance to an impressive conclusion. The July 9, 1975 version starts with a rough a cappella group vocal on the melody, before moving into a brisk reading with Richmond alternating between rock and swing beats. Jack Walrath's trumpet solo has lots of swagger and plenty of daring note choices. The rubato section is omitted here, so Walrath uses the fast tempo to build momentum. Pianist Don Pullen is the next soloist, and like Byard, he incorporates a wide range of styles within his solo (although I doubt that anyone would confuse the distinctive styles of these two pianists). Tenor saxophonist George Adams' ideas range between R&B honking tenor and wild free jazz. Adams' stunning technique allows him to send out wild flurries of notes, but like Dolphy, everything he plays contains deep musical logic. Mingus was using an electronic pickup on his acoustic bass, which gives a distinct edge to his sound. I can't be sure, but it sounds like he was playing his pizzicato with his fingernails (as on the Ellington/Mingus/Roach album, "Money Jungle"). Richmond's fiery solo takes place underneath parts of the closing melody. Along the way, he alludes to another piece recorded at the same 1960 Candid session as "Fables": "Folk Forms 1". The 1964 concert also features "So Long, Eric" (a blues until Dolphy blows it inside out), a strange version of "Parkeriana" (did the non-soloing musicians walk to a remote part of the studio to play backgrounds, or did an unsympathetic engineer cut their microphones?) and a magnificent rendition of "Meditations on Integration". The 1975 concert opens with a long but fascinating version of "Sue's Changes", and includes Sy Johnson's "For Harry Carney" (a good composition which sounds very ordinary alongside Mingus' pieces), a swinging version of "Free Cell Block F" (with Adams adding a lengthy quote from a Petula Clark hit!), Walrath's intense "Black Bat and Poles", a gorgeous "Duke Ellington's Sound of Love", and a very weird take on "Cherokee". And who else but Mingus would top off 90 minutes of intense music with 25 minutes of encores ("Remember Rockefeller at Attica" and "Devil Blues")? Sunnyside offers this set for a very reasonable price, so take the chance on this album. You won't regret it.
SONNY ROLLINS: "ROLLINS IN HOLLAND" (Resonance 2048)
Over the years, Sonny Rollins has kept a fairly tight grip on his live archival recordings. With the exception of the "Road Shows" collections, he has spoken out against the unauthorized release of his work.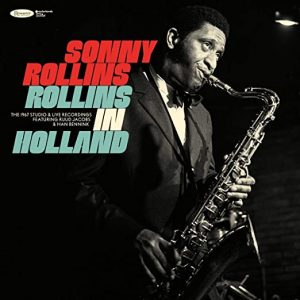 Thankfully, a prime collection of Rollins performances fell into the hands of Resonance Records, and its intrepid co-president Zev Feldman. Not only are the Resonance releases fully cleared for legitimate issue, the performances on the new 2-CD set, "Rollins in Holland", were approved by the normally self-critical saxophonist. The recordings were made over a three-day period in May 1967. At the time, Rollins had just embarked on a hiatus from recording (which would soon evolve into the second of his famous sabbaticals). Jazz was being overtaken by rock at that time, so Rollins did not play in the large halls he had worked during his earlier trips to Holland. However, he was inspired by a flexible rhythm team of Ruud Jacobs (bass) and Han Bennink (drums), and his performances on these discs range from a fairly straight-forward rehearsal for a television show to a wild "no holds barred" show at an art school's concert hall. Resonance starts with the rehearsal, and while a 10:30am call is not conducive for great jazz, the group performs pleasant versions of "Blue Room", "Four", "Love Walked In" and "Tune Up", gradually loosening up as the session progressed. Then we switch to the Go-Go Club in Loosdrecht. This was the trio's second night there, and Rollins sounds like a new man. The two cuts, "Sonnymoon for Two" and "Love Walked In" were filmed for TV. According to Rollins' biographer Aidan Levy, the audience at the Go-Go seemed unprepared for Rollins' music, and there were several disruptions, including an attempt by the show's co-host to cut off Rollins in the midst of his solo exchanges with Bennink on "Love Walked In". Resonance saved the best for last, with nearly 90 minutes of thrilling music from Acadamie voor Beeldende Kunst in Arnhem. This was actually the first time Rollins played with Jacobs and Bennink, and the immediate chemistry between the three men is apparent from the outset of "Three Little Words" as the ideas flow from Rollins' horn with seemingly little effort, Bennink maintains a steady stream of commentary and Jacobs provides solid time and superb harmonic direction. While Rollins' solo here does not contain the astonishing thematic developments from his 1965 studio recording, it is a marvel of creativity. For the 22 ½ minutes of this track, Rollins never truly stops playing, and yet the collection of quotes and original ideas keep the listener involved. After a sluggish start, "They Can't Take That Away from Me" picks up where "Three Little Words" left off. However, about 4 ½ minutes into the performance, Rollins switches to "Sonnymoon for Two". Jacobs' bass is rather faint on the recording (and there is no piano) so it's hard to tell exactly when the trio fully commits to the blues structure, but it doesn't take long for everything to coalesce again. The next track combines "On Green Dolphin Street" and "There Will Never Be Another You", but this time, it only takes Rollins two choruses to change his mind! Thankfully, Jacobs and Bennink were ready and they changed directions instantly. And when that happened, Rollins' inspiration flowed like whitewater rapids. The stream of ideas seemed to overlap at times with the saxophonist juggling several motivic concepts at once, and picking out ideas at random. "Love Walked In" took a while to gel, but found its shape with an explosive Bennink solo and a masterful Rollins improvisation and cadenza. The coda resembled the opening, as Rollins and Bennink searched for a place to end the performance. "Four" closes the album with uncompromised straight-ahead swing. Bennink's bass drum hits on all four beats drives Rollins and Jacobs, with the latter reinforcing the pulse and the former creating exquisite variations on a handful of motives. Having these recordings in legitimate form is a great blessing; made even more special because Rollins is still alive to approve and appreciate the music.