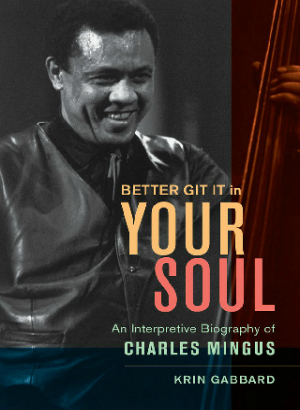 In other words, I am three. One man stands forever in the middle, unconcerned, unmoved, watching, waiting to be allowed to express what he sees to the other two. The second man is like a frightened animal that attacks for the fear of being attacked. Then there's an over-loving gentle man who lets people into the uttermost sacred temple of his being, and he'll take insults and be trusting and sign contracts without reading them and get talked down to working cheap or for nothing, and when he realizes what's been done to him, he feels like killing and destroying everything around him including himself for being so stupid. But he can't—he goes back inside himself.
With these words, spoken to his psychiatrist, Charles Mingus opens his memoir, "Beneath the Underdog". Originally, Mingus did not intend to use this episode as the preface to his highly stylized autobiography, but its placement explains Mingus' shifts in narrative style from the first person account of his time at Bellevue Hospital, to the second person story of Mingus' battle with Juan Tizol in the Duke Ellington Orchestra, and the omniscient narrator—doubtlessly the first man in Mingus' opening statement—who tells most of Mingus' story, referring to him as "my boy". In his new "interpretive biography", "Better Git It in Your Soul" (University of California), Krin Gabbard also dissects Mingus' personality to focus on the man, the musician and the author.
"Beneath the Underdog" plays a pivotal role throughout Gabbard's book. In the first section, a 100-page biography of Mingus, Gabbard attempts to fill in the gaps not covered in the murky text of "Underdog". With access to an early unedited draft of Mingus' manuscript (now housed at the Library of Congress), the collected knowledge of Mingus' previous biographers, and previously unreleased correspondence from Mingus' editor Nel King and Knopf editor Regina Ryan, Gabbard reveals the true identities of Mingus' wives, girlfriends and associates, re-establishes the actual chronology of events, and offers a number of alternative readings to famous episodes like the Tizol/Ellington altercation. Unlike several jazz history books, it is clear that this volume has not been sitting on the shelf for years waiting to be published: Gabbard's impressive list of sources include recent books like John Szwed's 2015 book on Billie Holiday.
The next section discusses Mingus' writing, with the primary focus on "Underdog". Gabbard includes a completely unnecessary comparison of the Mingus memoir with those of Louis Armstrong, Duke Ellington, Sidney Bechet and Miles Davis. As anyone who has read "Underdog" knows, it is a completely different reading experience than any other jazz autobiography. For most of its 365 pages, Mingus' book sounds like the memoir of a porn star. In addition to its frequent and graphic descriptions of sexual acts, the narrative includes virtually every category of male fantasies: rough sex, threesomes, prostitute/girlfriends and lesbianism (only the nurse fantasy seems to be missing). In one chapter, Mingus' music and sexual life coexist as he is having sex with a white college girl in his bedroom while a jam session with Coleman Hawkins, Art Tatum, Dizzy Gillespie and Charlie Parker is going on in his living room! Gabbard downplays much of the book's sexual content, and through an offhand comment, tries to make us believe that the book is not pornographic. Don't you believe it—Mingus' memoir is strictly for adults only. Gabbard notes that Mingus wrote the majority of "Underdog" in 1963, after receiving a substantial advance from McGraw Hill. For reasons not entirely made clear, McGraw Hill rejected the book in 1964, and it was not until five years later that Knopf acquired the book. With painstaking detail, Gabbard details the book's torturous road to publication, including a nearly two year tug-of-war between Mingus, King and Ryan over what portions of the bassist's 800-plus page manuscript would appear in the final book. Gabbard also notes that Mingus wrote several additional pieces (including some of the book's best-known passages) in 1970 to satisfy the requests of Ryan and King.
One of King's requests which Mingus did not heed was to add more of his musical accomplishments to "Underdog". Unfortunately, the same problem exists in Gabbard's book. The opening biographical section only makes passing references to key recordings, and the third and fourth sections—ostensibly dedicated to Mingus' music—deal with his recordings in a scattershot manner. Gabbard's third section "Third Stream Music and the Rest of Jazz History" includes an in-depth description of "Revelations", Mingus' contribution to the Brandeis Third Stream Concert album, but shouldn't we have similar discussions of great Mingus works like "Folk Forms # 1", "Ysabel's Table Dance" and "Meditations on Integration"? Gabbard frequently notes his admiration for "Black Saint and the Sinner Lady", but never details what makes that album such an important part of the Mingus canon. In the fourth section, Gabbard writes about Mingus' association with Dannie Richmond, Eric Dolphy and Jimmy Knepper, but the narrative is bogged down with anecdotes instead of discussions of the enormous musical gifts that each man brought to Mingus' music.
For the most part, the research is top-notch, but on occasion, Gabbard tries to slip in a piece of information that isn't completely accurate, as in his uncited assertion that Birdland emcee Pee Wee Marquette started life as a woman (which is little more than an unsubstantiated internet rumor). And while Gabbard might be correct in stating that Dizzy Gillespie and Charlie Parker's Massey Hall version of "Salt Peanuts" was their first performance of the piece together in eight years, the fact remains that each man had played the piece with their own groups for years. Gabbard also goes off on unnecessary tangents, as in his discussion of Alan Douglas' activities at United Artists Records, or of Eric Dolphy's tenure in John Coltrane's group. Considering the number of important Mingus recordings omitted from the book (including Dolphy features such as "Stormy Weather" from the second Candid album, and "Hora Decubitus" from the Impulse album "Mingus, Mingus, Mingus, Mingus, Mingus"), the space could have been used to a much better purpose.  While there is much worth in Gabbard's fine detective work, "Better Git It in Your Soul" can only be recommended to readers who have already read the superior Mingus biographies by Brian Priestley and Gene Santoro.