This is the second part of a two-part article. To access the first part, click here.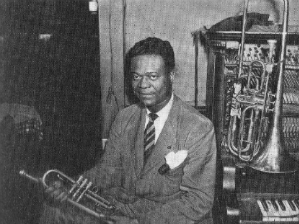 Had he not been employed by the club, Frankie Newton would have been a habitué of Café Society. The Greenwich Village nightclub was the brainchild of 36-year-old Barney Josephson. Like many of his generation, Josephson loved jazz and could not understand why blacks were denied equal status in society and on stage. Café Society opened December 28, 1938, offering integrated stage shows and integrated seating. The club became a gathering point for many of New York City's intellectuals and progressives, and while it was known as "the wrong place for the right people", it was the perfect place for Newton. With the significant influence of his romantic partner, Ethel Klein, Newton's passion for the Communist Party had intensified, and the trumpeter led several political discussions at the club when he wasn't performing onstage. Through the club, Newton met many of the era's top artists, including William Saroyan, Arthur Miller, and Paul Robeson, all of whom would become longtime friends of the trumpeter.
Newton led the house band at Café Society, a job he probably landed through the auspices of his longtime supporter, John Hammond. Josephson and Hammond met through a mutual friend, and Hammond immediately began hiring musical talent for Café Society. He introduced Josephson to the Boogie Woogie Trio (Albert Ammons, Pete Johnson and Meade Lux Lewis) and blues shouter Big Joe Turner, all of whom were featured in Hammond's Carnegie Hall concert, "From Spirituals to Swing". Hammond also offered the services of Billie Holiday (when Hammond first mentioned her name, Josephson apparently asked, "Who's she?") and we can guess that Newton came in with Holiday. The singer and trumpeter seemed to get along well with each other, each knowing how to complement the others personality through music and personal interaction. Apparently, Holiday didn't fully comprehend Newton's political beliefs, but she countered his seriousness with teasing remarks about leading "her band" at the club, even though Newton was the official leader. Thankfully, we have broadcast and studio recordings which document their musical relationship.
However, before he recorded with the Café Society Orchestra, Newton recorded with two old friends, both clarinetists, but with vastly different approaches to the instrument. Classically-trained Buster Bailey played with Newton on several 1937 recordings and was a fellow member of the John Kirby Sextet. While Newton had left Kirby shortly before the band made its first official recordings, Bailey stayed on with the sextet, and in a surprising move, he asked Newton to play on his December 7, 1938 recording session rather than Newton's replacement, Charlie Shavers. The band personnel also includes Kirby regulars Russell Procope (alto sax), Billy Kyle (piano) and O'Neil Spencer (drums), along with ringers Jimmy McLin (guitar) and John Williams (bass). The best track of the session is "Chained to a Dream" an understated mood piece in the Kirby mode featuring tight harmonies and gently swinging rhythm. Newton plays a simple lyric solo in a cup mute, which is much more effective than his raw open statement on the marijuana-related song, "Light Up". The session's final track is a clarinet feature titled "Man with a Horn Goes Beserk", a fast "Tiger Rag" contrafact with an uncharacteristically sloppy Bailey solo.
While Newton was the official leader of the Victor/Bluebird session of January 13, 1939, the date was the last of four sessions produced by French jazz critic Hugues Panassié with personnel organized by Mezz Mezzrow. Apparently, Newton was under the weather at this session, but he played very well despite his illness, producing six fine sides including one masterpiece. James P. Johnson leads off a tightly swinging "Rosetta" which features a strong trumpet lead and excellent supporting improvisations by Mezzrow and Pete Brown. Johnson's solo has great backing from the rhythm section of Al Casey, John Kirby (!) and Cozy Cole. The extended ride-out chorus allows all of the three hornmen to lead for a time (making up for the lack of individual solos for trumpet and clarinet). Newton's cup-muted horn is beautifully captured by the Victor microphones on "Minor Jive". Although Mezzrow and Brown also played brief and effective solos on this side, it is the soulful tone of Newton's horn that dominates the track. "The World is Waiting for the Sunrise" features Newton leading the ensemble in a cup mute for the first chorus, then spurring on an exuberant pair of ride-out choruses which build to a thrilling ending. "Who?" is Johnson's feature, with the other musicians supporting the pianist's impressive solo turns. "Rompin' (at Victor)" with swinging improvisations by Johnson, Casey, Brown, Mezzrow and Newton, provided an energetic close to the session, but the date's greatest performance was captured a few minutes earlier in the session.
The Minor Jive (FN)
"The Blues My Baby Gave to Me" is not only Frankie Newton's greatest recording, it is also one of jazz's few "perfect records". By its very nature, improvisation can lead to less-than-ideal note choices and outright mistakes. But like the Louis Armstrong/Earl Hines masterwork, "Weather Bird" or Charlie Parker's "Parker's Mood", it's hard to find a single flaw in this Newton essay on the slow blues. The discovery of an unissued first take reveals that the piece was developed in the studio. On the first version, Newton plays a shortened version of the introduction on open horn with the audible backing of Cole's drums. On his ensuing solo, Newton plays some of the same ideas that would turn up on the master take, but the execution features several technical problems and flawed intonation. The open horn lets him build up the drama in the final chorus, but Newton refined the concept when the band remade the track a few minutes later. The biggest surprise of the first take is that after Johnson's piano interlude, Pete Brown takes the solo spotlight, with Newton returning for the last few bars. In between takes, the group decided to extend Newton's introduction, remove Cole's backing until the beginning of the first chorus, and to feature Newton throughout, with Johnson's flowery single chorus remaining as a necessary interlude. Newton used the cup mute again, a decision that made his plaintive blues lines come to the fore. The lonely sound of Newton's unaccompanied introduction leads into a beautifully played three-chorus solo with exquisite slides and tone-bending, and not one superfluous note. Newton opens the third chorus by quoting "Willow Weep for Me". Normally, song quotes are intended as jokes, but not here: Newton makes Ann Ronell's melody fit right into the core of his blues statement. When Newton returns for the final chorus, his repeated motive acts as a triumphant response to the sorrowful ideas of the opening choruses. Frankie Newton recorded many superb blues solos (including at least two more gems in 1939) but he never topped this elegant masterpiece.
The Blues My Baby Gave to Me (master take) (FN)
The band Newton fronted at Café Society used the same instrumentation as his Uptown Serenaders: Newton's trumpet, three saxes (Tab Smith, Stanley Payne, and Kenneth Holland), plus rhythm (Kenny Kersey, piano; Ulysses Livingston, guitar; John Williams, bass; Eddie Dougherty, drums). Newton would record with this group on three different occasions (and the group accompanied Billie Holiday on two further sessions, neither with Newton—more on that later). The earliest recordings of the band appear to be a set of Café Society airchecks from January or February 1939. Some of the recordings are incomplete, and the sound is less than spectacular, but we get to hear the musicians play extended solos. Billie Holiday's live version of "I'm Gonna Lock My Heart & Throw Away the Key" finds her juxtaposing her laid-back rhythms against the riffing saxes. Newton's solo sounds like it's played in a straight mute, and over 16 bars, he offers stunning developments on a two-note motive. Smith's prim alto solo opens an instrumental version of "On the Sunny Side of the Street", but Newton's rip-roaring open trumpet steals the show with an impressive swagger to the rhythm and great expressive slides. Holland picks up Newton's energy for his tenor solo, and Newton can be heard cheering him on in the background. Kersey also receives some encouragement from the leader during his sparkling improvisation. A second, slower version of "Sunny Side" includes a vocal by Big Joe Turner (who evidently didn't understand some of the references in the lyrics, but makes up for that deficiency with his deeply-swinging delivery). Newton's solo is the complete opposite of his statement on the instrumental version, as he plays a much more introspective two-chorus solo. He also includes several great half-valve effects contrasted with expansive lyric lines. The saxes display impressive ensemble technique on the opening of "Honeysuckle Rose" (and with the leader's encouragement, they repeat the first chorus!). Newton's cup muted solo brings down the volume, but the intensity stays at a high level as the trumpeter punches out a series of incisive phrases over a reed background. Although Café Society was a sit-down restaurant, I can't help but think that the audience was dancing in the aisles to this tune! (There is one further title from this series of broadcasts, but it will be discussed alongside its better-known studio recording).
I'm Gonna Lock My Heart… (Billie Holiday/FN) FN solo
On the Sunny Side of the Street (FN) 2 takes; FN solos
Honeysuckle Rose (FN) opening chorus and FN solo
In addition to his other accomplishments, Frankie Newton was the first horn player to record for Blue Note records. While the April 7, 1939 is generally known as the first session by the "Port of Harlem Jazzmen", the first track recorded, "Daybreak Blues" carried the artist credit "The Frank Newton Quintet". "Daybreak" is another Newton blues masterwork. Using the same framework as "The Blues My Baby Gave to Me" (solo introduction, multi-chorus trumpet solo, contrasting rhythm section solos, triumphant closing trumpet), "Daybreak" is played on open horn throughout, includes several finely executed smears and fine motivic development. However, Sid Catlett's powerful quarter notes give this recording a more vibrant background than Cozy Cole provided on "Blues My Baby", and that makes the entire side livelier and less introspective. "Port of Harlem Blues" brings in J.C. Higginbotham's trombone to compliment Newton's now cup-muted horn. While Newton later said that he preferred Vic Dickenson to Higginbotham, the trombone solos here display the same balance of motivic development and emotion as Newton's trumpet improvisations. Newton's solo on this track begins with a re-examination of the final "Blues My Baby" solo, but it takes a different direction, maintaining a sorrowful mood to match the surrounding solos of pianist Albert Ammons and guitarist Teddy Bunn. Higginbotham takes the lead on the aptly-named "Mighty Blues" with bassist John Williams creating stunning lines in the background. When Newton enters, it sounds like he is playing open horn, but closer listening reveals that he is playing through a buzz mute. Newton loved mutes, and later in his career, he built a few of his own design. The difference between his sound in the buzz mute and without it is readily evident when Newton returns for the final chorus. The session closes with "Rocking the Blues" which lets Ammons bring out some of his favorite boogie woogie licks. Newton again offers a contrast with a buzz-muted solo featuring long expansive lines. At the end, Newton and Higginbotham play a series of riffs which conjure up the Basie band in full cry.
Daybreak Blues (FN)
Port of Harlem Blues (Port of Harlem Jazzmen)
Mighty Blues (Port of Harlem Jazzmen) FN solo and out-chorus
On April 12, 1939, Newton brought the Café Society Orchestra into the Vocalion studios for their first official recordings. The first title was "Tab's Blues", which featured alternating solos by Smith (on soprano sax) and the leader. There's much to like on this side, from the superb saxophone variations on the second chorus, to the gloriously poised improvisations. Newton's solos are nearly poetic, utilizing a minimum of notes, but maximizing their emotional power. "Jitters" is a medium-fast jaunt which features a tightly-muted and growly Newton solo over the bed of saxophones. Again, Newton's economy of notes is noteworthy, especially when compared to the busy style of Smith, Kersey and Payne. An aircheck from Café Society shows that the arrangement went through significant changes before its final recording. The live version features a multi-tempoed introduction nearly three times as long as the studio recording; Newton plays the melody with the saxes on the live version (the delayed entrance on the 78 is far more effective) and the solos are extended and shuffled, with Newton playing his solo on open horn at the club.
Jitters (FN) studio take
"Frankie's Jump" reflects the popular music of its time, with a bouncy fox-trot rhythm, a singable melody and saxophone voicings which could have been lifted from any contemporaneous big band arrangement. Newton's solo is a rabble-rouser, but it is not a particularly memorable solo. "Jam Fever", presented in two takes, is much better overall. On the master take, Newton offers a spirited solo in cup mute, with florid follow-ups by Smith's alto, Kersey's piano and Holland's tenor. The alternate is faster and looser, but the greater excitement doesn't yield better musicality in the solos. However, the saxophone ensemble chorus near the end of the track is absolutely thrilling on the alternate.
Jam Fever (FN) (take B) out-chorus
One night in early 1939, school teacher Abel Meeropol came to Café Society carrying his original song, "Strange Fruit". The lyrics were a vivid portrayal of a Southern lynching, and the melody's limited range increased the song's power through chilling understatement. Meeropol thought the song would be a perfect vehicle for Billie Holiday, and that Café Society would be the best place to present it. John Hammond hated the song from the beginning, and neither Josephson nor Holiday were thrilled with it at first, but after considering it on her own, Holiday included it in her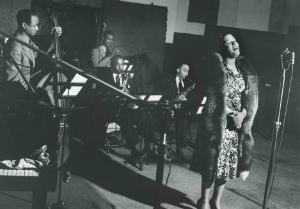 show. Josephson decided that the song should be the final number on the program, with Holiday illuminated only by a pin spot. He instructed the wait staff not to serve or make any noise during each performance of "Strange Fruit" so the song would achieve its maximum emotional impact. Hammond never changed his opinion (years later, he claimed that the song ruined Holiday's career) and his disapproval was probably the main reason why Columbia refused to let Holiday record the song. However, they allowed Holiday to record "Strange Fruit" for Milt Gabler's Commodore label. The session (L) took place on April 20, 1939, featuring Holiday, Newton and the Café Society Orchestra (with Holiday's then-lover Sonny White replacing Kersey). "Strange Fruit" (with the composer credit as "Lewis Allen", so that Meeropol's job would not be in jeopardy) was a fairly short song, and the dramatic nature of the lyrics demanded that the song be sung only once through, with no repeats. The recorded arrangement opens with Newton's plaintive solo trumpet followed by a funereal interlude by White. With the mood firmly set, Holiday enters at a near-whisper, forcing the listeners to focus on the lyrics. She builds the dynamic as the song progresses, then brings it back down for the stunning conclusion. Two takes have been issued, but there are very few differences between them. The remainder of the session includes "Yesterdays" (without Newton, Smith or Payne), the debut recording of "Fine and Mellow" (with a barely audible Newton obbligato) and a splendid version of "I've Got a Right to Sing the Blues". Jazz historian Martin Williams noted the similarities between Holiday's vocal here and the 1933 recording of the song by Louis Armstrong, Of course, Newton was also an Armstrong man and there are many vestiges of Louis' dramaticism in Newton's muted obbligato.
Strange Fruit (Billie Holiday)
I Gotta Right to Sing the Blues (Billie Holiday)
Eight days after the Holiday session, Newton, Pete Brown, pianist Sammy Price and drummer Zutty Singleton went to the Decca studios to record with blues singer Jimmie Gordon. Gordon was not a great singer (especially when set alongside Billie Holiday!) but some of his blues lyrics are quite imaginative, and his delivery of them is proficient but rather static. In some ways, the date resembles Armstrong's collaborations with 1920s blues singers, with the contributions of the instrumentalists making up for the singer's deficiencies. Newton dominates the proceedings throughout, switching between open horn and buzz mute on the humorous "Get Your Mind out the Gutter", growling mightily on "Delhia", offering powerful dual improvisations with Brown over the surging boogie rhythm of "Do That Thing", providing pointed buzz mute commentary on "Mojo Blues" and "St. Peter Blues" (the latter featuring several fine double-time episodes), and doing his best Armstrong imitation on the introduction to "If the Walls Could Talk".
Blue Note's second Port of Harlem session was scheduled for 4:30am on June 8, 1939. The early morning call was set so that the musicians could come to the studio directly after their nighttime gigs. When the musicians arrived, the studio was already warm, so they propped open a window and started to play. Within minutes, a policeman appeared, citing several noise complaints from the neighbors. The band decided to sleep on the studio floor, resuming the session at the much more reasonable hour—for the offended neighbors—of 8:00am. The band used the same personnel as before, except that Sidney Bechet was added on clarinet and soprano sax (he recorded his stunning version of "Summertime" on this session) and Meade Lux Lewis replaced Ammons. "After Hours Blues" was an extended feature for Newton, but while many of the elements from Newton's earlier blues triumphs were present, the overall effect seems less than satisfactory. "Blues for Tommy" was a memorial for trumpeter Tommy Ladnier, who was a close friend of Bechet's. Not surprisingly, the soprano saxophonist provides the most emotional solo on the side. However, I also admire Newton's chorus for its majestic high register passages and its classic blues phrasing. The passionate closing chorus gives the late trumpeter an appropriate send-off. Newton's solo on "Pounding Heart Blues" features superb motivic development in the first chorus, and outstanding support from Catlett on the second.
Blues for Tommy (Port of Harlem) FN solo
Pounding Heart Blues (Port of Harlem) FN solo
On August 15, 1939, an expanded version of the Café Society Orchestra returned to the Vocalion studios to record two astounding pieces, Tab Smith's "Vamp" and Newton's "Parallel Fifths". With the addition of trumpeter Bill Dillard and trombonist Dicky Wells, the band resembled a miniature big band, and both compositions displayed new directions for the then-stagnating big band movement. Smith's composition combines the classic I-vi-ii-V7-I vamp pattern with a 12-bar blues, but despite the limited harmonic movement, Smith gets an impressive variety of sounds through the soloists and the background figures. Smith, Newton and Wells all provide superb solos, with Newton especially impressive playing into a whisper mute. "Parallel Fifths" is a more elaborate composition, expanding the blues form to 16 bars and alternating between the keys of B-flat major and B-flat minor. The modulations are achieved through finely-crafted interludes, and the piece travels through many contrasting moods in just over three minutes. To top it all off, Newton plays one of his most heart-breaking solos in the final two choruses, combining his warm cup-muted sound, poetic note choices, subtle motivic development, and restricted dynamics. This track should have opened many doors for Newton, both as a trumpeter and as a composer/arranger. Sadly, it was not to be…
Vamp (FN)
Parallel Fifths (FN)
The August 15, 1939 session would prove to be Newton's last as a leader. He would not return to any recording studio for nearly five years. The reason for this recording gap has puzzled jazz researchers for years, and more than a few have suggested that Newton was blacklisted from the studios by John Hammond. Of course, the term "blacklisting" is usually associated with communists, but in 1939, membership in the Communist Party was legal, and generally accepted. Hammond and Newton shared many of the same political beliefs, and while they were both hot-headed in arguments, no one has pinpointed a time where Hammond and Newton officially ended their professional relationship (On the other hand, no one has explained why Newton was not present on two Billie Holiday Columbia sessions, even though the rest of the Café Society Orchestra was there). It should be noted that Hammond exerted a great deal of influence throughout New York's jazz circles, and if—for some unknown reason—he really wanted to keep Newton from working, he wouldn't have stopped with the recording companies. Following with this theory, Newton would have lost his gig at Café Society, would not have found other employment in nightclubs, and would not have played on the radio. In actuality, Newton left Café Society late in 1939 because Holiday was offered a nationwide tour by Joe Glaser. Shortly thereafter, Newton formed a combo with Pete Brown and Flip Phillips to play an extended engagement at a new club, Kelly's Stables. We also have airchecks (many unreleased) to document Newton's appearances on radio. And if Hammond had severed Newton's recording contract, I'm sure that there were plenty of other companies who would have signed Newton just to spite Hammond!
So why did Newton stop recording? I suspect that he did it as a personal protest against the record companies. In the first eight months of 1939, Newton recorded for all three of the major labels (Columbia, Victor and Decca) plus two new independent labels (Blue Note and Commodore), all of which used the same business model: flat fees for the musicians, followed by extensive distribution of records, with all of the profits going back to the company and no residuals for the musicians. This idea would fly in the face of a devoted Communist like Newton. Imagine how he might feel hearing his recorded music emanating from a jukebox, while realizing that none of the profits would make it into his pocket. In mid-1942, the American Federation of Musicians went on strike against the record companies over this very issue. I suspect that Newton was complaining to the union local about this situation, and decided to not offer his music to the recording companies until the problem was rectified. When the strike was settled in late 1943-early 1944, Newton returned to the studios as a sideman for Mary Lou Williams, James P. Johnson, Big Joe Turner and several others.