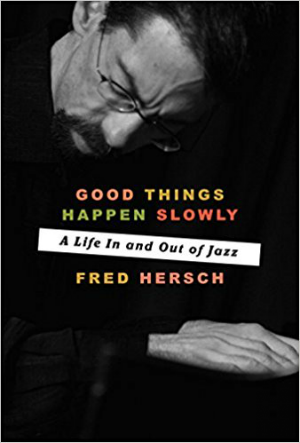 Like most autobiographies, "Good Things Happen Slowly" (Crown Archetype) is a story of discovery and identity. However, as the subject is Fred Hersch, this book tells of the more-or-less simultaneous emergence of two distinct (and for some, incongruous) character traits, that of a gay man and of a jazz pianist. In an early chapter, Hersch recalls a summer-long gig at an amusement park near his hometown of Cincinnati. Between sets, the cast would relax in a pair of connected out-buildings, one for the instrumentalists, and the other for the primarily homosexual singers and dancers. Hersch usually hung out by himself between the two buildings; he knew that he was a member of both groups, but he was afraid to tell anyone. As Hersch notes, jazz was still a boy's club in the early 1970s—some argue that it still is one in 2017—and he didn't want to risk his career as a musician by revealing his sexual identity. Thankfully, Hersch's family supported his sexuality, but it would take a serious health issue before he came out to the public.
Hersch vividly describes the road which led him to become a jazz musician: the first album ("Ellington at Newport"), the teachers who recognized and nurtured his talent (most notably Jaki Byard, then a member of the faculty at the New England Conservatory of Music), and the professional musicians who first employed him (including Art Farmer, Jane Ira Bloom and Stan Getz). He also tells about his early life in New York, where gay sex and illegal drugs were plentiful. Hersch tells these stories in an intimate and honest conversational tone, acknowledging his early triumphs, but also freely admitting his mistakes. He knew that he had to take chances with his career, offering himself as a top-rank player in New York while continuing to learn lessons on the job. The gambit paid off, with Hersch quickly rising to the top of the pack, and landing his first recording date as a leader. But the risks from the other side of his life took precedence when he was diagnosed as HIV-positive.
At the time of Hersch's diagnosis, researchers were still developing the medicines that would keep the disease under control. Hersch came out of the closet with the announcement of his illness, and spent the next several years wondering if his newest recording would also be his last. He also worked with Classical Action on a brilliant series of albums, including "Last Night When We Were Young: The Ballad Album" which featured Hersch and several famous jazz musicians—some gay, some straight—in heartbreaking performances, all recorded to support AIDS research. Despite his illness, Hersch's career continued to build. He founded his own studio, Classic Sound (listen to the digital edition of  "As One", his remarkable album with Jane Ira Bloom, to hear how the studio became the third partner in what was supposed to be a duet recording!), and recorded for several labels (including Concord and Nonesuch).
Hersch's health was precarious at times, but he was able to find loving relationships with other men, most notably his longtime partner and husband, Scott Morgan. There can be little doubt of the deep and genuine devotion of this couple, as presented in Hersch's warm narrative. But when Hersch's mental facilities started to fail him in the fall of 2007—a condition that eventually led him to be placed in a medically-induced coma the following summer—Hersch relies on Morgan's memories of the period to retell the story. Hersch retains his position as the book's narrator, but the harrowing episode is told through Hersch as it was related to him by Morgan.
When Hersch came out of the coma, he didn't recognize himself in the mirror and he could barely walk, let alone play the piano. Hersch could have given up, but instead he pulled himself up to greater heights. As he notes (and many critics, including myself, have recognized), he has become a deeper and more profound player in the years since the coma. He does not seem to be racing against time, but rather making the most of the present and foreseeable future. Each of his recent albums has set a higher bar for solo and ensemble music, and the music he creates in the coming years could change several established standards in both elements. It is far too easy to claim that the enhanced sensitivity in Hersch's music is related to his sexuality; it is far better to say that Fred Hersch is one of jazz's finest pianists, and that his sensitivity is one of the elements that makes him so. With his elegant memoir "Good Things Happen Slowly", we can see that his gift for telling involved and detailed stories extends from the musical world to the written word.