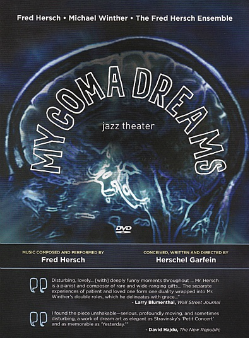 Like most people, Fred Hersch doesn't remember his dreams. However, the dreams he experienced while in a two-month medically-induced coma were so vivid, he was able to write in-depth descriptions of them when he regained consciousness. When Hersch decided to share these dreams with the public, he collaborated with writer/director Herschel Garfein to create a unique jazz/theatre hybrid titled "My Coma Dreams". The work incorporates Hersch's music (scored for an 11-piece ensemble), projected animation by Sarah Wickliffe, and the central presence of actor/singer Michael Winther, who acts as narrator and commentator as he alternates between the roles of Hersch and his partner, Scott. A new DVD from Palmetto captures a deeply moving performance of the work recorded in March 2013 at Columbia University's Miller Theatre. Proceeds from disc sales will support Treatment Action Group, an independent research and support group fighting for better treatment, a vaccine and a cure for AIDS.
2008 was a difficult year for Hersch. Early in the year, he had suffered AIDS Dementia, and when he had recovered, he resumed his performing career. But that July, he was struck by a series of spiked fevers, and after taking a bath to cool down, he was unable to get out of the tub. Scott took him to the emergency room at St. Vincent's Hospital, where the doctors discovered that Hersch was in a near fatal septic shock. Hersch was placed in a coma, and was attached to a respirator. He had several IV tubes and catheters connected to his body, he underwent a tracheotomy and one of his vocal cords was paralyzed. As Winther (as Scott) notes in "My Coma Dreams", in real life, patients do not just emerge from a coma as if it were a long nap. Unlike the presentations found in movies, coma patients like Hersch must re-learn many basic functions like swallowing, walking and speaking. It took Hersch six months to fully recover from this coma, and in the midst, he had an attack of pneumonia.
The storyline of "My Coma Dreams" alternates between the reality of Hersch's illness and the fantasy of his dream world. Winther sings in a couple of the dream sequences, including the swinging "Jazz Diner" and the Sondheim-esque "The Knitters", performed at the beginning, center and end of the show. Elsewhere, the dreams are told through the instrumental ensemble and Wickliffe's stunning visual projections. Hersch's original music draws from a wide palette of styles. Classical models enrich the first half of the score, from the elegant romantic style of an imagined duet between piano and viola (in Hersch's dream, the instrument was a cross between a viola and a lute) to the agitated Bartokian style of "The Paneled Van", where Hersch is a hostage strapped to a bed. Later, jazz becomes the predominant style, and the score includes two pieces that Hersch has recorded elsewhere: "Dream of Monk", where Hersch and Thelonious Monk are enclosed in cages, and are told that the first one to complete a new tune will be released, and "The Boy" (previously recorded by Hersch as "Pastorale") where a little boy breaks away from his playmates to give Hersch his medicine.
What makes "My Coma Dreams" such a compelling work is the dedication and focus exhibited by every member of the ensemble. Winther is the glue that holds the piece together. His ongoing narration (as Scott) keeps us aware of Hersch's medical condition, and his commentaries (not as any definable character) about the doctors on TV, and the biography of St. Vincent de Paul offer necessary but crucial changes of pace. On an interview on the DVD, Hersch stated that he wanted audiences to be immersed in his dreams, and Wickliffe's animation fulfills that role admirably. Her contribution utilizes a dazzling array of clip art, photographs, graphics and text to comment and reflect upon Hersch's music. Wickliffe has strong jazz connections (her mother is vocalist/educator Roseanna Vitro and her father is sound engineer Paul Wickliffe), and her knowledge shows brightly in the "Jazz Diner" sequence, where every menu item is a pun on a jazz musician's name or a famous jazz tune. Hersch's onstage instrumental ensemble plays the score flawlessly. Joyce Hammann plays the lovely viola solo at center stage in the recital dream, trumpeter Ralph Alessi and saxophonists Adam Kolker and Bruce Williamson all play well-sculpted improvisations, and the group is anchored by the rhythm section of Hersch (piano), John Hébert (bass) and John Hollenbeck (drums). Alessi's trumpet blends well with the strings in a couple sequences (Laura Seaton, Ron Lawrence and Dave Eggar comprise the remainder of the string quartet), Mike Christianson's trombone bolsters the horn section, and Gregg Kallor (who is never shown onscreen) conducts from the orchestra pit. Hersch is amazing throughout, but his solo in the final dream sequence (where he envisions Scott's face) may be one of the most passionate improvisations that he has ever recorded. It is one of those remarkable moments when Hersch transcends the piano and the music and takes us to a higher spiritual place. There aren't many contemporary musicians that can do this as well as Hersch, and this solo represents the musical climax of the show (The final scene of the show, which follows this solo, also packs an emotional wallop. I wouldn't dream of spoiling that moment for you).
"My Coma Dreams" also celebrates the universality of love. Fred and Scott are deeply dedicated to each other, and that comes through both in Winther's portrayals and in the DVD interviews with the real-life Fred and Scott. The script makes no apologies or political statements; it simply expects the audience to accept Fred and Scott as a gay couple (with one member HIV-positive). That simple expectation makes all of the discussions about legalizing gay marriage seem trivial. Scott's daily visits to Fred in the hospital and his highly-detailed attention to Fred's care are a testament to his devotion, and it simply doesn't matter whether that devotion comes from another man or from a woman. We should all be so fortunate to have such a loving life partner.