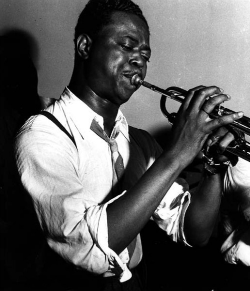 To say that Frankie Newton (L) had a complex personality is putting it mildly. His friend George Wein told me that Newton was the first militant musician he knew, and another of Newton's friends, Nat Hentoff, recalled that when a Boston photographer acknowledged a token gesture from Newton by saying "that's mighty white of you", Newton got in the photographer's face and said "you mean, that's mighty BLACK of me". Newton was well-known as a top-level musician during the 1930s and 40s—Charlie Shavers said that he and his fellow trumpeters knew that "Newton could play rings" around them—but he was also known for his strong opinions and short temper (Wein said that Newton "would burn bridges while he was still crossing them"). Newton was a member of the Communist Party—long before that was an actionable offense—and he insisted that the groups he headlined were cooperative units, with every musician getting a fair share of the profits. Newton's passion was teaching music to children. He collected and restored old instruments for the neighborhood kids to play, and he gave them lessons without asking for payment (When one child offered to pay Newton, he reportedly answered, "Should I charge you by the note?"). When young Hentoff started a courtship with a black woman, Newton appointed himself as their bodyguard, so that the young interracial couple would not be harassed while in public. As a trumpeter, Newton developed a unique style that embraced the dramatic sweep of Louis Armstrong alongside the lyricism of Joe Smith and Bix Beiderbecke. The expressive, poetic improvisations that Newton created predated (and may well have influenced) the music of Miles Davis.
The details of Newton's life are confusing and fragmented, even for the years when he was relatively well-known. Most of Newton's biographical sketches are riddled with contradictory information, and Newton wasn't very helpful regarding his own biography: in his one surviving radio interview, he neglected to give any dates or details when discussing his early musical experiences (in one instance, he actually stopped himself and said "we're not going to talk about that".) Researcher Jennifer Wagner, working in the rural areas of Virginia where Newton grew up, notes that few of his relatives remember any details about him, save that he was a musician. Newton was born January 4, 1906 in Blacksburg, an African-American community located near Emory, Virginia in Washington County (the town is a different Blacksburg than the current town located in Montgomery County). Newton probably received a general education in a segregated school house, and likely attended classes until he was around 14 years old. In the interview, Newton says he went to school in Cincinnati, but he did not state if he attended a high school or college. Newton's musical training is a total mystery. We don't know if he played any instruments other than the trumpet, where he developed his celebrated sight-reading skills, or who taught him jazz arranging. All Newton tells us is that his first music was played in Roanoke, Virginia, at a very early age, with a guy named Johnny Locklear, after which I left Roanoke with a banjo player, Ike Williams. Newton also said he played in McKinney's Cotton Pickers before joining the Lloyd Scott band in West Virginia around 1926. By 1929, when the Scott band traveled to New York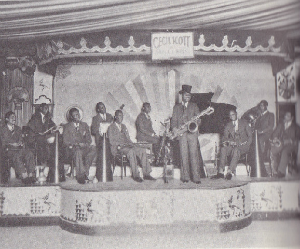 , the leadership had changed from drummer Lloyd to his saxophonist brother, Cecil. When the band recorded for Victor in November of that year, the ranks included three musicians who would work with Newton again in the years to come: trumpeter Bill Coleman, trombonist Dicky Wells and pianist Don Frye. [ R: Wells, Newton and Coleman (seated left front with Cecil Scott (standing)]
The Cecil Scott date is generally considered as Newton's recorded debut, but in recent years, German bandleader K.B. Rau and Chicago trumpeter Yves Francois have theorized that Newton first recorded with Clarence Williams in April 1929. Rau claims that he hears elements in the recording that hearken to Newton's recordings with Scott (later in 1929), Bessie Smith (1933) and Mezz Mezzrow (1936). To my ears, the trumpeter on "I'm Not Worrying" and "Touch Down" sounds nothing like Newton. However, we cannot completely discount such claims because during these early years, Newton seemed willing to play any role he could to gain acceptance in a band. Consider that on the Scott date, Newton leads the band in a call-and-response vocal chorus before launching into a scat chorus. As late as 1932, John Hammond reported that at a country dance, Newton played for an extended period in the high register (Newton was not known in later years for his ability as a singer or as a high-note trumpeter). Of the three available recording dates—comprising seven titles—that Newton supposedly made before the Bessie Smith session, only the Scott date offers any trumpet solos that could have been played by Newton. An 8-bar trumpet solo on "In a Corner," played with relaxed rhythm and two well-executed downward slides, sounds more like later Newton than anything on the Williams recordings, but the repeated wailing motive on "Bright Boy Blues" could have been played by either Coleman or Newton, as the passage offers very little room for individual expression. The remaining session, a June 1932 date by the Benny Carter Orchestra yielded only a single title, "Tell All Your Dreams to Me." The arrangement has a written trumpet melody chorus, and that part was most likely played by the band's other credited trumpeter, Louis Bacon. (Carter took his band—with Newton—into the studios again in October 1932, but the entire session was rejected).
It would be another 13 months before Newton would make another record. However, Newton was far from inactive. He played a radio show on WEVD with a trio led by pianist Garland Wilson and filled out by bassist Artie Bernstein. He also toured with the big bands of Charlie Johnson, Chick Webb, and Sam Wooding. We can be fairly sure that Newton spent a lot of his spare time practicing his horn and developing his personal style, for it is on Newton's next recording date that we hear the trumpeter asserting his own personality alongside established musicians like Jack Teagarden, Chu Berry and Benny Goodman. The date would be the final session by blues singer Bessie Smith. Smith had been out of the studios for nearly two years, and John Hammond organized this session to help her reboot her career. The band, led by pianist Buck Washington, but undoubtedly organized by Hammond, found its own easy swing despite the lack of a drummer. On the introduction of "Do Your Duty," Newton establishes his confident new style, with four perfectly placed quarter notes that swing despite the lack of any syncopation. He also plays muted, which accentuates his distinct lines. Newton continues with a wonderful obbligato to Smith's vocal, reacting and commenting on everything she sings without making it into a competition. He moves right into a solo, which is less successful than what came before. He seems to lose his rhythmic confidence, and his shakes are a little too broad for this context. By the time he returns, he has regained his equilibrium. In between finely-led stop-time episodes, he adds brief but telling thoughts behind the vocal, and then he leads the group into the final jammed ensemble. "Gimme a Pigfoot" recreates a Harlem rent party, and Newton contributes to the overall picture with a brilliant solo that captures the feel of a drunken patron. Newton's rhythmic freedom is simply astonishing, starting with a lazy approach to the dotted-eighth/sixteenth note patterns, but straightening out his attack later in the solo. There are a few slides that are clearly meant as musical humor, but Newton develops melodic ideas as he progresses, which makes the whole solo work as a complete statement. For "Take Me for a Buggy Ride" and "Down in the Dumps", he is relegated to the background, but his obbligato for "Dumps" is a beauty, more like a solo than on "Duty" but still appropriate for the surroundings. About two weeks later, Washington brought the same band into the studio to back up a few comedy routines featuring Washington and his partner John Bubbles. The dialogue of Buck and Bubbles sounds very racist today, but if we can ignore the vocals, we can hear Newton, Teagarden, Goodman and Berry merrily jamming in the background just as they had with Bessie Smith.
Do Your Duty (Bessie Smith)
Gimme a Pigfoot (Bessie Smith) FN solo
Down in the Dumps (Bessie Smith) FN obbligato
For the remainder of 1933 through the end of 1935, Newton played in a number of big bands, including a return to Charlie Johnson's group, and a unique interracial band led by Mezz Mezzrow. Unfortunately, none of these groups recorded (the one recording session that Newton played in 1934 was led by Sam Wooding, but none of the tracks were ever released). In addition to practicing his horn I suspect that Newton was also developing his mind during this period. Newton had a reputation for being well-read, and the New York Public Library was available for anyone—regardless of color—to borrow books and study periodicals. At this time, we can't research what volumes Newton might have checked out from NYPL but we can be quite sure that he was eager to build upon his heretofore limited education. It appears that Newton was also sidelined by illness during this time. We know that he had a tonsillectomy, which later required corrective surgery, and a history of back problems, which continued for many years.
Things started to change for Newton in 1936. On January 13, he played on the only recording session led by tenor saxophonist Art Karle. Karle had played in bands in both Boston and New York, but was not a very distinctive soloist. Newton, Mezzrow, and pianist Joe Bushkin added interest to the recordings where the leader couldn't, offering fine obbligato passages behind the dated vocals of Chick Bullock, and creating several delightful jam sequences. "Moon Over Miami" was a modest hit, and Newton's confident lead trumpet and ongoing obbligati certainly enhanced the performance. For most of these sides, Newton contributes introductions and leads the ensemble through the collective improvisations. However, his full-chorus muted solo on "Lights Out" is a gem which further establishes his mastery of rhythm and swing. As on "Do Your Duty", he starts with a string of quarter notes, played with undeniable swing. A few bars later, he takes a few short motives and sets them in different places in the bar, creating both tension and melodic interest (To further appreciate Newton's rhythmic prowess, compare his innovative rhythms to those in Karle's pedestrian solo). Newton's lead trumpet further inspires the band in the out chorus, even adding spirit to Bullock's vocal.
Lights Out (Art Karle & His Boys)
According to Mezzrow's autobiography, "Really the Blues", his Victor session in March 1936 was supposed to feature his own fair-at-best clarinet, along with trumpeter Henry "Red" Allen and clarinetist Sidney Bechet. Mezzrow claims that he brought Allen and Bechet to the studio, but John Hammond rejected both guests because Allen was under contract to Vocalion, and Bechet's style was too close to Mezzrow's. Mezz was clearly stroking his own ego with the latter statement, and his placement of Columbia/Vocalion producer Hammond at the Victor studios further weakens the story's credibility. Nonetheless, the actual session featured Newton, Mezzrow, tenor saxophonist Bud Freeman, and a fine rhythm section of Willie "the Lion" Smith (piano), Al Casey (guitar), Wellman Braud (bass) and George Stafford (drums). The session bookends, "Melody from the Sky" with an unhinged vocal by Lucille Stewart, and a two-part novelty on "I'se A-Muggin'" with a long vocal by the Lion, are the date's weakest items. In between came a strongly swinging version of "Lost" with surging improvisations by Freeman and Smith, and incisive lead work from Newton. There are full-chorus trumpet solos on both "Mutiny in the Parlor" and "The Panic is On". Newton's "Mutiny" chorus has fine melodic development, but a lackluster delivery, while "Panic" turns on the heat with Freeman's growly tenor, and then raises the temperature further as Newton alternates between sultry long lines and punchy rhythmic motives. Newton would be back in the studios five days later for a session with Teddy Wilson, but he had a short stay in the hospital in the interim and he publicly apologized to critic Stanley Dance for his performances. Newton gets very little solo space on this session, but he plays a lovely obbligato behind Ella Fitzgerald on "Melancholy Baby", and he follows up her vocal on "All My Life" with a gorgeous 8-bar solo. While Newton plays some very complex rhythms in this solo, the solo flows like a natural outpouring of romantic emotion. His beautifully executed upward slides add to the warmth, and the solo acts as both a commentary on Fitzgerald's earnest vocal and as a distinct statement on its own.
The Panic is On (Mezz Mezzrow)
All My Life (Teddy Wilson/Ella Fitzgerald) FN solo
By April 1, Newton and fellow trumpeter Shad Collins joined the Teddy Hill Orchestra. While some fans like to claim that Newton replaced Roy Eldridge in the Hill band, and was eventually replaced by Dizzy Gillespie, it is probably more accurate to give that credit to Collins, as he was the band's main trumpet soloist. Further, since the other trumpet vacancy was previously held by Newton's longtime friend Bill Coleman, it's likely that Coleman recommended Newton as his replacement. Of the 16 sides that the Hill band recorded between April 1936 and April 1937, Newton played brief solos on six titles (the most substantial trumpet feature in this period was "Big Boy Blue" which spotlighted Collins; nonetheless, the track was erroneously included on a Newton reissue!) Newton's first recorded solo with the band was a 32-bar spot on "At the Rug Cutter's Ball". It's the kind of rabble-rousing trumpet solo that turned up in lots of big band arrangements of the period. Newton plays the role as well as anyone else, but as on the 1929 Scott band's "Bright Boy Blues", the chart doesn't leave much room for creativity. "Blue Rhythm Fantasy" not only provides Newton with a better spotlight, but it also shows the Hill band's outstanding ensemble work. The opening section of the arrangement features a group of tightly wound melodic figure played over a strong evenly-accented 4/4 accompaniment. When Newton's solo comes around, the rhythm feel has loosened slightly, but not enough to accommodate the brash energy of Newton's statement. While the riffing saxes help Newton's cause, it might have been better for this solo to appear later in the record where the rhythm section and Newton could have found common ground. "The Love Bug Will Bite You" has a brief but effective 8-bar Newton solo (and is he one of the singers in the vocal quartet?—the discographies don't say, but I remember seeing a photo of Newton singing with other members of the Hill band). Newton gets a paltry six bars of solo on 'Where is the Sun", but in this short space, he adds needed warmth to this lovely ballad arrangement. "The Lady Who Couldn't be Kissed" has a sprightly 8-bar spot for Newton, who sounds like he would have gladly played a full chorus if given the opportunity. His last solo with Hill was undoubtedly his best: on "China Boy", he avoids the trap of the brisk tempo by thinking in half-time and laying out long phrases over several bars (This was the same concept used by Charlie Parker on the up-tempo version of "Honeysuckle Rose" recorded in a 1940 private session with members of Jay McShann's band. Is it possible that Bird learned this trick from Frankie?)
China Boy (Teddy Hill)
Overall, the Teddy Hill orchestra was probably a good gig for Newton. He played alongside friends like Dicky Wells and Cecil Scott, some of the repertoire was challenging, and—for at least part of Newton's tenure—the band played on NBC radio. Yet, it is surprising to see Newton staying in a band for 13 months when he had such limited solo opportunities. Newton's reasons for staying may have been entirely practical: it was good to have a steady paycheck in the midst of the Depression, he could further hone his musicianship, and he could learn how to arrange for a small jazz group. During the early months of 1937, Newton was asked to lead a band at New York's Brittwood Club. He brought in his Uptown Serenaders, a cooperative group featuring his trumpet, a three piece sax section, and rhythm section. This was not the usual instrumentation for a small group, and I suspect that Newton had been formulating the instrumentation, personnel and sound of the band for several months. Obviously, the band needed original arrangements and that was undoubtedly his inspiration to learn arranging. As noted above, we don't know who tutored Newton in this endeavor, but Wells is certainly a candidate, as would be any of the arrangers who wrote for the Hill band. Pianist/arranger Claude Thornhill was also in New York by this time, and it's conceivable that the two men met several months before their first (and only) collaboration on records.
On March 5, 1937, Newton and the Uptown Serenaders recorded their first session for Variety, an independent label partially owned by Duke Ellington's manager, Irving Mills. The band included Edmond Hall, Pete Brown and Cecil Scott on reeds, Don Frye on piano, John Smith on guitar, Richard Fullbright on bass, Cozy Cole on drums, and Clarence Palmer on vocals. Of these members, Scott and Frey were long-time Newton associates, Hall and Cole would play on pivotal recording sessions later in the trumpeter's career, and Brown was one of Newton's closest friends, playing alongside him on several club dates and recordings. From the recorded evidence, the band was very well rehearsed, and the horn's ensemble phrasing enhances Newton's finely-crafted lines. After a rejected (and presumably lost) pair of takes of "You're the One", the band launched into Newton's lovely arrangement of "You Showed Me the Way". Newton splits the melody line between Hall's clarinet and the ensemble, and while Newton wrote small variations to the original tune, the concept still allowed Palmer melodic freedom in his ensuing vocal chorus. However, the main attraction in the vocal chorus is Newton's brilliant obbligato. On the first (alternate) take, Newton stays in the background, starting with a few long notes, creating simple harmony with Palmer, and generally preventing his lines from colliding with the melody. However, by the end of the chorus, Newton loosens his self-imposed restrictions to create a distinctive melodic line. On the second (master) take, Newton makes few concessions to the vocal, improvising a wonderful solo that just happens to run alongside the vocal. He exercises a lot of melodic and rhythmic freedom as he basically ignores the singer and concentrates on his own lines. Listeners are encouraged to try the same approach—it's a revelation! After Scott's tenor solo, Newton comes back for another 18-bar solo, the first take rip-roaring and the second much more varied and better overall. The much better-known song, "Please Don't Talk about Me When I'm Gone" includes a well-written melodic variation in the opening chorus, and a marvelous trumpet solo (on the master—take 1) that seems to draw on many of the lessons Newton had learned in the previous decade. There is a well-defined melodic line, understated slides, subtle rhythmic manipulation, and a good balance of phrases in the upper and lower registers. The session ended with two takes of another chestnut, "Who's Sorry Now?" Newton deconstructs this melody even more than "Please Don't Talk" but maintains the feel and contour of the original line. It must have been a hard decision to pick which take would be the master. Take 2 probably got the nod because the ensemble work was slightly cleaner (although Newton's solo is a little rougher here!), but I like the energy of take 1, with Hall's nimbly-fingered clarinet, Newton's spotless solo technique, and Brown's aggressive pushing of the beat against the other saxes.
You Showed Me the Way (FN) take 1: opening chorus and FN obbligato; take 2: FN obbligato
Please Don't Talk About Me When I'm Gone (FN): opening chorus and FN solo (all take 1)