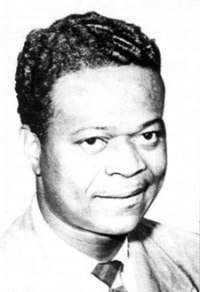 The next Uptown Serenaders session took place on April 15, with Russell Procope added to the sax section and Slim Gaillard (pre-"Flat Foot Floogie") on vocals. The first track recorded was a burning version of "I Found a New Baby", and Newton's fiercely swinging 2-chorus trumpet solo opens the record. He plays with total abandon—a far cry from the reserved solos he was recording with Teddy Hill's band—and he seems energized by this small swinging band. Of course, his surging arrangement and inspired playing by Scott, Hall, and the rhythm section help as well. "The Brittwood Stomp" hearkens back to the previous session with its intricate arrangement, but Newton increases the challenge by incorporating quick switches between improvised solos and difficult (but essential) ensemble parts. In his solo, Newton breathes fire and smoke on open horn before throwing in a cup mute for the written passage which follows. The piece has a multi-strain form (partially based on "King Porter Stomp") and Hall plays some exquisite New Orleans clarinet before the sudden retard at the end of the side. "There's No Two Ways about It" opens with a short trumpet introduction, then Newton segues directly into a strongly articulated solo which barely hints at the original melody, but includes jaw-dropping developments of original motives. When Newton returns, he starts with a dramatic upward idea, and stays in the upper register and adds some growl to his sound, all to fortify the building intensity of the ensemble. As on "No Two Ways", Newton precedes Gaillard's vocal on "Because My Baby It's So" with an impassioned solo, and lets Brown play the obbligato behind the hipster's more-or-less energetic vocal. Close examination of the two issued takes reveals considerable differences in all of the solos. Again, I disagree with the original decision about the master take; the alternate has much more energy, and better balance between the instruments (Newton's final solo on the master is swallowed up by the rest of the band).
I Found a New Baby (FN) FN solo
There's No Two Ways About It (FN) FN intro and solo
The Uptown Serenaders underwent a dramatic transformation between its April 15 and July 13 recording sessions. The changes started when John Kirby became the group's new bassist. As a veteran of the Fletcher Henderson, Chick Webb and Lucky Millinder bands, Kirby had a solid reputation and plenty of connections. In May, Stuff Smith ended his band's long residency at the Onyx Club, and Kirby contacted the club's owner, Joe Helbock, about bringing in Newton's group. Helbock agreed, but for some reason decided to combine the Kirby/Newton band with two alumni from the novelty group, the Spirits of Rhythm. The Spirits had played at the Onyx in years past, and when guitarist Teddy Bunn and drummer/scat singer Leo Watson decided to work on their own, Helbock welcomed them back. Newton and Brown came over from the Brittwood, with clarinetist Buster Bailey filling out the Onyx band's front line. There are no recordings of this oddly-mixed group, but it's easy to picture tension between the madcap Watson and the serious Newton. In June, Watson gave up the drummer's chair and played trombone on the gigs. Kirby brought in O'Neil Spencer as Watson's replacement in the rhythm section. The group also added a straight-ahead singer, who was first known under her birth name Marietta Williams, then as Maxine Williams, before becoming much better known as Maxine Sullivan.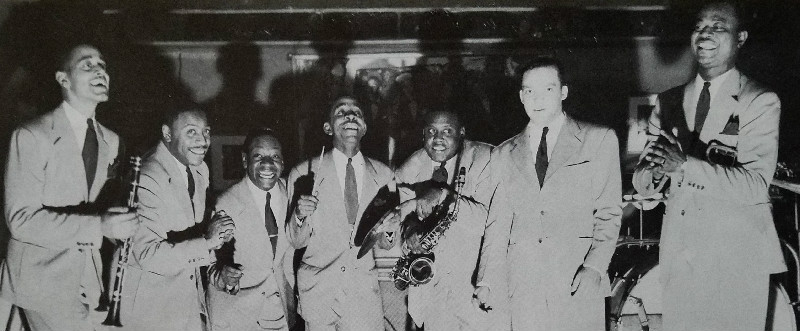 The Onyx Club band in transition (September 9, 1937). L-R: Buster Bailey. Don Frye. Leo Watson, O'Neil Spencer, Pete Brown, John Kirby, Frankie Newton.
So, with the turbulent personnel changes at the Onyx, and the former members of the Uptown Serenaders off playing in different groups, one might wonder why Newton would go back into the studios to make one last Uptown Serenaders date. My guess is that Newton still had a few charts he wanted to record, and rather than finishing his Variety contract with another band, on July 13, 1937, he assembled the Serenaders one last time as a recording unit. For the rhythm section, Newton brought in Frye, guitarist Frank Rice (whose entire discography consists of this one session), Kirby and Spencer, along with Hall, Brown and Gene Johnson for the reeds. The vocalist was Leon LaFell, and the very mention of this high tenor's name seems to elicit groans from jazz historians. Actually, as Dan Morgenstern has pointed out, LaFell was a good singer with acceptable pitch and diction. A rarely heard alternate take of "Easy Living" from this session was issued on a Swedish Columbia 78, and it shows that LaFell was capable of singing behind the beat and improvising a few melodic variations (I like the personal touch at the end of the first vocal chorus when he says to Newton, "Ah, let me hear ya"). LaFell sings much straighter on the master and he has a few intonation issues in his high register in the final half-chorus. Newton's solo is better on the alternate, too; he takes a few harmonic chances on the master, but he ruins the overall effect of the solo when he adds a growl to his tone near the end of the chorus. Next, the group tackled an original named for Newton's new place of employment. "The Onyx Hop" is a speedy little number which bounces rather than swings because of Kirby's insistent two-beat pattern. Newton and Brown perform an odd chant for two choruses. The lyrics are a collection of odd references ("Come with me and smoke some tea/and I shall carry on"), old jokes ("Love my wife, but what does that have to do with this song?") and other lines which I've never been able to decipher. There's a well-played ensemble chorus at the end, but no Newton solo. I realize that the group was having a little fun here (did they smoke some tea before cutting this track?) but this piece just doesn't work. The final track brought LaFell back to the microphone for another great ballad, "Where or When". Newton plays an understated muted obbligato behind LaFell's opening chorus, but the trumpeter's best moment comes at the end with a passionate 12-bar recap of the melody. The style is straight out of Louis Armstrong, but Newton makes it his own by cutting off each of the sustained otes early. Within those unexpected cut-offs is a musical portrayal of the heartbreaking difficulties of romantic love.
Easy Living (alternate take) (FN)

Where or When (FN) FN solo
Even though the style of the Onyx group was still being defined, the group members had already attracted the attention of several peers for their stellar musicianship. Charlie Barnet hired Newton and Kirby to play on two recording dates with his newly-formed big band. It is doubtful that this edition of the Barnet orchestra ever performed in public: discographies do not cite any broadcast recordings from the period, and neither Newton nor Kirby could have made the gigs because they were playing nightly at the Onyx (Further, the presence of two black musicians in an otherwise all-white band would have been very controversial in 1937). A few of the arrangements recorded sound quite difficult and call for unusual woodwind doubles like bassoon and bass clarinet; perhaps Barnet was looking for an opportunity to play and record these advanced charts, bringing in Newton as a featured soloist and Kirby to shore up the rhythm section. The first side, "Shame on You" has a barely audible muted obbligato to the leader's vocal, and a fine 8-bar open solo that includes some well-executed half-valve effects. The fiery instrumental "Emperor Jones" is actually a Duke Ellington/Juan Tizol composition called "Jubilesta". Barnet's group digs into this up-tempo minor opus with gusto, and Newton plays a 16-bar muted solo that maintains the intensity even as the other horns drop out. Two takes have been issued, and it's fascinating to hear how Newton creates the same effect in both versions while improvising completely different phrases. On "Admiration", Newton creates a light-hearted muted solo which floats over the bouncing horns and rhythm. Newton was not featured on any of the remaining issued sides from the Barnet sessions (although the never issued and now lost "Serenade to a Lamp Post" was said to be a Newton feature).
Emperor Jones (Jubilesta) (Charlie Barnet) take 1: opening ensemble and FN solo; take 2: FN solo
The remainder of Newton's recordings from 1937 feature him in small group settings with fellow members of the Onyx band. Morgenstern has dubbed these titles as "proto-Kirby" sides, and they help us track some of the changes that occurred as the Uptown Serenaders morphed into the John Kirby Sextet. In his memoir, "Music on My Mind", Willie "the Lion" Smith recalled, [When] I recorded…for Decca…I got the fastest little jazz band on 52nd Street to work with me, a combo under the direction of bassist John Kirby, that had grown out of the original Spirits of Rhythm. The group was still working in the Onyx, where I frequently worked opposite them. All I needed to give Kirby's bunch was a lead sheet and they took it from there without me having to show them the chord progressions. These men were good musicians, and all they had to do was take a quick look at the sheet, and we were off…. It was a pleasure to play with those guys because, besides each man being a top musician and improviser individually, they could work together so beautifully.
The Lion's first session with the Kirby band took place on July 14 (the day after the final Uptown Serenaders date). The personnel was Newton, Brown, Bailey, Smith (replacing Frye), Jimmy McLin (guitar), Kirby and Spencer—the latter doubling as drummer and vocalist. "Get Acquainted with Yourself" has a relaxed groove and an excellent opening ensemble chorus led by Newton. He opens his solo by repeating a note over a dozen times, and discovers new ways to manipulate and attack the single pitch. In the next 8 bars, he takes the same approach to a descending triplet motive. "Knock Wood" features a short obbligato and a booting 8-bar solo which leads into the final jam ensemble. Newton's cup-muted solo on "Peace, Brother, Peace" has good ideas, but the execution is seriously flawed. Newton's usually impeccable intonation also seems to fail him on the ride-out. "The Old Stamping Ground" is not a blues, but Newton plays his solos and obbligato with the same moody intensity that marked his later blues masterpieces "Daybreak Blues", "Parallel Fifths" and "The Blues My Baby Gave to Me".  The same group returned to the Decca studios on September 15 for another session with Smith, and a style change is readily apparent. The jammed ensemble choruses have been replaced with tightly voiced written parts, and the overall effect is that control has become more important than exuberance. On "Blues, Why Don't You Let Me Alone," "I've Got to Think it Over" and "Honeymoonin' on a Dime", Newton's solos are little more than melody statements; he gets a little more freedom on the opening chorus of "Achin' Hearted Blues" and on his muted solo on "Honeymoonin'" but those moments are not enough to rescue a rather dismal session.
Get Acquainted with Yourself (Willie the Lion Smith) FN solo
Between the two Smith sessions came both Barnet sessions and a classic one featuring Maxine Sullivan. Featuring Newton, Brown, Bailey, Babe Russin (tenor sax), Claude Thornhill (piano), no guitar, Kirby and Spencer, Sullivan's August 6 date included her sublime version of "Loch Lomond", plus equally charming renditions of "I'm Coming Virginia", "Annie Laurie" and "Blue Skies". "Lomond" features the alternating drone and light swing that also marked Martha Tilton's cover version with Benny Goodman. Newton's solo follows a sudden modulation, and contrasts an expansive rhythmic approach with the limited dynamic range of the straight mute. Newton's behind-the-beat approach seemed to influence Sullivan, who uses a similar approach on her next vocal chorus. Newton's contribution to "Virginia" comes late in the recording, but it's worth the wait: he plays a duet with Sullivan that is at times a loose melodic statement and at other times a passionate obbligato. Newton's bent notes are loaded with emotion, and the restricted dynamics maintain an intense emotional level. "Annie Laurie" has no Newton solo, but is worth hearing for the parallel part-writing that would become another trademark of the Kirby sextet. "Blue Skies" also has the same style of ensemble writing behind Sullivan's floating vocal. Newton's 8-bar muted solo is a thing of beauty, starting with a dramatic held note and moving into an elegant development of the song's title phrase. A few years ago, a portion of this recording was used for a car commercial. The track included a phrase or two from Sullivan's vocal, and the held note from Newton's solo. I'm sure that many Newton fans identified the trumpeter by that single sustained note!
https://www.youtube.com/watch?v=8_cCkKz4dsc
Loch Lomond (Maxine Sullivan)
I'm Coming Virginia (Maxine Sullivan) FN/MS duet
On September 17, Newton, Brown, Bailey, Frye, McLin, Kirby and Spencer participated in a split session for Variety, with two tunes led by (female) vocalist Jerry Kruger and the other two led by Buster Bailey. On "The Bed Song", Newton growls through his horn as if he were part of the Ellington brass section. His obbligato offers menacing counterpoint to Kruger's pleading vocal and Bailey's fluid clarinet. Surprisingly, this beautifully-textured performance was never issued on LP, and its only appearances in the digital era have been on bootleg CDs. The flip side, "So You Won't Sing" sounds like an homage to the Billie Holiday/Teddy Wilson recordings being made at Vocalion at the time. The tempo is bouncy and perfect for dancing, there's a long opening clarinet solo that outlines the basic melody, the clarinet solo is backed by understated harmony in the horns, the vocal projects tremendous enthusiasm despite abysmal lyrics, the accompaniment to the vibratoless vocal is a chorus-long sax obbligato, a punchy muted trumpet solo follows the vocal chorus, and the record ends with a brief vocal reprise and a jammed coda. Although fans would have little trouble identifying Newton from the solo, it is perhaps the closest Newton ever came to mimicking Buck Clayton. When Ms. Kruger retired to the sidelines, the band recorded two sides that bear a striking resemblance to the later Kirby repertoire. The melody of "Afternoon in Africa" is played in parallel harmony by Bailey's chalmeau clarinet and Newton in a cup mute. The harmonies return below Bailey's solo. Newton's solo comes on the bridge of Brown's chorus, and it sounds like he's trying to expand the mood of the piece by placing phrases across the bar lines. The side ends with a written ensemble variation on the main theme. "Dizzy Debutante" is another bouncy two-beat, but by the time of Newton's full-chorus solo, the rhythm has switched to a driving four. He plays with great intensity, maintaining a focused sound through the straight mute while alternating between accented figures played squarely on the beat, and free-flowing melodies played behind the beat. The track ends with exchanges between Bailey and the ensemble, and a spirited ride-out led by Newton.
The Bed Song (Jerry Kruger)

So You Won't Sing (Jerry Kruger)

Dizzy Debutante (Buster Bailey) FN solo
Newton's final recording session in 1937 happened on October 1 and featured vocalist Midge Williams. The personnel was the same as on September 17, except that the Kirby Sextet's new pianist, Billy Kyle, took the place of Don Frye. Williams' voice was something of a mix between Kruger's expression and Sullivan's understatements. Newton's solo on "The One Rose" is based on rudimentary concepts—an interval that increases with each repetition followed by the simple development of an improvised motive—but its delivery, with each phrase loaded with rhythmic intensity, makes it a convincing musical statement. On "The Lady is a Tramp", Newton plays a brilliant open passage on the introduction, and follows it up with an expansive solo near the end of the side. As can be guessed from the title, "An Old Flame Never Dies" is a rather sentimental song. Williams wrings as most emotion as she can from the lyric, but Newton's 16-bar solo shakes the cobwebs loose, as it offers a sunnier alternative approach to this chord sequence. This is another instance where Newton displays his versatility by mixing a number of different rhythmic and melodic concepts into a single solo. Combined with an impeccable sense of musical balance, Newton takes disparate motives and unites them into a cohesive statement. The session ends with the blues-like "Fortune Telling Man", where Newton provides Williams with a sassy commentary with cup mute in the first chorus, and with straight mute (and more growl) on the final chorus.
An Old Flame Never Dies (Midge Williams) FN solo
Newton's period with the Kirby sextet ended abruptly with an incident that has been retold in many different forms. In the notes to the Smithsonian 2-LP set, "The Biggest Little Band", J.R. Taylor offers the following concise account of the band's final transformation:
Early in October, Kirby and Newton had a shouting match in the middle of the Onyx; the subject of dispute was purportedly Sullivan, whom Kirby married soon after, though musical matters may also have been at issue. Drummer Sidney Catlett, witnessing the argument and Newton's subsequent departure, left the club and returned immediately with…Charlie Shavers [who] took over as Kirby's trumpeter. Within weeks….Billy Kyle replaced Don Frye. Watson and McLin left too, with no replacements…Finally, late in winter, Pete Brown left Kirby to lead his own group.
When comparing the above account to common sense and known facts, we can spot several problems. The "early in October" date is probably right, for had the Newton/Kirby argument occurred earlier, Shavers would have played the Midge Williams session. But a shouting match "in the middle of the Onyx"? If that had happened anywhere in earshot of the customers, neither Kirby nor Newton would have had a job. And what was Catlett doing there? Did Kirby tell the drummer to go find Newton's replacement? I doubt it, for if Catlett did what Kirby said and Newton subsequently found out, there would have been no way that the trumpeter and drummer would have worked together again (and they did, in 1939, just as Newton and Kirby recorded together that same year). As for a possible romantic fling between Newton and Sullivan, it was possible, but we know that Newton met his longtime companion and eventual wife Ethel Klein around this time, so he might have been dating Klein when this incident occurred. The replacement of Frye probably happened in September, due to Kyle's appearance on the Williams session, and Brown's departure must have happened in late February or early March of 1938.
The Onyx incident may have been one of those incidents where Newton burned a bridge while he was still crossing it. After all, the John Kirby Sextet enjoyed considerable popularity through the mid-forties, and Newton might have capitalized on his membership in the group to get more recording dates. However, the evidence of Newton's recorded solos shows an increasing desire to break loose of the Kirby sextet's rigid arrangements. Newton claimed to Nat Hentoff that he and Claude Thornhill developed many of the ideas used in the Kirby sextet, but would Newton have been happy playing those arrangements night after night? Newton loved to jam, and there wasn't much room for that in the Kirby sextet. As it happened, Newton joined the Lucky Millinder big band (probably filling the spot vacated by Shavers) and eventually formed a new band of his own. By the end of 1938, his love affair with Ethel Klein was in full bloom, his belief in the Communist theory had strengthened (partially due to Ms. Klein) and his band was hired to play at a revolutionary new nightclub, Café Society.
The audio and video recordings embedded in this article are presented for educational and illustrative purposes. Jazz History Online neither owns nor controls the rights to these recordings. All rights belong to the original copyright holders.