Scroll down for earlier entries. (go here for Summer 2021 reviews)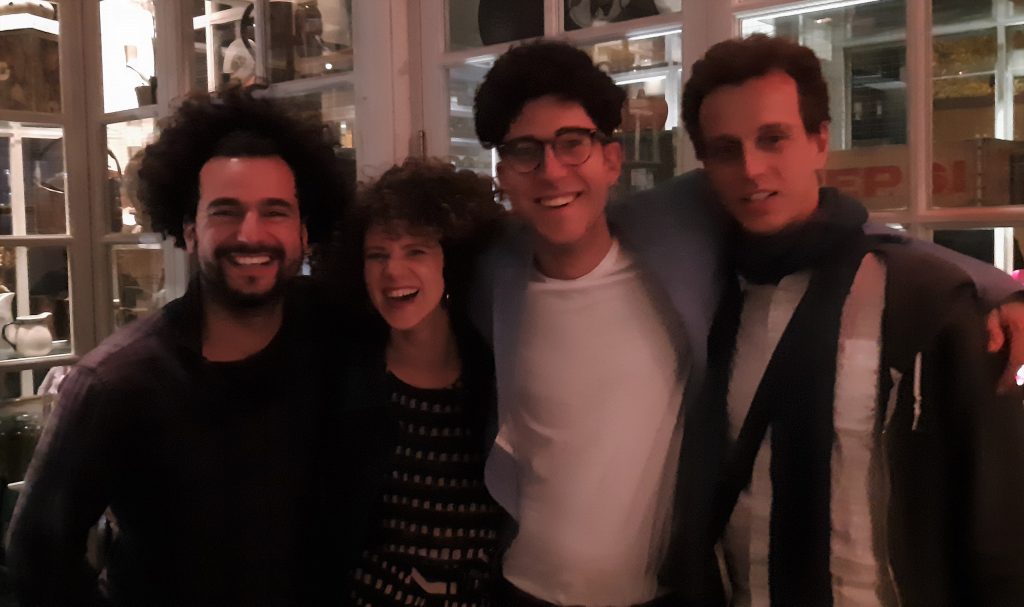 ARTIST: Cyrille Aimée
VENUE: South; Philadelphia.
DATE: October 22, 2021
PERSONNEL: Cyrille Aimée (vocal, uke); Michaël Valeanu (g); Lex Warshawsky (b); Pedro Segundo (d).
Every time I hear Cyrille Aimée live, she surprises me with new developments in her style. At her engagement at the Philadelphia restaurant and nightclub South, the surprises started early. During a scat solo on the opening number, "Bye Bye, Blackbird", the expected syllables of wee, splee, dwee, and bop were interrupted with the clicks and pops of native African language. I can't claim that Cyrille is learning a click language, but the unique sounds were a welcome change of pace. Over the course of the first set, she performed several unrecorded songs, including a new original, "Casita de Piedra" about a house that she and her fellow musicians are building in Central America, a newly energized arrangement of another original "Inside and Out", and a hip closing theme with a recurring melody, "Yatra-Ta".
Cyrille's current band is an international ensemble with Cyrille and her favorite guitarist Michaël Valeanu from France, drummer Pedro Segundo from Portugal, and bassist Lex Warshawsky from New Jersey. In addition to performing the wide range of styles required by Cyrille's repertoire, they were quite flexible in adding unique sounds to the ensemble. On more than one occasion, I saw Segundo shaking a percussion instrument with one hand while drumming with the other. At one point, I heard a high-pitched obbligato that I couldn't identify; it turned out to be Valeanu playing in the absolute highest range on his instrument! Valeau is a fine accompanist, especially on the duets with Cyrille, while his improvisations reflect the strong influence of Wes Montgomery.
Near the end of the set, Cyrille came down off the stage to where she had set up "Rupert", her beloved digital loop recorder. Rupert has been a part of Cyrille's concerts for several years, and at South, she teased that she really didn't have to explain how Rupert worked (as expected, the audience convinced her to tell that Rupert starts each performance with a blank memory and that all of the loops are created within the live performance). She launched into another original, "Down", and before long, a chorus of digital Cyrilles were grooving the house with complex interlocking rhythms. I've heard her sing this piece live at other venues, but it sounded like she has added new obbligato parts to the chart. (By the way, an arrangement of "Down" for Cyrille and the New Orleans Jazz Orchestra appears on their new Storyville CD, "Petite Fleur". We'll have a full review of that album in the next issue of JHO.)
A quick word about the venue: South has changed a lot since I last visited in May. All of the plexiglass barriers have been taken down, and the mask and social distancing protocols have been relaxed. There are still a few noisy customers that get in on occasion, and the staff needs to enforce the room's quiet policy. I am grateful that they have maintained the space and the policy to allow the artists to mingle with the audience after performances. Finally, South boasts a top-notch kitchen and the meals are filling and reasonably priced. This is a very good jazz club, and it deserves to be a model for others.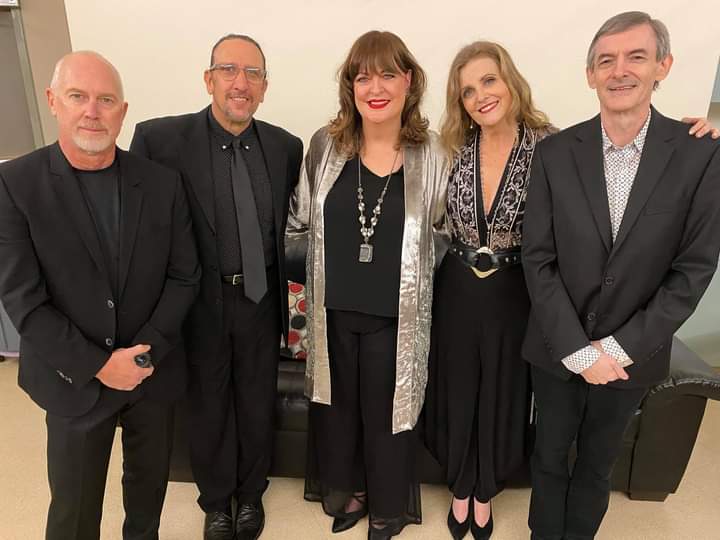 ARTISTS: Ann Hampton Callaway & Tierney Sutton
VENUE: New Jersey Performing Arts Center, Newark, NJ
DATE: October 15, 2021
PERSONNEL: Ann Hampton Callaway, Tierney Sutton (v); Christian Jacob (p); Kevin Axt (b); Ray Brinker (d).
Movie music has been a popular subject for concept albums for many years, so it wasn't a shock when two prominent jazz vocalists released film-related albums in early 2019. What was surprising was that Ann Hampton Callaway ("Jazz Goes to the Movies") and Tierney Sutton ("Screenplay") decided to combine their talents after each had already toured with their respective albums. The resulting concert program "In Technicolor" premiered a few months before the pandemic, so the October 15, 2021 Newark performance was the first duo concert by Sutton and Callaway in two years! However, the professionalism displayed by everyone on stage made it seem like there had been no break at all.
Most of the repertoire was drawn from the two 2019 albums, with occasional lifts from earlier recordings. Sutton offered her own acclaimed trio of pianist Christian Jacob, bassist Kevin Axt, and drummer Ray Brinker, and as in their concerts as the Tierney Sutton Band, each instrumentalist had their time in the spotlight.
The opening duet "S'Wonderful" included a marvelous set of scat exchanges where the singers seemed to finish each other's ideas. After band introductions and a few pun-filled comments between the two principals, Sutton retreated to an onstage stool where she listened to Callaway's three-song solo set. "Blue Skies" used the same dual-tempo arrangement from "Jazz Goes to the Movies", allowing the audience to appreciate the sensitive lyrics and flexible melody of Irving Berlin. The Jerome Kern/Dorothy Fields Oscar winner "The Way You Look Tonight" was sung in a sensuous slow tempo, and another Berlin classic "Let's Face the Music and Dance" focused on the mysterious nature of the words. After a swinging duet on the Gershwin's "Love is Here to Stay", Callaway took a seat on stage as Sutton took the spotlight. She began with a stunning arrangement of "The Way We Were" followed by another Barbara Streisand film tune, "On a Clear Day". Her fast-paced duet with Brinker on the politically incorrect "Diamonds are a Girl's Best Friend" was well-received by the audience (apparently, all of the "woke" people were at other events!)
With a strict running time of 90 minutes (with no intermission), the show moved forward with a duet on "How Do You Keep the Music Playing?", a song that Callaway named as the best song Alan and Marilyn Bergman ever wrote. Then, as the backdrop turned bright green, Callaway and Sutton offered their tribute to the best music that Harold Arlen and E.Y. (Yip) Harburg ever wrote: the song score for "The Wizard of Oz". Sutton and Axt kicked off the selections with an extended duet on "If I Only Had a Brain" which included three full verses of the song. Jacob then offered a rhapsodic interlude that cleared the way for Callaway's unaccompanied rendition of the verse and chorus of "Over the Rainbow". Calloway's beautiful dark tones enriched every note of this great standard, and the audience leaped to their feet at the end of the song. The concert wasn't quite over, though: Sutton countered with a lightning-fast "Ding Dong! The Witch is Dead" and Callaway inserted an original half-chorus of vocalese to the arrangement. The encore was a lovely duet from "Screenplay" combining "Moon River" (from "Breakfast at Tiffany's") with "Calling You" (from "Baghdad Cafe"). On the original recording, Sutton sang both parts, but here Callaway performed the Henry Mancini/Johnny Mercer classic.
It was all over much too soon, and with no post-concert activities scheduled, we suddenly found ourselves back out on the Newark streets. It will be a great day when COVID-19 is a thing of the past, and we can get back to all of the joys of concert-going, including the chance to chat with our favorite artists.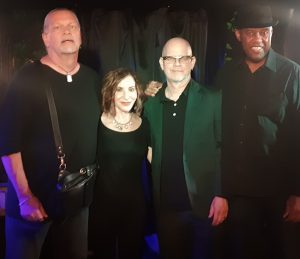 ARTIST: Judy Wexler
VENUE: Pangea; New York City
DATE: October 6, 2021
PERSONNEL: Judy Wexler (v); Jim Ridl (p); Essiet Essiet (b); Tim Horner (d).
Back in the 1960s, many jazz and pop singers were coerced into recording contemporary pop songs because the record companies needed "something to appeal to the kids". Not surprisingly, those kids (also known as baby boomers) did not flock to their record stores to pick up a 45 of Frank Sinatra singing George Harrison's "Something". However, when their parents went to hear Sinatra live or on television, they heard him say that Harrison's song was "absolutely beautiful". The parents were not in the record companies' preferred demographic, but some of them may have understood that there was some good music coming out of rock and roll. In the past few years, several jazz singers have invigorated their repertoire by returning to those same rock classics. And whaddya know? The audience is suddenly filled with baby boomers!
In a constantly intriguing set at Pangea's in Greenwich Village, Judy Wexler performed a healthy sampling of vintage tunes in fresh jazz arrangements. Some of the songs, including "Everybody's Talkin'", "Up on the Roof" and "The Times They Are A-Changing" sounded quite different from their original recordings, while others, like Paul Simon's "American Tune" retained their original flavor. In between tunes, Wexler told personal stories about the ways the songs related to her own life: for example, she first met her husband "Up on the Roof" of her apartment in the Haight neighborhood of San Francisco. She talked about the rage that still affects her when she hears Bob Dylan's lyrics about congressmen in "Times", and recalls her first viewing of the film "Midnight Cowboy" (at an age when she shouldn't have been allowed in the theater!)
These closely-held memories are the key to Wexler's impassioned performances. She enunciates every syllable so that every word is clearly understood, and when she departs from the melody, her note choices reiterate the important words in each line. In addition, Wexler has extraordinary breath control, which allows her to sing long flowing lines without gasping for breath between words. To use one of the non-rock songs from her set, the Blossom Dearie classic, "They Say It's Spring" has a rest between the second and third words of the title. Every time that Wexler sang that phrase, she stopped the sound but did not take a breath. This simple concept yields two important results: first, the lyric is properly declaimed, as the pause sets off the keywords; and second, those words can be sung with the original rhythm (ask any choir director: singers usually come in late after a rest).
The rhythm section supported Wexler with grace and maturity. They effortlessly maneuvered through Alan Pasqua's challenging arrangement of Henry Mancini's "Moment to Moment" and provided precise swing for "If I Only Had a Brain" and "Laughing at Life". Some of the repertoire was not improv-friendly, but pianist Ridl and bassist Essiett both played finely crafted solos that stood on their own but were primarily a bridge between vocal choruses. As Wexler said when introducing Simon's 1970 "American Tune", our world might be just as messed up today as it was back then. If that is the case, we need to listen to this music with great care and understanding to correct our paths and improve our world.
Many of the songs performed at Pangea can be heard on Wexler's fine new CD, "Back to the Garden"
Judy Wexler will also appear Saturday Oct 9 at the Side Door in Old Lyme, CT, and on Wednesday, November 3 at the Baked Potato in Studio City, CA.