ROY HARGROVE/MULGREW MILLER: "IN HARMONY" (Resonance 2060)
The posthumous release of an album by two exquisite and underrated players might evoke sadness, but the immediate antidote for these
feelings is to listen to the music, and appreciate it for its quality and liveliness. Certainly, that is the case for the newly discovered collection of duets by trumpeter Roy Hargrove and pianist Mulgrew Miller, "In Harmony". Although both men played their share of edgy progressive music in their careers, the two concerts here—from 2006 and 2007—show a mutual admiration for jazz tradition. The swing generated by this duo on "What Is This Thing Called Love?" is energetic and uplifting, while the ballads—notably "This Is Always"—display the great sensitivity and cooperation between Hargrove and Miller. The pianist accompanied many singers in his career, and while instrumentalists generally need less support than singers, Miller is right behind Hargrove at every turn, expanding on ideas and/or providing his own musical commentary. Their spontaneous arrangement of "I Remember Clifford" is filled with such moments, with intertwining counterpoint to the Benny Golson melody, and heart-breaking solos from both principals. This 2-CD collection does not require a track-by-track analysis; in fact, one of its delights is the creative interplay between Hargrove and Miller (a quality easily discerned by jazz listeners of all levels). I will reserve my further comments to general observations of the set itself, and notable highlights, including the thrilling version of "Invitation", a fascinating exploration of "Never Let Me Go", a rollicking "Just in Time", and brilliant realizations of two Thelonious Monk compositions, "Monk's Dream" and "Ruby, My Dear". The credits mention the locations and dates of the two concerts (Merkin Hall, NYC, January 2006 and Williams Center, Easton, PA, November 2007) while Ted Panken's liner notes tell us that both concerts were performed without a pre-selected setlist or soundchecks. It seems clear that producers Zev Feldman and Larry Clothier intermixed tracks from the two concerts to recreate the flow of the original performances. The approach works fine, but it would be nice to have the full documentation at some point. The remainder of the booklet offers fond memories of Hargrove and Miller from musicians ranging from Sonny Rollins to Common, all assuring us that Roy and Mulgrew were giants. Fortunately, the two CDs present ample proof of that fact.
SHEILA JORDAN: "COMES LOVE" (Capri 74164)
Let the guessing games commence! Tom Burns' Capri label has just released a heretofore unknown session by Sheila Jordan, under the title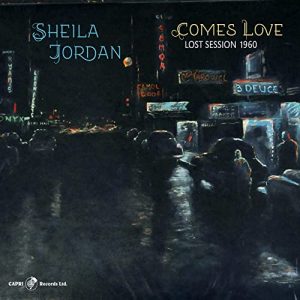 "Comes Love: Lost Session, 1960". Discovered by two New York collectors amidst a massive jazz record collection in Albuquerque, the original acetate record label offers few clues: just Jordan's name, the song titles, the recording date and location. Assuming a correct (but approximate) date of a session she recorded with bassist Peter Ind—supposedly in November 1960—"Comes Love" would be Sheila Jordan's first recording. However, Jordan is nearly 93 years old today, and she has no memory of this session! Burns' liner notes drop the names of pianist Johnny Knapp, bassists Steve Swallow and Gene Perlman, and drummer Ziggy Wilman as Jordan's usual accompanists at the Page Three club, a gay bar in Greenwich Village (others have offered up less likely pianists including Herbie Nichols and Dave Frishberg!) While the speculation has begun on the interwebs, the plain fact is that no one has come forward to claim their role on this album—and this with potential royalties at stake!—so guess away if you wish, but let us concentrate on the one person we know to be present: Sheila Jordan. It's not hard to recognize Jordan's distinctive voice, with her intense delivery and unique vibrato. She makes the forgettable song "I'm the Girl" memorable through an earnest reading of the lyrics and an intriguing final note which makes us reconsider the entire message. As on her 1962 Blue Note recital, "Portrait of Sheila", Jordan's vocabulary of riffs and variation techniques is rather limited, but the performances work in their own right, even though our 20/20 hindsight tells us what Jordan would do with the same material today (certainly not a 98-second scat version of "It Don't Mean a Thing"!) I'm sure that Jordan was singing "Ballad of the Sad Young Men" at the Page Three, and I'm equally sure that she understood the gay undercurrents of the lyrics. And what a performance she gives here: beautifully nuanced, with well-placed and perfectly executed variations, all the while keeping our focus on the tragic story. Jordan didn't record this song again for 30 years, and only the recording by her close friend Mark Murphy (on "Bop for Kerouac") holds a candle to this version. The title track finds Jordan having great fun with the catalog lyrics, "Don't Explain" offers a modern harmonic sensibility to Billie Holiday's torch song, and "A Sleepin' Bee" is presented in a bouncy but attractive setting. The one song common to this disc and the Blue Note is "When the World Was Young", and the earlier version is just not equal to the later one. The confidence and free variations that mark the Blue Note recording is not here, but Jordan is clearly on the right track in this version. Comparing these two recordings with her stunning version of "You Are My Sunshine" (on George Russell's "Outer View") shows that Jordan was learning how to use the inherent dramaticism of her voice, and that quality is what truly marks the difference between the two versions of "When the World Was Young". The remaining four tracks present more sides of Jordan's developing talent, some of which—like the unusual phrasing on "These Foolish Things"—disappeared from her music in fairly short order. "Comes Love" is a fascinating look at a jazz legend in process. Hear her current work on Roseanna Vitro's new CD "Sing a Song of Bird" (reviewed elsewhere in this issue) and rejoice that she is still with us, creating new music every night.
HAROLD LAND: "WESTWARD BOUND!" (Reel to Real 6)
Tenor saxophonist Harold Land received his first major recognition as part of the Clifford Brown–Max Roach Quintet. Land's moaning Texas bebop style was an excellent contrast to Brown's spectacular ideas and gorgeous tone, and—even more importantly in this band—he could keep pace with Roach's furious tempos. When family obligations forced him to leave Brown/Roach, Land became one of the West Coast's most dependable musicians. He played in the Curtis Counce Group, recorded with the Montgomery Brothers, was featured on the classic LP, "For Real" led by pianist Hampton Hawes and including bassist Scott LaFaro, and led his own series of records which also showcased exceptional but underrated musicians like trumpeter Dupree Bolton, pianist/composer Elmo Hope, and trumpeter Carmell Jones. A quiet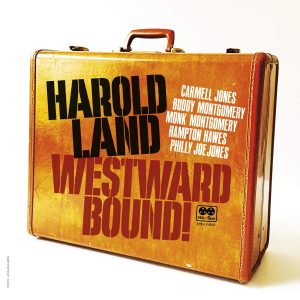 and humble man, Land was perfectly satisfied to remain in Los Angeles, and only occasionally took to the road. A new archival release from Reel to Real, "Westward Bound!" captures three editions of Land's touring bands in appearances at Seattle's Penthouse club. The first session from December 1962 has the unbeatable lineup of Land, Jones, Buddy and Monk Montgomery (on piano and bass, respectively) and Jimmy Lovelace, and on this particular broadcast, the music is all original. Land's "Vendetta" swings from the top with a serpentine melody. Land's solo grows in intensity over the tight rhythm section, and Jones sounds like the reincarnation of 1954-era Clifford Brown, with staccato notes and clipped phrases. Buddy's crystalline right hand lines ride over the rhythm before the horns take the tune out. Jones' "Beepdurple" has a melodic bop line, and the composer's solo takes on the legato approach of Brown's later years. It wouldn't be long before Jones would finally escape Brown's shadow, but while he was in this formative period, he was intent to follow in the footsteps of his fallen master. Land's solo displays an incredible range of melodic ideas and rhythmic freedom, while Buddy's lines bounce joyously along. Lovelace and the horns trade thoughts in the penultimate chorus. The awkwardly titled "Happily Dancing/Deep Harmonies Falling" is a Land waltz, and the least interesting track of this set. The band plays it well, but the intense drive and swing found in the earlier tracks are missing here. The 1964 quartet date which follows reunites Land and Hawes with Monk Montgomery still on bass, and Mel Lee on drums. Only two tunes survive, but they are both excellent. "My Romance" features great broken time interplay between bass and drums, which inspires Land to create a majestic solo, and leads to a sparkling Hawes improvisation and a fine solo by Montgomery on bass. Land's "Triplin' the Groove" maintains the spirit of its predecessor. A blues, it avoids anonymity by constantly referring back to the triplet pattern in the melody (Lee's drumming is truly spectacular behind Land's solo). Hawes, in another fine solo, incorporates the triplets in a very subtle way, and then builds his statement to a powerful conclusion. After Montgomery's spot, Lee brings back the triplet idea in his exchanges with Land. The presence of drummer Philly Joe Jones is immediately felt in the final session, recorded in 1965 with John Houston taking over for Hawes, and Montgomery retaining the bass post. On "Autumn Leaves", Land's intensity goes up another notch as Jones propels the band as only he could. Houston belongs to an earlier rhythmic world, and Jones seems unable to update the pianist's style. Montgomery sounds better with every solo on this disc, with great melodic ideas and a fine tone. The exchanges between Land and Jones are thrilling, as is the interplay on the final chorus. Land's ballad feature, "Who Can I Turn To", follows the basic dramatic curve of the original Broadway love song, with the saxophonist making the most of the final chorus. Jones' "Beau-ty" adds some fire to the mix through the composer's exotic beat patterns and powerful swing. Land and Jones raise the bar from before on this set of exchanges before Jones takes off on his own for an impressive display of percussive fireworks. The closing theme "Blue 'n' Boogie" gives Jones an encore performance. Partially because of the New York jazz critic's aversion to West Coast musicians, Harold Land never received his proper recognition. This album of airchecks will not completely remedy the problem, but if it encourages listeners to explore Land's many other fine recordings, it will have served its subject well.