The title of this review is not a reflection on the musical quality of the latest albums by Patricia Barber, Mostly Other People Do The Killing and Wayne Shorter; rather, it speaks of the uncompromising attitude that all of these artists share. These albums are not designed to be plopped into the CD player and used as background music. They demand that the listener abandon all preconceived notions about the music and thus appreciate the innovations on their own terms. Of course, no can fully give up their concepts of music, and in some cases, the music here depends on that, allowing the musicians to surprise us with unexpected sound and mood shifts. In other places, though, a strict adherence to earlier experiences and expectations can impede the listener's appreciation of the music.
There is a wonderful moment on Patricia Barber's new CD, "Smash" (Concord) that illustrates my point about mood shifts. Early in the album, there are two contrasting originals placed back to back, both accompanied solely by Barber's piano. "Romanesque" is a song of new love, which is followed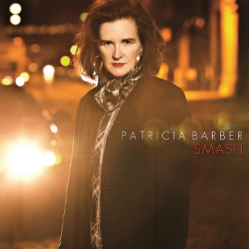 by "Smash", which tells of a romantic breakup. Both carry images of sand and the sea, and that, along with the common accompaniment, tie the songs together. But after Barber finishes singing "Smash", there is a pause, and something new happens. I won't tell you what occurs, but I will say that it allows "Smash" to stand on its own, as well as act as a partner to "Romanesque".  There are several moments like that on Barber's album: restrained quartet improvisations placed between stanzas; songs without recapitulations at the end because they just don't need to be there; and poetic lyrics that dig far deeper than the sentiments of Tin Pan Alley scribes or earnest folk/rock songwriters. "Devil's Food" takes on the topic of gay marriage head-on, "Redshift" combines references to Einstein and Heisenberg with the story of a crumbling love affair, and "Missing" offers a minimalist view of a relationship through the prism of the seasons. Three of the songs feature lyrics set in specific frameworks: each line in "The Swim" contains two syllables, while "Spring Song" contains three per line, and "The Wind Song", six.  This is Barber's first album for a major label since her contract with Blue Note expired a few years ago. She introduces a new quartet on this disc as well: Barber plays piano throughout, with Chicago musicians John Kregor (guitar), Larry Kohut (bass) and Jon Deitemyer (drums). All of the musicians have marvelous solo spots, but the quartet's ensemble work is even better, in both the collective improvisations noted above and in their subtle interweaving of parts.
In contrast to the cool intensity of Barber's album, the newest recording from Mostly Other People Do The Killing, "Slippery Rock" (Hot Cup) is an anarchistic parody of smooth jazz. Listeners in search of sounds resembling the limpid sounds of Kenny G or Grover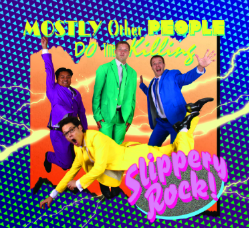 Washington, Jr, will find little of it here. MOPDtK takes these radio-friendly sounds and blows them apart, exploding into uncompromising free jazz. Like the 1960 quartet of Charles Mingus (with Eric Dolphy, Ted Curson and Dannie Richmond), there is a lot of collective improvisation with players taking turns as lead voice. And like the Art Ensemble of Chicago, there is both wild humor and an appreciation of earlier jazz styles. But MOPDtK has their own unique style that lets them make rapid-fire changes in tempo and mood, while throwing in a wild combination of musical references ranging from Haydn to Kool and the Gang!  All of the compositions on "Slippery Rock" are by the group's bassist, Moppa Elliott, and while listening to the disc, I wondered just how much of the music and the concepts came from Elliott's pen. I suspect that most of these pieces go through a lot of revision through rehearsal and performance, and it would be fascinating to hear a piece evolve through the process. Trumpeter Peter Evans gets a very rich sound from his instrument, and like Lester Bowie, he frequently clouds his tone with smears and growls. Jon Irabagon plays a multitude of saxophones during the album (as well as one exceptional moment on flute), but he tends to rely on multiphonics and squawks. Kevin Shea is a powerhouse  drummer with an amazing facility for jumping between styles. Finally, I'm not sure who wrote the liner notes (under the nom de plume Leonardo Featherweight) but they are hilarious, and a real treat for anyone who knows their "traditional" jazz history.
Wayne Shorter's "Without A Net" marks his long overdue return to the Blue Note label, 43 years after he made his first recordings for the company. It is a collection of concert recordings from a 2011 European tour and a 2010 live performance with the Imani Winds in Los Angeles (more on that collaboration below). The album features Shorter's quartet throughout, and they prove again that they are the most relentlessly exploratory ensemble in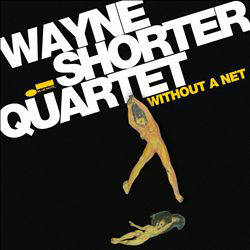 jazz today. I heard the same group (featuring pianist Danilo Perez, bassist John Patitucci and drummer Brian Blade) in Paris in 2009. In their two 45-minute sets at the Salle Pleyel that night, and on the present 78-minute CD, they never stopped exploring, finding new ways to interpret the repertoire. Most of the improvisation is collaborative, but in a different manner than MOPDtK. Here, the changes are completely "in the moment" with each member of the group fully able to steer the direction of the performance through their own inventions (For example, who would have ever conceived of the theme from the Fred Astaire/Ginger Rogers movie, "Flying Down to Rio" as a funeral march? Probably no one on their own, but something played here led the group into that direction.) There is a constant push-and-pull to this music as the intensity rises (usually through Blade's exciting drum fills), but little release as the group seems to resist the urge to drop into a rhythmic groove. (Of course, this urge to groove is part of the listener's preconceived notions, and an ongoing example of the music depending on the listener's ability to accept the music on its own terms.) Some of the pieces on the disc are familiar Shorter pieces like "Orbits" (originally recorded on the Miles Davis album, "Miles Smiles") and "Plaza Real" (from Weather Report's "Procession"), but there are several new pieces including "S.S. Golden Mean" which features quotes from "Manteca" before going into its own direction. The longest track is the collaboration with Imani on the 23-minute Shorter opus "Pegasus". While there is a relationship between this piece and the quartet improvisations elsewhere on the disc, it really feels out of place here and it makes an intense listening experience rather overwhelming.
Clearly,  these artists works outside the comfort zone, challenging the audience to share their artistic vision. For some listeners, it may never resonate, while others may need to listen to this music in smaller pieces to better digest the sounds. But it is important for this music to be heard. Jazz has a reputation for moving forward and embracing new sounds. We've been a little slow on that front for the last few decades. It's time to embrace the new.